KONA Electric enjoys soaring popularity in Europe
One in four KONA models sold in Europe is a KONA Electric; in Germany, more than one in two
Rising popularity of fully-electric subcompact SUV reflects wider trends
The Hyundai KONA Electric is enjoying soaring popularity in Europe as one in four KONA models sold there is a KONA Electric. This is out of four total KONA variations, including the KONA Hybrid, KONA Electric, and the two internal-combustion models KONA, and KONA N. To date, more than 142,000 KONA Electrics have been sold worldwide, including more than 100,000 units in Europe since its launch in 2018.
KONA Electric's striking popularity in Europe since its launch in 2018 has exceeded all expectations. One hundred thousand units sold in Europe is a huge milestone, and I am happy for the Hyundai team which has contributed to achieve this feat. This brings us one step closer to achieving our goal to sell one million BEVs globally per year by 2025.
KONA Electric: Europe's first fully-electric subcompact SUV
With the introduction of KONA Electric in 2018, Hyundai became the first carmaker to merge the two hottest industry trends for the European market: a fully-electric drivetrain and a subcompact SUV body style. KONA Electric stands out for its powerful electric motor, long driving range, and stylish appearance – all at an accessible price point.
It comes with the choice of two electric powertrains: a long-range version with a 64kWh battery and a driving range of 484 kilometres or a standard-range version with a 39.2kWh battery and a driving range of 305 kilometres. The model has been documented driving up to 790 kilometres in the urban cycle on a single charge. Furthermore, KONA Electric set a range record of 1,026 kilometres German race track Lausitzring.
KONA Electric is the perfect car for customers looking for SUV convenience without local emissions. In 2020, it became the second Hyundai model to receive a five-star Green NCAP rating, following IONIQ Electric in 2019. And earlier this year, Autocar ranked KONA Electric among the top electric cars for families.
In March 2020, Hyundai began producing KONA Electric at its European production plant, Hyundai Motor Manufacturing Czech (HMMC). This was in addition to the company's main production plant in Ulsan, South Korea. A few advantages of European production include a steady supply to some of the most popular markets, shorter delivery times, and eco-friendly production in the future. Under Hyundai's commitment to achieving carbon neutrality by 2045, a strategy recently announced at this year's IAA, HMMC will become the company's first factory to switch to 100 per cent renewable energy in 2022.
DAN Europe Sustainable Tour proves driving an EV no longer a hindrance in Europe
On 8 June – World Oceans Day – the diving safety non-profit Divers Alert Network (DAN) Europe took off on their European Sustainability Tour, with ambassadors Alana Alvarez and Manuel Bustelo travelling in a KONA Electric. The purpose of the tour is to promote sustainable lifestyles and practices that will protect Europe's oceans and waterways. The ambassadors wanted their choice of vehicle to reflect these values, which is why they chose a battery-electric vehicle entirely free from local emissions.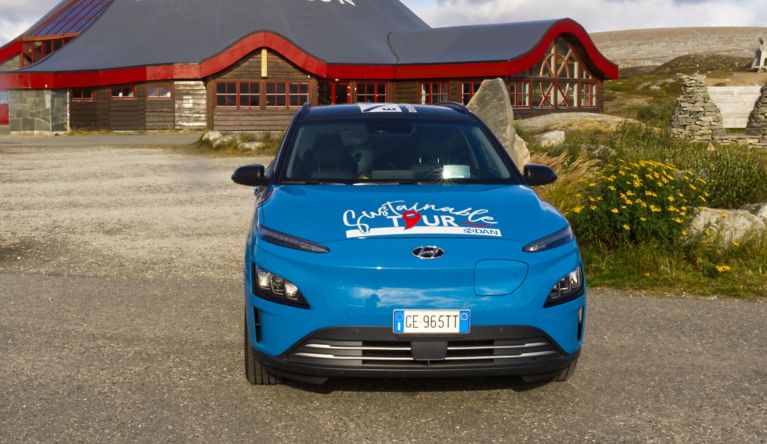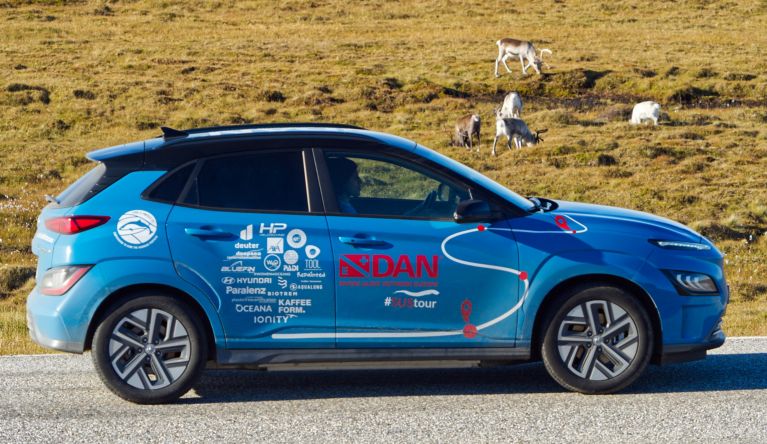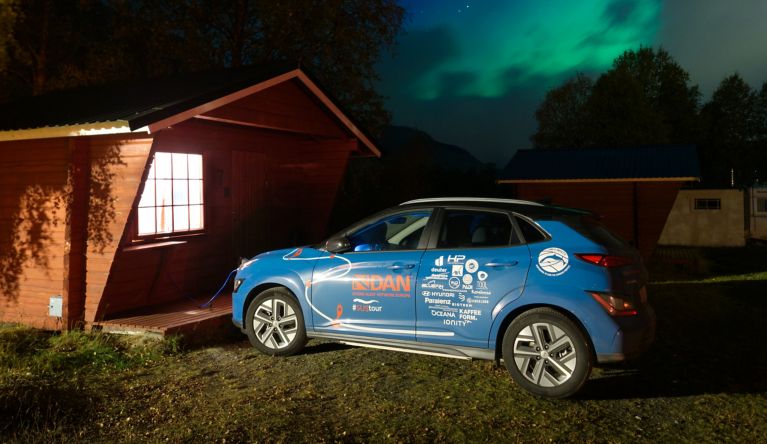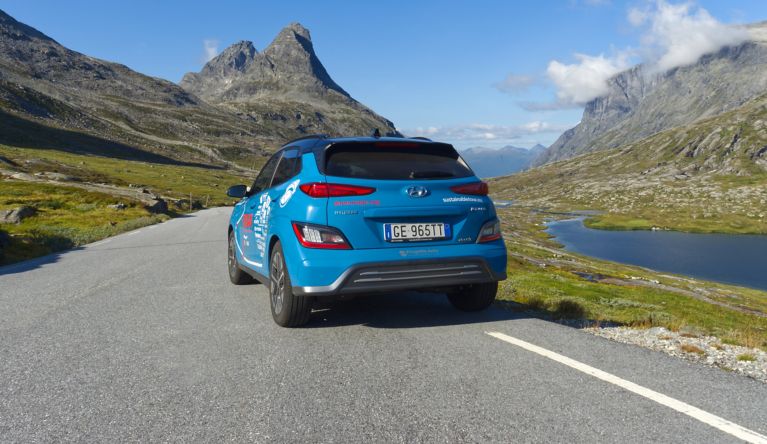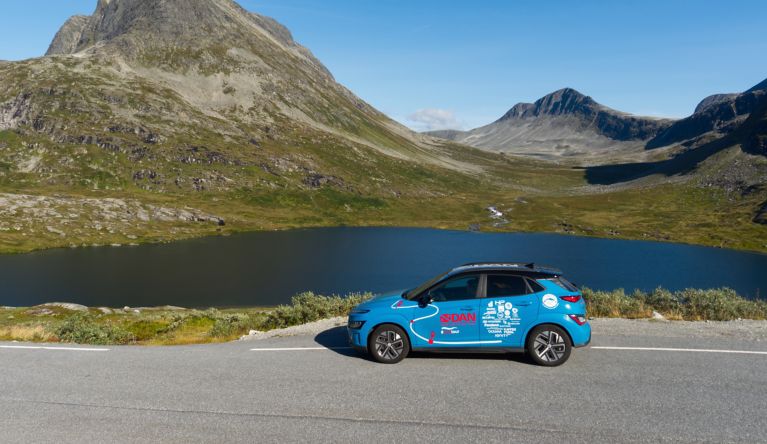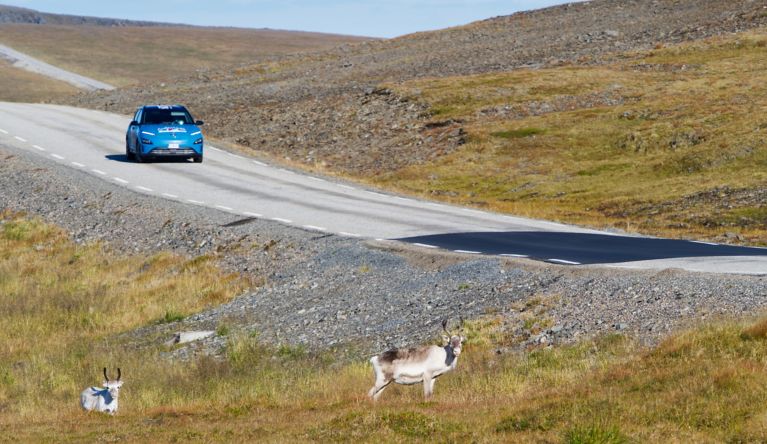 So far, the ambassadors have surpassed the halfway point of their journey, starting from DAN Europe headquarters in Italy and having now reached North Cape, Norway. Improved ranges and expanding charging infrastructure mean that BEV drivers are no longer hindered by long stops to recharge, making electric vehicles a good choice even for longer journeys. The 64 kW KONA Electric being driven by DAN Europe members has an estimated 484-kilometre range, according to WLTP.
KONA Electric felt like the right decision for this journey. Besides being a sustainable choice to drive an electric vehicle, we needed a safe, reliable, and very efficient car. Moreover, when searching for an electric vehicle for our tour, we found out that Hyundai Motor shares our vision of a sustainable future and environmental protection. Hyundai Motor's vision fits in perfectly with the purpose of our tour.
Rising ocean temperatures and acidification are linked to CO2 emissions. We set out to show that touring around Europe with an electric vehicle is absolutely possible. With improved range and enhanced charging infrastructure, we felt confident to tackle our tour in a KONA EV. We have already driven 15,000km and still have another three months of happy driving ahead of us.
Battery-electric vehicle ownership a growing trend in Europe
KONA Electric's popularity is in line with wider trends. Demand for battery-electric vehicles (BEVs) is rising steadily in Europe. New electric car registrations doubled in 2020 as compared with 2019, according to the European Electric Car Flash Report (June 2021). In fact, 355,000 new BEVs were registered in Europe in just the first five months of 2021 – more than were registered during the entire calendar year of 2019. As manufacturers expand their offerings to meet CO2 targets, the BEV market in Europe is expected to reach one million models sold by the end of 2021.
Also confirming this trend, the Electric Vehicle Sales Review1 reports that the BEV market in the European core regions has grown by 147 per cent year-on-year in the first half of 2021, with a total of 336,000 units sold.
In addition, owning a BEV is easier and more convenient than ever, with several countries throughout Europe incentivising the purchase of local emissions-free vehicles through generous subsidies and the number of EV charging stations in Europe growing each year. Recognising the importance of charging infrastructure in encouraging the adoption of BEV technology, Hyundai Motor Group last year became a shareholder in IONITY, the leading network of high-powered charging stations in Europe. As range anxiety and concerns about charging times are some of the biggest factors holding customers back from purchasing an EV, building a dense network of high-speed charging stations across Europe is expected to encourage an uptick in BEV adoption.
IONITY is also one of the partners of the DAN Europe Sustainable Tour.
KONA Electric sales are not distributed evenly among all European countries, but rather, concentrated in a handful of countries that choose to prioritise electro-mobility. In Germany, for example, which represents a 10.7 per cent share of the BEV market in Europe, record numbers of BEVs are being registered. In 2020, approximately 194,000 passenger cars with an electric drivetrain were registered – more than ever before, and three times the number from the previous year. Compared to the same period in 2020, this year started off with a significant increase in electric car registrations.
Also in Germany, KONA Electric is the most popular member of the KONA family. More than half of all KONA customers in Germany own a KONA Electric.
Hyundai Motor to introduce 12 new BEVs in four years
KONA Electric isn't the only BEV in the Hyundai line-up. Earlier this year, the company launched IONIQ 5, a ground-breaking, fully-electric CUV and the first model in the new IONIQ line-up brand. The original Hyundai IONIQ, which was launched in 2016, was the first car to be available with the choice of three electrified powertrains: hybrid, plug-in hybrid, and battery electric.
Starting with IONIQ 5, Hyundai plans to introduce 12 new BEVs by 2025. The company also aims to sell 560,000 EVs per year by 2025. Hyundai Motor Group, which includes Kia and Genesis, will offer a total of 23 BEVs by 2025 and plans to sell one million units annually in global markets. The company is to fully electrify its entire line-up in Europe by 2035 and its entire line-up globally by 2040. Also, by 2040, Hyundai aims to make up eight to ten per cent of the global EV market.
By increasing its offering of customer-centric, sustainable mobility solutions, Hyundai is getting closer to achieving its vision of 'Progress for Humanity'. The goal is to improve people's lives by taking a human-centric approach to mobility. BEVs such as KONA Electric offer an ideal solution, as the segment-leading range and advanced safety and connectivity features make it suitable for a variety of customer lifestyles, while the fully-electric powertrain produces no local emissions, making the world a better place for generations to come.
Disclaimer: CO2 and emissions data
Electricity consumption combined for the Hyundai KONA Electric 39.2 kWh in kWh/100 km: 14.3; CO2 emissions combined in g/km: 0 (WLTP)
Electricity consumption combined for the Hyundai KONA Electric 64 kWh in kWh/100 km: 14.7; CO2 emissions combined in g/km: 0 (WLTP)
Fuel consumption combined for the Hyundai KONA 1.0 T-GDI with 6MT 2WD in l/100 km: 6.1 - 5.7; CO2 emissions combined in g/km: 137 - 128 (WLTP)
Fuel consumption combined for the Hyundai KONA 1.0 T-GDI with 7DCT 4WD in l/100 km: 6.0 - 5.8; CO2 emissions combined in g/km: 137 - 132 (WLTP)
Fuel consumption combined for the Hyundai KONA 1.0 T-GDI 48V with 6iMT 2WD in l/100 km: 6.1 - 5.5; CO2 emissions combined in g/km: 139 - 124 (WLTP)
Fuel consumption combined for the Hyundai KONA 1.6 T-GDI with 7DCT 2WD in l/100 km: 6.7 - 6.2; CO2 emissions combined in g/km: 152 - 142 (WLTP)
Fuel consumption combined for the Hyundai KONA 1.6 T-GDI with 7DCT 4WD in l/100 km: 7.4 - 7.0; CO2 emissions combined in g/km: 167 - 160 (WLTP)
Fuel consumption combined for the Hyundai KONA 1.6 CRDi with 6iMT 2WD in l/100 km: 5.2 - 4.7; CO2 emissions combined in g/km: 136 - 124 (WLTP)
Fuel consumption combined for the Hyundai KONA 1.6 CRDi with 7DCT 2WD in l/100 km: 5.2 - 4.7; CO2 emissions combined in g/km: 136 - 124 (WLTP)
Fuel consumption combined for the Hyundai KONA 1.6 CRDi with 7DCT 4WD in l/100 km: 5.6 - 5.2; CO2 emissions combined in g/km: 147 - 137 (WLTP)
Fuel consumption combined for the Hyundai KONA 1.6 GDI Hybrid in l/100 km: 5.4 - 5.0; CO2 emissions combined in g/km: 122 - 114 (WLTP)
Fuel consumption combined for the Hyundai KONA N 2.0 T-GDI (280 PS) with DCT in l/100 km: 8.5; CO2 emissions combined in g/km: 194 (WLTP)
Electricity consumption combined for the Hyundai IONIQ 5 58 kWh with 2WD in kWh/100 km: 16.7; CO2 emissions combined in g/km: 0 (WLTP)
Electricity consumption combined for the Hyundai IONIQ 5 58 kWh with 4WD in kWh/100 km: 18.1; CO2 emissions combined in g/km: 0 (WLTP)
Electricity consumption combined for the Hyundai IONIQ 5 72.6 kWh (19" alloy rims) with 2WD in kWh/100 km: 16.8; CO2 emissions combined in g/km: 0 (WLTP)
Electricity consumption combined for the Hyundai IONIQ 5 72.6 kWh (20" alloy rims) with 2WD in kWh/100 km: 17.9; CO2 emissions combined in g/km: 0 (WLTP)
Electricity consumption combined for the Hyundai IONIQ 5 72.6 kWh (19" alloy rims) with 4WD in kWh/100 km: 17.7; CO2 emissions combined in g/km: 0 (WLTP)
Electricity consumption combined for the Hyundai IONIQ 5 72.6 kWh (20" alloy rims) with 4WD in kWh/100 km: 19.0; CO2 emissions combined in g/km: 0 (WLTP)
Electricity consumption combined for the Hyundai IONIQ Electric in kWh/100 km: 13.8; CO2 emissions combined in g/km: 0 (WLTP)
Fuel consumption combined for the Hyundai IONIQ Hybrid in l/100 km: 5.2 - 4.4; CO2 emissions combined in g/km: 119 - 100 (WLTP)
Fuel consumption combined for the Hyundai IONIQ Plug-in in l/100 km: 1.1; electricity consumption combined in kWh/100 km: 11.7; CO2 emissions combined in g/km: 26 (WLTP)