The Hyundai KONA family presents one of the widest ranges of powertrain and trim options to meet the needs of almost every lifestyle
Beyond the individual benefits, all KONA variations are built with Hyundai's customer-centric focus
Sales of all KONA models in Europe have exceeded 367,000 units since its launch in 2017
Roughly 40 per cent of all KONA sales in Europe are hybrid or electric models
Hyundai Motor's complete KONA family offers customers one of the widest selections of powertrain and trim options in the industry, to suit almost every lifestyle. The subcompact SUV was launched with two petrol engines in 2017. Over the next four years, Hyundai introduced diesel, hybrid, and battery-electric powertrains, followed by the sporty N Line trim. Most recently, Hyundai launched the high-performance KONA N. These various powertrain and trim options make KONA Hyundai's most versatile car.
Despite the variations, KONA is still an SUV at heart. On top of being available with several combustion and electrified powertrains, all variations offer a generous amount of space within compact dimensions. Customers can choose between front-wheel and all-wheel drive. At slightly more than four metres long, 1.8 metres wide, and 1.57 metres high, KONA offers drivers excellent visibility and interior space, yet it's easy to board and manoeuvre.
KONA: A small SUV packing a punch
Entering the European market back in 2017, the KONA combines award-winning design elements and state-of-the-art connectivity and safety features. Available at an accessible price point, KONA is the perfect model for customers who want a quality driving experience combined with SUV capabilities.
Within only four years, KONA has become one of Hyundai's most popular models in Europe. Since KONA's first launch, total European sales of the entire KONA line-up have surpassed 367,000 units – of which more than 222,000 units were equipped with internal combustion engines. In 2021, British Auto Express Driver Power Survey named it Car of the Year and rewarded it with the second-best reliability score overall (95.71 per cent). Two years earlier, KONA won North American Utility Vehicles of the Year™ and the Best Car of the Year ABC in Spain. The year prior, the car received the iF Design Award, Red Dot Award, and IDEA design award.
Following the latest product enhancement at the end of 2020, the subcompact SUV now features a sleek, sophisticated design, including new headlights, a wider radiator grille, and more prominent underrun protection. It also received an upgrade for its Hyundai SmartSense safety features, and the connectivity and convenience features were expanded as well. This included even more Bluelink® Connected Car Services and a free five-year subscription to Hyundai's LIVE Services. This provides drivers with live updates on fuel prices, traffic, weather, points of interest, and more.
The new KONA comes with an enhanced 1.6-litre T-GDI Smartstream petrol engine with a 7-speed dual-clutch transmission (DCT) or a 1.0-litre T-GDI Smartstream petrol engine with a 6-speed manual transmission or an optional 7-speed DCT. Customers have the option to outfit the 1.0-litre T-GDI engine with 48-volt mild hybrid technology.
KONA Hybrid: An SUV with exceptional fuel efficiency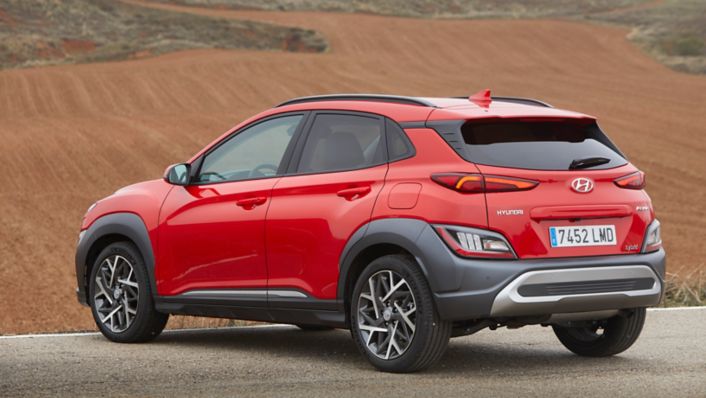 Fuel consumption combined for the Hyundai KONA Hybrid 1.6 GDI Hybrid in l/100 km: 5.4‑5.0; CO2 emissions combined in g/km: 122-114 (WLTP)
The new KONA Hybrid joined the KONA line-up in 2019. The car combines the sleek design features, smart ADAS technologies, and intuitive connectivity features of the new KONA with an innovative hybrid powertrain. KONA Hybrid is designed to appeal to eco-conscious individuals and families who also want the convenience of an SUV. The model has seen steady sales since it entered the European market in 2019. Since then, almost 50,000 units have been sold.
The powertrain combines a specially calibrated 1.6-litre GDI direct-injection petrol engine with a 43.5 PS electric motor for a combined power output of 141 PS and 265 Nm of torque. The versatile SUV can seamlessly switch between the internal combustion engine and the electric motor and sometimes even utilise both simultaneously. This allows the car to deliver superb fuel efficiency without compromising on driving performance. The motor draws its energy from the 1.56 kWh high-power lithium-ion polymer battery. KONA Hybrid's innovative regenerative braking system helps slow the car while charging the battery. On top of that, the 6-speed DCT and forward-wheel drive provide customers with a sporty driving experience.
Customers are demanding more SUVs and electrified solutions – Hyundai is responding with a combination of both. As one of our most popular models, KONA has played a key role in Hyundai's success in Europe in recent years. This is why it is important to us to continually enhance and improve this model – so we can continue delivering the best possible product to our customers.
KONA N Line: KONA wrapped in a sporty package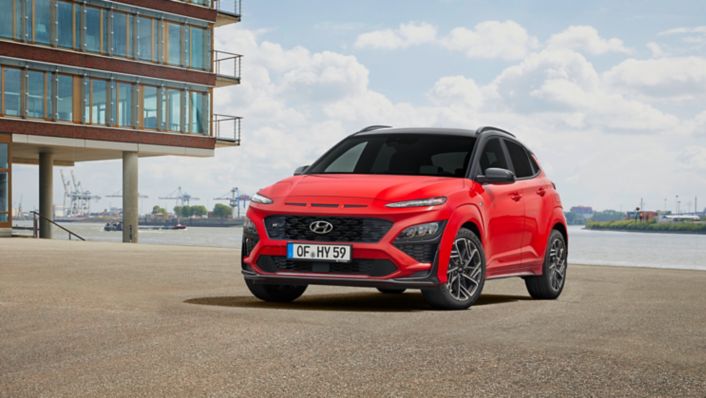 The new KONA is also available with the N-inspired N Line trim. N Line models deliver a sportier look and feel than their base car counterparts.
At the front, the exclusive N Line grille with its unique mesh design differentiates it from the rest of the KONA family. Instead of the new KONA's rugged skid plate, its bumper features an aerodynamic, N-style lip that creates a close-to-the-ground effect. The trim's exclusive 18-inch diamond-cut alloy wheels complement the body-colour claddings and new rocker panel on the side. Prominent fins, a large central aerodynamic diffusor, and sporty double exhaust pipes define the rear.
Performance-inspired styling can be found throughout the KONA N Line's interior. In the cockpit, the leather N Line steering wheel blends comfort and control. The sporty seats are embossed with the N logo on the headrest and come in leather, cloth, or suede. For improved grip and more motorsport character, sporty metal accents, the N logo, a red racing line, and leather inserts characterise the N Line gearshift. The red contrast stitching accents the seats, steering wheel, gearshift, and middle console.
KONA N Line is available with 1.0-litre T-GDI or 1.6-litre T-GDI petrol engine in both two-wheel-drive and four-wheel-drive variations. Sporty KONA N Line represents 15 per cent of KONAs with internal combustion engines sold.
KONA Electric: Hyundai's zero-emissions bestseller
Since its launch in 2018, Hyundai KONA Electric has exceeded expectations in Europe due to its powerful all-electric drivetrain, long driving range, and stylish SUV appearance. A total of almost 97,000 units have been sold in Europe to date. In Germany, KONA Electric is the most popular KONA within the model line-up. To keep up with customer demand, Hyundai started producing KONA Electric at its Czech production plant for dedicated markets, Hyundai Motor Manufacturing Czech (HMMC), in 2020. This means KONA Electric is "made in Europe, for Europe".
KONA Electric is aimed towards eco-friendly customers and has been named a top electric car for families. By offering a segment-leading range at an accessible price point, making it the perfect car for customers looking for SUV convenience without the emissions.
KONA Electric is available with two battery-electric powertrains. The long-range version with a 64 kWh battery delivers an impressive driving range of 484 kilometres on a single charge (WLTP). The actual driving range may vary – KONA Electric has travelled up to 1,026 kilometres on a single charge. The 39.2 kWh battery option offers a range of up to 305 kilometres on a single charge (WLTP).
KONA Electric's exterior design is sleeker and more refined, giving it a more streamlined look. Its design features a closed radiator grille and is characterised by smooth, aerodynamic shapes.
In addition to its awards, KONA Electric has also collected several noteworthy accolades. Earlier this year, KONA Electric broke the Guinness World Record for "Highest Altitude Achieved in an Electric Car". In 2020, it also received a five-star Green NCAP rating – based on clean air, energy efficiency, and greenhouse gas metrics.
When we launched the KONA Electric in 2018 as the world's first fully-electric subcompact SUV, it represented a major step forward for affordable e-mobility. With the new KONA Electric, we're showing that Hyundai is fully committed to zero-emissions driving, by providing our customers with enhanced driving assistance and safety features, making it an even more desirable package.
KONA N: Hyundai's first 'hot SUV'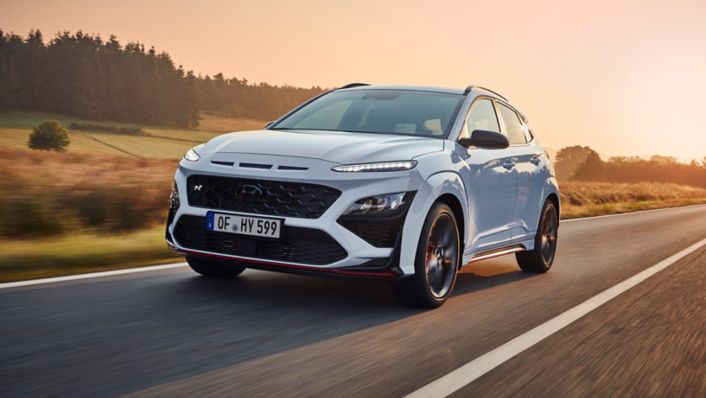 Fuel consumption combined for the Hyundai KONA N 2.0 T-GDI (280 PS) with DCT in l/100 km: 8.5; CO2 emissions combined in g/km: 194 (WLTP)
The all-new KONA N takes the modern design of KONA and adds the bold and dynamic character of Hyundai N. The urban compact 'hot SUV' can deliver both balanced everyday driving and exhilarating performance without compromising on its fun-to-drive experience.
KONA N combines high performance and a fun-to-drive experience with SUV benefits such as better visibility and SUV looks. It is designed with active young singles and enthusiastic young families in mind. It is perfect for customers who desire both the driving pleasure of hot-hatch-level performance and the versatility of an SUV.
The all-new KONA N comes with a turbocharged, four-cylinder 2.0-litre T-GDI engine, which generates a power output of 280 PS and a maximum torque of 392 Nm. With this engine, KONA N can reach a top speed of 240 km/h and accelerate from 0 to 100 km/h in 6.4 seconds. The engine also features flat power, which provides more torque and power as well as improves acceleration at mid and high-range RPMs.
The all-new KONA N is equipped with N DCT, an enhanced version of Hyundai's eight-speed, wet-type dual-clutch. N DCT applies the convenience of an automatic transmission to the engaging experience of a sequential gearbox. The dual clutches enable improved acceleration and faster shifting as well as three N-exclusive functions that use dedicated shift logic management to enhance the car's performance: N Power Shift (NPS), N Grin Shift (NGS), and N Track Sense (NTS).
Attractive warranty for peace of mind
All five versions of Hyundai KONA are built to the highest quality standards, which is why Hyundai offers it with a Five-Year Unlimited Mileage Warranty. That way, customers can worry less about their cars and enjoy peace of mind. On top of that, the high-performance lithium-ion polymer battery is warranty-protected for eight years or 160,000 kilometres, whichever comes first.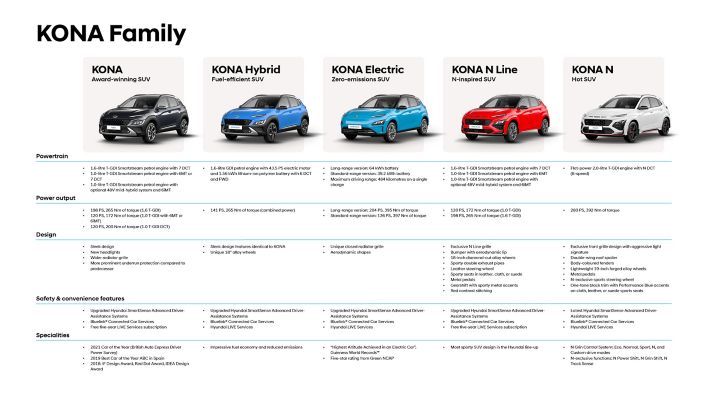 Disclaimer: CO2 and emissions data
Fuel consumption combined for the Hyundai KONA 1.0 T-GDI with 6MT 2WD in l/100 km: 6.1-5.7; CO2 emissions combined in g/km: 137-128 (WLTP)
Fuel consumption combined for the Hyundai KONA 1.0 T-GDI with 7DCT 4WD in l/100 km: 6.0-5.8; CO2 emissions combined in g/km: 137 - 132 (WLTP)
Fuel consumption combined for the Hyundai KONA 1.0 T-GDI 48V with 6iMT 2WD in l/100 km: 6.1-5.5; CO2 emissions combined in g/km: 139-124 (WLTP)
Fuel consumption combined for the Hyundai KONA 1.6 T-GDI with 7DCT 2WD in l/100 km: 6.7-6.2; CO2 emissions combined in g/km: 152-142 (WLTP)
Fuel consumption combined for the Hyundai KONA 1.6 T-GDI with 7DCT 4WD in l/100 km: 7.4-7.0; CO2 emissions combined in g/km: 167-160 (WLTP)
Fuel consumption combined for the Hyundai KONA 1.6 CRDi with 6iMT 2WD in l/100 km: 5.2-4.7; CO2 emissions combined in g/km: 136-124 (WLTP)
Fuel consumption combined for the Hyundai KONA 1.6 CRDi with 7DCT 2WD in l/100 km: 5.2-4.7; CO2 emissions combined in g/km: 136-124 (WLTP)
Fuel consumption combined for the Hyundai KONA 1.6 CRDi with 7DCT 4WD in l/100 km: 5.6-5.2; CO2 emissions combined in g/km: 147-137 (WLTP)
Fuel consumption combined for the Hyundai KONA Hybrid 1.6 GDI Hybrid in l/100 km: 5.4 5.0; CO2 emissions combined in g/km: 122-114 (WLTP)
Electricity consumption combined for the Hyundai KONA Electric 39.2 kWh in kWh/100 km: 14.3; CO2 emissions combined in g/km: 0 (WLTP)
Electricity consumption combined for the Hyundai KONA Electric 64 kWh in kWh/100 km: 14.7; CO2 emissions combined in g/km: 0 (WLTP)
Fuel consumption combined for the Hyundai KONA N 2.0 T-GDI (280 PS) with DCT in l/100 km: 8.5; CO2 emissions combined in g/km: 194 (WLTP)