Hyundai Motor's fully-electric midsize CUV wins comparison tests by German magazines Auto Bild and auto motor und sport
In both magazines, IONIQ 5 won in a comparison test against the VW ID.4 GTX
This recognition comes in addition to several other awards IONIQ 5 has won in the months since launch, including the title 'Car of the Year' in the Auto Express New Car Awards 2021
Auto Bild: IONIQ 5 wins five out of seven test categories
In the latest issue of the automotive magazine Auto Bild, IONIQ 5 won five out of seven test categories. The editors praised its spaciousness, comfort, powertrain, and driving dynamics, as well as the high resale value in the cost rating. The all-new battery-electric vehicle received special recognition for its innovative 800-volt charging technology, which allows the battery to be charged from 10 to 80 percent in 18 minutes – half the time of its competitor. All in all, the fully-electric midsize CUV excelled in the comparison test with a total of 577 points – 14 points ahead of the competition. The test experts' conclusion spoke for itself:
The ID.4 GTX can't hold a candle to the IONIQ in many details.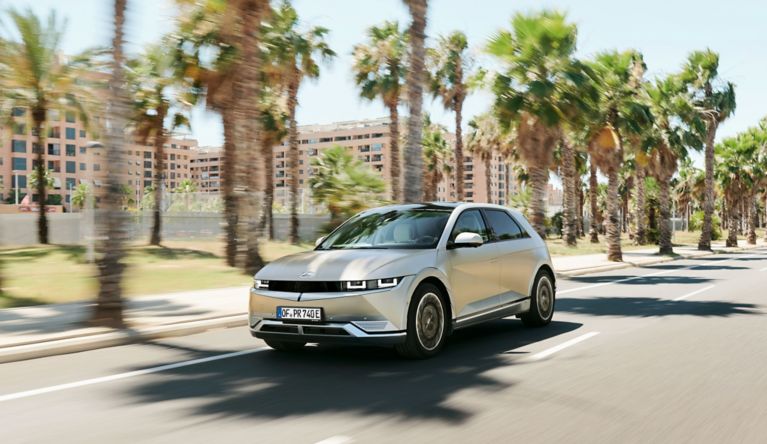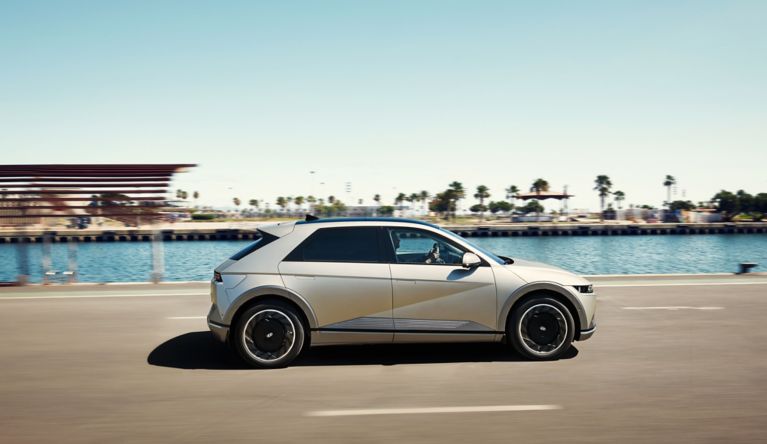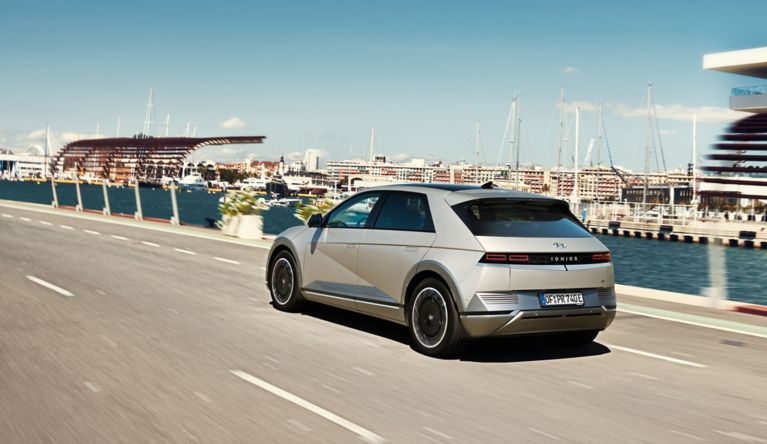 auto motor und sport: IONIQ 5 offers power when charging and driving
The test editors of automotive magazine auto motor und sport came to a similar conclusion. Here, IONIQ 5 also competed against the VW ID.4 GTX and won with a total of 631 points, a lead of 16 points. The judges were also enthusiastic about IONIQ 5's advanced charging technology. They were convinced by the ability to search for suitable charging points via the infotainment system. Easy-to-access information about the battery's real-time charge was an added plus. In addition, they also praised the simple, intuitive operation and overview.
The numerous advanced features contributed to the overall victory. These included the versatile and smooth regenerative braking, the sensitive brakes, and V2L. V2L, which stands for "vehicle to load," refers to the vehicle's ability to power a 230-volt electronic device from the vehicle, such as a fridge, an electric barbecue, or even other EVs.
In the test by auto motor und sport, IONIQ 5 ultimately won four out of seven categories: Body, Drivetrain, Environment and Costs. This was reflected in the judges' conclusion: "[IONIQ 5] breathes life to the e-business with powerful charging and driving, cool retro elements, extensive regenerative braking levels, and a good search function for charging stations."
The two most recent wins in the Auto Bild and auto motor und sport comparative tests prove we are on the right track. The continually high number of incoming orders is further proof of this. The limited edition IONIQ 5 Project 45 was almost three times over-subscribed within 24 hours after launch, and since then, customer interest has continued to remain high.
With triumphs in Auto Bild and auto motor und sport, IONIQ 5 continues its winning streak in comparative tests. In mid-August, it already won a comparative test in Auto Zeitung against German premium competitors Audi Q4 e-tron 50 quattro and the BMW iX3. In addition, it swept up four awards in the Auto Express New Car Awards 2021, including the title 'Car of the Year.'
IONIQ 5: A new era of electric mobility
IONIQ 5 is the first model of the new IONIQ line-up brand. It is based on the Electric Global Modular Platform (E-GMP) developed by Hyundai Motor Group specifically for battery electric vehicles. This platform offers customers the choice of two battery sizes – 58 and 72.6 kWh – and a choice of all-wheel or rear-wheel drive for IONIQ 5. Depending on the configuration, the battery-electric vehicle can achieve a system output of up to 225 kW/305 PS and offers a range of up to 481 kilometres, according to WLTP.
Particularly advanced is the BEV's 800-volt technology, which allows both battery options to charge from 10 to 80 percent within 18 minutes when connected to an ultra-fast charging point. In addition, the Vehicle-to-Load function can be used to power electrical devices, from laptops to e-scooters, with 230-volt alternating current – whether driving or stationary.
In addition to a wide range of drivetrain options, IONIQ 5 also offers innovative features in the interior. Natural materials incorporated into the interior design emphasise the sustainable character of the vehicle. Electronic adjustable front seats ensure maximum comfort: they allow the driver and front passenger to lean back at an ergonomically optimal angle. A 12.25-inch infotainment system and digital cluster reflect the vehicle's advanced connectivity. And the centre console and rear seat can be moved to allow for flexible use of the interior.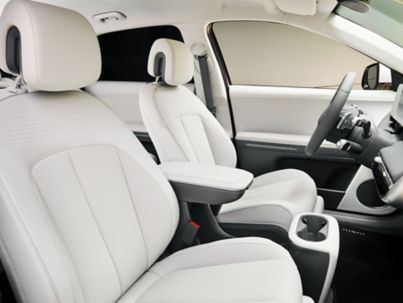 IONIQ 5 is one of few electric cars that can also tow trailers, with a gross vehicle weight of up to 1,600kg – one of the many advantages also highlighted by the experts from Auto Zeitung and Auto Bild.
Disclaimer: CO2 and emissions data
Electricity consumption combined for the Hyundai IONIQ 5 58 kWh with 2WD in kWh/100 km: 16.7; CO2 emissions combined in g/km: 0 (WLTP)
Electricity consumption combined for the Hyundai IONIQ 5 58 kWh with 4WD in kWh/100 km: 18.1; CO2 emissions combined in g/km: 0 (WLTP)
Electricity consumption combined for the Hyundai IONIQ 5 72.6 kWh (19" alloy rims) with 2WD in kWh/100 km: 16.8; CO2 emissions combined in g/km: 0 (WLTP)
Electricity consumption combined for the Hyundai IONIQ 5 72.6 kWh (20" alloy rims) with 2WD in kWh/100 km: 17.9; CO2 emissions combined in g/km: 0 (WLTP)
Electricity consumption combined for the Hyundai IONIQ 5 72.6 kWh (19" alloy rims) with 4WD in kWh/100 km: 17.7; CO2 emissions combined in g/km: 0 (WLTP)
Electricity consumption combined for the Hyundai IONIQ 5 72.6 kWh (20" alloy rims) with 4WD in kWh/100 km: 19.0; CO2 emissions combined in g/km: 0 (WLTP)