IONIQ 5 named 'Car of the Year' in Auto Express New Car Awards 2021
Hyundai's latest all-electric model also triumphs in 'Mid-Size Company Car,' 'Premium Electric Car' and 'Design' categories
Hyundai TUCSON receives best 'Mid-Size SUV' accolade
Hyundai i20 N's triumph in the fiercely contested 'Hot Hatchback' sector takes the trophy tally to six
Auto Express experts describe IONIQ 5 as "a brilliant car" and TUCSON as "the perfect SUV for our times"
i20 N praised for "snappy acceleration and secure handling" 
Hyundai Motor has dominated the 2021 Auto Express New Car Awards, winning six highly coveted trophies, including the Car of the Year Award for IONIQ 5. IONIQ 5 was also named best Mid-Size Company Car and best Premium Electric Car by Auto Express and even secured the prestigious Design trophy. In addition, the experts at Auto Express hailed the Hyundai TUCSON as Best Mid-Size SUV and the Hyundai i20 N as Best Hot Hatchback.
Every car on sale in the UK is eligible for the annual Auto Express New Car Awards, which were first held in 1993. The awards are judged by Auto Express' highly experienced panel of road testers, chaired by the editor-in-chief Steve Fowler.
When we first saw the Concept 45 that previewed the IONIQ 5, we knew the production car would be something special. IONIQ 5 delivers on styling, quality, driver appeal and quality. Hyundai has already proven to be a technology leader in the Electric Vehicle space, and IONIQ 5 takes it one step further. It's a brilliant car.
IONIQ 5 takes home Car of the Year, Mid-Size Company Car, Premium Electric Car and Design Award
The futuristic-looking Hyundai IONIQ 5 is based upon Hyundai's breakthrough Electric Global Modular Platform (E-GMP), which delivers faster charging, increased driving range, superior handling and more interior space. In addition to revolutionising sustainable mobility, IONIQ 5 offers an interior that provides a whole new in-car experience – redefining living space and moving space. Environmentally-friendly materials, such as eco-processed leather and recycled nylon yarn, are used extensively in IONIQ 5.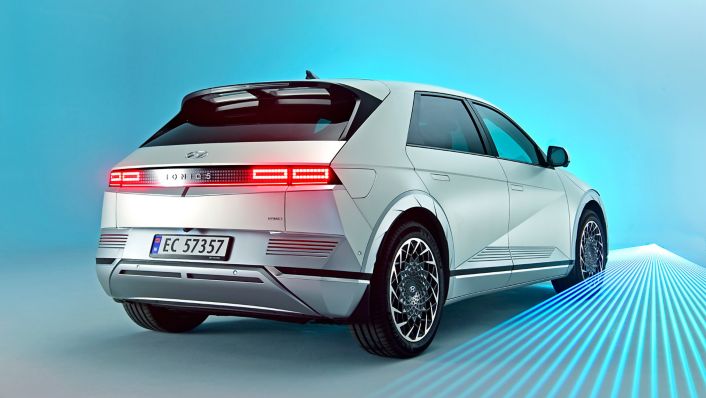 Offered with a range of electric powertrains and two- and four-wheel drive configurations, IONIQ 5 is able to charge from 10-80 per cent in just 18 minutes. It can also accelerate from 0-62mph in as little as 5.2 seconds and travel up to 298 miles on a single charge.
As well as IONIQ 5's victories as overall Car of the Year, Mid-Size Company Car and Premium Electric Car, it was also crowned a winner for its revolutionary design voted for by the readers of Auto Express. IONIQ 5's exterior evokes the daring attitude of the Hyundai Pony, the company's first production car, but modernised with the freedom of a dedicated EV platform. The interior, meanwhile, is characterised as a 'Smart Living Space', complete with flat floor and reclining chairs. This allows for levels of comfort and flexibility never before seen in this segment.
TUCSON ranked Best Mid-Size SUV
Showing strength across the Hyundai range, the TUCSON was presented with the Mid-Size SUV award by the Auto Express team. Steve Fowler said: "The Hyundai TUCSON is the perfect SUV for our times", with the Auto Express road testers impressed by the TUCSON's broad choice of efficient powertrains and high-value trims. In addition, they were won over by the SUV's "attractive, spacious and easy-to-use interior, high quality fixtures and fittings, and all the kit today's drivers want and need."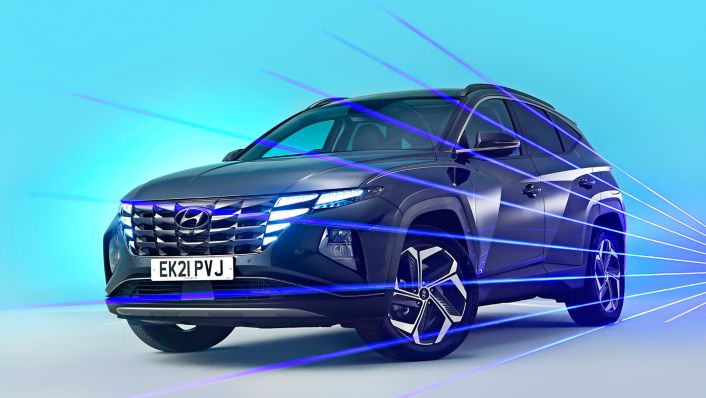 Hyundai TUCSON: a stylish SUV with the power of choice
The ground-breaking Hyundai TUCSON SUV is offered to customers with a choice of three powertrains: hybrid, plug-in hybrid and mild hybrid. TUCSON'S styling is sophisticated yet rugged, performance is consummately blended with efficiency, and the engaging driving experience is backed up by best-in-class safety. Every TUCSON is equipped with advanced safety features such as Forward Collision Avoidance Assist (FCA) Car, Pedestrian and Cycle and Multi Collision Braking (MCA) as standard.
i20 N wins Hot Hatchback category
The pure driving appeal of Hyundai's motorsport-inspired i20 N was left in little doubt following its triumph in the Hot Hatchback category against some incredibly tough opposition.
Hyundai's N badge is fast becoming the must-have accessory for anyone who loves to drive. The [all]-new i20 N is all about fun – this is a hot hatch that will put a smile on your face every time. We love the snappy acceleration and secure handling that gives it an old-school hot hatch feel, but brought bang up to date with Hyundai technology and quality.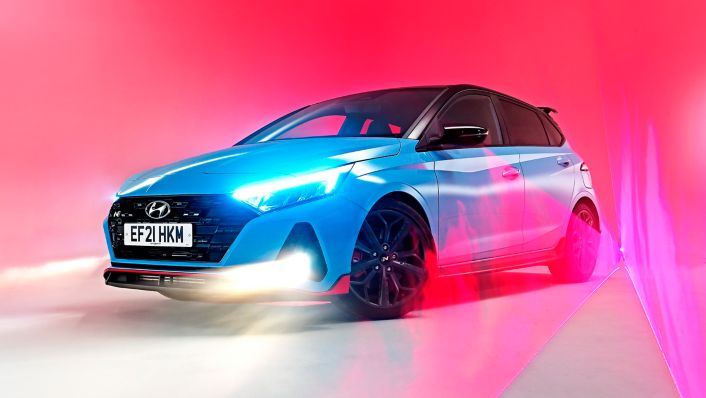 i20 N: a fun-to-drive hot hatch with a stunning performance
Like every elite, driver-focused Hyundai N model, the i20 N was born at Namyang, Hyundai Motorsport's Global Research & Development Centre in South Korea, and honed on the Nürburgring Nordschleife race circuit in Germany. Featuring a potent 204 PS turbocharged petrol engine and a mechanical limited-slip differential, the i20 N delivers a stunning performance and ultra-agile handling on the road and track. Pioneering connected and safety technologies enhance every journey. Like every Hyundai model sold in the UK, the i20 N comes with a five-year unlimited mileage warranty, five annual vehicle health checks and roadside assistance. Prices vary by market.
Awards sweep reflects Hyundai's commitment to quality, innovation
We are absolutely delighted to receive 6 Auto Express awards. For IONIQ 5 to be named Car of the Year alongside 3 other category wins shows just how far Hyundai has come on its pioneering sustainable mobility journey. With IONIQ 5, we set out to create one of the world's best electric cars – nothing less. The reaction from our customers, and now from the uncompromising critics at Auto Express, shows we have delivered an industry-beating product. Our i20 N has also triumphed over the very best rivals in the business by winning the coveted Auto Express 'Hot Hatchback' trophy. And it is especially gratifying to have Auto Express's road testers praise i20 N's exceptional fun factor, pure driving feel, advanced technology and exemplary quality, values which form the very essence of Hyundai's performance N brand. The Hyundai TUCSON SUV collects yet another major award today. Auto Express' description of it as 'the perfect SUV for our times' is high praise indeed.