Hyundai Motor recently showcased key elements of its strategy for future mobility at the 2017 Consumer Electronics Show in Las Vegas.
Sci-fi movies set in the future attempt to predict technology decades before it may come to pass. If you think back to some of your favourite films from this genre, you'll notice that very few managed to predict the rise of the internet, and we're still waiting for the hoverboards of Back to the Future II to be commercially available. However, some of them got aspects of the future right. Blade Runner, for example,predicted the rise of video calling, while the original Total Recall foresaw driverless cars.
As the world's largest global gathering of innovation and connectivity specialists, the annual Consumer Electronics Show (CES) is where many of these high-concept ideas become a reality. Technology companies from all over the world line up to unveil thousands of ground-breaking products that once seemed consigned to science fiction. Over 175,000 industry professionals attended this year's event, and got to see more than 3,800 companies present their products and concepts over 2.6 million net square feet of exhibition space. Among the futuristic inventions on show were 5G, smart cities, robotics and AI, as well as Hyundai Motor's own "Mobility Vision".
The next generation of convergent technologies will focus on linking cars to customer's lives, through innovations such as autonomous driving, smart hyper-connectivity and appliances to promote wellness in mobility. On 4 January, Hyundai Motor hosted a press conference to outline its vision for the future of driving.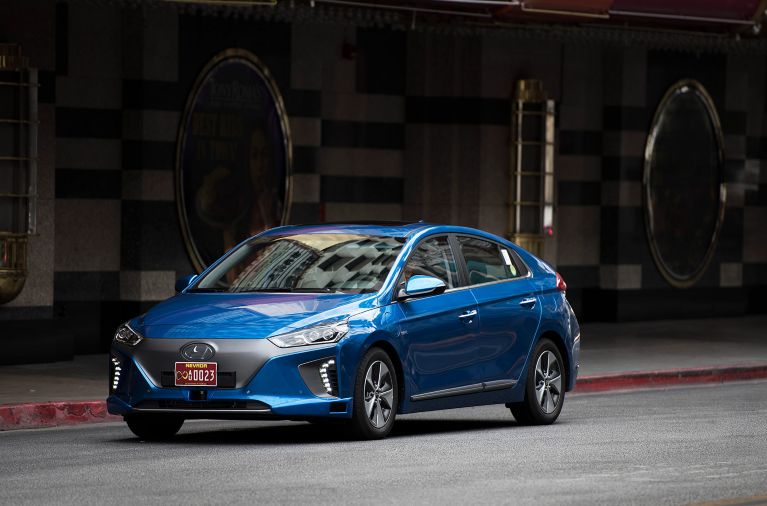 Autonomous IONIQ concept

During CES 2017, Hyundai Motor used live demonstrations and immersive virtual reality displays to introduce its latest advances in the field of self-driving technology. 
We can already anticipate how vehicles will be able to reach out and seamlessly interact with other vehicles and the outside world for greater safety and convenience. We can foresee true freedom in mobility, where fully-automated vehicles eliminate accidents, as well as taking the stress out of the daily commute.
Two Autonomous IONIQ concept models drove around a series of Las Vegas boulevards, including the city's main strip, using LiDAR technology (a laser and radar-based detection system) to identify the precise position of surrounding vehicles and objects, to ensure safe driving. LiDAR allows cars to navigate the most challenging situations safely, including high levels of pedestrian traffic, stop lights and signs, road construction and road blocks, speed bumps, dogs, small children and even intersections without traffic signals.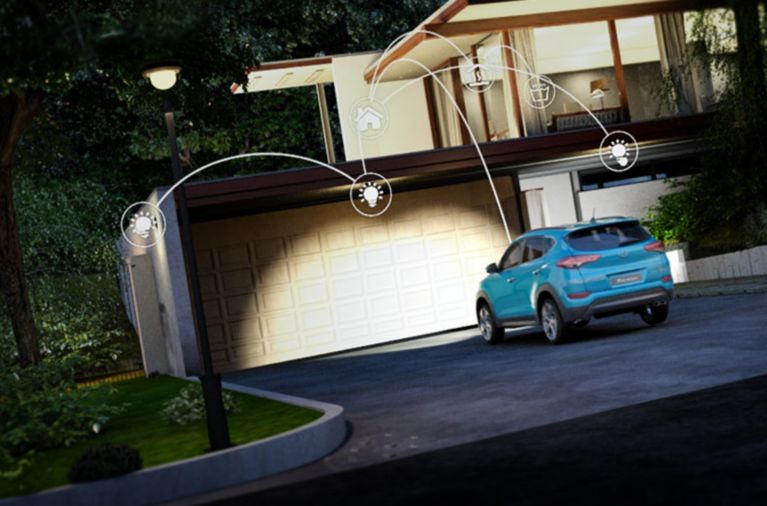 Hyper-connected cars

At CES 2017, Hyundai used an interactive display to unveil its Smart House concept, which places Connected Car technologies at the centre of the home. The Smart Home concept demonstrated how the car would cease to be a conventional vehicle with the sole purpose of transporting people from A to B, but an extension of our living and working spaces. Instead of being parked in a garage, Connected Cars will be "docked" with the Smart Home via a hole in the wall. This connects it to the home network, meaning the car is able to share its entertainment facilities with the owner's house as well as extra space for sitting or providing power in emergency situations.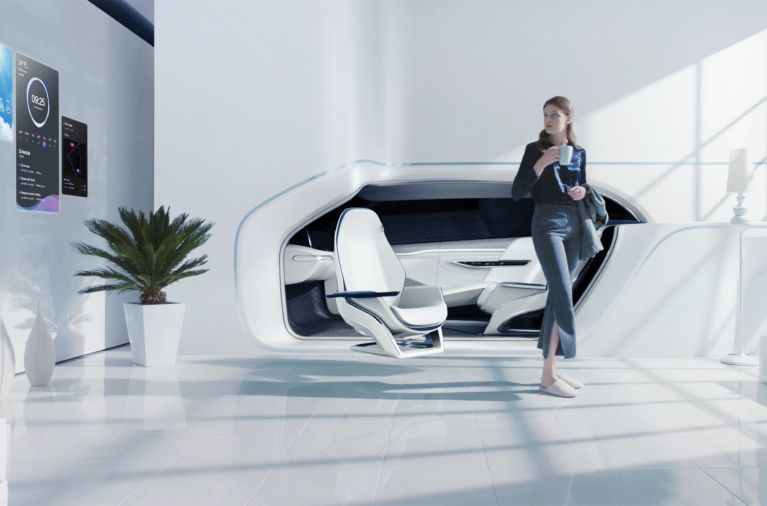 In order to realise its Mobility Vision, Hyundai is collaborating with international partners such as Cisco. The partnership with this worldwide leader in IT and security technology will enable two-way communication both internally between the car's system and externally with road structure, other vehicles, Internet of Things (IoT) devices, and the cloud.

Advanced robots

Thanks to innovations in assistive technologies, Hyundai Motor anticipates developing mobility solutions beyond cars in the future. During CES 2017, the company revealed new wearable powered robots that will revolutionise the future of personal mobility.
The H-MEX (Hyundai Medical Exoskeleton) is one example of these. Designed to help patients with lower spinal cord injuries regain the ability to walk, it works by utilising a wireless clutch with an on-board motion control system. This technology gives paraplegics the ability to sit, stand, move, turn and even walk up or down stairs.
The HUMA (Hyundai Universal Medical Assist) exoskeleton provides assisted mobility support for people with limited muscular power. It can support up to 40kg of a wearer's weight and, unloaded, can run at a speed of up to 12km/h. The Hyundai Waist Exoskeleton (also known as H-WEX), provides upper-body and hip support to prevent back injuries for workers doing repetitive manual work or heavy lifting.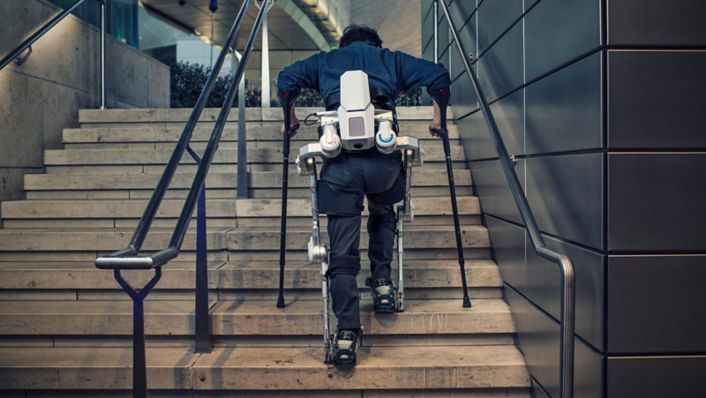 Health + Mobility Cockpit

Continuing the theme of mobility assistance, Hyundai Motor showcased its future vision for health-conscious vehicles. The "Health + Mobility Cockpit" features in-car conditions that increase focus or relaxation. It is anticipated that in the near future, a series of sensors throughout our cars could monitor the physical and mental states of drivers, detecting everything from their posture to their respiratory rate and breathing depth. The car could measure heart-rate variability for stress response, and use eye tracking and facial feature recognition to track alertness and emotional state. The car could therefore respond by delivering a customised multi-sensory experience.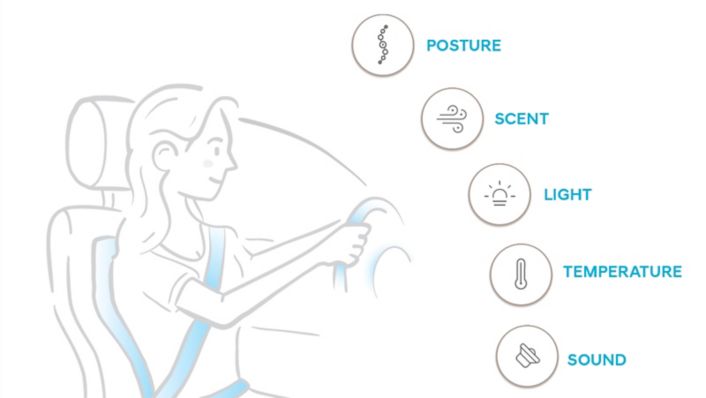 IONIQ Scooter

Hyundai Motor also unveiled the IONIQ Scooter at CES 2017. Developed by engineers at the Project IONIQ lab, this lightweight, electrically-powered scooter is stored in the front door of the IONIQ Electric and allows customers to continue easily to their final destination after parking their vehicle. Users can fold and unfold the scooter with just one hand, and it is equipped with front and rear lights to aid visibility, as well as an occupant sensor which detects when the rider is safely aboard before riding mode is enabled.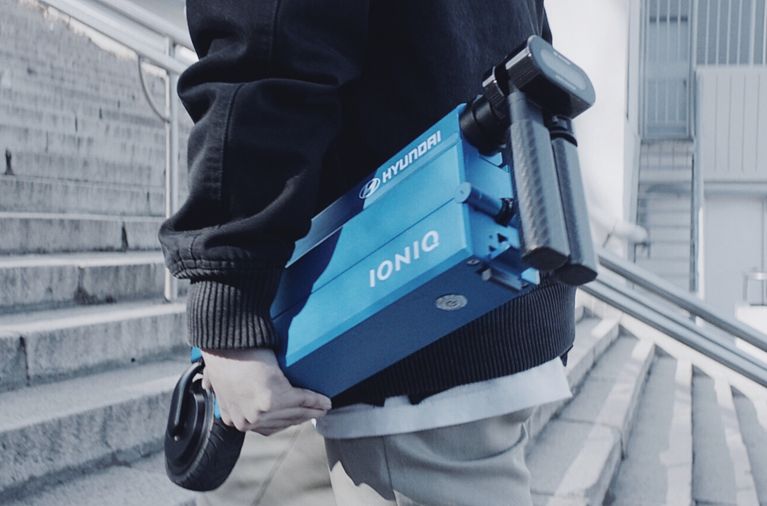 If you would like to watch the Hyundai Motor CES 2017 webcast from 4 January, you can see it below: