Hyundai's eSUVs offer a range of features to be perfectly equipped for the demands of winter driving
HTRAC all-wheel drive technology allows for better handling and traction on rugged terrain
Hyundai SmartSense ensures highest levels of safety and convenience on the road
What makes an eSUV the perfect winter travel companion? Whether you are off on holiday, travelling alone, or visiting loved ones, there are a few characteristics that make some eSUVs more suitable than others for long-distance trips during colder months.
Hyundai Motor offers electrified versions for every SUV in its line-up, each one of which is packed with features for the perfect winter holiday. Both the TUCSON and SANTA FE are available as hybrid (HEV) and plug-in hybrid (PHEV). KONA, meanwhile, is also available with a hybrid powertrain, and the battery-electric KONA Electric is Hyundai's best-selling zero-emission vehicle.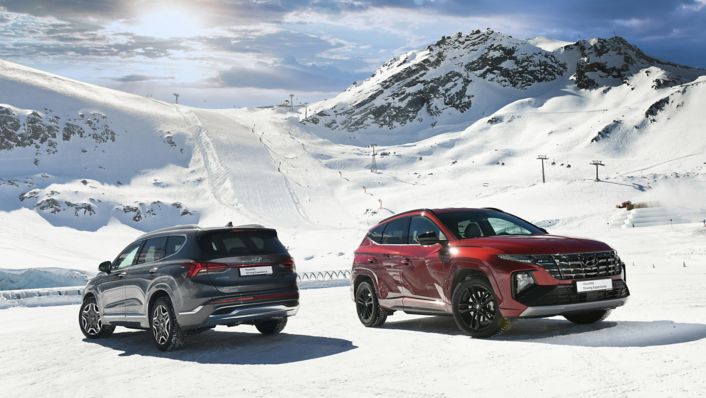 TUCSON is a compact SUV that accommodates all lifestyles with no compromises. The hybrid and plug-in hybrid versions ensure customers can enjoy maximum fuel efficiency while on their winter road trip. Smart technology and advanced safety and convenience features complete the package for an all-around great holiday companion.
The largest of the Hyundai SUVs, SANTA FE, is a true SUV which combines a rugged presence with sophistication. It's up for the task of handling challenging terrain, while keeping its passengers comfortable Hybrid and plug-in hybrid powertrains ensure maximum flexibility and fewer emissions while driving.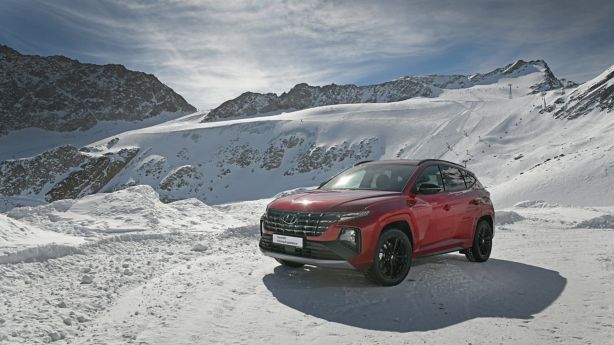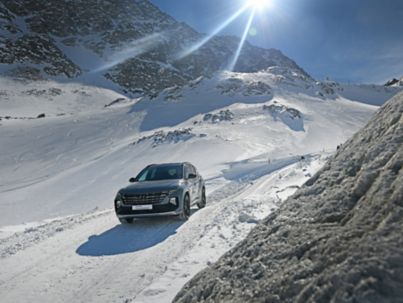 Ride and handling for rugged terrain
The main advantage of taking an SUV on your winter holiday is ride and handling. With an ability to handle mud, snow, and ice, a good SUV is an indispensable tool to get you where you need to go for your winter holiday. Hyundai SUVs are uniquely equipped to handle rugged terrain due to their variety of ride and handling features.
For example, thanks to Hyundai HTRAC™, Hyundai's trademark all-wheel drive technology, Hyundai eSUVs are ready for a variety of roads and terrain. HTRAC™, which is a combination of the words "Hyundai" and "traction", actively adjusts the driving power distribution to all four wheels to achieve optimal balance on every kind of road condition. It allows for agile handling and better torque application, depending on wheel grip and vehicle speed, to drive safely across challenging terrain.
In addition, a Terrain Mode selector is available in combination with HTRAC™ on Hyundai SUVs with automatic transmissions. These include the SANTA FE Hybrid, SANTA FE Plug-in Hybrid, TUCSON Hybrid, and TUCSON Plug-in Hybrid. The driver turns a knob to select the desired terrain type – mud, sand, or snow – and the selector optimises the driving performance and HTRAC™ settings for an enhanced driving experience.
Different drive modes further allow for a more customised driving experience, depending on if the driver wants maximum comfort or control. Normal and Eco modes enable a flat and stable ride, even on the most challenging roads, while Sport mode offers an extra level of response and control.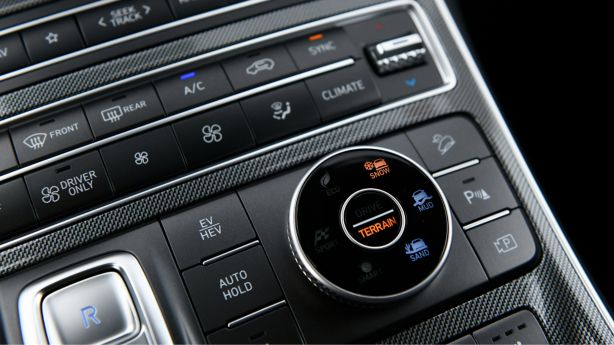 Designed for ultimate spaciousness
Hyundai's SUVs are also designed to maximise space, to make sure that passengers have enough room to be comfortable on their winter holiday. A roomy interior means more comfort on longer journeys as well as space for storing luggage, sports equipment, and more.
TUCSON Plug-in Hybrid, for instance, offers ample space enabled by its smart battery placements. The rear seats are foldable in a 40:20:40 ratio, meaning you can custom configure the interior space to meet your needs. The compact KONA Hybrid, on the other hand, offers up to 1,143 litres of storage space (VDA) with the seats folded, while KONA Electric provides up to 1,114 litres of space (VDA). The largest of the Hyundai SUVs, SANTA FE is available with up to 1,924 litres (5-seater) of storage space, depending on the seating configuration.
Advanced features for even more comfort
Hyundai's eSUVs are equipped with a range of advanced comfort and convenience features, so passengers can enjoy their winter holiday even more. For example, quiet mode mutes the rear speakers, so front-seat occupants can enjoy audio content – whether radio, calls, or any other audio transmitted via Bluetooth, Apple CarPlay, or Android Auto – without disturbing sleeping rear passengers. Multi-air mode reduces direct air contact, softening the air flow from the climate control. And three-zone climate control allows for a personalised level of comfort for both front- and rear-seat occupants. All three of these features are available with TUCSON, Hyundai's most family-friendly SUV.
In addition, in TUCSON, KONA and KONA Electric, both the front and the rear seats are heated, and front and rear USB ports allow passengers from all throughout the vehicle to charge their devices. Additionally for TUCSON, the front seats offer ventilation for added comfort.
Safety both in and around the car
No vehicle would be suitable for a winter holiday without a high degree of safety. Every Hyundai eSUV is equipped with SmartSense, the company's advanced driver assistance system. This ensures the highest levels of safety and convenience on the road.
Several safety features make Hyundai eSUVs stand out. Collision prevention, pedestrian and road user protection features protect those both inside and outside the car. For example, Parking Collision-avoidance Assist (PCA) helps prevent collisions with obstacles at the rear while reversing at low speeds.
Meanwhile, driver assistance features offer even more assurance for drivers. All Hyundai eSUVs offer Forward Collision-Avoidance Assist (FCA), an autonomous braking function that can detect cars, pedestrians and cyclists and warn if a forward collision risk is detected and apply emergency braking when necessary.
Occupant protection features help drivers drive better and protect passengers. For example, Safe Exit Assist (SEA), helps keep the rear door closed via an electronic child lock if rear traffic passes by.
Disclaimer: CO2 and emissions data
Fuel consumption combined for the Hyundai TUCSON 1.6 T-GDI 48V (150 PS) with 6iMT 2WD in l/100 km: 6.8 - 6.5; CO2 emissions combined in g/km: 154 - 147 (WLTP)
Fuel consumption combined for the Hyundai TUCSON 1.6 T-GDI 48V (150 PS) with 7DCT 2WD in l/100 km: 6.6 - 6.3; CO2 emissions combined in g/km: 150 - 143 (WLTP)
Fuel consumption combined for the Hyundai TUCSON 1.6 T-GDI 48V (180 PS) with 6iMT 2WD in l/100 km: 6.7 - 6.4; CO2 emissions combined in g/km: 152 - 145 (WLTP)
Fuel consumption combined for the Hyundai TUCSON 1.6 T-GDI 48V (180 PS) with 7DCT 4WD in l/100 km: 7.1 - 6.9; CO2 emissions combined in g/km: 162 - 156 (WLTP)
Fuel consumption combined for the Hyundai TUCSON 1.6 CRDi 48V (136 PS) with 6iMT 2WD in l/100 km: 5.3 – 4.9; CO2 emissions combined in g/km: 139 - 127 (WLTP)
Fuel consumption combined for the Hyundai TUCSON 1.6 CRDi 48V (136 PS) with 7DCT 2WD in l/100 km: 5.3 - 5.0; CO2 emissions combined in g/km: 139 - 130 (WLTP)
Fuel consumption combined for the Hyundai TUCSON 1.6 CRDi 48V (136 PS) with 7DCT 4WD in l/100 km: 5.9 - 5.5; CO2 emissions combined in g/km: 154 - 143 (WLTP)
Fuel consumption combined for the Hyundai TUCSON 1.6 T-GDI (150 PS) with 6MT 2WD in l/100 km: 7.0 - 6.6; CO2 emissions combined in g/km: 159 - 150 (WLTP)
Fuel consumption combined for the Hyundai TUCSON 1.6 T-GDI (150 PS) with 6MT 4WD in l/100 km: 7.8 - 7.3; CO2 emissions combined in g/km: 178 - 165 (WLTP)
Fuel consumption combined for the Hyundai TUCSON 1.6 CRDi (115 PS) with 6MT 2WD in l/100 km: 5.5 - 5.1; CO2 emissions combined in g/km: 144 - 135 (WLTP)
Fuel consumption combined for the Hyundai TUCSON 1.6 T-GDI Hybrid with 6AT 2WD in l/100 km: 5.9 - 5.5; CO2 emissions combined in g/km: 135 - 125 (WLTP)
Fuel consumption combined for the Hyundai TUCSON 1.6 T-GDI Hybrid with 6AT 4WD in l/100 km: 6.6 - 6.2; CO2 emissions combined in g/km: 149 - 140 (WLTP)
Fuel consumption combined for the Hyundai TUCSON 1.6 T-GDI Plug-in Hybrid with 6AT 4WD in l/100 km: 1.4; CO2 emissions combined in g/km: 31 (WLTP)
Fuel consumption combined for the Hyundai SANTA FE 1.6 T-GDI Hybrid with 6AT 2WD in l/100 km: 6.9 - 6.4; CO2 emissions combined in g/km: 157 - 146 (WLTP)
Fuel consumption combined for the Hyundai SANTA FE 1.6 T-GDI Hybrid with 6AT 4WD in l/100 km: 7.6 - 6.9; CO2 emissions combined in g/km: 172 - 157 (WLTP)
Fuel consumption combined for the Hyundai SANTA FE 1.6 T-GDI Plug-in Hybrid in l/100 km: 1.6; electricity consumption combined in kWh/100 km: 18.1; CO2 emissions combined in g/km: 37 (WLTP)
Fuel consumption combined for the Hyundai SANTA FE 2.2 CRDi with 8DCT 4WD in l/100 km: 6.8 - 6.5; CO2 emissions combined in g/km: 172 - 179 (WLTP)
Fuel consumption combined for the Hyundai SANTA FE 2.2 CRDi with 8DCT 4WD in l/100 km: 6.9 - 6.7; CO2 emissions combined in g/km: 181 - 176 (WLTP)
Electricity consumption combined for the Hyundai KONA Electric 39.2 kWh in kWh/100 km: 14.3; CO2 emissions combined in g/km: 0 (WLTP)
Electricity consumption combined for the Hyundai KONA Electric 64 kWh in kWh/100 km: 14.7; CO2 emissions combined in g/km: 0 (WLTP)