Hyundai Motor received a record number of awards in 2021, with more than 110 accolades overall in Europe
Company won 10 "Car of the Year" awards for models across its line-up in Europe, including IONIQ 5 and TUCSON; and was awarded 51 additional "Car of the Year" awards in a range of sub-categories
Hyundai also received prestigious "Manufacturer of the Year" award at the recent Top Gear Awards
Hyundai Motor is celebrating another successful year in Europe. A testament to its outstanding achievements, the company received more than 110 awards in 2021 – the most accolades the company has ever won in a calendar year. Among these, Hyundai won 10 "Car of the Year" awards for models across its fleet in Europe – with more to be announced. In addition, the automaker was also named "Manufacturer of the Year" at the 2021 Top Gear Awards in recognition of the variety and strength of its overall product line-up.
With over 110 awards in categories ranging from design to sustainability, Hyundai is celebrating a record-breaking year in Europe. These accolades demonstrate that our leadership in future mobility topics is being recognised not just by Hyundai customers, but also internationally-renowned media. This success will serve as a springboard for our transformation into a smart mobility solution provider in the years ahead.
Successful launch of IONIQ 5 followed by industry accolades
In 2021, Hyundai expanded its fleet with the launch of three brand new models: IONIQ 5, a fully electric midsize CUV; BAYON, an all-new crossover SUV designed specifically for Europe; and KONA N, the company's first-ever dedicated high-performance SUV. In addition, TUCSON's line up was extended with a Plug-in Hybrid powertrain and an additional trim inspired by Hyundai N, the TUCSON N Line.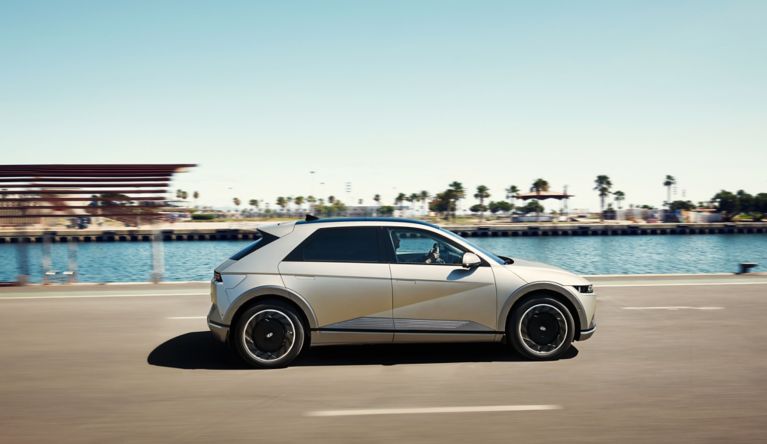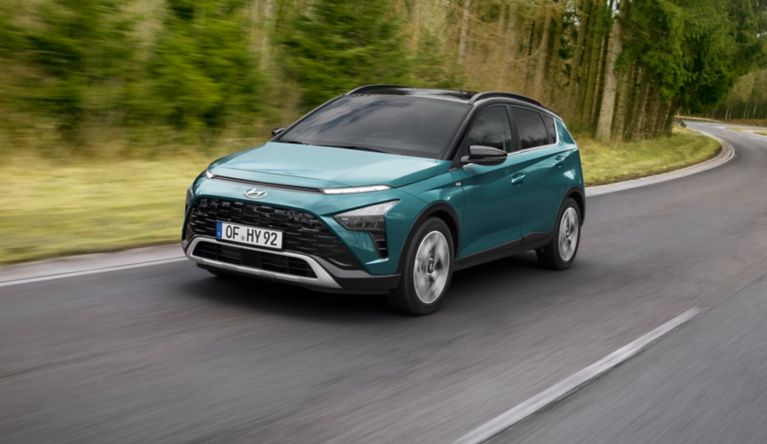 Fuel consumption combined for the Hyundai KONA N 2.0 T-GDI (280 PS) with DCT in l/100 km: 8.5; CO2 emissions combined in g/km: 194 (WLTP)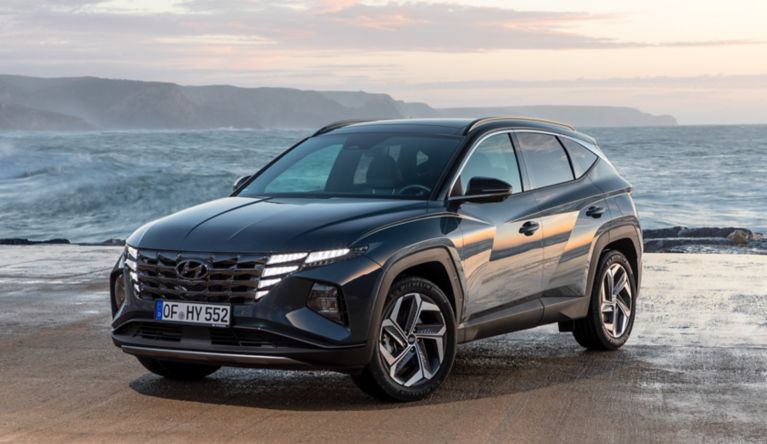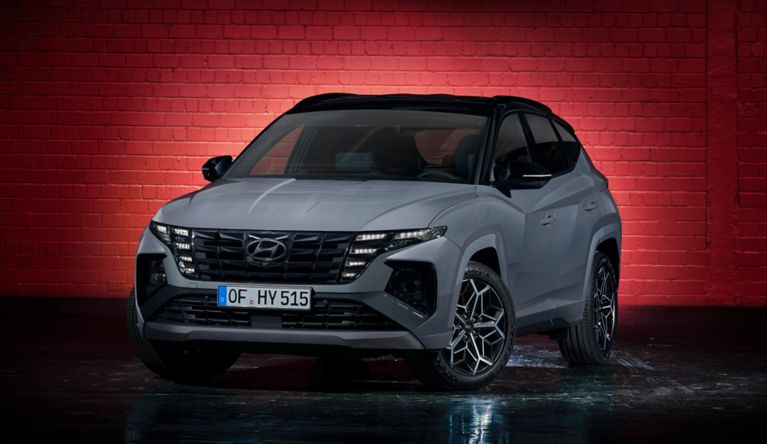 The successful launch of IONIQ 5 was reinforced with a series of industry awards, including 25 overall victories across Europe. Based on the Electric Global Modular Platform (E-GMP) developed by Hyundai Motor Group specifically for battery-electric vehicles, IONIQ 5 was crowned "Car of the Year" by six awards bodies, including the prestigious German Car of the Year. The first model of the new IONIQ line-up brand dedicated to EVs is also a finalist in the European Car of the Year 2022, which will announce its winner next February.
IONIQ 5 also received awards relating to specific target groups. In Belgium, it was recognised with an AutoGids' Best Car Award 2021 in the "Electric Large" category. In the field of design, Hyundai's fully electric midsize CUV won a number of honours, including the Gold Award in the Automotive and Transportation category at the 2021 International Design Excellence Awards. Meanwhile, IONIQ 5 was also rewarded for its technological proficiency, winning the "Motoring Innovation of the Year" award at the 2021 News UK Motor Awards. In addition, Hyundai's new halo car was praised for its family-friendliness, and named "Best Family Electric Car" at the 2022 Carbuyer Best Car Awards.
Top honours for Hyundai at Top Gear Awards
Hyundai walked away with the two highest accolades at the recent Top Gear Awards. The i20 N was named overall "Car of the Year", outperforming cars from across the world's most evocative brands. Meanwhile, Hyundai Motor was bestowed with the magazine's "Manufacturer of the Year" prize, in recognition of its class-leading model line-up.
Fuel consumption combined for the Hyundai i20 N 1.6 TGDI (204 PS) with 6MT in l/100 km: 6.9; CO2 emissions combined in g/km: 158 (WLTP)
On top of this, the company received the highest brand reputation score in the UK according to the 2021 Automotive Reputation Report.
Hyundai recognised with a host of design awards
In recent years, Hyundai has been praised for the futuristic look of its models, with many developed under the brand's "Sensuous Sportiness" design identity, which combines emotional value with innovative solutions.
In 2021, the company received 38 awards for design in Europe. IONIQ 5 was another big winner in this category, as it was named the car with the "Best Design" in the Auto Express New Car Awards 2021, and selected as "Best Designed Car of the Year" in The Times and Sunday Times' Motor Awards 2021.
Prestigious Watt d'Or prize awarded for unique Swiss business case
Finally, Hyundai was also rewarded for its contribution to sustainability. The company has made a number of advancements in the field of hydrogen, which it considers a vital part of the future of mobility together with battery-electric vehicles.
Over the past few years, Hyundai has been developing a hydrogen ecosystem in Switzerland through Hyundai Hydrogen Mobility (HHM), a joint venture with H2 Energy. HHM leases the Hyundai XCIENT Fuel Cell trucks to commercial truck operators on a pay-per-use basis, meaning there is no initial investment for the commercial fleet customers.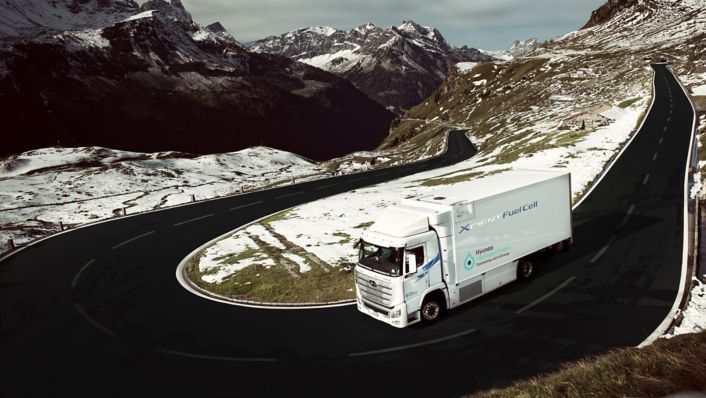 In 2021, this unique business case was recognised with the Watt d'Or in the "Energy-efficient Mobility" category. This award is distributed annually by the Swiss Federal Office of Energy to innovative companies making progress towards Swiss energy of the future.
Disclaimer: CO2 and emissions data
Electricity consumption combined for the Hyundai IONIQ 5 58 kWh with 2WD in kWh/100 km: 16.7; CO2 emissions combined in g/km: 0 (WLTP)
Electricity consumption combined for the Hyundai IONIQ 5 58 kWh with 4WD in kWh/100 km: 18.1; CO2 emissions combined in g/km: 0 (WLTP)
Electricity consumption combined for the Hyundai IONIQ 5 72.6 kWh (19" alloy rims) with 2WD in kWh/100 km: 16.8; CO2 emissions combined in g/km: 0 (WLTP)
Electricity consumption combined for the Hyundai IONIQ 5 72.6 kWh (20" alloy rims) with 2WD in kWh/100 km: 17.9; CO2 emissions combined in g/km: 0 (WLTP)
Electricity consumption combined for the Hyundai IONIQ 5 72.6 kWh (19" alloy rims) with 4WD in kWh/100 km: 17.7; CO2 emissions combined in g/km: 0 (WLTP)
Electricity consumption combined for the Hyundai IONIQ 5 72.6 kWh (20" alloy rims) with 4WD in kWh/100 km: 19.0; CO2 emissions combined in g/km: 0 (WLTP)
Fuel consumption combined for the Hyundai TUCSON 1.6 T-GDI 48V (150 PS) with 6iMT 2WD in l/100 km: 6.8 - 6.5; CO2 emissions combined in g/km: 154 - 147 (WLTP)
Fuel consumption combined for the Hyundai TUCSON 1.6 T-GDI 48V (150 PS) with 7DCT 2WD in l/100 km: 6.6 - 6.3; CO2 emissions combined in g/km: 150 - 143 (WLTP)
Fuel consumption combined for the Hyundai TUCSON 1.6 T-GDI 48V (180 PS) with 6iMT 2WD in l/100 km: 6.7 - 6.4; CO2 emissions combined in g/km: 152 - 145 (WLTP)
Fuel consumption combined for the Hyundai TUCSON 1.6 T-GDI 48V (180 PS) with 7DCT 4WD in l/100 km: 7.1 - 6.9; CO2 emissions combined in g/km: 162 - 156 (WLTP)
Fuel consumption combined for the Hyundai TUCSON 1.6 CRDi 48V (136 PS) with 6iMT 2WD in l/100 km: 5.3 - 5.0; CO2 emissions combined in g/km: 140 - 130 (WLTP)
Fuel consumption combined for the Hyundai TUCSON 1.6 CRDi 48V (136 PS) with 7DCT 2WD in l/100 km: 5.6 - 5.2; CO2 emissions combined in g/km: 146 - 137 (WLTP)
Fuel consumption combined for the Hyundai TUCSON 1.6 CRDi 48V (136 PS) with 7DCT 4WD in l/100 km: 6.0 - 5.7; CO2 emissions combined in g/km: 158 - 149 (WLTP)
Fuel consumption combined for the Hyundai TUCSON 1.6 T-GDI (150 PS) with 6MT 2WD in l/100 km: 7.0 - 6.6; CO2 emissions combined in g/km: 159 - 150 (WLTP)
Fuel consumption combined for the Hyundai TUCSON 1.6 T-GDI (150 PS) with 6MT 4WD in l/100 km: 7.8 - 7.3; CO2 emissions combined in g/km: 178 - 165 (WLTP)
Fuel consumption combined for the Hyundai TUCSON 1.6 CRDi (115 PS) with 6MT 2WD in l/100 km: 5.6 - 5.2; CO2 emissions combined in g/km: 146 - 137 (WLTP)
Fuel consumption combined for the Hyundai TUCSON 1.6 T-GDI Hybrid with 6AT 2WD in l/100 km: 5.9 - 5.5; CO2 emissions combined in g/km: 135 - 125 (WLTP)
Fuel consumption combined for the Hyundai TUCSON 1.6 T-GDI Hybrid with 6AT 4WD in l/100 km: 6.6 - 6.2; CO2 emissions combined in g/km: 149 - 140 (WLTP)
Fuel consumption combined for the Hyundai TUCSON 1.6 T-GDI Plug-in Hybrid with 6AT 4WD in l/100 km: 1.4; CO2 emissions combined in g/km: 31 (WLTP)
Fuel consumption combined for the Hyundai BAYON 1.2 MPi (84 PS) with 5MT in l/100 km: 5.7 - 5.4; CO2 emissions combined in g/km: 129 - 124 (WLTP)
Fuel consumption combined for the Hyundai BAYON 1.0 T-GDI (100 PS) with 6MT in l/100 km: 5.6 - 5.3; CO2 emissions combined in g/km: 129 - 122 (WLTP)
Fuel consumption combined for the Hyundai BAYON 1.0 T-GDI (100 PS) with 7DCT in l/100 km: 5.6 - 5.3; CO2 emissions combined in g/km: 128 - 122 (WLTP)
Fuel consumption combined for the Hyundai BAYON 1.0 T-GDI 48V (100 PS) with 6iMT in l/100 km: 5.5 - 5.2; CO2 emissions combined in g/km: 125 - 118 (WLTP)
Fuel consumption combined for the Hyundai BAYON 1.0 T-GDI 48V (100 PS) with 7DCT in l/100 km: 5.4 - 5.2; CO2 emissions combined in g/km: 124 - 118 (WLTP)
Fuel consumption combined for the Hyundai BAYON 1.0 T-GDI 48V (120 PS) with 6iMT in l/100 km: 5.5 - 5.2; CO2 emissions combined in g/km: 125 - 118 (WLTP)
Fuel consumption combined for the Hyundai BAYON 1.0 T-GDI 48V (120 PS) with 7DCT in l/100 km: 5.4 - 5.2; CO2 emissions combined in g/km: 124 - 118 (WLTP)
Fuel consumption combined for the Hyundai BAYON Kappa 1.4 with 6MT in l/100 km: 6.2; CO2 emissions combined in g/km: 142 (WLTP)
Fuel consumption combined for the Hyundai BAYON Kappa 1.4 with 6AT in l/100 km: 6.4; CO2 emissions combined in g/km: 147 (WLTP)
Fuel consumption combined for the Hyundai KONA N 2.0 T-GDI (280 PS) with DCT in l/100 km: 8.5; CO2 emissions combined in g/km: 194 (WLTP)
Fuel consumption combined for the Hyundai i20 N 1.6 T-GDI (204 PS) with 6MT in l/100 km: 6.9; CO2 emissions combined in g/km: 158 (WLTP)