Joint venture Hyundai Hydrogen Mobility recognised with Watt d'Or award for advancements in hydrogen ecosystem in Switzerland
Together with HHM, business partners Hydrospider AG, H2 Energy AG, and the H2 Mobility Switzerland Association won the "Energy-efficient Mobility" category
The Swiss Federal Office of Energy distributes the award annually to innovative companies making progress towards Swiss energy of the future
Joint venture Hyundai Hydrogen Mobility and its business partners were recently recognised with the Watt d'Or, an award which recognises innovations in energy in Switzerland.
Together with Hydrospider AG, H2 Energy AG, and Association pro H2 Mobilität Schweiz, the joint venture won the category "Energy-efficient Mobility" for its unique business case.
Hyundai Hydrogen Mobility, a joint venture with Swiss company H2 Energy leases the Hyundai XCIENT Fuel Cell trucks to commercial truck operators on a pay-per-use basis, meaning there is no initial investment for the commercial fleet customers. Its business partners joined in Hydrospider AG produce environmentally-friendly hydrogen fuel and ensure a steady supply.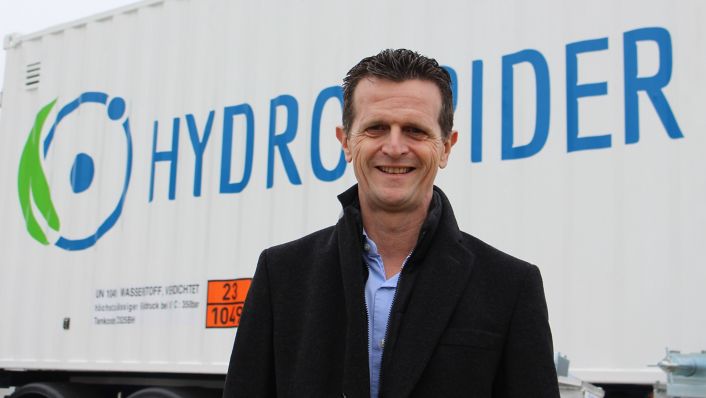 By using its hydrogen fuel cell in commercial shipping, Hyundai has demonstrated that fuel cell technology is not only ready for real life application, but is also a viable business case. This unique approach involves a cooperation between the different partners, with each individual component of the energy chain – from technology to energy production – carefully planned and coordinated. The goal is to not only be financially viable, but also to be environmentally friendly and completely emissions-free.
We are very proud that the Swiss Federal Office of Energy recognises our effort to establish the first commercially-viable zero-emission hydrogen network. Hyundai has always advocated that the future of mobility has to be a mix of different technologies, with hydrogen fuel cell vehicles playing a major role alongside traditional EVs. We are happy that we are able to demonstrate what this vision looks like in reality here in Switzerland and we will continue to do so in the future.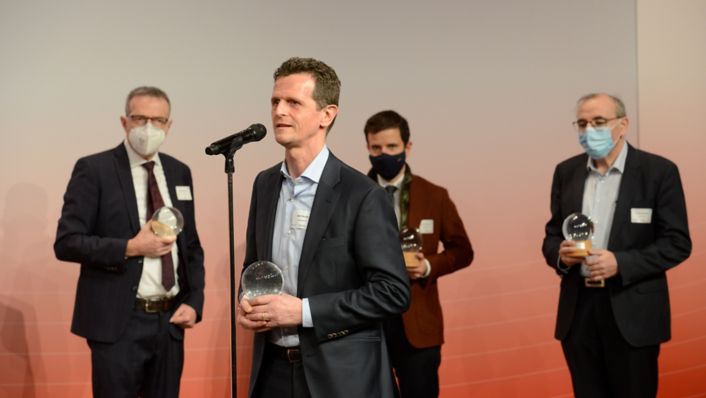 While Hyundai sees hydrogen as a vital part of the future of mobility together with battery electric vehicles. This is demonstrated perfectly by the latest application of the Hyundai fuel cell technology: powering Hyundai's Veloster ETCR electric motorsport racer with its Hydrogen Generator. This solution will be a sustainably-sourced electricity provision for race cars, using hydrogen as a storage medium.
For Hyundai, this award is another welcome affirmation of the company's global hydrogen strategy. The business case in Switzerland is an example on how Hyundai wants to lay the groundwork for a hydrogen society. With the simultaneous increase of refuelling availability and the advancements made in fuel cell technology, the company plans to produce 700,000 units annually by 2030, 500,000 of which will be for automotive applications. In addition, the "H2 Solution" pillar, which represents Hyundai Motor Company's commitment to furthering hydrogen fuel cell technology, was recently added to the company's Strategy 2025 roadmap. The company has also announced it will allot over 6 billion Euros for the development of fuel cell technology.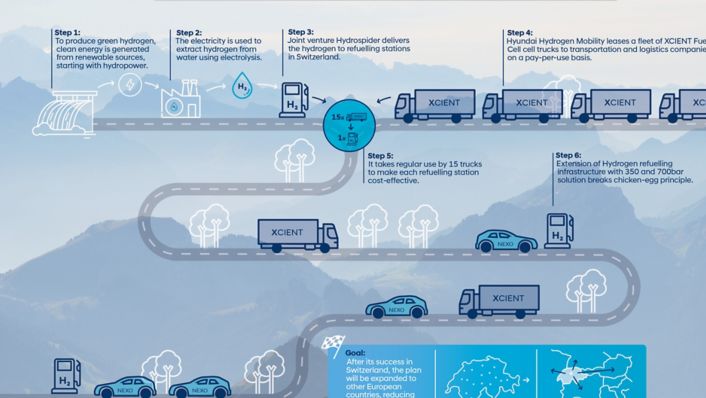 About Watt d'Or
The Watt d'Or was first awarded by the Swiss Federal Office of Energy in 2007 as a seal for energy excellence to recognise outstanding products or services in the energy sector. Its purpose is to draw attention to noteworthy projects, people or organisations that are making innovations towards the future energy in Switzerland.