Hyundai to drastically reduce delivery times for Kona Electric in Europe
Kona Electric to join production line at Hyundai Motor Manufacturing Czech (HMMC) starting March 2020
Focus on customer demand could make Hyundai the biggest provider of zero-emission vehicles in Europe, with over 80,000 units available in 2020
With demand for zero-emission vehicles continuously rising, Hyundai Motor will triple the availability of its Kona Electric for customers in Europe.
Starting in March 2020, the company will introduce the Kona Electric in its Czech manufacturing plant, as well as increasing existing supply from its Ulsan plant in South Korea. This will drastically reduce delivery times for customers in Europe.
The decision to additionally produce the Kona Electric in Europe was made in order to better serve Hyundai's European customers. Since going on sale in 2018, demand for the Kona Electric has surpassed expectations, and the increased capacity is intended to keep up with rising demand.
For 2020, Hyundai will provide over 80,000 units of zero-emission vehicles to European customers, including Kona Electric, IONIQ Electric and the NEXO fuel cell car. With this development, Hyundai expects to become the biggest provider of zero-emission vehicles in Europe in 2020.
We are listening to our customers and have made this decision in order to meet the growing demand for our electric vehicles. With more and more people becoming concerned about the impact of their choice of car on the environment, we see a huge potential for EVs in the European market. This reflects our progressive mindset and will reinforce our position as a leader in future mobility.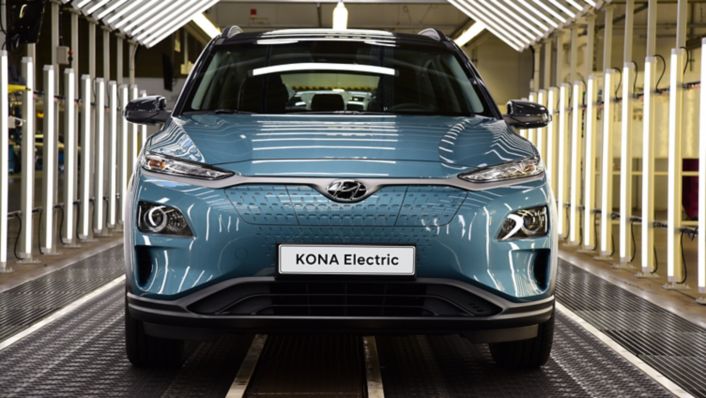 As well as its pioneering zero-emission models, the company also leads the industry with the most diverse range of electrified technologies in its production cars. From 48-volt mild hybrids to full hybrids (HEVs) and plug-in hybrids (PHEVs), Hyundai has been consistently recognised as a leading manufacturer in the drive to make future mobility accessible to more people.
The Kona Electric has been acknowledged numerous times by the media as a ground-breaking new car. It was the first model on sale in Europe to offer a popular SUV body type combined with a long-range electrified powertrain, positioning Kona Electric as a significant step forward for customers looking for an electric car. With a series of enhancements recently introduced, it now provides even more benefits for customers, including faster three-phase charging in many European markets, new connectivity features added with Hyundai Bluelink®, and a new optional navigation system with 10.25-inch centre display.