Brussels Motor Show made the start for Hyundai Motor's Light Commercial Vehicle showcase in 2017, including the New H350 Fuel Cell Concept
Hyundai Portugal debuted its new LCV Range: i20 VAN, H1, H350
Becoming available also in Slovakia this year, H350 will be sold in 15 European countries
2017 has started with a significant showcase of Hyundai Motor's Light Commercial Vehicles at this year's Brussels Motor Show and a showcase of the whole Hyundai LCV Range in Portugal.
The 2017 edition of Brussels Motor Show has focused on Light Commercial Vehicles, attracting in total 440.000 visitors. Especially the Hyundai LCV-range got public and media attention, thanks to the presence of new H350 versions as well as the H350 Fuel Cell concept car – a zero-emission alternative running of Hydrogen, without any impact on the vehicle's load area.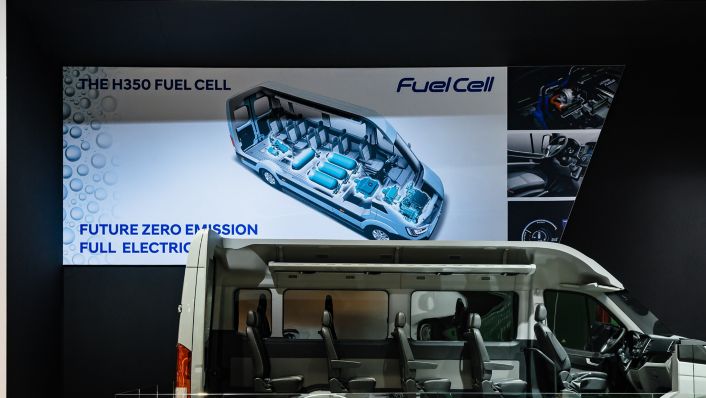 Hyundai H-1 showcased with new features and special 'Thierry Neuville' edition

The H-1 is the latest enhancement of Hyundai's multi-purpose vehicle, having arrived at the end of last year with a new and more efficient 2.5CRDi engine complying Euro6 emission legislation and assuring low running costs.
Among the new convenience features can be highlighted the upgraded instrument panel and cluster, incorporating new multimedia opt 7-inch touch screen interface with navigation and reversing camera display, with DAB radio also available.Further improvements are the new 2.8-inch LCV screen, electric folding mirrors, cooling glove-box, cruise control. The latest H-1 is even safer for all occupants too, thanks to a side-impact airbag and safety powered window.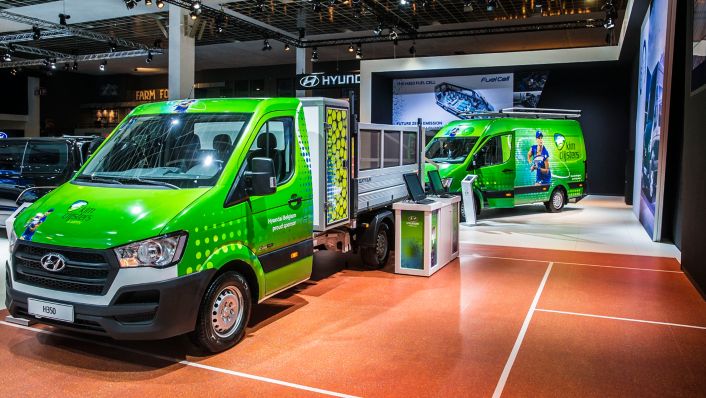 At Brussels Motor Show 2017, H-1 was visible in all versions: the Passenger Bus with nine seats, the Cargo Van with two or three seats and the Cargo Van with five or six seats. A special 'Thierry Neuville' edition featured black and orange colour schemes. The H350 was also displayed in a special 'Plopsaland' edition within the scope of the partnership with the Belgian amusement park. Another H350 came with foiling showing former number one tennis champion Kim Clijsters. The Kim Clijsters Academy where talented young tennis-players get the guidance they need to become professional players, is sponsored by Hyundai. At the booth, Kim Clijsters convinced visitors of her skills, playing a virtual tennis-game on the top of the H350 platform vehicle.

Hyundai i20 VAN completes the H-1 and H350 line-up in Portugal

In Portugal, Hyundai recently introduced its LCV line-up, including the i20 VAN, H-1 and H350. The introduction follows the closure of a positive year for this sector in the country.
The i20 Van offers companies an excellent ratio of value for money with a local adaptation of the i20 passenger car, available with two levels of equipment (Access and Comfort). This package is completed by the market leading five years and unlimited mileage warranty.