Production of the all-new BAYON has begun at Hyundai Motor's plant in Izmit, Turkey
BAYON is Hyundai's newest SUV and the most recent model to feature the company's "Sensuous Sportiness" design identity
The model features a compact exterior and a roomy interior, and was designed specifically to meet the needs of European customers
Hyundai Motor has announced the start of production for the all-new BAYON at its production plant in Izmit, Turkey.
The all-new BAYON was inspired by and designed for the diverse and unique streets of Europe. Named after Bayonne, a seaside town nestled in the French Basque country and a popular holiday destination, the all-new Hyundai BAYON will establish itself as a unique entry in the growing European SUV segment. The smallest member of Hyundai's SUV family, BAYON is the latest model to showcase Hyundai's "Sensuous Sportiness" design identity, defined by the harmony between proportion, architecture, styling and technology. This interpretation of Sensuous Sportiness combines emotional values with innovative solutions.
BAYON stands out for its large amount of storage space, advanced connectivity technology, and Hyundai Smartsense safety features. It is also the latest model available with Hyundai's signature 48-volt mild hybrid technology (48V) with intelligent Manual Transmission (iMT) for improved fuel efficiency.
BAYON will arrive in showrooms in Europe starting summer 2021.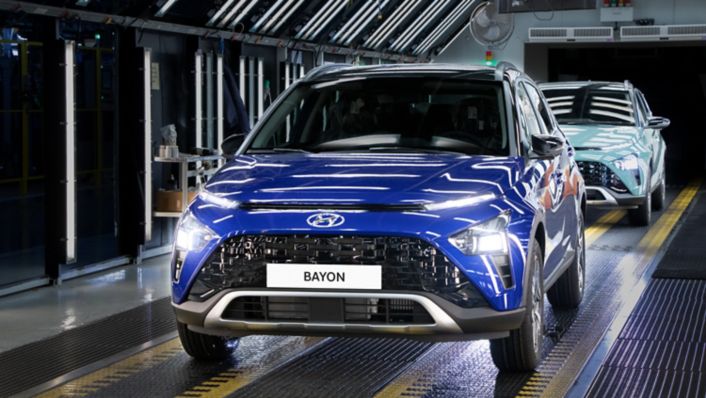 Hyundai Assan Otomotiv Sanayi (HAOS)
Located in İzmit, Turkey, Hyundai Assan Otomotiv Sanayi (HAOS) is Hyundai's longest-running plant outside of Korea and has been in operation since 1997. With nearly 2,500 employees, it has an annual capacity for 230,000 units. The plant has four main production lines, consisting of press, body, paint and assembly. In 2019, Hyundai Motor celebrated the 2 millionth vehicle produced at its Turkish plant.
BAYON joins the all-new i20 and i20 N Line, as well as the i10 and i10 N Line on the production line.
Disclaimer: CO2 and emissions data
Fuel consumption combined for the Hyundai BAYON 1.2 MPi (84 PS) with 5MT in l/100 km: 5.7-5.4; CO2 emissions combined in g/km: 129-124 (WLTP)
Fuel consumption combined for the Hyundai BAYON 1.0 T-GDI (100 PS) with 6MT in l/100 km: 5.6-5.3; CO2 emissions combined in g/km: 129-122 (WLTP)
Fuel consumption combined for the Hyundai BAYON 1.0 T-GDI (100 PS) with 7DCT in l/100 km: 5.6-5.3; CO2 emissions combined in g/km: 128-122 (WLTP)
Fuel consumption combined for the Hyundai BAYON 1.0 T-GDI 48V (100 PS) with 6iMT in l/100 km: 5.5-5.2; CO2 emissions combined in g/km: 125-118 (WLTP)
Fuel consumption combined for the Hyundai BAYON 1.0 T-GDI 48V (100 PS) with 7DCT in l/100 km: 5.4-5.2; CO2 emissions combined in g/km: 124-118 (WLTP)
Fuel consumption combined for the Hyundai BAYON 1.0 T-GDI 48V (120 PS) with 6iMT in l/100 km: 5.5-5.2; CO2 emissions combined in g/km: 125-118 (WLTP)
Fuel consumption combined for the Hyundai BAYON 1.0 T-GDI 48V (120 PS) with 7DCT in l/100 km: 5.4-5.2; CO2 emissions combined in g/km: 124-118 (WLTP)
Fuel consumption combined for the Hyundai BAYON Kappa 1.4 with 6MT in l/100 km: 6.2; CO2 emissions combined in g/km: 142 (WLTP)
Fuel consumption combined for the Hyundai BAYON Kappa 1.4 with 6AT in l/100 km: 6.4; CO2 emissions combined in g/km: 147 (WLTP)
Fuel consumption combined for the Hyundai i20 1.2 MPi (84 PS) with 5MT in l/100 km: 5.7‑5.4; CO2 emissions combined in g/km: 129-124 (WLTP)
Fuel consumption combined for the Hyundai i20 1.0 T-GDI (100 PS) with 6MT in l/100 km: 5.5-5.1; CO2 emissions combined in g/km: 127-117 (WLTP)
Fuel consumption combined for the Hyundai i20 1.0 T-GDI (100 PS) with 7DCT in l/100 km: 5.8-5.3; CO2 emissions combined in g/km: 131-120 (WLTP)
Fuel consumption combined for the Hyundai i20 1.0 T-GDI 48V (100 PS) with 6iMT in l/100 km: 5.4-4.9; CO2 emissions combined in g/km: 123-113 (WLTP)
Fuel consumption combined for the Hyundai i20 1.0 T-GDI 48V (100 PS) with 7DCT in l/100 km: 5.6 - 5.1; CO2 emissions combined in g/km: 128 - 115 (WLTP)
Fuel consumption combined for the Hyundai i20 1.0 T-GDI 48V (120 PS) with 6iMT in l/100 km: 5.4-5.0; CO2 emissions combined in g/km: 124-115 (WLTP)
Fuel consumption combined for the Hyundai i20 1.0 T-GDI 48V (120 PS) with 7DCT in l/100 km: 5.4-5.1; CO2 emissions combined in g/km: 124-116 (WLTP)
Fuel consumption combined for the Hyundai i20 Kappa 1.4 with 6MT in l/100 km: 6.5- 6.2; CO2 emissions combined in g/km: 148-142 (WLTP)
Fuel consumption combined for the Hyundai i20 Kappa 1.4 with 6AT in l/100 km: 7.1- 6.5; CO2 emissions combined in g/km: 162-147 (WLTP)
Fuel consumption combined for the Hyundai i10 1.0 (4 seater eco) with 5MT in l/100 km: 5.4-4.8; CO2 emissions combined in g/km: 122-110 (WLTP)
Fuel consumption combined for the Hyundai i10 1.0 (4 seater) with 5MT in l/100 km: 5.5‑4.9; CO2 emissions combined in g/km: 125-111 (WLTP)
Fuel consumption combined for the Hyundai i10 1.0 (4 seater) with 5AMT in l/100 km: 5.9‑5.2; CO2 emissions combined in g/km: 134-119 (WLTP)
Fuel consumption combined for the Hyundai i10 1.0 (5 seater) with 5MT in l/100 km: 5.5-5.0; CO2 emissions combined in g/km: 126-114 (WLTP)
Fuel consumption combined for the Hyundai i10 1.0 (5 seater) with 5AMT in l/100 km: 5.9‑5.2; CO2 emissions combined in g/km: 134-119 (WLTP)
Fuel consumption combined for the Hyundai i10 1.2 (4 seater) with 5MT in l/100 km: 5.8-5.1; CO2 emissions combined in g/km: 132-117 (WLTP)
Fuel consumption combined for the Hyundai i10 1.2 (4 seater) with 5AMT in l/100 km: 6.1‑5.4; CO2 emissions combined in g/km: 138-122 (WLTP)
Fuel consumption combined for the Hyundai i10 1.2 (5 seater) with 5MT in l/100 km: 5.8-5.1; CO2 emissions combined in g/km: 132-117 (WLTP)
Fuel consumption combined for the Hyundai i10 1.2 (5 seater) with 5AMT in l/100 km: 6.1‑5.4; CO2 emissions combined in g/km: 138-122 (WLTP)
Fuel consumption combined for the Hyundai i10 1.0 T-GDI in l/100 km: 5.4; CO2 emissions combined in g/km: 123 (WLTP)