Germany's largest trade magazine Auto Bild awards Hyundai BAYON with top results in 2022 tests
Victory underscores success of Hyundai's strategy to offer SUVs in every segment
After one-and-a-half years, BAYON has already established itself on the SUV market
The smallest member of Hyundai Motor's SUV family has received an important award from Auto Bild. The German trade magazine named BAYON its 'Best Import Car' for 2022. The B-segment SUV was a commanding winner in the 'Small SUVs' category. This latest title was decided by the points the BAYON collected in various tests conducted by Auto Bild over the course of the last 12 months.
In winning this award, the stylish and sleek BAYON builds on its Auto Bild comparison test victory in 2021 against the VW T-Cross and Ford Puma.
This award from a popular publication like Auto Bild demonstrates how BAYON is making a huge impact 18 months since its arrival on the European market. With a stylish design, roomy interior and a long list of advanced connectivity safety features, BAYON stands out in its segment. This latest success underlines how our strategy of a diverse range of SUVs for different customer groups is paying off.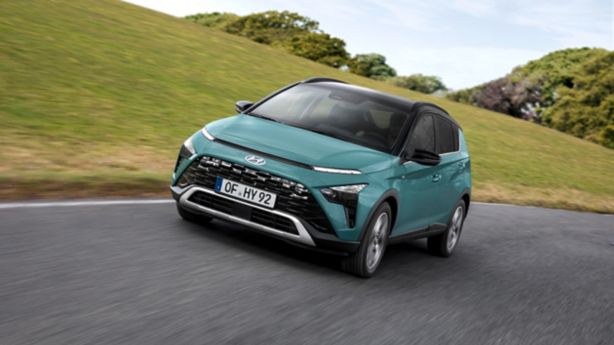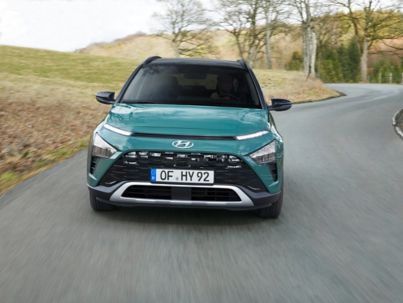 Fuel-efficient engines with 48-volt mild hybrid technology
BAYON was developed in Europe specifically for the European market. It possesses a highly competitive CO2 emissions ranking thanks to an updated Kappa engine family.
The 1.0 T-GDi is a downsized three-cylinder turbo-charged engine with direct injection for optimum efficiency. When combined with Hyundai's unique 48-volt mild hybrid technology (48V) with intelligent Manual Transmission (iMT), this results in even more enhanced fuel savings and efficiency.
At the top of the line-up, BAYON is available with a 1.0 T-GDi engine with 48V and 100 PS or 120 PS. This can be coupled with the 6-speed intelligent Manual Transmission (6iMT) or a 7-speed dual-clutch transmission (7DCT).
With a wheelbase of 2,580 millimetres, BAYON creates generous interior space, while its above-average boot space offers significant room for luggage. Hyundai's crossover SUV offers 411 litres according to the VDA standard.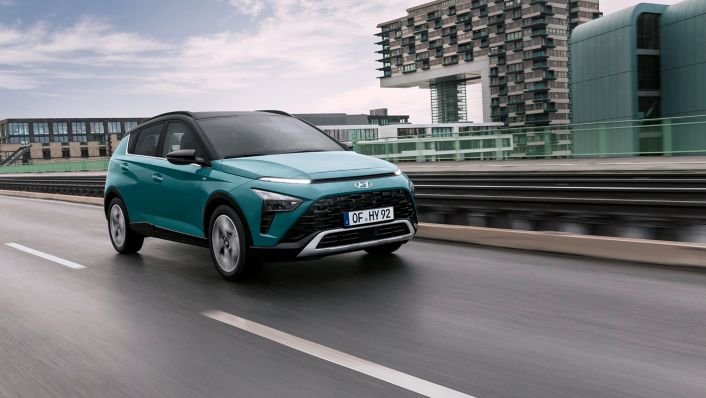 Advanced safety features for all occupants
BAYON offers the most advanced range of connectivity and active safety functions in its class with a comprehensive Smart Sense package as standard to ensure owners remain focused on driving. Additionally, customers can enjoy a 10.25-inch Audio Video Navigation (AVN) and top-line infotainment features. BAYON'S safety package comes with several semi-autonomous driving features, including Lane Following Assist (LFA) and Navigation-based Smart Cruise Control (NSCC).
From advanced safety technologies to comfort-oriented features, Hyundai's stylish and sleek crossover SUV is the perfect companion in and out of the city.
Disclaimer: CO2 and emissions data
Fuel consumption combined for the Hyundai BAYON 1.0 T-GDI (100 PS) with 6MT in l/100 km: 5.6 - 5.3; CO2 emissions combined in g/km: 129 - 122 (WLTP)
Fuel consumption combined for the Hyundai BAYON 1.0 T-GDI (100 PS) with 7DCT in l/100 km: 5.6 - 5.3; CO2 emissions combined in g/km: 128 - 122 (WLTP)
Fuel consumption combined for the Hyundai BAYON 1.0 T-GDI 48V (100 PS) with 6iMT in l/100 km: 5.5 - 5.2; CO2 emissions combined in g/km: 125 - 118 (WLTP)
Fuel consumption combined for the Hyundai BAYON 1.0 T-GDI 48V (100 PS) with 7DCT in l/100 km: 5.4 - 5.2; CO2 emissions combined in g/km: 124 - 118 (WLTP)
Fuel consumption combined for the Hyundai BAYON 1.0 T-GDI 48V (120 PS) with 6iMT in l/100 km: 5.5 - 5.2; CO2 emissions combined in g/km: 125 - 118 (WLTP)
Fuel consumption combined for the Hyundai BAYON 1.0 T-GDI 48V (120 PS) with 7DCT in l/100 km: 5.4 - 5.2; CO2 emissions combined in g/km: 124 - 118 (WLTP)
Fuel consumption combined for the Hyundai BAYON Kappa 1.4 with 6MT in l/100 km: 6.2; CO2 emissions combined in g/km: 142 (WLTP)
Fuel consumption combined for the Hyundai BAYON Kappa 1.4 with 6AT in l/100 km: 6.4; CO2 emissions combined in g/km: 147 (WLTP)