Hyundai Motor combines the popular SUV body style with high-performance features in the all-new KONA N
International collaboration among designers made this project possible
Almost an entirely digital design process, including a virtual reality collaboration
Designing a high-performance SUV comes with a unique set of challenges. While SUVs are characterised by stability, size, and a high ride height, sports cars, on the other hand, need to portray speed, agility, and a low-to-the-ground appearance. This is what Hyundai's designers were facing when they started the ambitious KONA N project, the first SUV model to join the Hyundai N line-up. Their close cooperation with Hyundai engineers, made possible through the company's "Virtual Seat Buck" virtual reality technology, was the catalyst for getting this "hot SUV" onto roads and racetracks.
Seeing the end result of any model that we designed for the first time is unforgettable. We have been working on the development of KONA N for a long time, so experiencing the final product for the first impression is a magical moment for everyone involved.
Designing the next N model
Each Hyundai N high-performance vehicle – including i30 N, i30 Fastback N, and i20 N – undergoes its own unique process for exterior design. The creative process for KONA N's exterior design was conducted at Hyundai's European Design Center in Rüsselsheim, Germany.
Engineering and the final developmental stages, on the other hand, took place at Hyundai's global R&D center in Namyang, Korea. Despite the distance, the Virtual Seat Buck allowed the company's designers and engineers worked in close tandem on a daily basis, constantly collaborating to create a successful new model.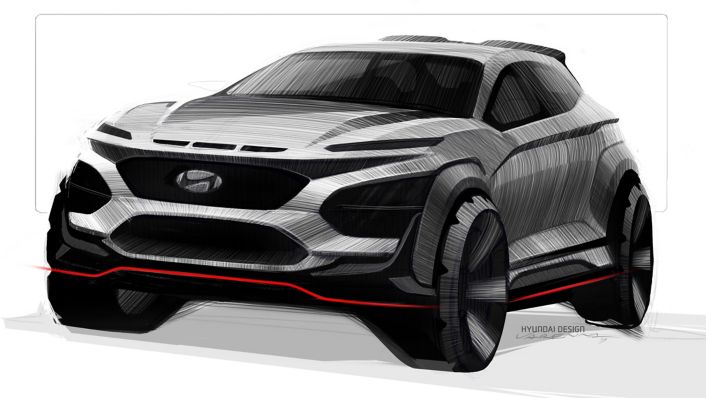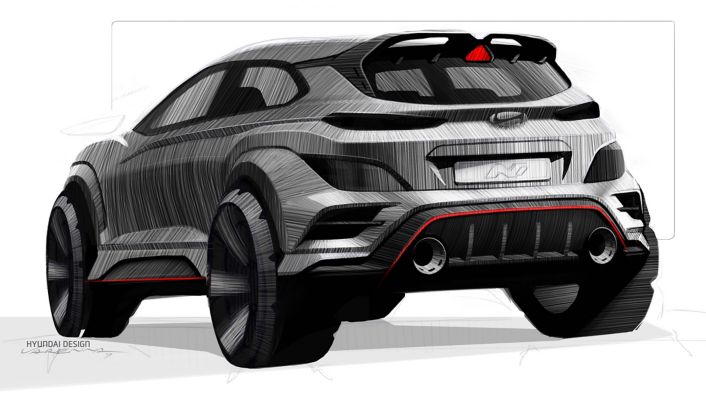 Refining and capturing the main idea
As with every new model, the design process for KONA N began on paper. Primary sketches and renderings serve as a foundation for more detailed designs later in the process.
During this step, the designers infused the idea with emotion and creativity. They took inspiration from examples of efficiency and performance in nature as well as technology. The designers' limitless imaginations feed into the outline for the initial sketches of KONA N's exterior.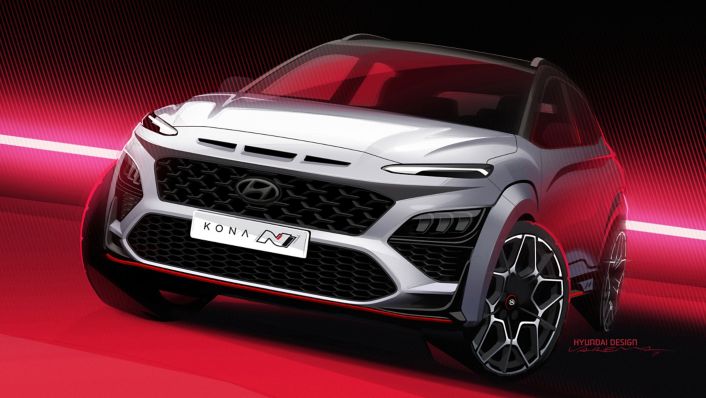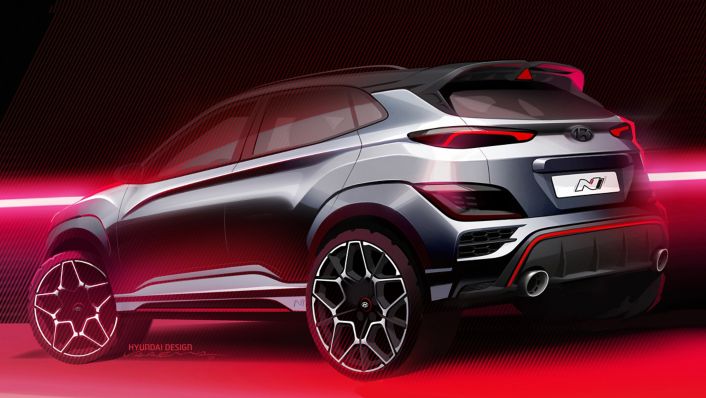 Rendering digital models
The next step was converting the sketches into three-dimensional renderings. When it comes to making models of newer cars, Hyundai's designers have many tools to work with. In the past, clay was the primary medium. Nowadays, however, all models created at Hyundai follow a digital design process using the company's Virtual Seat Buck, a virtual reality tool which enables the company's designers to easily sketch a design, render a model, and request a review from anywhere on the globe.
How it works is: Hyundai's designers in Rüsselsheim create a digital room in which engineers in Namyang can see the car and meet "face to face" on a weekly basis. Using the technology in their innovative VR system, the global team could do a walk around of KONA N together. Not only could they effectively discuss the latest N model in real-time, they could inspect the SUV in various light conditions as well.
The Virtual Seat Buck allows for the fast visualisation of design data, as well as colour and trim variants early during the design process. This data is then simultaneously shared with engineers even at an early stage, which allows for a constant dialogue between the two departments. As each step is saved in the Cloud, it can be continuously reworked and be worked on by different departments globally.
The virtual reality design process simplifies a Hyundai car designer's work by reducing the amount of time it takes to see their ideas realised via computer-generated 3D models. It provides scope for unlimited colour options and material applications, as well as allowing for the dynamic presentation of functionalities such as moving parts. These models can also be used to assess the real-world performance, such as aerodynamics.
Presenting a physical model for final reviews
A physical model, however, is still needed for the final decision-making process. Physical models provide a tangible experience that digital versions cannot.
Everything is perfect when it's digital, but it's just not real. Cars come alive when there's a small drop of water on them. In real life, you can analyse surface quality.
Incorporating engineering's high-performance requirements
To alter KONA N's profile while still adhering to the engineering requirements, Hyundai's designers added a large double-wing spoiler, a sizeable exhaust pipe, and a big diffuser. By redefining the model's features, designers were able to imbue KONA N with a different attitude.
Like any high-performance vehicle, design elements of KONA N follow the clear "form follows function" principle. That results in not only evoking strong emotions, but also supports the ride and handling as well as cooling functions of the vehicle. Body-coloured fenders emphasise width and bring KONA N visually closer to the ground, though ride height remains the same. This gives KONA N an enhanced sports appearance while still delivering an SUV level of comfort and ride height.
On top of that, KONA N also incorporates aeronautic inspiration. The high-performance SUV features lower air intakes for better aerodynamic performance. These give the idea of wings for perceived weightlessness. KONA N also features design aspects that enhance airflow control and improve cooling, as well as newly designed high-performance rims optimised for minimal weight and maximum strength.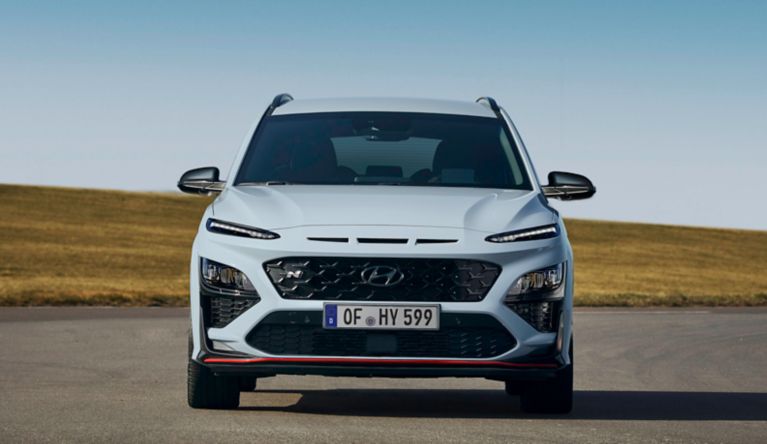 Fuel consumption combined for the Hyundai KONA N 2.0 T-GDI (280 PS) with DCT in l/100 km: 8.5; CO2 emissions combined in g/km: 194 (WLTP)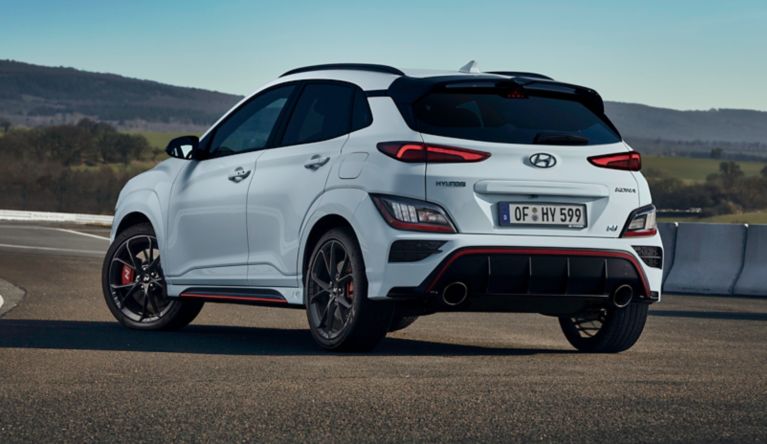 Fuel consumption combined for the Hyundai KONA N 2.0 T-GDI (280 PS) with DCT in l/100 km: 8.5; CO2 emissions combined in g/km: 194 (WLTP)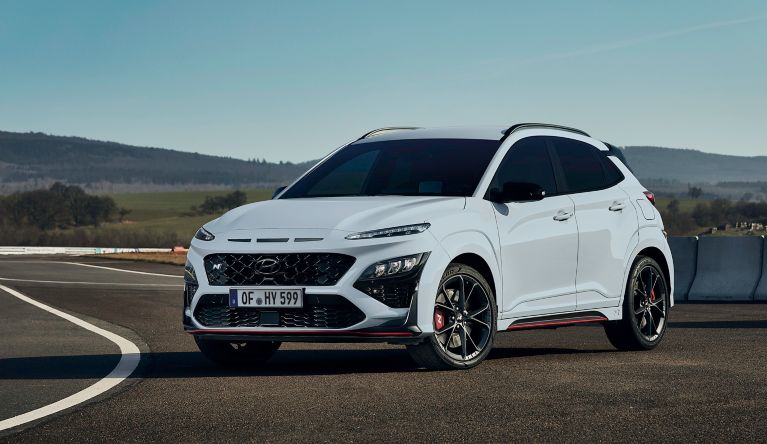 Fuel consumption combined for the Hyundai KONA N 2.0 T-GDI (280 PS) with DCT in l/100 km: 8.5; CO2 emissions combined in g/km: 194 (WLTP)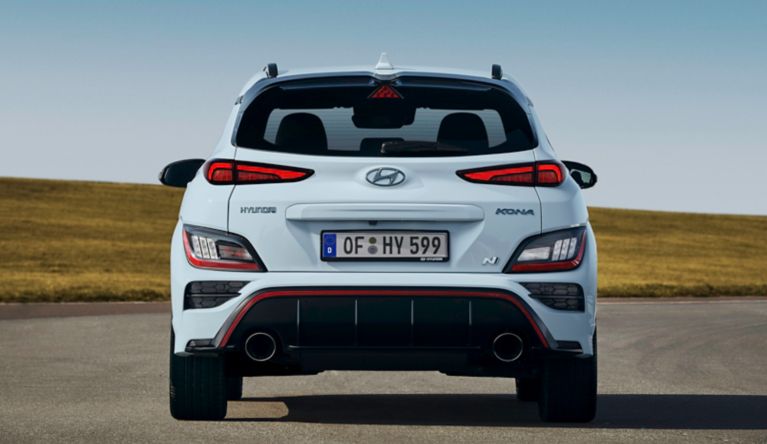 Fuel consumption combined for the Hyundai KONA N 2.0 T-GDI (280 PS) with DCT in l/100 km: 8.5; CO2 emissions combined in g/km: 194 (WLTP)
Capturing the right emotion
The final product KONA N embodies the Hyundai N DNA based on the three pillars of N: corner rascal, everyday sports car, and race track capability. Corner rascal means that KONA N offers the same fun to drive and high-performance feeling as the other Hyundai N models, even with the comforts of an SUV. Everyday sports car means the 'hot SUV' expands the boundaries of versatility by combining an SUV's inherent advantages in daily driving and rough terrain situations, as well as race track capability. And on the track, KONA N provides a real-life gaming experience because of its game-like features which enhance driving excitement. These include features such as N Grin Shift, N Power Shift, and N Track Sense.
The all-new KONA N was announced earlier this year. The high-performance SUV is being produced at Hyundai's production site in Ulsan, Korea and will arrive in European showrooms this summer.
About Hyundai Motor Europe Technical Center
Hyundai Motor Europe Technical Center (HMETC) in Rüsselsheim, Germany, takes over great responsibilities by developing innovative vehicles and technologies for the whole European market. One department out of many is Hyundai's Design Center. It undertakes both production and concept vehicle projects with the aim to create innovative cars with a unique design for the European market and to further strengthen the company's reputation as one of the world's leading carmakers.
Hyundai Design team focuses on the design of vehicles for the European car market and the constant development of global projects. The Design Center consists of exterior and interior designers, a colour and trim team, digital designers, a design engineering team and modellers, who create scale and full-size models in the modelling facilities.
Disclaimer: CO2 and emissions data
Fuel consumption combined for the Hyundai KONA N 2.0 T-GDI (280 PS) with DCT in l/100 km: 8.5; CO2 emissions combined in g/km: 194 (WLTP)
Fuel consumption combined for the Hyundai i30 N 2.0 T-GDI (250 PS) with 6MT in l/100 km: 7.7; CO2 emissions combined in g/km: 175 (WLTP)
Fuel consumption combined for the Hyundai i30 N 2.0 T-GDI (280 PS) with 6MT in l/100 km: 8.0; CO2 emissions combined in g/km: 182 (WLTP)
Fuel consumption combined for the Hyundai i30 N 2.0 T-GDI with N DCT in l/100 km: 8.4; CO2 emissions combined in g/km: 191 (WLTP)
Fuel consumption combined for the Hyundai i30 Fastback N 2.0 T-GDI (250 PS) with 6MT in l/100 km: 7.7; CO2 emissions combined in g/km: 175 (WLTP)
Fuel consumption combined for the Hyundai i30 Fastback N 2.0 T-GDI (280 PS) with 6MT in l/100 km: 8.0; CO2 emissions combined in g/km: 182 (WLTP)
Fuel consumption combined for the Hyundai i30 Fastback N 2.0 T-GDI with N DCT in l/100 km: 8.4; CO2 emissions combined in g/km: 191 (WLTP)
VELOSTER N: This model may not be available for sale in your country and has not been homologated (type approved) under the applicable European legislation. Fuel consumption and CO2 values for this model have not been determined.
Fuel consumption combined for the Hyundai i20 N 1.6 TGDI (204 PS) with 6MT in l/100 km: 6.9; CO2 emissions combined in g/km: 158 (WLTP)