Hyundai N models undergo accelerated testing, including durability testing on the challenging Nordschleife at the Nürburgring, to ensure maximum performance under the most demanding conditions
Hyundai's European test centre collects various data points during testing to further improve its high-performance vehicles
Specific challenges on the Nordschleife directly influenced the development of KONA N's systems such as steering, suspension, tyres and ESC
Next to Namyang and the zigzagging shape of a chicane, the 'N' in Hyundai N also stands for Nürburgring. The iconic German race track in the Eifel mountain range is home to Hyundai Motor's European test centre, where Hyundai N's high-performance production models are honed for the road and race track.
Although they boast varying body styles and specifications, all members of the Hyundai N family share the same DNA. This can be summarised into the three N pillars: Corner Rascal, Everyday Sports Car, and Race Track Capability.
Hyundai N models are fun to drive, especially when manoeuvring around tight corners at high speeds. They are also perfectly capable of everyday urban commuting. On top of that, N models are equipped to perform on the race track without any additional tuning.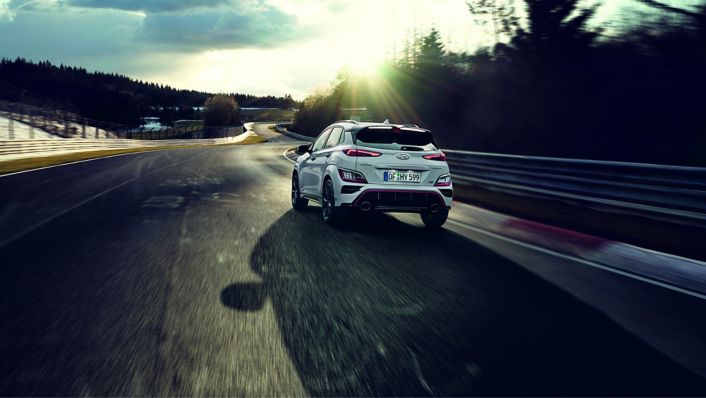 Fuel consumption combined for the Hyundai KONA N 2.0 T-GDI (280 PS) with DCT in l/100 km: 8.5; CO2 emissions combined in g/km: 194 (WLTP)
Putting Hyundai N to the test
Hyundai Motor Europe Technical Center (HMETC) has been testing at the Nürburgring since 2011 for vehicle development. In 2013, Hyundai inaugurated an extension of its Technical Center, a 3,622‑square-metre test centre, right next to the Nürburgring. Testing for both base cars and Hyundai N models takes place here to ensure top performance.
At the Nürburgring, Hyundai puts its vehicles to the test on the Nordschleife, one of the most challenging circuits in the world. This is the perfect location to hone the high-performance capabilities of Hyundai N models with a wide variety of parameters being adjusted. Nürburgring acts as a kind of magnifying glass. To find imperfections occasionally requires 50-100 kilometres of public road driving. The outstanding characteristics of the Nürburgring, however, ensure that malfunctions can already be identified after two kilometres of race track driving. The demanding conditions of the Nordschleife expedite wear. Depending on the exact driving style, one kilometre on the Nordschleife is equivalent to five to 20 kilometres on an open road.
The corner rascal characteristic of N models is tested around the 73 tight corners dispersed across the Nordschleife's 20.8 kilometres of tarmac. These curves require abrupt speed changes. The cars must endure a high number of elevation changes on the track since the highest and lowest points on the Nordschleife have a height difference of 300 metres. N models need to power through the track's steep uphill and downhill slopes, which boast a 17 per cent and 11 per cent gradient, respectively.
During accelerated durability testing, Hyundai N models cover a mileage equivalent to 180,000 kilometres in just four to six weeks. Every participating model drives at least 480 laps around the Nordschleife in both dry and wet conditions. On top of that, a team of professional drivers with years of racing and vehicle testing experience drive the models around the circuit.
Compared to normal Hyundai models, the systems of N models, including suspension, steering, and Electronic Stability Control (ESC), are tuned on the Nordschleife at a higher intensity and with a focus on race track capability and requirements.
Although all Hyundai models drive 10,000 kilometres on the Nordschleife during durability testing, N models must drive an extra 500 kilometres twice on the Nordschleife on top of the 100,000 kilometres of public road.
Hyundai is part of the Industriepool – a collection of 40 automotive manufacturers and suppliers. For eight days per month from March to October every year, the Industriepool uses the Nordschleife for testing. Hyundai participates for 16 weeks every year for development testing.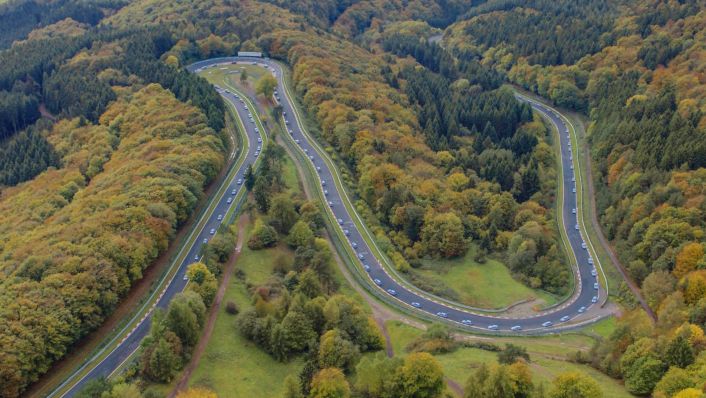 Testing for the all-new KONA N
The all-new KONA N completed its durability testing on the Nürburgring in the summer and autumn of 2020. The 'hot SUV' accomplished a total of 489 laps, equalling 10,187 kilometres.
KONA N's high-performance transmission, N DCT (Dual Clutch Transmission), was also tested there. The wet-type transmission endured an impressive 1,350 laps around the circuit.
But Hyundai didn't go at it alone. Developing tyres specifically for KONA N, the company worked closely together with tyre manufacturer Pirelli, tapping into their motorsport experience with partnerships involving the world's top car manufacturers. Over one year, Hyundai and Pirelli conducted joint testing on the Nürburgring and the track in Namyang to engineer KONA N's new ultra-high-performance P Zero tyres in 235/40R19 96 Y size. By enhancing on-track performance, safety, and driving pleasure, these tyres meet the specific requirements set by Hyundai's engineers. Adding to KONA N's sporty character, the ultra-high-performance tyres also boasts low levels of road noise and maximised comfort, durability, and handling. The sidewall of the tyres is marked with the 'HN' logo to denote that they have been designed specifically for KONA N.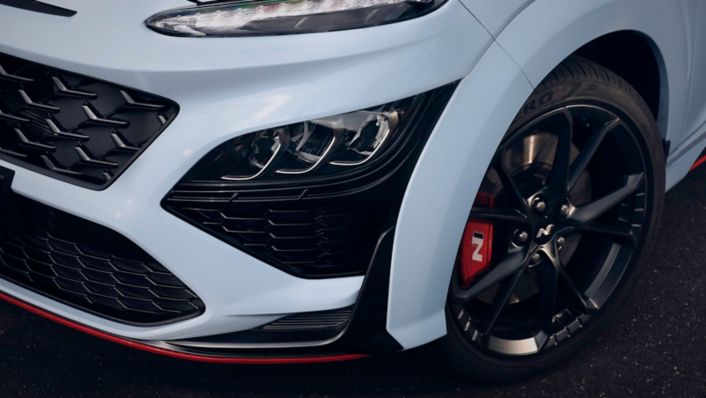 Fuel consumption combined for the Hyundai KONA N 2.0 T-GDI (280 PS) with DCT in l/100 km: 8.5; CO2 emissions combined in g/km: 194 (WLTP)
Gathering performance data
As a Hyundai N model laps the race track, engineers monitor various data parameters to later optimise aspects of the car. Once the recorded test data is analysed, the test centre transfers the results to Hyundai Motor's research & development centre in Namyang to further develop and enhance the quality of the vehicle.
The main area of focus is driving performance. Here, data related to ride and handling, steering, engine, transmission, and brakes can go to improving the car's overall performance. The process is iterative: if one facet is modified, the others must be fine-tuned as well.
Under the hood, meanwhile, it is essential to maintain the optimal operating temperature of the drivetrain. Engineers observe the engine and transmission oil, coolant, catalytic converter, and brakes closely to ensure the drivetrain does not experience any dips in performance due to temperature changes.
The engineers must also ensure the model can withstand high speeds and massive amounts of force without malfunctioning. When withstanding the challenges of the Nordschleife, the seals, bushings, covers, and aerodynamic parts must remain in perfect condition to guarantee maximum performance. Should an issue arise, such as a leak, a broken part, or preliminary wear, engineers must identify a solution before resuming with testing.
The overall goal is to elevate all relevant components of the Hyundai N model to a high level of safety, durability, and performance. Compared to standard production models, the N model line-up also needs to get drivers' hearts racing when they are seated behind the wheel.
Fine-tuning KONA N's systems
The performance data gathered at the Nürburgring directly influenced the development of KONA N's systems such as steering, suspension, tyres, or ESC.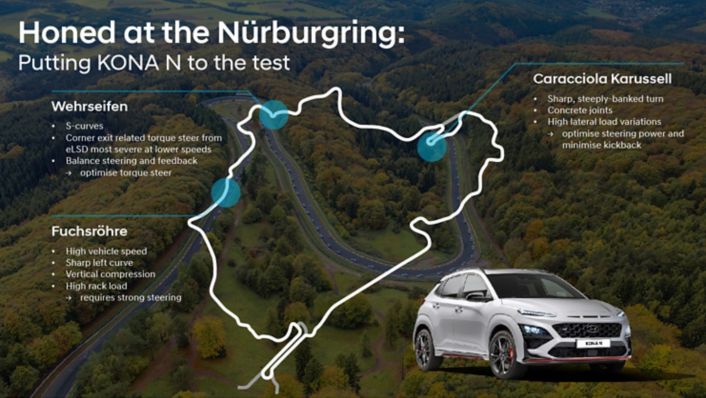 Fuel consumption combined for the Hyundai KONA N 2.0 T-GDI (280 PS) with DCT in l/100 km: 8.5; CO2 emissions combined in g/km: 194 (WLTP)
One aspect of the all-new KONA N that was honed at the Nürburgring was its steering system. To develop a high-performance vehicle that can handle the Nordschleife's challenging corners, the ride and handling of the base car was enhanced with Pirelli's ultra-high-performance tyres. In addition, the engineers also optimised the kinematics, introducing a larger camber and a lower steering ratio, a stiffer chassis, and an Electronic Limited Slip Differential (eLSD) to enhance traction and reduce understeer. On top of this, engineers also equipped KONA N with a powerful engine that can deliver high levels of torque and acceleration.
Based on design techniques and engineering expertise from previous development cycles, the Column-mounted MDPS (Motor Driven Power Steering system) was replaced with a higher-powered Rack-mounted MDPS. This type of steering system improves response and precision due to its high rigidity and low ratio, enabling the driver to maximise the dynamics of the improved chassis. During the development process, KONA N was driven to its limits, resulting in its high-performance enhancements putting a greater demand on its steering system.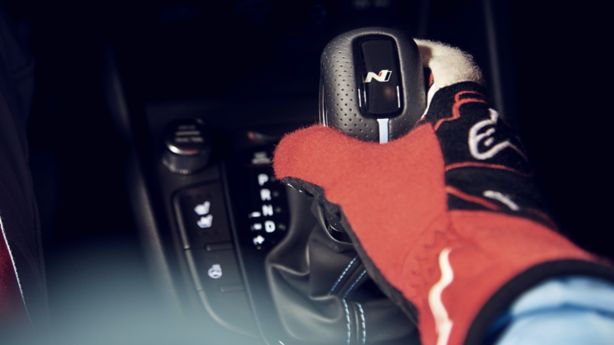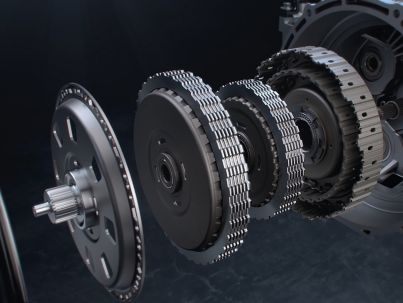 One challenge all engineers face when developing a front-wheel-drive vehicle with a high-torque engine is the high amount of torque steer, which reduces steering precision. For KONA N, special steering logics were applied to support the driver when accelerating fully on straights (Torque Steer Control) or when exiting corners (Cornering Acceleration Control).
Specific sections of the Nordschleife were particularly challenging for KONA N's steering system. For example, cars experience a strong vertical compression when driving around the Fuchsröhre, a left curve taken at high speed. This is due to the extraordinarily high vertical loads when transitioning quickly from a steep downhill to an uphill slope. At the Fuchsröhre, KONA N is driven at approximately 220 km/h with maximum lateral acceleration. Engineers had to ensure that its steering system was tuned to handle these conditions.
The conditions of the Caracciola Karussell – a tight, steep wall curve constructed from concrete slabs – is another demanding spot on the Nordschleife. Cars typically drive through at approximately 90 km/h, and the incline of the track creates a strong compression, a high amount of lateral load, and steering kickback. On top of that, the impact of driving over the joints between the concrete slabs is a challenge for the chassis. To ensure that drivers can safely round the corner, the steering system was designed with enough power and response to minimise kickback.
The many S-bends throughout the Nordschleife, such as Wehrseifen, generate high torque steer when rounded under full acceleration. The special Cornering Acceleration Control logic in Hyundai's high-performance vehicles was developed for this exact reason. This maintains an appropriate level of torque steer to guarantee that the driver can control that vehicle as desired while still receiving the right amount of feedback to enjoy the powerful engine and the N Corner Carving Differential, an eLSD. The eLSD generates the highest torque steer related to corner exiting at lower speeds when drive torque is higher and steering angle is greater.
Nordschleife also challenged KONA N's ESC, particularly in banked corners like Karussell or Schwalbenschwanz or in jumps like Pflanzgarten. The unique tuning philosophy for all N models is to drive the Nordschleife in "ESC – ON" mode without annoying infringements to maintain stability. These could be a sensitive Traction Control System (TCS) or brake interventions. Cornering enthusiasts can furthermore switch to "ESC – Sport" mode for more driving fun or deactivate ESC completely for maximum freedom.
Hot hatch performance in an SUV
Without compromising on driving pleasure or performance, the all-new KONA N introduces Hyundai N to the SUV segment. The hot hatch SUV, or 'hot SUV', adds a distinct character to the segment, highlighting its playfulness, directness, and sportiness in addition to comfort on rough terrain.
Fuel consumption combined for the Hyundai KONA N 2.0 T-GDI (280 PS) with DCT in l/100 km: 8.5; CO2 emissions combined in g/km: 194 (WLTP)
Although the SUV's higher centre of gravity and different tyre dimensions posed challenges, the engineers managed to modify the kinematics, suspension set-up, and tyre development to meet the requirements for race track capability and fun-to-drive character. The damper hardware and Electronic Controlled Suspension (ECS) software were fine-tuned to establish the right balance.
Even though it gives a compact crossover a hot hatch attitude, KONA N is still an SUV at heart. To provide customers with classic SUV functionality, a Traction Control System was implemented to achieve the best possible traction from KONA N's front-wheel-drive system. The traction modes alter the set-up of TCS, ESC, and the eLSD. The interaction between these systems was tuned on challenging terrains, such as mud, sand, ice, and deep snow. KONA N's traction was improved by continuously monitoring objective data analyses.
KONA N's extensive list of ride and handling features give it uncompromised SUV driving abilities. Its 235/40R19 Pirelli P-Zero tyres mounted on lightweight, 19-inch forged alloy wheels deliver maximum grip. With them, the 'hot SUV' can offer excellent performance on a variety of challenging terrains.
For additional safety, a high-performance braking system was added. The system delivers stability even in changing driving conditions. The larger front and rear disc brakes offer an enhanced cooling function via the enlarged intakes on both sides of the front bumper. Additionally, KONA N's high-friction calliper material, lower arm guide, and heat shield maximise brake performance by achieving better cooling and heat endurance.
Benefitting N-thusiasts
N was born in Namyang – at Hyundai Motor's global R&D Centre in Korea – and honed at the Nürburgring – one of the most challenging race tracks in the world.
The purpose of honing these high-performance features at the Nürburgring is not just to build better N models – it is to deliver a fun-to-drive experience. These numerous stages of development and months of testing are important for the customer because they have a direct impact on driving performance – both in everyday and race-like driving conditions.
While most of the time, owning a Hyundai N model is a way for customers to bring more excitement into their everyday driving, events such as track days also give customers the opportunity to drive their Hyundai N model on a real race track. That's why it's so important for Hyundai N models to have race track capability – which is ensured through testing on the Nürburgring. The route and road conditions of the Nordschleife are so demanding that any vehicle that passes testing there can successfully drive on any road in the world. That way, customers and N-thusiasts can always drive with confidence.
All this testing also leaves customers with peace of mind. Since the N models have proven their endurance on the race track, customers can count on the same level of reliability they've come to expect from other Hyundai models. Even in the harshest conditions, drivers are guaranteed a safe and fun ride.
Disclaimer: CO2 and emissions data
Fuel consumption combined for the Hyundai KONA N 2.0 T-GDI (280 PS) with DCT in l/100 km: 8.5; CO2 emissions combined in g/km: 194 (WLTP)