Equipped with a revolutionary fuel-cell system and intelligent Advanced Driver Assistance Systems, the Next-Generation fuel cell vehicle shows what the future of zero emission mobility will look like and lets customers experience it today.
Proving that a hydrogen-powered, eco-friendly powertrain can fully support the demands of everyday driving, here are six cool things about the All-New Hyundai NEXO
The All-New NEXO is the technological flagship of Hyundai's growing eco-vehicle range and is built on a newly developed and dedicated vehicle platform.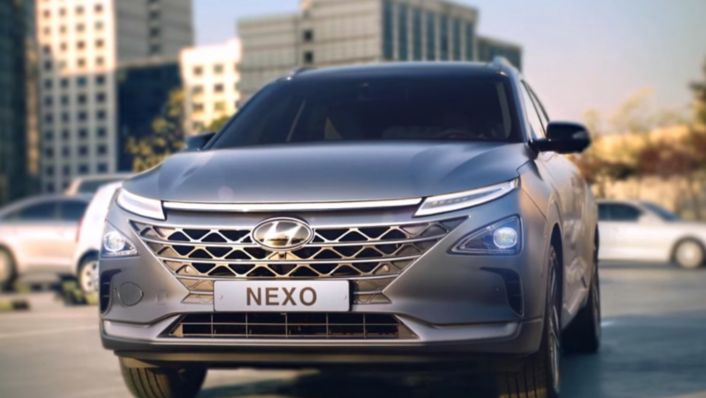 NEXO will park itself

Remote Smart Parking Assist enables NEXO to autonomously park or retrieve itself from a parking space with or without a driver in the car. Yes – the NEXO will literally park itself.
It can even back a NEXO into a parking spot by itself with a touch of a button from the driver. When faced with any challenging parking scenario, NEXO drivers won't even have to be inside the vehicle to know with complete confidence that it will get into a space with 100 per cent accuracy.
NEXO can drive itself

As well as parking itself, NEXO can drive itself – and not just around a car park. In early 2018, a fleet of NEXOs completed a self-driven journey across South Korea, from Seoul to Pyeongchang. At 190-miles, it was the longest level 4 autonomous journey ever undertaken.
It didn't dawdle, either. Previously, autonomous cars have demonstrated limited speed on closed-off sections of road, but this is the NEXOs travelled at up 110 km/h, the maximum speed allowed on Korean highways. They executed lane changes and overtaking maneuvers, navigated toll gates and even drove around roundabouts.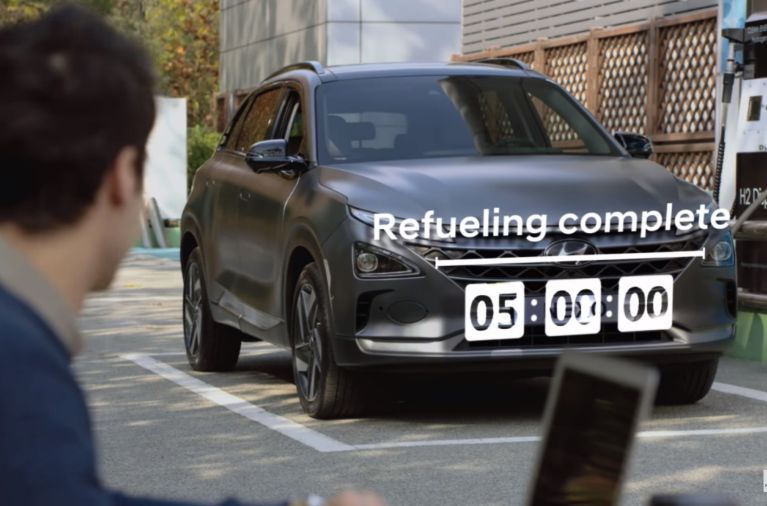 NEXO refuels and goes…and goes

Despite having a larger tank than its predecessor – the Hyundai ix35 Fuel Cell – NEXO takes only five minutes to fill it to maximum. That's significantly faster than it takes to recharge the battery in an electric car.
The NEXO's eco-friendly and highly efficient fuel cell powertrain an estimated driving range of 666 km (under WLTP testing) – better than any other fuel cell or electric car. This range is comparable to that of an internal combustion engine and gives drivers confidence to travel long distances.
NEXO powers – and waters – your home

As well as offering zero emissions mobility, NEXO can remove stress from the electricity grid. Its fuel cell powertrain can be connected to a household and used to power many appliances found in the kitchen, living room and home garden.
Because its powertrain produces only water vapour as a by-product, NEXO can also provide pure water to grow vegetation in the garden. While conventional vehicles with internal combustion engines can only minimize emissions, NEXO can produce water for multiple uses.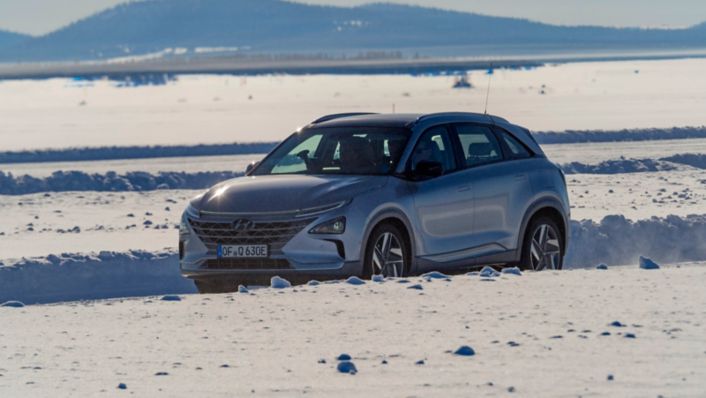 NEXO survives sub-zero temperatures

Earlier this year, NEXO was tested in the most extreme sub-zero conditions at the Hyundai Mobis Proving Ground in Sweden, just an hour's drive away from the Article Circle. In order to operate in such a harsh environment, Hyundai's engineers designed a new component to heat up the fuel cell stack of the NEXO in sub-zero conditions.
Thanks to this clever thermal management strategy, the Hyundai NEXO can be started at -30° C, which is on par with any other type of internal combustion engine-powered vehicle. It also features a blower system to remove any water from the fuel stack before it becomes frozen.
NEXO cleans the air

As well as being a zero-emissions vehicle, NEXO also filters and purify the air as it drives. It reduces the same amount of fine dust pollution as is created by two diesel cars travelling the same distance.
The NEXO's high-performance air filter can filter micro-particulates smaller than particulate matter PM 2.5 in size – the kind that can effect people's health when levels are too high. In short, when air filters through the NEXO, 99.9 per cent of particulates are purified and the instrument cluster displays how much you have contributed toward cleaning the environment around you.