French race car driver Adrien Tambay achieves a new endurance record in extreme conditions with a production Hyundai NEXO
Tambay covered 190 laps of the icy circuit of the International Record Centre for Decarbonised Vehicles in Val Thorens in six hours on a single charge
The record officially resulted in 267.8 cubic metres of purified air
Hyundai Motor Europe brand ambassador Bertrand Piccard joined Tambay in the NEXO
Hyundai NEXO set its first Endurance Record in extreme conditions at the International Record Centre for Decarbonised Vehicles in Val Thorens. French professional race car driver Adrien Tambay drove a production NEXO at an altitude of 2,220 metres for six hours, covering 190 laps on a single charge.
According to official measurements, the feat resulted in 267.8 cubic metres of purified air. NEXO is outfitted with an advanced air purification system that filters and retains 99 per cent of ultra-fine particulate matter (PM 2.5) along with harmful gases, such as sulphur dioxide and nitrous dioxide, from the air before the fuel cell uses it to generate electricity and water vapour.
An electric motor, powered by a fuel cell, has once again demonstrated that it can capture air and therefore oxygen and combine it with hydrogen to make electricity and water. This air is purified by the fuel cell.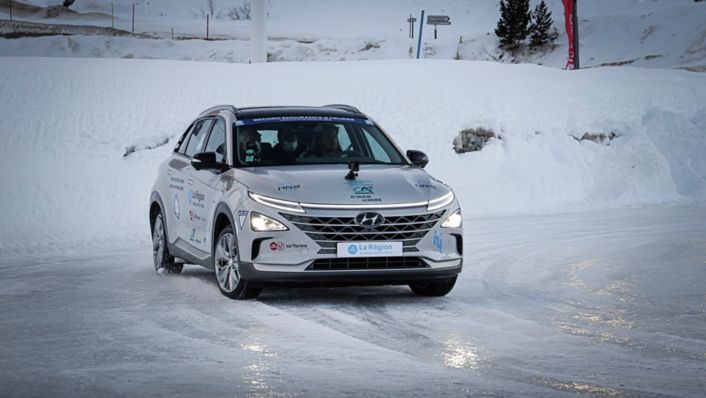 The attempt of the six-hour Endurance Record took place on Tuesday, 14 December at 7 a.m. Due to its altitude of 2,200 metres, the International Record Centre for Decarbonised Vehicles in Val Thorens was able to guarantee extreme conditions. The temperature was at -6oC, and an 11-centimetre layer of ice covered the circuit. Prominent figures and members of the media attended the beginning of the record attempt.
Tambay was accompanied by Bertrand Piccard, Swiss explorer and environmentalist; initiator of the Solar Impulse Foundation; and Hyundai Motor Europe brand ambassador. Piccard had set a previous record with a production NEXO under normal traffic conditions. He drove 778 kilometres across France in 2019, breaking the world record for the longest distance travelled in a fuel cell electric vehicle on a single charge. In the previous record, 404.6 cubic metres of air were purified, equivalent to the daily volume of air 23 people would breathe.
Adrien Tambay's record was set at a high altitude, in extreme conditions of cold, ice, and rarefied air. This shows that an electric motor is not limited by extreme outdoor conditions. The 267 cubic metres of air purified during this record attempt demonstrates a paradigm shift. I am delighted to have joined Adrien Tambay in the Hyundai NEXO as a passenger. With 50 kilometres of range left after these 6 hours, I couldn't resist having my turn at the wheel.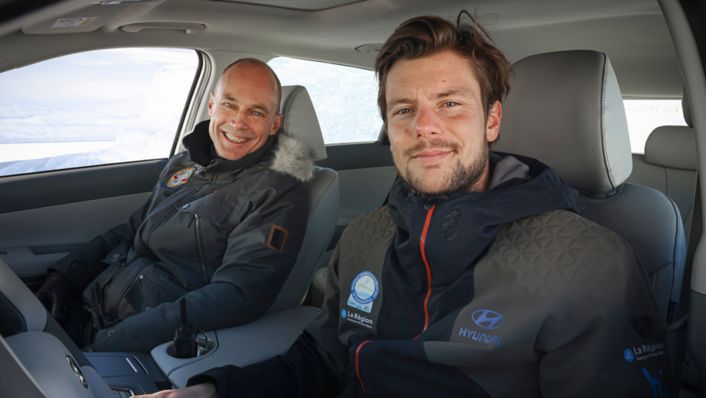 The 2021 Endurance Record was kicked off on Monday, 13 December at the Hôtel de Région in Lyon, France. Numerous figures from the H2 sector of the Auvergne-Rhône-Alpes region were in attendance.
By taking on this challenge and setting a record, the hydrogen mobility solution has once again proved that it is already an everyday solution that can tolerate extreme conditions.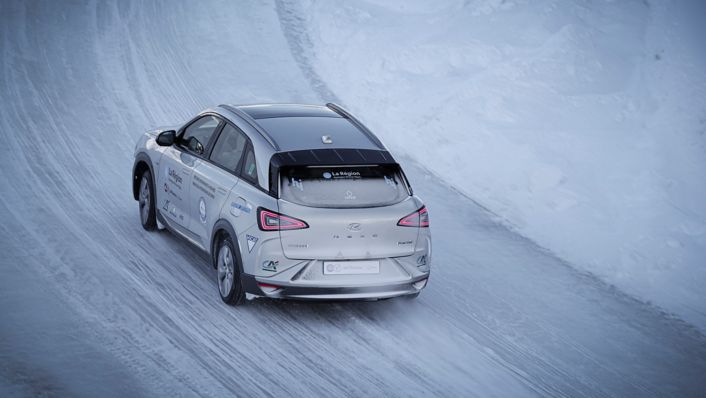 NEXO is Hyundai's second-generation hydrogen fuel cell vehicle and has been the company's flagship technology since 2018. With a class-leading driving range of 666 kilometres, NEXO combines clean mobility with cutting-edge driver assistance systems.
The award ceremony took place at 1:30 p.m., in the presence of numerous guests. A press conference detailing the record figures followed.
Hyundai is convinced that hydrogen is one of the relevant solutions for decarbonising society. This vision is shared by many private and public players that we have been able to unite around this project. Hyundai is a pioneer in the development of hydrogen mobility. NEXO, our fuel cell electric SUV, demonstrates the extent to which this technology is already adapted to the needs of greener mobility, whatever the conditions.
Disclaimer: CO2 and emissions data
Hydrogen consumption combined for the Hyundai NEXO in kg H2/100 km: 0.95; CO2 emissions combined in g/km: 0 (WLTP)