Drivers are being given increasing voice control over their cars' functionality - a new technology that Hyundai Motor has been at the forefront of.
Five years ago, if the person sitting opposite you on the train had pulled their smartphone out and said the words "Hey Siri…" to it, you might have thought they were a little crazy. Cut to 2017, and the rise of voice-activated personal assistants has become a global phenomenon.
All of the major smartphone manufacturers now offer one, with Siri joined by Google's Assistant and Samsung's Bixby. And now more and more homes are getting their own smart speaker – static devices that are connected to a voice-activated personal assistant – thanks to the surging popularity of Amazon's Echo, featuring the Alexa personal assistant, and Google's Google Home, featuring Google Assistant.
In the automotive industry, an increasing number of new models feature voice-activated personal assistant connectivity – so much so that business analyst IHS Markit estimates that by 2022 nearly 90 percent of new cars will have some type of speech-recognition capability, and 75 percent of those will also offer cloud-based voice control provided by the likes of Amazon, Google and Microsoft.
Hyundai Motor was the first car manufacturer to introduce Android Auto

Hyundai Motor has been one of the major manufacturers at the forefront of bringing this new technology to the market. In May 2015 it became the first car manufacturer worldwide to introduce Android Auto technology in one of its cars: the Hyundai Sonata in the US. In January 2016 it was among the first manufacturers to bring Android Auto to the European market with the i40.
As well as enabling users of smartphones with Google's Android operating systems to connect their devices to the screen of Hyundai's infotainment unit and access third party apps, Android Auto also lets them use these apps via voice control. For example, whilst driving, users can write and send text messages to friends, start listening to music via and app like Google Play Music or Spotify or enter a destination to navigate to – all hands-free – via the car's inbuilt microphone.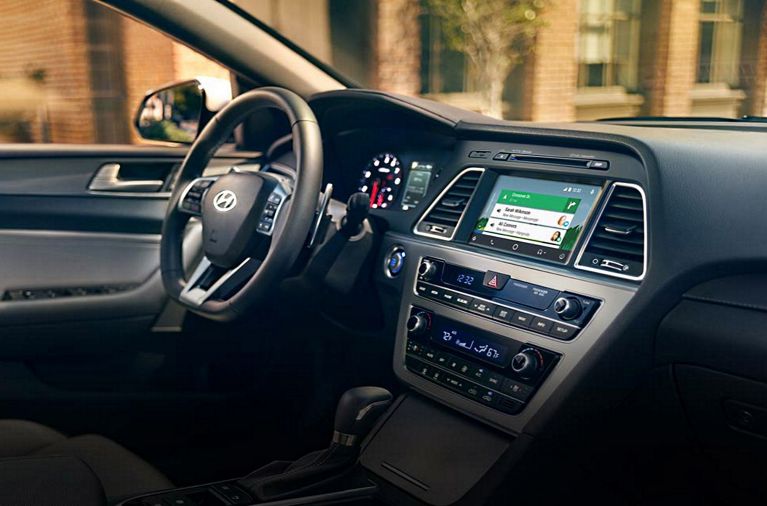 Imagine a scenario where you are driving on a motorway with your family, and the all-too-often sudden need to find a service station to get food, petrol or take a toilet break occurs. Instead of fiddling with your smartphone or looking at a map – and taking your view from the road ahead – you would simply press the voice command button on the steering wheel, say "Find the nearest service station" and the navigation app (Google Maps or Waze with Android Auto) will plot the route and begin offering you directions via the car's infotainment screen and speakers (voice directions).
2016 was also the year that Hyundai Motor began to feature Apple's CarPlay technology in its vehicles. Apple CarPlay offers the same functionality and voice-control as Android Auto, but is designed for owners of Apple's iPhone and its iOS operating system.
In the European market, Android Auto and Apple CarPlay are now available in the i10, the New Generation i30 and i30 Wagon, the i40 and the IONIQ Hybrid, Plug-in Hybrid and Electric. They will also feature in the All-New Kona SUV, the high performance i30 N and the game-changing i30 Fastback.
Hyundai Motor became the first automaker to connect cars with homes last year

It was thus no surprise when, in November of last year, Hyundai Motor became the first volume automaker to connect cars with homes using the Amazon Echo smart speaker and Hyundai's Blue Link® technology for Amazon's Alexa. Hyundai owners in America now have the convenience of locking, unlocking and remote starting their vehicles from the comfort of their couch, kitchen or bedroom with voice commands.
The Blue Link® technology also enables US owners of the Hyundai IONIQ Electric and Plug-in Hybrid and the Sonata Plug-in Hybrid to and the vehicles in America to start and stop the charge of their cars simply by giving their Amazon Echo simple voice commands. For example, whilst lying in bed on a cold winter's morning they could say to their Echo: "Alexa, tell Blue Link to start my car at 26 degrees," and Alexa, the Echo's voice-activated personal assistant would respond: "Request for remote starting your car with climate control has been sent."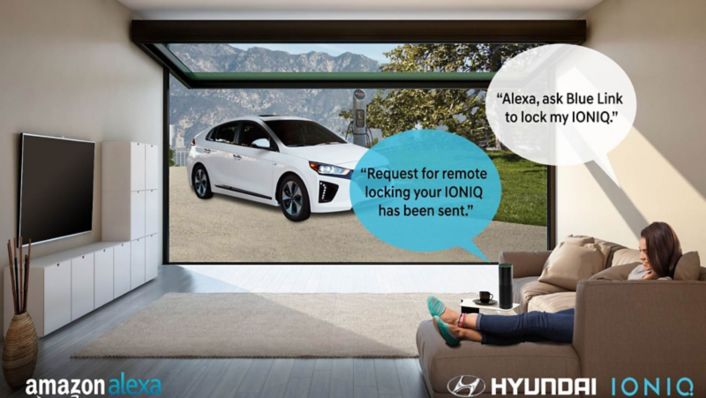 In April 2017, Hyundai Motor introduced the Blue Link® technology for Google's Google Home smart speaker with Google Assistant in the US. The Blue Link® Agent for the Google Assistant means owners of a Google Home device can also now control various functions of a Hyundai vehicle with simple voice commands.
For example, they can now set their car's navigation system to plot a route to their desired destination before they have even left the house. If they wanted to go and get a coffee, they could say to their Google Home smart speaker: "Ok Google, tell Blue Link to send the address of the nearest Starbucks to my Santa Fe." It would respond: "The address I found for the nearest Starbucks is 350 Fifth Ave, New York, New York. Would you like to send it to your blue Santa Fe?" and when you say "Yes", it would tell you: "A request to send point of interest has been sent."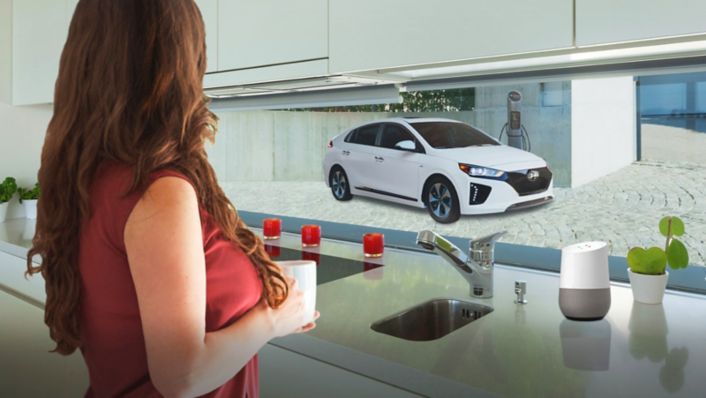 As Mark Boyadjis, Principal Analyst at IHS Markit, told Automotive News, voice technology is simplifying the driving experience and making drivers' lives easier.
The reality is, this will prove to be beneficial in the long run. We've over-complicated the interiors of our cars and we need access in an easier way. What's easier than human speech?