With Android Auto in the New i40, you don't need to touch your smartphone in the car anymore.
Android Auto seamlessly links your Smartphone to your car's infotainment system
Access your calls, messages, entertainment apps and Google Maps through the car's built-in touchscreen
Following the official announcement at IAA 2015, our hands-on video demonstrates Android Auto in the new Hyundai i40
Just plug in your Android device to access calls, messages and apps directly on the car's infotainment system. It can all be accessed directly through the New i40's 7 inch touchscreen or – even more convenient – via voice commands. It's really that simple.
After being the first automaker worldwide to introduce Android Auto, Hyundai is now bringing the smart technology to Europe. As announced at IAA 2015, Hyundai's New i40 will be one of the first cars on European streets to officially support Google's smartphone connectivity system. And this is how it works: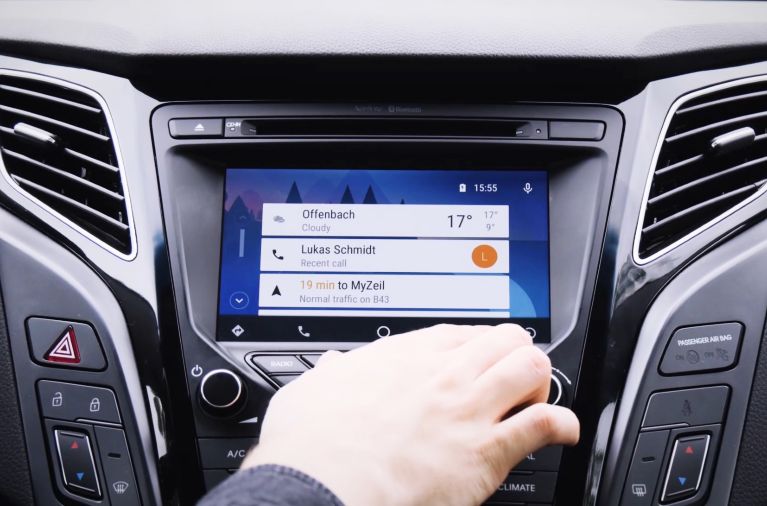 Android users will be instantly familiar with the interface. And that is intentional: The whole design and usability follows the example of Google's smartphone operating system. For example, the boxes in Android Auto's main menu resemble the typical Google Now cards, presenting contextually relevant information at a glance. This data comes directly from the phone itself, e.g. the location that you just searched before getting into the car. As it appears on Android Auto's main menu, just tap it and Google Maps will find the best route to get you there.

With Android Auto, there is no need to grab your smartphone during driving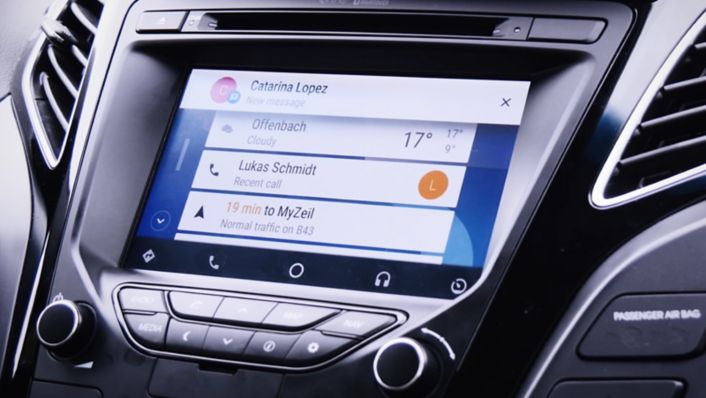 Besides Google Maps, Android Auto also offers a variety of entertainment apps. Obviously Google Play Music is supported, as is popular music streaming service Spotify and a multitude of podcast, radio and audio book apps. The same can be said for messaging software like Skype and WhatsApp, although Android Auto does not allow you to read or type messages during driving. Instead, the software can read incoming messages aloud and convert dictated replies into a regular text message for hands-free messaging.
In fact, virtually everything in Android Auto can be accessed through spoken commands so that there's no need to touch the screen – except for one initial tap on the "g" button that starts voice recognition. And you don't even need to do that, as Hyundai's New i40 comes with a dedicated voice command button on the steering wheel.