Allow this video to talk you through the LiDAR technology driving Hyundai's autonomous IONIQ concept.
No longer the preserve of science-fiction writers, autonomous technology is set to play a bigger part in our lives but the current crop of self-driving car concepts tend to sport futuristic appearances or strange paraphernalia like antennas on the outside.
On first glance, you wouldn't know the IONIQ model in this video was an autonomous vehicle. There are no contraptions on the roof and it looks just like the other cars in Hyundai's innovative IONQ range.
The difference is this self-driving IONIQ concept, showcased in Las Vegas this year, has hidden much of the sensor technology within the car's panelling. In addition, the car's autonomous system cleverly makes use of existing sensors used for features like cruise control and reverse parking.
These existing systems available in the Electric, Hybrid, and upcoming Plug-In Hybrid IONIQ models are integrated with LiDAR technology in the self-driving concept version, the same technology used in fields as diverse as map-making and planetary exploration. Simply put, LiDAR, or Light Detection and Ranging, uses lasers to illuminate a target or object, and can therefore measure distance.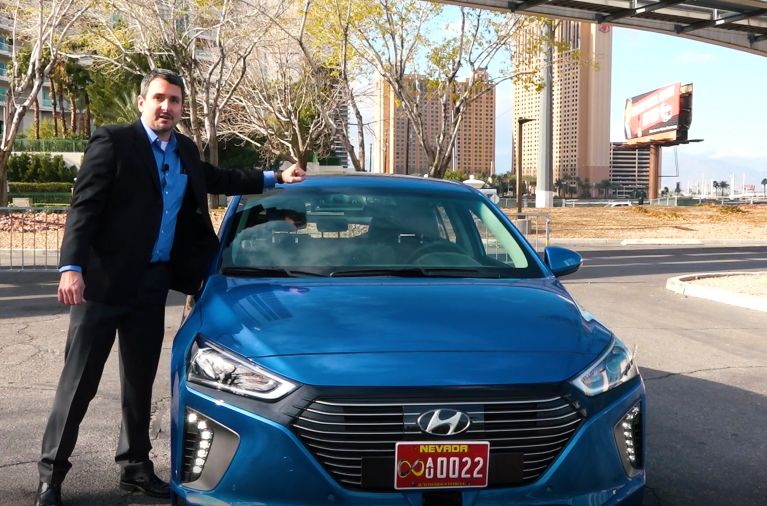 Lasers and computer software combine to ensure obstacles are avoided

LiDAR is a laser and radar system used by autonomous vehicles to detect and avoid obstacles. Rotating laser beams identify objects allowing computer software to determine distance to the objects and the vehicle to safely negotiate its way along a route. The technology enables sensors to identify other vehicles, road signs, road markings, boundaries and other objects.
The same LiDAR technology is at work in a car's adaptive cruise control, calculating the distance to a vehicle in front and enabling the car to automatically take action, such as slowing down in the case of a sudden change in speed of traffic.
LiDAR systems have a better range and larger field of view that purely radar systems. Using them in conjunction with other sensors makes them effective in real-time environments. In the autonomous IONIQ concept, the LiDAR array is integrated into three sensors in the front bumper. In other autonomous vehicles, the 360-degree radar system may be mounted on the roof. The driverless IONIQ achieves the same range by utilising its rear sensors.
Forward-facing cameras at the top of the windshield are used for detection of objects, traffic signals, and reading the phases of traffic lights. They are also part of the IONIQ's Lane Departure Warning system. The autonomous IONIQ also uses a GPS antenna and definition mapping data from Hyundai MnSoft to read information like location, road curvature, and lane width.
From meteorological studies to space travel

LiDAR technology is used in a multitude of industries from monitoring tectonic fault lines, to detailed meteorological surveys, to mining and military research. It's even used by NASA for topographic surveys of Earth and other planets in our solar system such as the mapping of Mars, and in space travel when spacecraft need to make manoeuvring adjustments.