For many car owners, the daily commute is a stressful exercise filled with frustration with other driver behaviour, or feelings of wasting time sat in traffic. Technology can help relieve the tension.
Poor road and weather conditions, running late for a work appointment, or just being seated in the same position for hours on end can also have detrimental effects on our stress levels behind the wheel.
And a lot of the time, it may not be our fault. Erratic driving from other motorists is a definite cause of rising tension levels. A recent Gallup poll named the UK as the leading country in the world for road rage, with 80% of drivers saying they had been victims at least once.
But the characteristics of the vehicles we drive also have a big bearing on how calm we are on the road. What's the seat positioning like and how comfortable is it? Do we have enough space and how's the air conditioning? Can our cars respond to hazardous situations or is it up to us to fight tiredness and tension levels to remain focused?
Thankfully, help is at hand. Current technologies in our cars, or which are coming down the road, are designed to make driving as stress-free a pursuit as possible.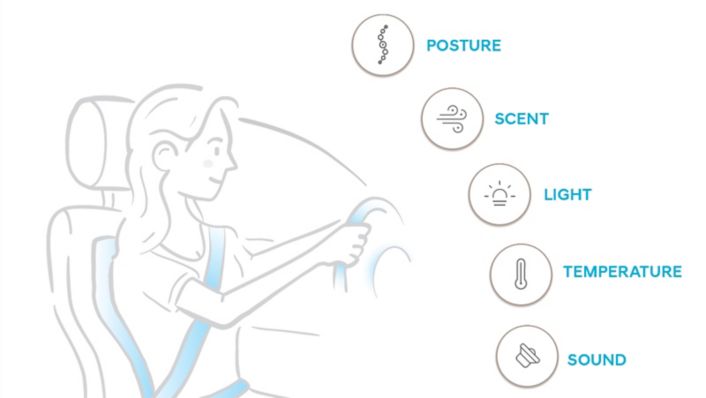 Biometric sensors to monitor driver wellbeing

Unveiled at CES 2017, the Health + Mobility Cockpit is part of Hyundai's vision for the future of health-conscious vehicles. It anticipates that in the years to come, cars will be fitted with biometric sensors which can monitor a driver's physical and mental state, detecting everything from their posture to respiratory rate and breathing depth.
Technology could be used to boost a driver's focus or help them to relax, and the cockpit promotes in-car conditions to help car owners arrive at their destination less fatigued. 'Mood Bursts' in the form of scents such as lavender, or soothing music, for example, will be triggered if the car detects loss of concentration or high stress levels,
If biometric sensors represent the future, there are a number of other technologies designed to keep you calm while behind the wheel.
Noise levels

Fellow passengers, engines, your own driving style, vibration, wind, air conditioning and roads all contribute to the amount of noise experienced in a car which can have a major affect on driver concentration. Advances in how today's cars are constructed, including engines, tyres, and sound proofing, mean cars are far quieter than they were in the past. We're also seeing an increase in electric vehicles like the Hyundai IONIQ and fuel cell cars which are notable for their exceptionally low engine noise.
Vehicle noise output levels are controlled by European regulations and the decibel limits have been steadily decreasing over the years. New EU directives aim to reduce levels further to 68 db by 2026.
Cabin space and ergonomics

Ergonomics play a key role in the construction of new cars and ergonomics engineers form part of the teams supporting the designers. Aspects like cabin space, steering wheel design, leg room and comfortable seating are all considered when a car is being put together. Everything from the positioning of a radio dial to seat adjustability and back support can have an effect on our comfort.
Heated seats

Similarly, a car that's too hot or too cold is not a comfortable environment, especially with easily-stressed children on board. Cranking down the window never quite has the desired effect for all passengers. Seat ventilation enhances comfort by directing air through the seat to the occupant. Today, cars like Hyundai's i10 include features such as a heated steering wheel, automatic climate control, and heated seats, along with an optional sun-roof. Hyundai's New Generation i30 also includes seats that can be cooled during warm summer drives.

Phone Connectivity

Mobile devices with constant pings from apps and messages can be a major distraction merely by having them in the car, adding to the stress of driving. Android Auto and Google CarPlay allow drivers to sync their mobile devices with their car's own console. Motorists can access calls, messages, entertainment apps and Google Maps through the car's built-in touchscreen. The software can even read incoming messages aloud and convert dictated replies into text messages.

Sat-Nav

Not knowing a route can be disconcerting for any driver, especially if timing is important and you don't want to miss an event. Many modern car models come with in-built sat-nav systems while drivers also use their smart devices or portable sat-navs with a docking accessory to plot the best way to their chosen destination. There's also piece of mind in knowing where the next service station or resting spot is located.

Live services

Technology such as LIVE services provides the fastest route with real-time traffic updates, as well as weather information, the location of speed cameras where available, and online searches for places of interest. This allows drivers to make informed choices about their travel route, and even what time to set off to put their minds at ease. Many Hyundai models such as the i30 include up to seven-year subscription to LIVE services.

Rear cameras and blind spot detection

Before the advent of rear parking cameras, reversing was one of the most stressful parts of the driver experience, particularly for new drivers. Line of sight is the main cause of concern having to awkwardly adjust the body and take account of the car's pillars. Rear cameras and audio alerts for crossing traffic or when the car approaches an object remove that worry.
Likewise, with Blind Spot Detection, rear sensors detect approaching traffic coming from behind or alongside and alert the driver by means of a visual or audio prompt, or gentle vibration of the steering wheel. These combine to keep the driver's eyes where they should be, on the road ahead.

Smart cruise control

Adaptive cruise control automatically controls a vehicle's speed. It reduces driver fatigue especially over long journeys as you don't need to constantly maintain speed or estimate how fast other cars are travelling. Relaxing your leg reduces the physical strain of driving while cruise control can also help to save money on fuel, and who feels stressed with a little more cash in their wallet?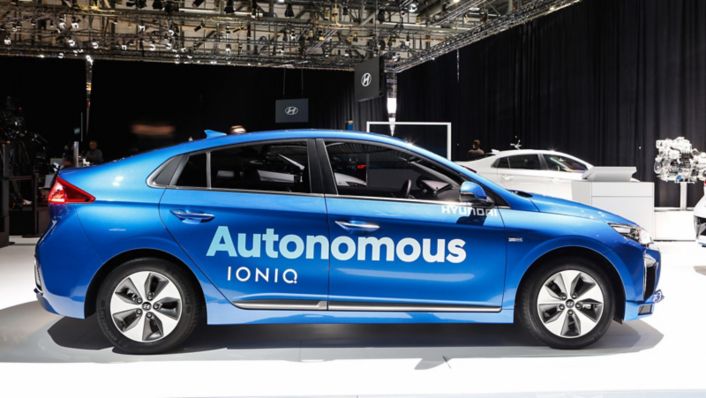 Radio

In-car audio has evolved over the years, from FM radios up to syncing our smartphones and Spotify playlists to today's on-board consoles. The one constant throughout that time companion has been radio entertainment, whether it's music or modern-day podcasts. And the type of music also influences our mood and stress-levels behind the wheel. Research suggests that listening to classical, pop, or other slower tempo music while you are driving can calm you down while fast tempo music like rock can cause drivers to drive faster and lose their cool easier.

Automatic parking

Smart-parking assist systems take the hassle out of squeezing into that tight space. Once you've found your spot at the store or car park, all you have to do is activate the system and select the reverse or parallel parking mode. The technology takes control of your steering wheel to put your car exactly where you want it.

Self-driving

In the near future, we could be handing the driving task over to our cars completely. At CES 2017, Hyundai showcased its own Autonomous IONIQ Concept in the latest trials of self-driving cars on public roads. Through the use of LiDAR technology, the car can identify objects and hazards to successfully navigate around the streets of Las Vegas. If the current move towards autonomous vehicles continues, our cars themselves will become the ultimate technology to take the stress out of driving.