Hyundai and Healthy Seas have renewed their joint commitment for 2022 and are working together to create better future for our oceans
By supporting ocean clean-ups and educational activities organised by Healthy Seas, Hyundai further shows its commitment to "Progress for Humanity"
Hyundai and Healthy Seas came together with local communities and authorities in Ithaca, Greece, for a big clean-up project and educational activities on 23 May 2022
Thanks to 45 participants, 15 divers, and 10 organisations, event cleaned 14 locations around the island of Ithaca, recovering 18,5 tons of ghost nets and 5 tons of other marine litter.
Hyundai Motor is celebrating World Oceans Day by announcing the results of the first big clean-up activity of 2022, organised together with its partner Healthy Seas in the Greek island of Ithaca, the iconic location where the record-breaking cleanup project took place last year. In line with the company's vision of "Progress for Humanity", the commitment with Healthy Seas not only protects and preserves marine environment, but also establishes stronger ties with the local communities and engages with them in their activities which were running from March until June.
Together with Healthy Seas, Hyundai is supporting a sustainable society and combatting ocean pollution. After a successful 2021, we are looking forward to expanding our cooperation with activations that will have a positive impact for coastal communities, children and our employees. IONIQ 5 customers have the option of outfitting their cars with sustainable floor mats made with ECONYL® fibre. We will continue to integrate ECONYL® yarn into our upcoming products to drive a circular economy and support our vision of Progress for Humanity.
This project was not only the biggest in our history, but also worldwide. In just eight days, we managed to clean up all coastal areas and collect tonnes of materials.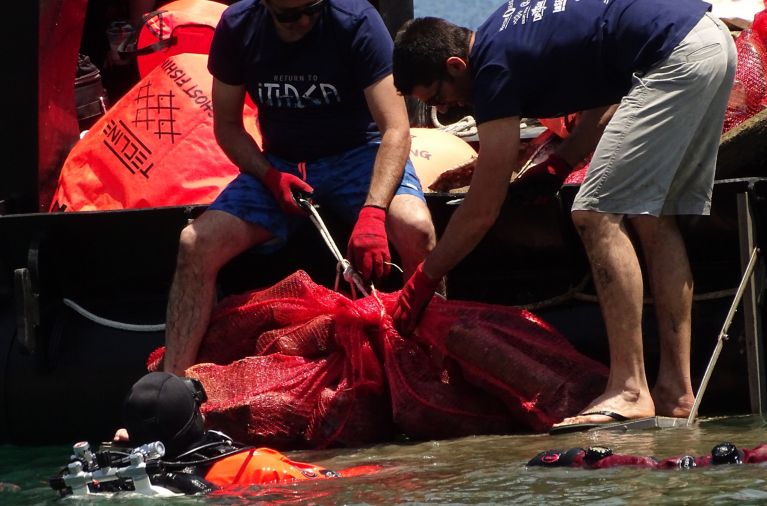 Returning to Ithaca
One year later, Healthy Seas and Hyundai have returned to Ithaca with the aim of finishing what they started in 2021. At the kick-off event on May 23rd of this year, representatives from the associations involved, along with those from local institutions,came together to raise awareness about the protection of marine ecosystems and joined forces to fight against marine pollution.
The kick-off event allowed the local community of Ithaca to have direct access to the activities organised by the partnership. Through virtual reality technology, locals were able to become divers for a moment, and they could celebrate the success of last year by watching Healthy Seas' latest documentary. Meanwhile, representatives from the team engaged with the community, answered their questions and discussed how individuals can support in their daily lives to preserve the marine ecosystem and foster a sustainable future. Across the next 15 days, enabled by the support of Hyundai, a team of volunteers collected huge amounts of debris and played a significant role in restoring marine life around Ithaca.
The biggest problem with the ghost fishing gear is the entanglement of animals, which kickstarts a vicious cycle, or a cycle of death.
Organising a second clean-up in Ithaca has had an even bigger impact on the island and its local community. By supporting the efforts to remove remaining waste left on the seafloor and building even stronger relationships with local fishers, Hyundai and Healthy Seas are not only solidifying their commitment to preserving the marine ecosystem, but also ensuring that local communities and especially younger generations have the necessary tools to protect and preserve their waters, ensuring a more sustainable future.
This year's event cleaned 14 locations all around the island from March until June. It consisted of 45 participants, 15 divers, and 10 organisations, who recovered 18,5 tons of ghost nets and 5 tons of other marine litter.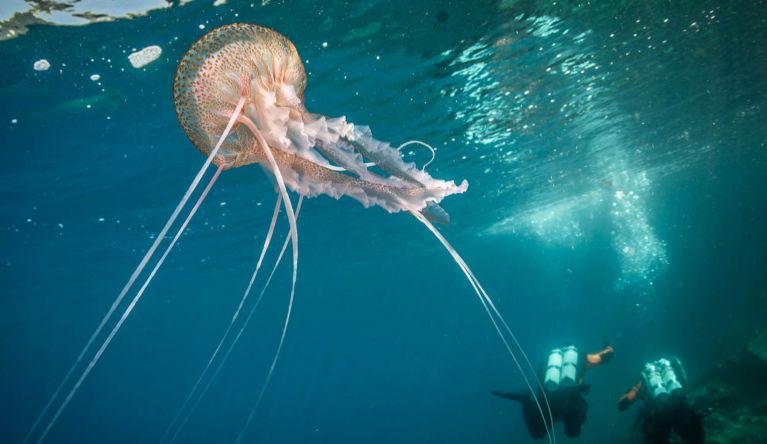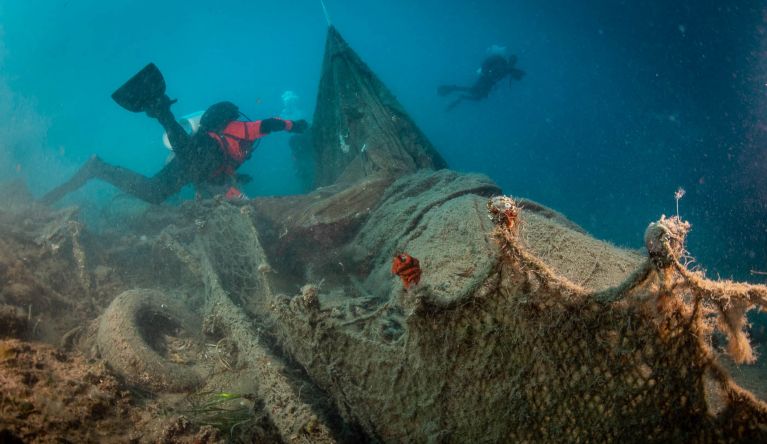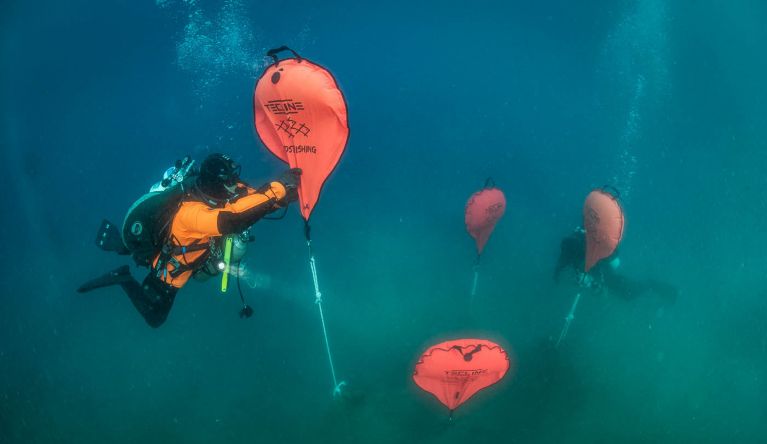 In order to support the circular economy, the waste retrieved from the oceans will be turned into a new resource. The recovered fishing nets will be regenerated, together with other nylon waste by Healthy Seas' founding partner Aquafil into ECONYL® yarn. Besides the nets, other plastic waste retrieved during the activities will be given a new life thanks to Hyundai and Healthy Seas' efforts.  
Since the launch of IONIQ 5 last year, Hyundai has been giving European customers the option of outfitting their fully-electric midsize CUV with sustainable floor mats made from ECONYL® yarn. During 2022, the use of this regenerated material will be expanded to other future Hyundai vehicles, as well as amongst branded products and gifts.
Fishing for litter
Thanks to the work of Healthy Seas and its partners, including the Greek start up Enaleia, among others, local fishers are also taking an active role in ocean preservation. With their 'Mediterranean Clean Up' campaign, Enaleia is encouraging fishers to turn to sustainable seasonal fishing practices, therefore reducing the effects of aggressive fishing.
Enaleia does this by compensating fishers for the period of time in which they agree to limit fishing and help the organisation in remote coastal areas clean-ups. By doing so, Enaleia is tackling two of the main challenges of the marine ecosystem: teaching fishing practices that preserve local fish populations and removing the mounds of plastic that pollute the world's seas.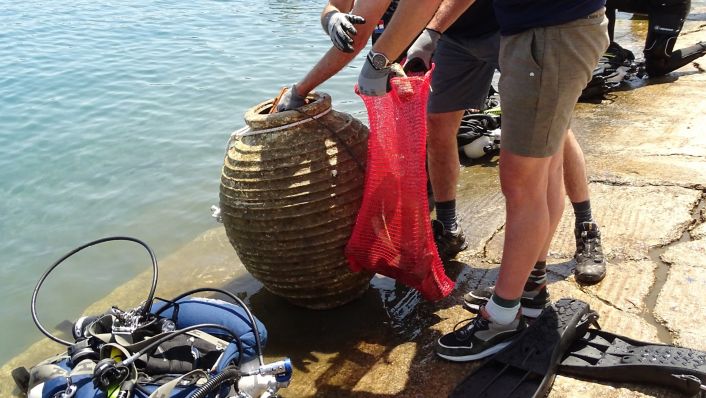 Joining forces for a better future
Hyundai's ongoing partnership with Healthy Seas solidifies its commitment to restoring our oceans and building a better future for next generations, in line with its vision of "Progress for Humanity". The actions planned for Ithaca allow the company to address various marine-related challenges at the same time, while involving and educating local communities, fishermen and younger generations.
Ithaca is only the first stop for Hyundai and Healthy Seas' activities this year. The next location will be the coast of Croatia with a number of other locations on the agenda for later in 2022 and beyond.