168 European dealers recognised for customer satisfaction and sales performance
18 dealers - the top of the tops - received the coveted President Award
Award ceremony follows record Europe sales in Q1 2016
Hyundai Motor has honoured its best-performing European dealers during an award ceremony held 3 May 2016 at the Union Halle in Frankfurt am Main, Germany, close to the company's European headquarter.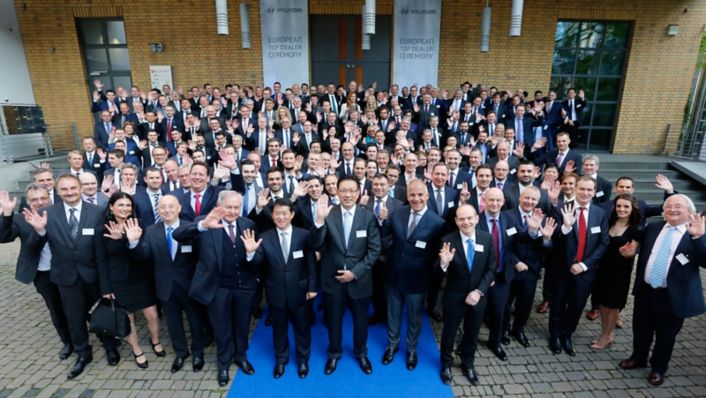 168 dealers from 24 countries were honoured, for their results in sales performance and customer satisfaction. From this group, 18 dealers - the top of the tops - received the highest accolade: the President Award.
The winning dealers also received an early insight into the All-New Hyundai IONIQ, which will be in European dealer showrooms from the end of the third quarter. IONIQ is the first car in the world that offers customers three electrified powertrains to choose from: Hybrid, Electric and Plug-in hybrid. It makes Hyundai Motor the only car manufacturer to sell all of these solutions as well as fuel cell electric vehicles.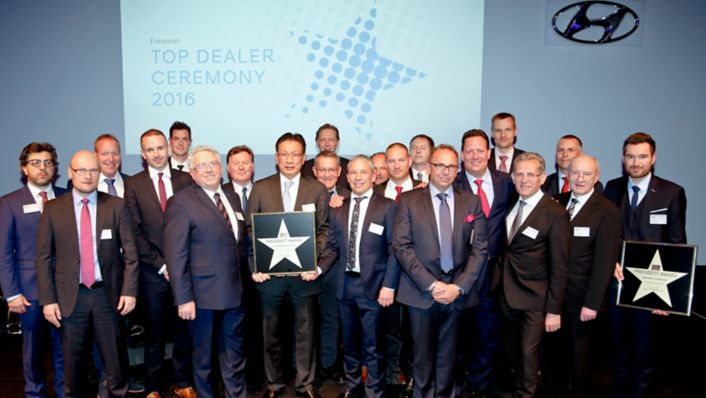 The innovative All-New IONIQ is a symbol of the future for Hyundai Motor, and our dealers are the ones who introduce this future to our customers. As we look to further strengthen our business and shape perceptions of our brand, we will continue to support our dealers in Europe, rewarding high performance and fostering excellence in all areas of customer experience.
The following dealers received the President Award during the 2016 ceremony: 
Autohaus Fürst, Unterwart, Austria
Moorkens Antwerpen, Berchem, Belgium
Hyundai Centrum Praha, Prague, Czech Republic
Rørbæk Biler, Hjørring, Denmark
Protea, Meaux, France
Auto Smolczyk, Hattingen, Germany
Autopalace, Budapest, Hungary
Picca Motors, Molfetta, Italy
Autobedrijf Dirk Barten, Alkmaar, Netherlands
Sven Kvia, Sandes, Norway
Stawowy, Bielsko-Biala, Poland
Tiriac Auto, Bucharest, Romania
Motor-Car Prešov, Prešov, Slovakia
Autobinck, Ljubljana, Slovenia
Fornells Motor, Fornells de la Selva, Spain
Svenska Motor, Skövde, Sweden
Faust Auto, Hinwil, Switzerland
Daly's Garage, Belfast, UK
Hyundai Motor aims to provide the best services in all markets and achieve the highest customer satisfaction levels. In advance of the yearly European Top Dealer ceremony, dealers in 31 European countries are continuously assessed in sales and service operations. Their performance is evaluated along with sales results to identify the winning dealers. The coveted President Award can be made to only one dealer per country each year – and even then, it is only presented for outstanding performance that places the winner among the best of the best.