Best known for her politically-engaged projects and activism, Bruguera makes work that addresses institutional power, borders and migration. She has established a unique concept for her political approach to art – Arte Util (useful art) – one that will continue to be developed in her new work for the Turbine Hall from 2 October 2018 to 24 February 2019.
Over the past 20 years, Bruguera has become renowned for creating art that addresses major political concerns, often taking the form of a political or social action in itself. Her work questions the nature of power structures, behaviors and values. She has consistently argued for art's role as a useful agent of real change in the world, while using the museum as an active forum for public debate.
Tania Bruguera has been commissioned to create work for the next Hyundai Commission, an annual series in Tate Modern's Turbine Hall part of the partnership between Hyundai Motor and Tate.
Bruguera's previous projects have included the Cátedra Arte de Conducta (Behavior Art School), an institution that existed in Havana from 2003 to 2009, and the recently opened Hannah Arendt International Institute for Artivism in Havana. Her work Tatlin's Whisper #5, 2008, which involves two mounted police officers performing crowd-control exercises inside the museum, is one of the major performance works in Tate's collection. In 2012 Bruguera was also in residence at Tate Modern with her ongoing project Immigrant Movement International, in which visitors were required to line up and pass a lie detector test based on questions from the UK immigration form before being granted access to the Tanks.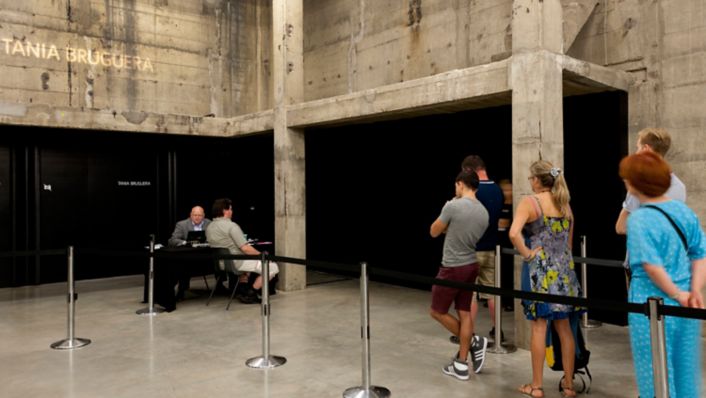 We look forward to presenting the fourth Hyundai Commission by Tania Bruguera. Known to push boundaries by facing our realities, she will invite Turbine Hall audiences to another thought-provoking exploration. Through our partnership with Tate and global art projects, we will continue to respond to diverse perspectives and encourage vibrant and vital interaction.
The Hyundai Commission, to present its fourth site-specific work for Tate Modern's Turbine Hall this October, has been made possible by the 11-year partnership between Hyundai Motor and Tate – the longest initial commitment from a corporate sponsor in Tate's history. The annual Hyundai Commission began in 2015 when Abraham Cruzvillegas unveiled Empty Lot, followed by Philippe Parreno's Anywhen and One Two Three Swing! by Danish artist collective SUPERFLEX, which is on view at Tate Modern until 2 April 2018. The work by SUPERFLEX invites audiences to combat social apathy through collaborative action, joining together on the count of three on three-seated swings. The Hyundai Commission will continue to offer artists the opportunity to challenge public perceptions of art by creating work for the unique Turbine Hall, until 2025.
Tania Bruguera was born in Havana, Cuba in 1968 and currently lives and works between Havana and New York. She studied at Escuela de Arte San Alejandro and the Instituto Superior de Arte in Havana and the School of the Art Institute of Chicago. She has orchestrated large-scale projects around the world, including Cátedra Arte de Conducta in Havana and Immigrant Movement International in New York and has taken part in the Havana Biennial, São Paulo Biennial, Venice Biennale, Documenta; Istanbul Biennial, Shanghai Biennial and Gwangju Biennial. Solo exhibitions of her work have been staged at the Museo Nacional de Bellas Artes in Havana, Neuberger Museum of Art in New York, Van Abbemuseum in Eindhoven; Centre Pompidou in Paris; Yerba Buena Center for the Arts in San Francisco, and MoMA, New York.
The Hyundai Commission 2018 will be curated by Catherine Wood, Senior Curator of International Art (Performance) and Isabella Maidment, Assistant Curator of Performance.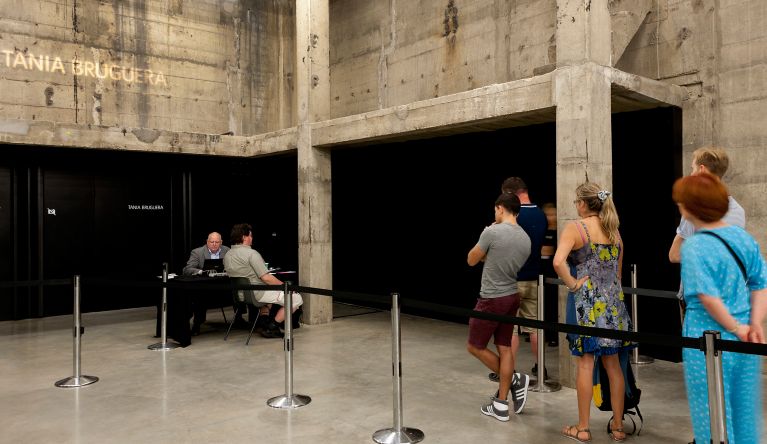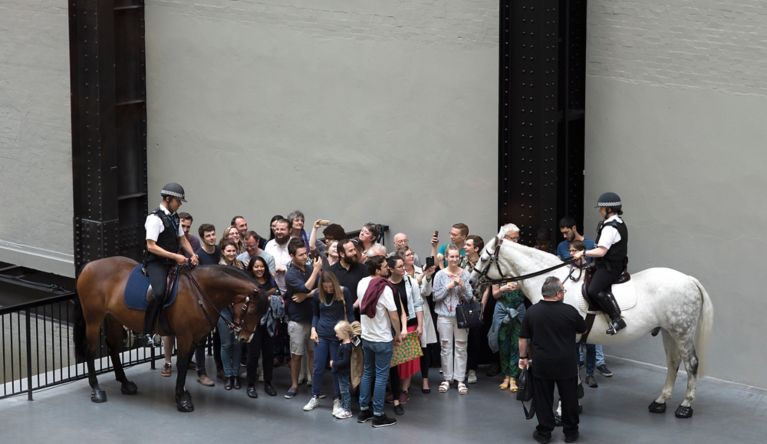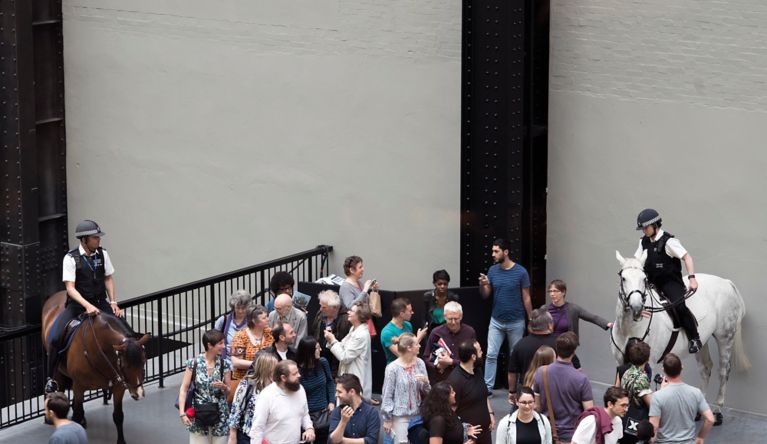 * Image Credits:

Tania Bruguera, portrait photograph. Courtesy of the artist.

Tania Bruguera - Tatlin's Whisper #5, at Tate Modern 2016. (c) Tate Photography

Tania Bruguera - Immigrant Movement International, at Tate Modern 2012. (c) Tate Photography