Hyundai's Vehicle-to-Load (V2L) technology, embedded in IONIQ 5, created a special experience in northern Norway, serving as the sole power source of a remote reindeer farm
V2L technology also provided the power to host an exclusive dinner in a cosy off-grid cabin
Capable of storing and supplying energy, this technology solution can effectively replace fuel-powered aggregates with the power from EV batteries, underlining Hyundai's position as Smart and Sustainable Mobility Solutions Provider
In the remote and freezing wilderness outside of Tromsø, Norway, Hyundai Motor showcased how its innovative Vehicle-to-Load (V2L) technology can create unique experiences. The company demonstrated the diversity of V2L's applications in a region of the world that exist off the electrical grid, furthering its transition to a smart and clean mobility solutions provider.
With the ability to serve as a portable power source anywhere on the globe, Hyundai powered the remote reindeer farm Tromsø Arctic Reindeer for three days and supplied energy to an off-grid cabin for a cosy dinner – only using IONIQ 5's V2L function.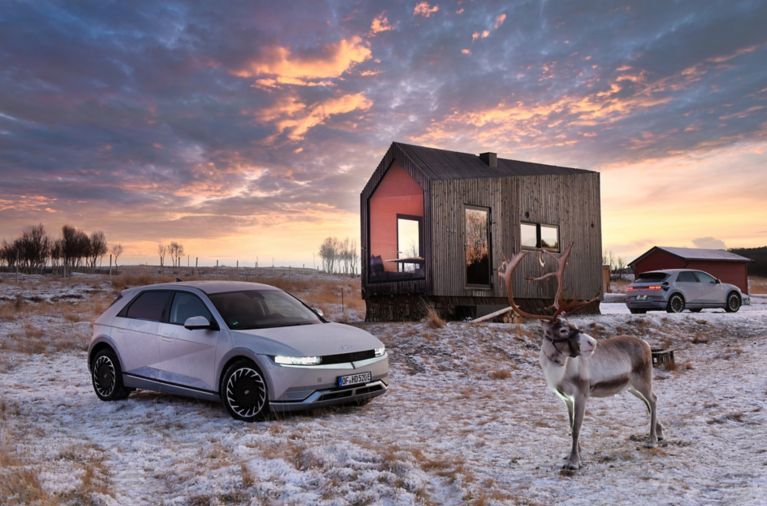 Putting V2L to the ultimate test
Northern Norway, within the Arctic Circle, was the perfect location to put the capabilities of Hyundai's V2L technology to the test. With challenges, including restricted access to a reliable and clean source of energy and adverse weather conditions, the remote location could profit considerably from the alternative and sustainable energy solution.
V2L gives those living in remote areas the ability to power and charge their electronic devices all without generating emissions. That means that, even in regions of the world that exist off-grid, V2L can power modern and electrified lifestyles. This proves that off-grid locations around the world can meet their energy requirements with this alternative solution to non-renewable energy sources. Hyundai continues to deliver on its brand mission of 'Progress for Humanity' by developing technologies that foster a more sustainable society.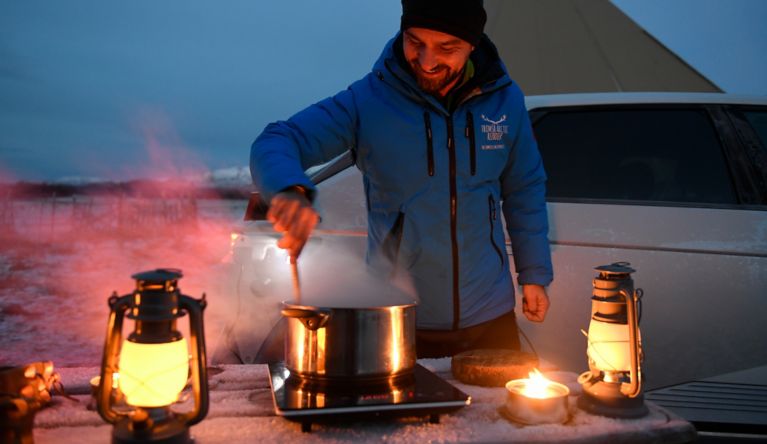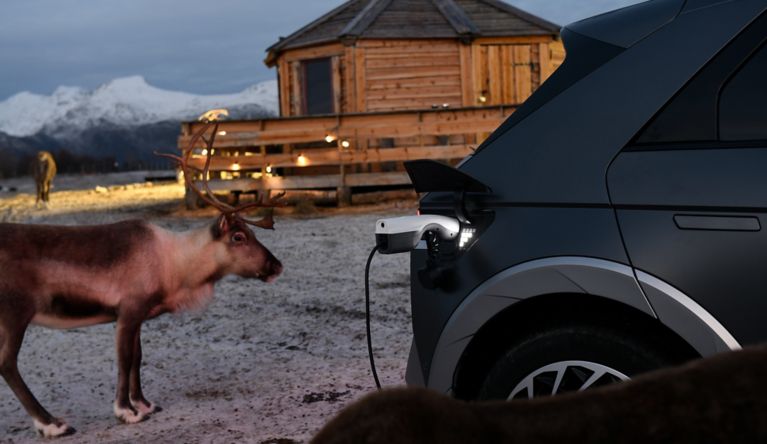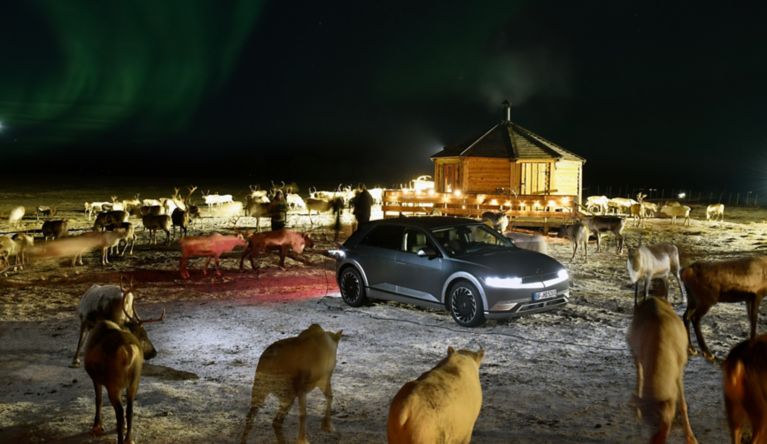 V2L, explained
V2L describes a bi-directional power transfer, in which the energy stored in an electric vehicle's battery is transferred to an electric device. To offer this function, the software of the EV must support an onboard converter that converts direct current (DC) from the battery into alternating current (AC).
Hyundai models based on Hyundai Motor Group's BEV-dedicated E-GMP (Electric-Global Modular Platform) such as IONIQ 5 and IONIQ 6, arrive with V2L capabilities as standard. The Integrated Charging Control Unit (ICCU) mounted on the platform allows electricity to flow in two directions, both to and from the vehicle's battery.
Hyundai BEVs based on E-GMP can operate and charge other electric machinery (110 / 220V), much like a power bank on four wheels. In IONIQ 5, for example, a 220-volt V2L outlet is situated below the rear seats. An additional external recharging outlet, which requires a specific adapter from Hyundai Mobis, can supply up to 3.6 kW of power. For example, IONIQ 5 could power the reindeer farm for an entire day1.
1 Calculation based on estimated consumption of 32.5 kWh per day for the reindeer farm Arctic Reindeer, which runs on electricity for 13 hours a day. The actual process of powering a remote location with energy from a V2L EV depends on applied technical solutions, location-specific conditions, and energy consumption profile. 
Disclaimer: CO2 and emissions data
Electricity consumption combined for the Hyundai IONIQ 5 58 kWh with 2WD in kWh/100 km: 16.7; CO2 emissions combined in g/km: 0 (WLTP)
Electricity consumption combined for the Hyundai IONIQ 5 58 kWh with 4WD in kWh/100 km: 18.1; CO2 emissions combined in g/km: 0 (WLTP)
Electricity consumption combined for the Hyundai IONIQ 5 77.4 kWh (19" alloy rims) with 2WD in kWh/100 km: 17.0; CO2 emissions combined in g/km: 0 (WLTP)
Electricity consumption combined for the Hyundai IONIQ 5 77.4 kWh (20" alloy rims) with 2WD in kWh/100 km: 18.0; CO2 emissions combined in g/km: 0 (WLTP)
Electricity consumption combined for the Hyundai IONIQ 5 77.4 kWh (19" alloy rims) with 4WD in kWh/100 km: 17.9; CO2 emissions combined in g/km: 0 (WLTP)
Electricity consumption combined for the Hyundai IONIQ 5 77.4 kWh (20" alloy rims) with 4WD in kWh/100 km: 19.1; CO2 emissions combined in g/km: 0 (WLTP)
Electricity consumption combined for the Hyundai IONIQ 6 53 kWh with 2WD in kWh/100 km: 13.9; CO2 emissions combined in g/km: 0 (WLTP)
Electricity consumption combined for the Hyundai IONIQ 6 77.4 kWh (18" alloy rims) with 2WD in kWh/100 km: 14.3; CO2 emissions combined in g/km: 0 (WLTP)
Electricity consumption combined for the Hyundai IONIQ 6 77.4 kWh (20" alloy rims) with 2WD in kWh/100 km: 16.0; CO2 emissions combined in g/km: 0 (WLTP)
Electricity consumption combined for the Hyundai IONIQ 6 77.4 kWh (18" alloy rims) with 4WD in kWh/100 km: 15.1; CO2 emissions combined in g/km: 0 (WLTP)
Electricity consumption combined for the Hyundai IONIQ 6 77.4 kWh (20" alloy rims) with 4WD in kWh/100 km: 16.9; CO2 emissions combined in g/km: 0 (WLTP)