IONIQ 5 appears in a stunt in Berlin, Germany, to coincide of release of Sony Pictures' latest Spider-ManTM: No Way Home
Hyundai's award-winning fully-electric midsize CUV to appear hanging from Sony Center Berlin's ceiling, held in place by Spider-Man's famous webbing
Spider-Man: No Way Home first film from Hyundai and Sony Pictures' strategic partnership, with additional marketing schemes to support future films in 2022 
Hyundai Motor is supporting the release of Sony Pictures' upcoming movie Spider-Man: No Way Home with a unique stunt featuring the company's IONIQ 5. The fully-electric midsize CUV, which also features in the upcoming film, will be showcased at the Sony Center on Potsdamer Platz in Berlin, Germany, for two weeks until 3 January 2022.
For the stunt, Hyundai's award-winning IONIQ 5 appears "parked" at the Sony Center Berlin, hanging from the ceiling in Spider-Man'sTM famous webbing. Leading up to the film's theatrical release in Europe on 17 December, Hyundai has also launched an integrated marketing campaign that includes a global TV commercial and a variety of digital promotional activities.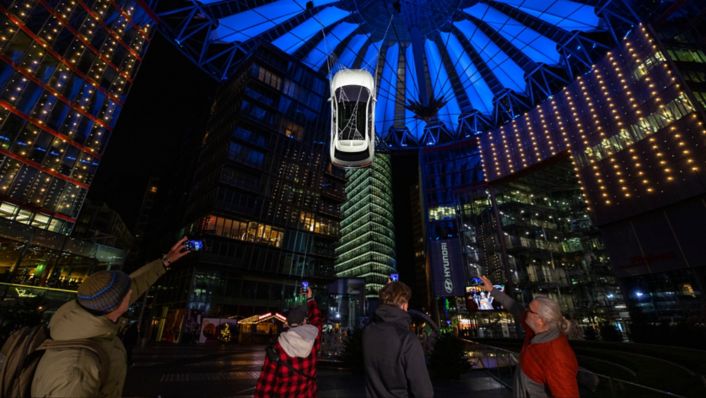 This eye-catching stunt underlines the ingenuity of both our famous superhero and new halo car. In collaboration with Sony Pictures, we choose Sony Center Berlin as the location for this spectacular promotion to bring a taste of Spider-Man: No Way Home to the heart of Europe – with our game-changing IONIQ 5 the star attraction.
Social media film
To mark the launch of the stunt Hyundai released a short video across YouTube and other social media channels. The digital spot reveals the 'true' story of how the IONIQ 5 ended up hanging from the Sony Centre in Berlin, and the role that Spider-Man, Doctor Strange and the MULTIVERSE had in transporting it there.
TV spot & behind-the-scenes video
Hyundai's IONIQ 5 recently appeared in a Hyundai TV spot ahead of the release of Spider-Man: No Way Home. In the video, Spider-Man is bent on clearing his name and comes out of hiding, only to find his web-slinging no longer works in a single-story world. He hitches a ride to New York with his best friend Ned in an IONIQ 5. The two characters cruise their way through an open country inside the sunlight-reflecting, futuristic-looking midsize CUV, exchanging banter along the way.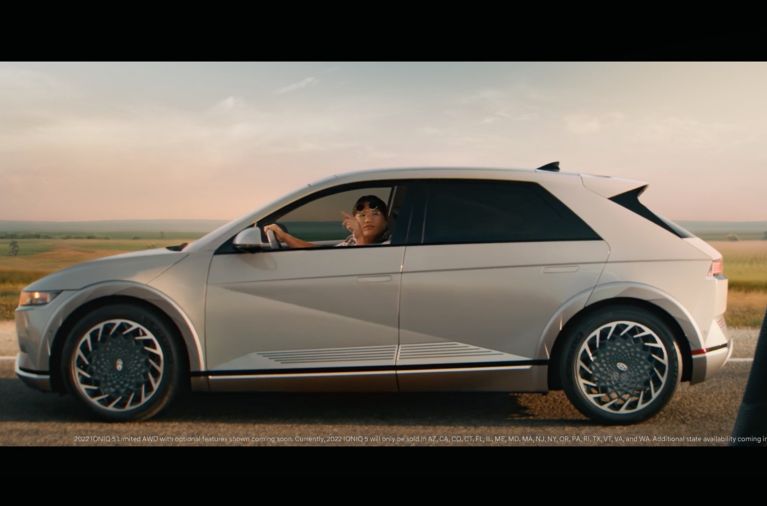 Alongside the stunt, Hyundai has also produced a behind-the-scenes video showing how the installation came together.
IONIQ 5: Hyundai's award-winning all-electric midsize CUV
IONIQ 5 is the first model in Hyundai's new IONIQ line-up brand. IONIQ 5 is built on the Electric Global Modular Platform (E-GMP), Hyundai Motor Group's platform dedicated to battery electric vehicles. Customers can select between two battery pack options – 58 kWh or 72.6 kWh – and all-wheel or rear-wheel drive. The rear-wheel drive and 72.6-kWh version features a maximum driving range of 481 kilometres on a single charge, according to WLTP.
IONIQ 5 delivers a powerful performance and ultra-fast charging. Thanks to its 800V charging technology, both battery pack options can be charged from 10 to 80 per cent in just 18 minutes at fast-charging stations. Customers can use the Vehicle to Load (V2L) technology to charge any electronic device while driving or parked, such as laptops or e-scooters.
IONIQ 5 has enjoyed a strong response from both consumers and the media. Within 24 hours of its launch in February, Hyundai received a record 236,000 expressions of interest. Meanwhile, in recent months, the fully-electric midsize CUV has received a number of awards; among these, it was recently named German Car of the Year for 2022.
About Sony Center Berlin
Built in 2000 according to plans by the renowned architect Helmut Jahn, the Sony Center is a 113,000-square-metre mixed-use building complex on Potsdamer Platz in the heart of Berlin. The Sony Center extends over almost six hectares and comprises eight buildings, including the Bahn Tower, 85,000-square-metres of first-class office space, 20,000-square-metres for retail and leisure, and 67 residential units. The modern iconic building is a modern Berlin landmark and attracts around 7.1 million visitors annually.
About Sony Pictures Entertainment
Sony Pictures Entertainment (SPE) is a subsidiary of Tokyo-based Sony Group Corporation. SPE's global operations encompass motion picture production, acquisition, and distribution; television production, acquisition, and distribution; television networks; digital content creation and distribution; operation of studio facilities; and development of new entertainment products, services and technologies. Sony Pictures Television operates dozens of wholly-owned or joint-venture production companies around the world. SPE's Motion Picture Group production organizations include Columbia Pictures, Screen Gems, TriStar Pictures, 3000 Pictures, Sony Pictures Animation, Stage 6 Films, AFFIRM Films, Sony Pictures International Productions, and Sony Pictures Classics. For additional information, visit http://www.sonypictures.com/corp/divisions.html.
About Spider-Man: No Way Home
For the first time in the cinematic history of Spider-Man, our friendly neighborhood hero's identity is revealed, bringing his Super Hero responsibilities into conflict with his normal life and putting those he cares about most at risk. When he enlists Doctor Strange's help to restore his secret, the spell tears a hole in their world, releasing the most powerful villains who've ever fought a Spider-Man in any universe. Now, Peter will have to overcome his greatest challenge yet, which will not only forever alter his own future but the future of the MULTIVERSE.
The film is directed by Jon Watts, written by Chris McKenna & Erik Sommers, based on the MARVEL Comic Book by Stan Lee and Steve Ditko. Kevin Feige and Amy Pascal are producers and Louis D'Esposito, Victoria Alonso, JoAnn Perritano, Rachel O'Connor, Avi Arad and Matt Tolmach are executive producers. The film stars Tom Holland, Zendaya, Benedict Cumberbatch, Jacob Batalon, Jon Favreau with Marisa Tomei.
Disclaimer: CO2 and emissions data
Electricity consumption combined for the Hyundai IONIQ 5 58 kWh with 2WD in kWh/100 km: 16.7; CO2 emissions combined in g/km: 0 (WLTP)
Electricity consumption combined for the Hyundai IONIQ 5 58 kWh with 4WD in kWh/100 km: 18.1; CO2 emissions combined in g/km: 0 (WLTP)
Electricity consumption combined for the Hyundai IONIQ 5 72.6 kWh (19" alloy rims) with 2WD in kWh/100 km: 16.8; CO2 emissions combined in g/km: 0 (WLTP)
Electricity consumption combined for the Hyundai IONIQ 5 72.6 kWh (20" alloy rims) with 2WD in kWh/100 km: 17.9; CO2 emissions combined in g/km: 0 (WLTP)
Electricity consumption combined for the Hyundai IONIQ 5 72.6 kWh (19" alloy rims) with 4WD in kWh/100 km: 17.7; CO2 emissions combined in g/km: 0 (WLTP)
Electricity consumption combined for the Hyundai IONIQ 5 72.6 kWh (20" alloy rims) with 4WD in kWh/100 km: 19.0; CO2 emissions combined in g/km: 0 (WLTP)
Fuel consumption combined for the Hyundai TUCSON 1.6 T-GDI 48V (150 PS) with 6iMT 2WD in l/100 km: 6.8 - 6.5; CO2 emissions combined in g/km: 154 - 147 (WLTP)
Fuel consumption combined for the Hyundai TUCSON 1.6 T-GDI 48V (150 PS) with 7DCT 2WD in l/100 km: 6.6 - 6.3; CO2 emissions combined in g/km: 150 - 143 (WLTP)
Fuel consumption combined for the Hyundai TUCSON 1.6 T-GDI 48V (180 PS) with 6iMT 2WD in l/100 km: 6.7 - 6.4; CO2 emissions combined in g/km: 152 - 145 (WLTP)
Fuel consumption combined for the Hyundai TUCSON 1.6 T-GDI 48V (180 PS) with 7DCT 4WD in l/100 km: 7.1 - 6.9; CO2 emissions combined in g/km: 162 - 156 (WLTP)
Fuel consumption combined for the Hyundai TUCSON 1.6 CRDi 48V (136 PS) with 6iMT 2WD in l/100 km: 5.3 - 5.0; CO2 emissions combined in g/km: 140 - 130 (WLTP)
Fuel consumption combined for the Hyundai TUCSON 1.6 CRDi 48V (136 PS) with 7DCT 2WD in l/100 km: 5.6 - 5.2; CO2 emissions combined in g/km: 146 - 137 (WLTP)
Fuel consumption combined for the Hyundai TUCSON 1.6 CRDi 48V (136 PS) with 7DCT 4WD in l/100 km: 6.0 - 5.7; CO2 emissions combined in g/km: 158 - 149 (WLTP)
Fuel consumption combined for the Hyundai TUCSON 1.6 T-GDI (150 PS) with 6MT 2WD in l/100 km: 7.0 - 6.6; CO2 emissions combined in g/km: 159 - 150 (WLTP)
Fuel consumption combined for the Hyundai TUCSON 1.6 T-GDI (150 PS) with 6MT 4WD in l/100 km: 7.8 - 7.3; CO2 emissions combined in g/km: 178 - 165 (WLTP)
Fuel consumption combined for the Hyundai TUCSON 1.6 CRDi (115 PS) with 6MT 2WD in l/100 km: 5.6 - 5.2; CO2 emissions combined in g/km: 146 - 137 (WLTP)
Fuel consumption combined for the Hyundai TUCSON 1.6 T-GDI Hybrid with 6AT 2WD in l/100 km: 5.9 - 5.5; CO2 emissions combined in g/km: 135 - 125 (WLTP)
Fuel consumption combined for the Hyundai TUCSON 1.6 T-GDI Hybrid with 6AT 4WD in l/100 km: 6.6 - 6.2; CO2 emissions combined in g/km: 149 - 140 (WLTP)
Fuel consumption combined for the Hyundai TUCSON 1.6 T-GDI Plug-in Hybrid with 6AT 4WD in l/100 km: 1.4; CO2 emissions combined in g/km: 31 (WLTP)