Hyundai's all-new Kona praised for its EV-first approach, eye-catching exterior, innovative software, and advanced safety features
With its dynamic design, upscaled dimensions, and enhanced infotainment system, new Kona supports active lifestyles for customers of all ages and generations
One of most comprehensive product packages in B-SUV segment, while 65.4-kWh battery EV variant delivers a WLTP-estimated 490 km all-electric range
Hyundai Motor recently launched the all-new Kona, an upscaled multiplayer and the second generation of its popular B-SUV. Unconventional for a model with a full range of powertrains, Hyundai developed the model as an EV first, in line with its accelerated electrification strategy that will see it bring 11 new Hyundai EVs to market by 2030.
Building on the previous-generation model, the new Kona offers one of the most comprehensive product packages in the B-SUV segment. With a drag coefficient of just 0.27, it delivers a dynamic design plus upscaled dimensions. On top of this, the model offers an upgraded infotainment and software package that includes dual 12.3-inch panoramic display screens, full Over-the-Air (OTA) updates, and Vehicle-to-Load (V2L) technology.
Kona Electric is now equipped with a 65.4-kWh battery and delivers a class-leading, WLTP-estimated all-electric range (AER) of 490 kilometres. Combining all these features into one model, Kona will appeal to a wide range of customers with varying lifestyles.
This is what Europe's automotive, tech, and lifestyle press had to say about the new Kona.
EV-first design
Many journalists drew attention to the unique EV-first design for the second generation of Kona.
Hyundai chose to start by developing the 100-per cent electric version of the new Kona, before transposing its specific attributes and equipment to the hybrid variants. This delivers a futuristic style for all variants, with a very clean front and rear and dictated by aerodynamics.
If we had to highlight a novelty of the Hyundai Kona 2023, it is that it has been developed thinking first of its electric version. This not only shows the company's commitment to electrification… but also conditions the entire vehicle in some way, since its design and structure are designed to maximise performance in the zero-emission model, which somehow also favours the other versions.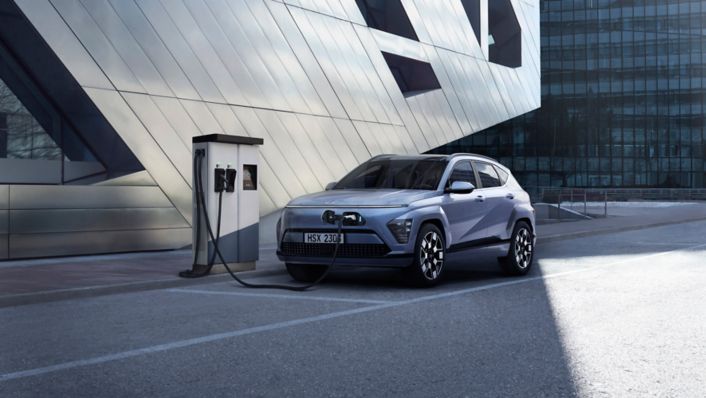 Continuing with the focus on its EV-derived universal architecture, social media blogger Leslie Schraut with Germany's Auto Zeitung praised Hyundai for showcasing its future vision.
With the new generation, [Hyundai] is primarily changing its look and relying on a similarly futuristic design as the [models of its] IONIQ sub-brand. The development of the latest edition started with the new Hyundai Kona Electric, which underlines the future direction of the brand.
Sharper and bolder exterior
Various publications across Europe also had warm words for the new Kona's eye-catching exterior design, in particular its low drag coefficient of 0.27.
Hyundai's on a design roll lately, and that continues with the second-generation Kona Electric. We've got Robocop vibes from the 'seamless horizon lamp' stretching across the front. Although it's not just about looks, those strong lines have a purpose – the new Kona has a drag coefficient of 0.27 thanks to active air flaps.
Germany's Auto Bild also remarked on the model's aerodynamic design:
Kona's smooth nose helps push down drag. It is 0.27. The second generation takes over the strongly formed wheel arches from the old Kona. Now, however, with more mature, angular wheel cut-outs instead of round ones, as previously.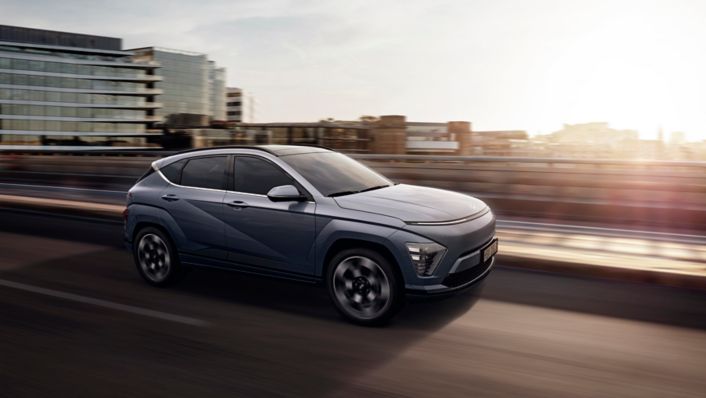 Original and courageous – if the current Kona presented itself as a personal but conventional car, with a calm design that could meet the tastes of a large public of all ages, the new one dares much more: an almost 'faceless' front, due to the smooth and rounded sheet metal grille topped by a single and continuous LED blade for the daytime running lights, which crosses the entire extension of the bonnet, for a luminous signature consisting of a sort of 'single light'.
UK automotive bible Auto Express also commented favourably on the model's new looks, describing the exterior as "more muscular and dramatic" than its predecessor.
There's a sharper, flush front end and then complex surfacing along the flanks.
The Italian tech influencer Fjona Cakalli was "amazed by [Kona's] new look". She reported that the new model "starts from a very different concept than the previous Kona", adding that "the lines are absolutely functional" and that she liked the "pixelated luminous band" found on Kona Electric.
Roomy, modern interior
Inside the car, journalists were impressed with the new Kona's spaciousness and style.
UK magazine Autocar outlined some of the benefits of an EV-first design approach delivered to the new Kona with regards to its interior, while also noting an upgraded trim quality.
The larger platform also means there is considerably greater interior room, with a major focus to increase the perceived quality of the trim and materials. The EV features a flat floor – rare in a multi-powertrain machine – allowing for a large centre console and 'curveless' bench seat in the rear.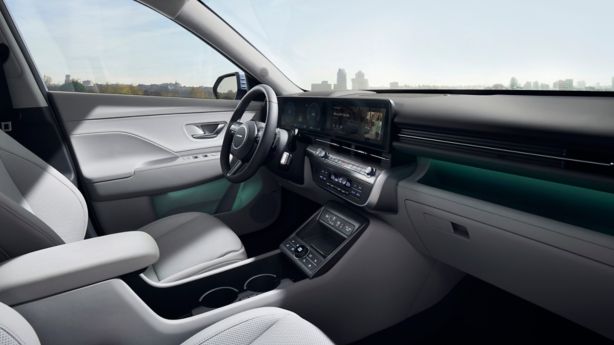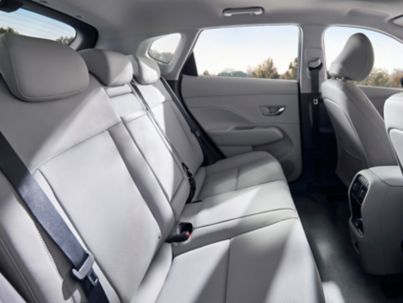 French automotive outlet largus.fr saw the new Kona's "appeal to families" due to its "increased habitability and [boot] volume".
The new Kona retains the originality that made the success of the old model. But, compared to the latter, it progresses in terms of presentation and technological equipment.
Ginny Buckley, founder of the UK's Electrifying.com and presenter of its YouTube channel, and Car Maniac, the German automotive tech YouTuber, were both impressed by the new Kona's interior. "The 2023 Kona has been upscaled," said Ginny, "The car is now larger, much more spacious. It's when I get inside that I get most excited. It's a massive leap forward both in terms of quality but also in terms of design." Car Maniac added, "There's finally reasonable storage space that's at a new level."
While Ginny and her fellow EV experts at Electrifying.com commented on the extra space inside the model, what impressed them most was its interior design. "What really hits you is how beautifully designed the interior now looks and feels. It's a calm uncluttered place to be and now feels more refined than rivals."
Improved in-car experience
Meanwhile, Germany's auto motor und sport applauded the B-SUV's "chic and elegantly finished cockpit", reserving particular praise for its futuristic, free-floating centre console and two integrated 12.3-inch displays.
These are not only extremely clear but also very easy to operate. Large menu fields for the most important infotainment and on-board computer functions, a clear menu structure and ultra-fast response times make the system look very modern.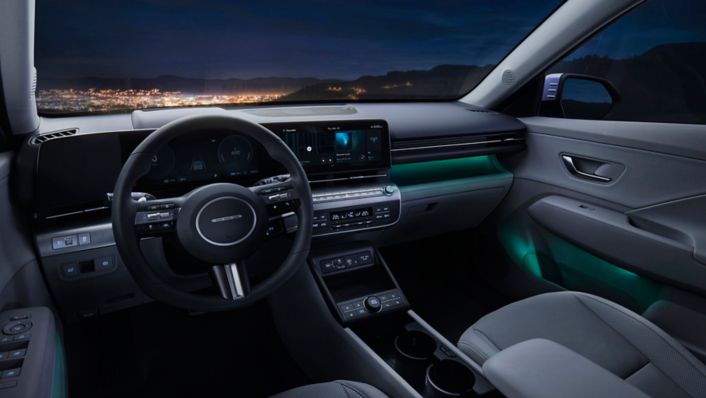 Germany's Auto Bild wrote that Hyundai has "delivered something big" with the new Kona. With the 360-degree camera, Over-the-Air updates, comfort seats with optional recline function, 400-volt charging technology, and 48.4 or 65.4 kWh battery options, the new Kona has "outgrown itself".
The infotainment system is a "whopper", according to the UK's Car Magazine.
The most expensive models feature a pair of 12.3-inch screens, complete with Hyundai's Connected Car Navigation Cockpit and Over-the-Air updates.
Spanish publication AutoBild.es also complimented the model's interior and infotainment technologies in comparison to the previous generation model, noting that – unlike many modern vehicles – the new Kona has not eschewed physical buttons:
It's much more modern and cleaner, and that's without the physical buttons for the most important functions. Good, Hyundai. It's also more technological with the two perfectly integrated 12.3-inch screens forming the Connected Car Navigation Cockpit.
State-of-the-art technologies
The Norwegian electric car online newspaper elbil24.no was delighted with the V2L technology.
The car gets support for so-called two-way charging, where you can use the car as a giant power bank that provides power for everything from waffle irons on trips to lights and heat in powerless cabins.
British lifestyle social media influencer Marcus Butler also commented on the model's V2L function: "A nice feature is the ability to charge items from the car, like an electric bike."
Finally, the Italian website motor1.com lauded the new Kona for its innovative and advanced safety features.
In addition to the now-ubiquitous technologies for emergency braking, lane keeping, and reverse collision warning, the Kona relies on the innovative Driver Status Monitor, which uses the camera positioned on the dashboard to analyse the driver's face and warn them in case of distractions in potential emergency situations.
CO2 and emissions data
Energy consumption figures are not finalised. Please only use the estimates as written above. Vehicle specifications and features may vary depending on country/region and are subject to change without notice.