Renowned French artist Parreno creates Anywhen, the second in an annual series of Hyundai Commission
Installation features a choreography of acoustics, illumination, and moving images
French artist Philippe Parreno has today unveiled Anywhen, transforming the Turbine Hall into an experience that plays with time and space.
The installation guides the public through a constantly changing play of moving elements, different light configurations and sound environments. The work is the second in the Hyundai Commission series, introducing work by renowned international artists.
An artist of international renown, Parreno works across the fields of film, video, sound, sculpture, performance and technology, exploring the borders between reality and fiction. Anywhen furthers his reputation for investigating and redefining the gallery-going experience, bringing the architecture of the Turbine Hall to life.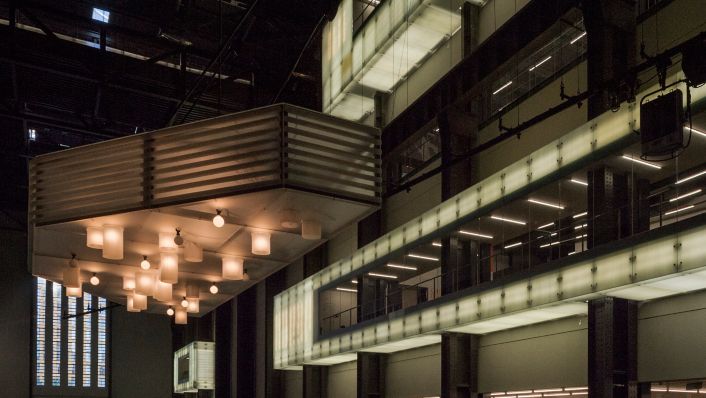 In this latest commission Philippe Parreno re-imagines the Turbine Hall by establishing an environment that challenges the audiences' minds. For us, the Hyundai Commission is a way to propose new perspectives on art and offer fascinating experiences. We hope to share our vision with millions of visitors throughout the years of our partnership with Tate.
Parreno's Anywhen presents itself as a kind of instrument which performs a series of functions and constructs a sequence of situations. The hall's lights are controlled and activated as part of this choreography, with an additional moving light casting shadows throughout the hall and a large central 'marquee' – a canopy covered in lights – hanging over the Level 1 bridge. Sound is broadcast from various sources, blurring our sense of inside and outside, public and private, natural and technological. Vertical and horizontal acoustic panels, a screen, a grid of speakers and a projector constantly perform in different positions, coming together from time to time to present a film featuring a stage ventriloquist and underwater creatures.
Anywhen is conceived in dialogue with other visual artists and practitioners. The Turner Prize nominee Liam Gillick worked with Philippe Parreno on Another Day With Another Sun, a work which is incorporated into the commission. Tino Seghal and Isabel Lewis worked on the dramaturgy, the sound has been designed by Nicolas Becker with Djengo Hartlap and Cyril Holtz, while actress, comedian and ventriloquist Nina Conti features in the film. During the six months from October 2016 to April 2017, the sequence of events will continue to evolve into a pattern, informed by micro-organisms that will learn to react to and activate elements of the commission through a bio reactor designed by Jean-Baptiste Boulé and Nicolas Desprat.