Customers voted Hyundai KONA UK's best car in Auto Express Driver Power survey
KONA also named Best Small SUV and KONA Electric Best Electric Car 
Auto Express Driver Power is the most respected ownership survey in the country
IONIQ runner-up in Compact Family Car class, i10 second in City Car class
KONA wins Gold award for Ride and Handling, IONIQ for Fuel Efficiency & Running Costs
Thousands of U.K. drivers have voted the Hyundai KONA as Best Car, according to the Auto Express Driver Power Survey. KONA was also named Best Small SUV, with KONA Electric winning Best Electric Car.
The Driver Power Survey – now in its 20th year – is organised by the U.K.'s top selling weekly car magazine, Auto Express. It calls on car owners to rate their vehicles in a number of categories, from reliability and technology to fuel efficiency and running costs.
The Hyundai KONA has been voted our Driver Power Car of the Year thanks to its comprehensive roster of talents, with owners telling us they love almost everything about this small SUV, from the tidy handling, fantastic infotainment and low running costs, to the strong reliability, sleek looks and strong drivetrains. What's more, when we separate out the KONA Electric, we find that this is the top-rated EV in our survey, getting the better of both the Nissan Leaf and Tesla Model 3. Strong stuff indeed. But it wasn't just the KONA that impressed owners: Hyundai's IONIQ took a win in the fuel economy and running costs category, and finished second in the compact family car class, while the i10 took the silver medal in our rundown of city cars.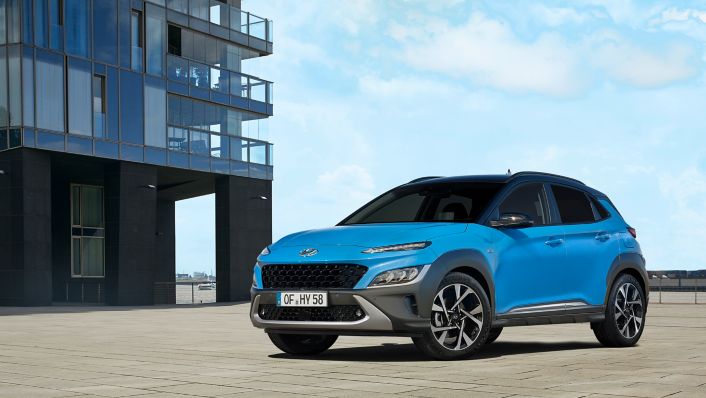 To rank as the very best car in the survey, KONA had to perform strongly in every category. It received top marks for Ride & Handling and was a runner up in the Reliability & Build Quality, Infotainment, Connectivity & Electronics, and Engine & Gearbox categories.
Late in 2020, the KONA and KONA Electric underwent significant enhancements to styling, technology and more, bringing even more equipment and luxury. KONA Electric continued with a choice of two powertrain offerings, a 39.2kWh electric motor with 136 PS and a range of 305km, or the 64kWh version with 204 PS and a range of 484km (WLTP).
Other Hyundai models scored very highly in the Driver Power Survey, too, with i10 finishing runner-up in the list of City Cars and IONIQ runner-up in the Compact Family Cars class – including an overall win in the Fuel Efficiency & Running Costs category.
Fresh off the back of six wins for our model range at the Auto Express Awards, we're delighted to see that the readers are just as enthusiastic about Hyundai as the writers. The Auto Express Driver Power Survey is a great barometer for the real-life ownership experience of a Hyundai customer and to see so many of our models scoring highly, let alone topping the table, is a testament to the breadth and depth of the ever-developing Hyundai product range.
Disclaimer: CO2 and emissions data
Fuel consumption combined for the Hyundai KONA 1.0 T-GDI with 6MT 2WD in l/100 km: 6.1 - 5.7; CO2 emissions combined in g/km: 137 - 128 (WLTP)
Fuel consumption combined for the Hyundai KONA 1.0 T-GDI with 7DCT 4WD in l/100 km: 6.0 - 5.8; CO2 emissions combined in g/km: 137 - 132 (WLTP)
Fuel consumption combined for the Hyundai KONA 1.0 T-GDI 48V with 6iMT 2WD in l/100 km: 6.1 - 5.5; CO2 emissions combined in g/km: 139 - 124 (WLTP)
Fuel consumption combined for the Hyundai KONA 1.6 T-GDI with 7DCT 2WD in l/100 km: 6.7 - 6.2; CO2 emissions combined in g/km: 152 - 142 (WLTP)
Fuel consumption combined for the Hyundai KONA 1.6 T-GDI with 7DCT 4WD in l/100 km: 7.4 - 7.0; CO2 emissions combined in g/km: 167 - 160 (WLTP)
Fuel consumption combined for the Hyundai KONA 1.6 CRDi with 6iMT 2WD in l/100 km: 5.2 - 4.7; CO2 emissions combined in g/km: 136 - 124 (WLTP)
Fuel consumption combined for the Hyundai KONA 1.6 CRDi with 7DCT 2WD in l/100 km: 5.2 - 4.7; CO2 emissions combined in g/km: 136 - 124 (WLTP)
Fuel consumption combined for the Hyundai KONA 1.6 CRDi with 7DCT 4WD in l/100 km: 5.6 - 5.2; CO2 emissions combined in g/km: 147 - 137 (WLTP)
Fuel consumption combined for the Hyundai KONA 1.6 GDI Hybrid in l/100 km: 5.4 - 5.0; CO2 emissions combined in g/km: 122 - 114 (WLTP)
Electricity consumption combined for the Hyundai KONA Electric 39.2 kWh in kWh/100 km: 14.3; CO2 emissions combined in g/km: 0 (WLTP)
Electricity consumption combined for the Hyundai KONA Electric 64 kWh in kWh/100 km: 14.7; CO2 emissions combined in g/km: 0 (WLTP)
Electricity consumption combined for the Hyundai IONIQ Electric in kWh/100 km: 13.8; CO2 emissions combined in g/km: 0 (WLTP)
Fuel consumption combined for the Hyundai IONIQ Hybrid in l/100 km: 5.2 - 4.4; CO2 emissions combined in g/km: 119 - 100 (WLTP)
Fuel consumption combined for the Hyundai IONIQ Plug-in in l/100 km: 1.1; electricity consumption combined in kWh/100 km: 11.7; CO2 emissions combined in g/km: 26 (WLTP)
Fuel consumption combined for the Hyundai i10 1.0 (4 seater eco) with 5MT in l/100 km: 5.4 - 4.8; CO2 emissions combined in g/km: 122 - 110 (WLTP)
Fuel consumption combined for the Hyundai i10 1.0 (4 seater) with 5MT in l/100 km: 5.5 - 4.9; CO2 emissions combined in g/km: 125 - 111 (WLTP)
Fuel consumption combined for the Hyundai i10 1.0 (4 seater) with 5AMT in l/100 km: 5.9 - 5.2; CO2 emissions combined in g/km: 134 - 119 (WLTP)
Fuel consumption combined for the Hyundai i10 1.0 (5 seater) with 5MT in l/100 km: 5.5 - 5.0; CO2 emissions combined in g/km: 126 - 114 (WLTP)
Fuel consumption combined for the Hyundai i10 1.0 (5 seater) with 5AMT in l/100 km: 5.9 - 5.2; CO2 emissions combined in g/km: 134 - 119 (WLTP)
Fuel consumption combined for the Hyundai i10 1.2 (4 seater) with 5MT in l/100 km: 5.8 - 5.1; CO2 emissions combined in g/km: 132 - 117 (WLTP)
Fuel consumption combined for the Hyundai i10 1.2 (4 seater) with 5AMT in l/100 km: 6.1 - 5.4; CO2 emissions combined in g/km: 138 - 122 (WLTP)
Fuel consumption combined for the Hyundai i10 1.2 (5 seater) with 5MT in l/100 km: 5.8 - 5.1; CO2 emissions combined in g/km: 132 - 117 (WLTP)
Fuel consumption combined for the Hyundai i10 1.2 (5 seater) with 5AMT in l/100 km: 6.1 - 5.4; CO2 emissions combined in g/km: 138 - 122 (WLTP)
Fuel consumption combined for the Hyundai i10 1.0 T-GDI in l/100 km: 5.4; CO2 emissions combined in g/km: 123 (WLTP)