Hyundai Motor will participate in the Royal Dutch Football Association's GO mobility programme
Together with GO partners KNVB, ENGIE and Athlon, Hyundai is engaging against CO2 emissions
Partnership includes launch of major car-sharing programme for Dutch football clubs
Hyundai Motor is the new mobility partner of the Royal Dutch Football Association (KNVB).
Hyundai Motor is the new mobility partner of the Royal Dutch Football Association (KNVB). Under the watchful eye of top coach Guus Hiddink, who maintains a strong relationship with both South Korea and the Netherlands, a special meeting took place at the Johan Cruyff Arena. Dong Hwan Shin, Hyundai Motor Netherlands President, Berend Jan Hoekman, Hyundai Motor Netherlands Managing Director, Eric Gudde, Director of Professional Football KNVB and Jan Dirk van der Zee, Director of Amateur and Women's Football KNVB, signed the contract that confirms Hyundai and KNVB's partnership for the next four years.
Hyundai is not only a supporter of football but also a leader in sustainable mobility, and is therefore participating in the KNVB's mobility programme. Hundreds of thousands of football players go to training sessions and matches every week by car. Together with the KNVB, Hyundai will work to reduce CO2 emissions. Together with other KNVB partners ENGIE and Athlon, Hyundai does this by making people more aware of the use of energy and by offering stimulating electric driving to away games.
Football is in Hyundai's DNA
Football is in Hyundai's DNA. The company has been a partner of the FIFA World Cup since 1999 and as such is closely involved in the biggest football championship globally. Hyundai is also a sponsor of several top European clubs: Chelsea FC (UK), AS Roma (Italy), Olympique Lyonnais (France), Hertha BSC (Germany) and Atlético de Madrid (Spain). Hyundai will also be prominent during the upcoming FIFA Women's World Cup – to be held in France this summer – with the Orange team. The partnership with the KNVB fits in perfectly with this.
Football is our passion and fits our image. And football goes much further than just sportsmanship. Issues such as vitality, team spirit and respect also play a clear role here. When you follow these lines, you also end up with caring for the climate. That's where Hyundai, as an active GO partner of the KNVB, takes its responsibility.
The KNVB offers the perfect stage for eco-mobility
This link with the KNVB is a timely one for Hyundai. The Korean automaker is one of the most important suppliers of electric, fuel cell, hybrid and plug-in cars in the Netherlands. "The Royal Dutch Football Association offers the perfect stage for all these eco-friendly models," says Hoekman. "Football brings people closer together. With these vehicles, Hyundai reduces its ecological footprint as much as possible. The KNVB has 1.2 million affiliated members. This means that every weekend, hundreds of thousands of people travel to training sessions and competitions. If they do this in an electric car or in a hybrid vehicle, CO2 emissions will be greatly reduced."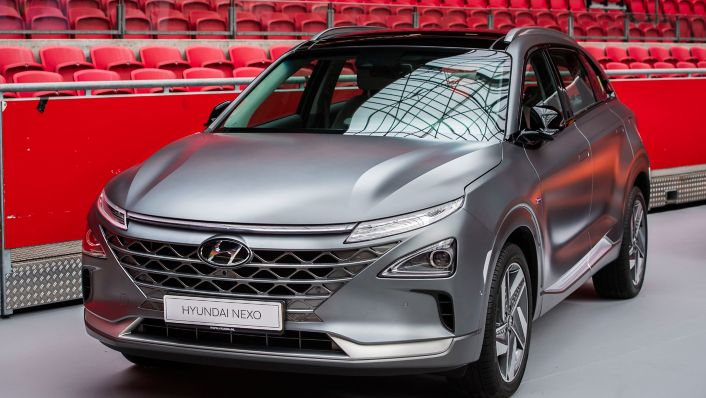 The KNVB, Hyundai and other GO partners ENGIE and Athlon will jointly set up various projects to significantly reduce CO2 emissions in the coming years. Hundreds of thousands of soccer players, trainers, referees and supporters go out in the Netherlands every week for one of approximately 33,000 matches by car, by bus or train. This is a lot of travelling, and results in polluting CO2 emissions. This results in a total of 65 kilotonnes of CO2 emissions per year. That has to be reduced. The KNVB, together with Hyundai, ENGIE and Athlon, is taking up the challenge of achieving CO2 reduction in all these forms of transport. In the coming years, the GO mobility programme will develop various solutions within three pillars: the playing schedule, amateur football and the Orange team. For example, the optimization of playing schedules, the integration of new modes of transport, smart charging stations for electric vehicles and technical solutions for 'driving to the competition together' will be examined.