Hyundai Motorsport has registered an impressive 1-3 result in Rally de España, the penultimate round of the 2021 FIA World Rally Championship (WRC) 
Thierry Neuville and Martijn Wydaeghe continued to extend their overnight lead on the final morning, taking victory by a margin of 24.1-seconds 
Dani Sordo and Cándido Carrera secured a double podium finish for the team with their first top-three result as a crew after an exciting battle with Sébastien Ogier.
Hyundai Motorsport has taken its third victory of the 2021 FIA World Rally Championship (WRC) with a superb double podium finish in Rally de España.
Thierry Neuville and Martijn Wydaeghe enjoyed a near perfect weekend in the all-tarmac rally to confirm their second win of the season, with team-mates Dani Sordo and Cándido Carrera in third – their first podium as a crew and Sordo's second of the year.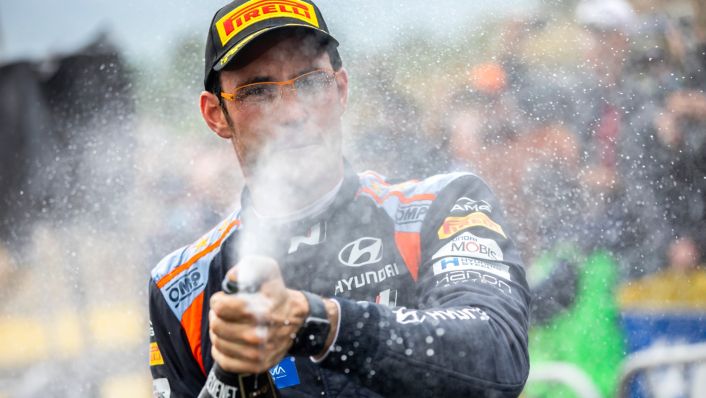 The 1-3 result marks a repeat of the team's result in the last iteration of Rally de España that took place on mixed surface roads back in 2019. Hyundai Motorsport has asserted its authority on this year's event, taking a total of 14 stage wins out of a possible 17 across three days of action, ten for Neuville and four for Sordo.
The Spanish crew were on dominant form during the final morning of the rally, winning all four stages – two runs through Santa Marina (SS14/SS16, 9.10km) and Riudecanyes (SS15/SS17, 16.35km).  The duo had been involved in an exhilarating third place battle with Sébastien Ogier for much of the rally and got the upper hand when it counted, leapfrogging the Frenchman on Sunday's opening stage.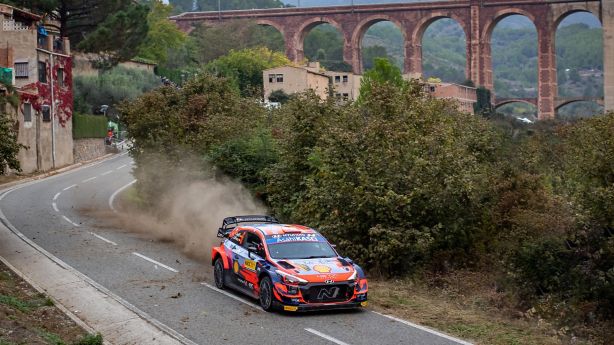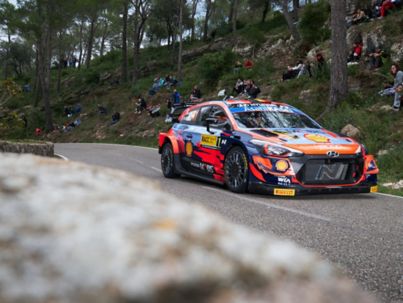 Neuville and Wydaeghe backed them up strongly with a Hyundai 1-2 on the first loop. It wasn't an entirely trouble-free finale for the Belgian crew as an engine starter motor issue prior to the Power Stage created some nervous moments, as well as the onset of wet weather conditions. Thankfully, they were able to make the start and complete their triumphant weekend with the second fastest time in the repeat of Riudecanyes – right behind their Spanish team-mates who took maximum Power Stage points.
Victory in Spain heralds Neuville's 15th win as a Hyundai Motorsport driver and the team's 20th in total in WRC. For Sordo, his 14th podium for the team represents his 50th career podium and extends his scintillating form on home soil.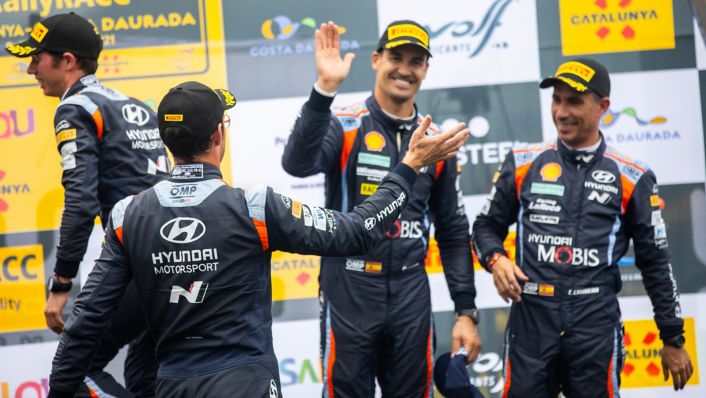 Adding two more podium results to its 2021 tally means that the Alzenau-based team has 16 individual top-three finishes, its highest ever in a single season. The team also broke through the 100-stage win barrier on Saturday, representing another statistical milestone. Picking up a bumper haul of points from the weekend means that the manufacturers' championship title will roll onto the season finale, Rally Monza, next month.

Crew Notes: Thierry Neuville/Martijn Wydaeghe (#11 Hyundai i20 Coupe WRC) 
Second win of 2021 for the Belgian crew and Neuville's 15th in total for the team 
Crew stamped their authority on the event after crucial set-up change on Friday 
I am relieved to get to the end of this rally, to be honest. It has been a tough weekend, and not without its challenges. We have fought incredibly hard across all stages, taking a lot of fastest times, and gradually extending our advantage. The result itself probably doesn't show how much we've had to work. We had a good clean run until the final stage; everything was working perfectly up to that point. Unfortunately, we had a lot of stress before the Power Stage with an engine starter motor issue. That was the only disappointing aspect of an otherwise positive rally. Thanks to Martijn for another good job, and our second win together, as well as to Dani and Cándido for their podium result.
Crew Notes: Dani Sordo/Cándido Carrera (#6 Hyundai i20 Coupe WRC) 
First top-three result for the new crew, Sordo's second of 2021 and his 50th career podium 
Impressive final morning saw them move ahead of Sébastien Ogier in close battle
Honestly you can't imagine how happy I am, not only for myself but also for Cándido, as it's our first podium working together. He has been working really hard to get us to this level. We couldn't have done any more, we have pushed in every stage. Thanks to all my family and the supporters, who have been cheering us on this weekend. We have been involved in a fantastic battle with Sébastien and it has been a pleasure to drive here. Thanks to the team for giving me such a competitive car that has allowed us to fight, and for supporting me always. I am so happy.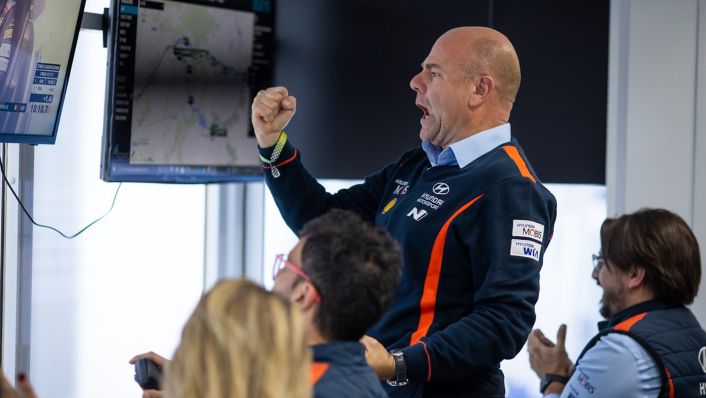 I am delighted for my team because we have once again fought until the very end. It has been a tough rally, and a Power Stage that only thriller writers could have scripted – rain and late drama that generated a lot of emotions. We have achieved everything we could have this weekend. Thierry and Martijn have been amazing from start to finish, and they thoroughly deserve this win. What a composed and assured performance from them. Dani and Cándido have also accomplished something special. It would have been easy to settle into a comfortable rhythm on the final morning, but they pushed hard to claim third place and a clean sweep of stage wins. Full attack. We have managed to extend the championship battle until the season finale at Monza, which at least gives the fans something to see – we fight until the end.
Next rally
The 12th and final round of the 2021 FIA World Rally Championship (WRC) will take place at Rally Monza from November 19-21 
Hyundai Motorsport secured a double podium finish at the Italian round in 2020 with Ott Tänak and Dani Sordo in second and third places respectively.
Final Overall Classification – Rally de España
T. Neuville/M. Wydaeghe | Hyundai i20 Coupe WRC | 2:34:11.8
E. Evans/S. Martin | Toyota Yaris WRC | +24.1
D. Sordo/C. Carrera | Hyundai i20 Coupe WRC | +35.3
S. Ogier/J. Ingrassia | Toyota Yaris WRC | +42.1
K. Rovanperä/J. Halttunen | Toyota Yaris WRC | +1:31.8
G. Greensmith/C. Patterson | Ford Fiesta WRC | +4:17.3
O. Solberg/C. Drew | Hyundai i20 Coupe WRC | +4:26.7
N. Solans/M. Martí | Hyundai i20 Coupe WRC | +4:34.9
E. Camilli/M. Vilmot | Citroën C2 Rally2 | +9:49.4
N. Gryazin/K. Aleksandrov | Škoda Fabia Evo | +10:05.9
2021 FIA World Rally Championship for Manufacturers' Standings
After round 11
Toyota Gazoo Racing World Rally Team 474
Hyundai Shell Mobis World Rally Team 427
M-Sport Ford World Rally Team 187
Hyundai 2C Competition 52
2021 FIA World Rally Championship for Drivers' Standings 
After round 11
S. Ogier 204
E. Evans 187
T. Neuville 159
K. Rovanperä 140
O. Tänak 128
C. Breen 76
T. Katsuta 68
D. Sordo 63
G. Greensmith 60
A. Fourmaux 42
All results remain subject to official FIA confirmation.