Hyundai Motorsport bids a fond farewell to the WRC's current generation of technical regulations (2017-2021), in which the team claimed two manufacturers' titles
The Alzenau-based squad's Hyundai i20 Coupe WRC has competed in 57 championship events, taking 17 wins, 63 podiums and 402 stage wins up to and including Rally de España
Reflecting on its achievements over the past five seasons, Hyundai Motorsport is ready to tackle the all-new hybrid powered Rally1 regulations from 2022 and beyond.
As the FIA World Rally Championship (WRC) approaches an exciting new era of hybrid technology, Hyundai Motorsport reflects with pride on the past five years of competition, since the introduction of WRC's third generation of technical regulations.
Across a total of 57 rallies (up to and including Rally de España), the Hyundai Motorsport team has claimed 17 victories, 63 podium results and 402 stage wins with its Hyundai i20 Coupe WRC car. The team has also been crowned manufacturers' champions on two consecutive occasions, the highlights of a competitive period in its comparatively short WRC history.
From its inaugural season in 2014, Hyundai Motorsport quickly gained a reputation as podium contenders, but it was with the introduction of the 2017 regulations – the most comprehensive technical changes for thirty years – that the team became front-runners on a regular basis.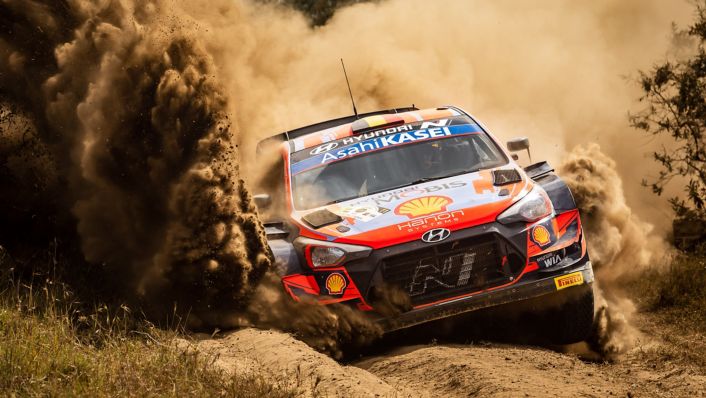 Back-to-back wins in Corsica and Argentina that year, the team's first-ever consecutive victories in WRC, were a taste of what was to come for the Alzenau squad in the coming years, as a new-look, high octane championship thrilled rally fans, and captured fresh audiences.
Regulation changes centred primarily on improving aerodynamic and mechanical grip, with greater engine power and reduced weight, all with the intention of enhancing and broadening the sport's appeal. The result was a highly competitive championship with tense battles, exhilarating moments, and nail-biting finales whatever the terrain. Four out of the top-seven closest-ever WRC finishes have come in the past five years (2017 Rally Argentina, 2018 Rally Italia Sardegna, 2019 Rallye Monte-Carlo and 2021 Croatia Rally) with Hyundai Motorsport crews often in the thick of the action.
Despite finishing as championship runners-up in 2017 and 2018, the team's determination and never-give-up attitude paid dividends in 2019, when it secured its debut title after adding a further four wins to its tally during the year. The following season, curtailed due to the COVID-19 pandemic, saw the team take successive titles and cement its position in WRC's history books.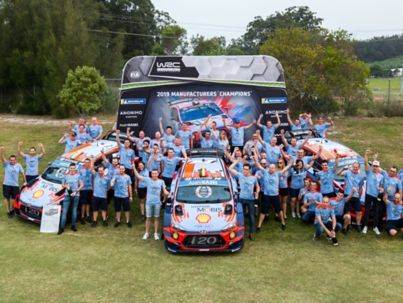 Now, another chapter opens with sweeping changes to the technical regulations for 2022 aimed at making the WRC more relevant and accessible for manufacturers, and with hybrid drivetrains for the first time. For Hyundai Motorsport, the commitment to the all-new Rally1 underscores the company's continued ambition in WRC, and its intention to add more podiums, wins and titles well into the sport's new era.
We are reaching the conclusion of a very special period of WRC for Hyundai Motorsport, one in which we are incredibly proud to have played a major part. We can look back at the introduction of those 2017 regulations and recognise the important role they had in defining this epoch of WRC. For our team, everyone at Hyundai Motorsport in Alzenau, our partners, our crews and our fans, these five years have allowed us to compete at the very highest level, to take our performances up a gear, and twice to prove our title-winning credentials. We have experienced every emotion possible: magic moments, close battles, celebrations, commiserations, tense Power Stages, challenges, heartbreak, and euphoria – these are memories that will live with us forever. We have poured a huge amount of energy and effort into developing our Hyundai i20 Coupe WRC to compete – and triumph – on the world's toughest stages. We come to each rally to win; we might not achieve that all the time, but we can honestly say, hand on heart, that we have given it our best shot. That fighting spirit will stay with us as we embrace the new Rally1 era – a new chapter for WRC and for Hyundai Motorsport.
I am pretty sure we have lived through one of the best eras in WRC over the past five years because these cars have been super exciting to drive and watch. The competition has been so close with all teams on a similar level of competition. We have taken two manufacturers' titles in 2019 and 2020, we had a strong car and could fight for victory on all terrains. Since its first rallies in 2017, the car has evolved a lot; it is much faster than it was at the beginning, and the team has worked hard to get it as strong as it is now. I have enjoyed these past five seasons, especially the winning moments. At the same time, I always like something new, and a fresh challenge is coming.
I'm lucky to have been able to drive so many different cars during this generation of WRC. They will go down in history as one of the best, I think. Driving these cars, with their aero, the general stability and the emotion that it gives you, it's been pure fun and we will miss them. To get the title, you need the full technical package because we meet so many different elements during the season: snow, tarmac, mud, and gravel. It's not easy to develop a car that can work in all of these conditions, but these have not been designed for one surface alone, it's been possible to drive them everywhere.
I have been very lucky to drive all of the different types of world rally car, but this latest generation has been amazing; how the cars work and perform in the stages is incredible and I think we will miss this philosophy a bit. The aesthetics of this generation of car have made them wider, with advanced aerodynamics and a more aggressive look. From the outside, as a spectator, it is nice to watch these cars but also inside the cockpit, they have been enjoyable to drive; you can push really hard. Having said that, I am sure the new ones will be fast, because over the years the way the cars have evolved to become better and better with each season.
I will be forever grateful to have been part of this generation of WRC; it has been something very special and we've had some amazing moments. The regulations we have had since 2017 have probably provided us with the ultimate rally car, and it's been getting better each year. The level is mind blowing. In terms of technology and pure performance, there is nothing on this planet like these cars. On the fast gravel events particularly, with the aero improvements, you can do things your mind can't understand. Being part of the adventure with Hyundai Motorsport, getting two manufacturers' championship titles, has been a real pleasure and will be among my most cherished memories. It's really an honour to have been part of that.
Hyundai i20 Coupe WRC (2017-2021) - Statistics at a glance
WRC events: 57
First event: 2017, Rallye-Monte Carlo
Wins: 17
First win: 2017, Tour de Corse
Podiums: 63
Stage wins: 402
First stage win: 2017, Rallye Monte-Carlo (SS2)
WRC wins:
2021

Arctic Rally (Ott Tänak)
Ypres Rally Belgium (Thierry Neuville) 
Rally de España (Thierry Neuville)
2020
Rallye Monte-Carlo (Thierry Neuville)
Rally Estonia (Ott Tänak)
Rally Italia Sardegna (Dani Sordo)
2019
Tour de Corse (Thierry Neuville)
Rally Argentina (Thierry Neuville)
Rally Italia Sardegna (Dani Sordo)
Rally de España (Thierry Neuville)
2018
Rally Sweden (Thierry Neuville)
Rally de Portugal (Thierry Neuville)
Rally Italia Sardegna (Thierry Neuville)
2017
Tour de Corse (Thierry Neuville)
Rally Argentina (Thierry Neuville)
Rally Poland (Thierry Neuville)
Rally Australia (Thierry Neuville)