Hyundai Motorsport has taken an unexpected victory and double podium finish in Rally Italia Sardegna, round eight of the 2019 FIA World Rally Championship (WRC)
Dani Sordo and Carlos del Barrio triumphed after a dramatic Power Stage in which leader Ott Tänak ran into trouble, handing victory to the Spaniards 
Andreas Mikkelsen overhauled Elfyn Evans initially for fourth place but moved up to third to make it a Hyundai Motorsport 1-3.
Hyundai Motorsport has taken its third victory of the 2019 FIA World Rally Championship (WRC) after a dramatic conclusion to Rally Italia Sardegna.
The Spanish crew headed into the final morning aiming to secure second place after a competitive weekend. However, problems for rally leader Ott Tänak on the Power Stage saw the Estonian drop down the order. Having secured the runner-up position, Sordo was unexpectedly elevated to the top spot as a result of Tänak's woes to claim his first victory for Hyundai Motorsport and the second WRC win of his career.
 
Andreas Mikkelsen and Anders Jæger-Amland had their sights set on fourth place but had to dig deep to overturn a 14-second deficit to Elfyn Evans. The Norwegians went about the challenge in style, taking a clean sweep of stage wins on the final morning. Their efforts were further rewarded as they moved up into third place to claim their second podium of 2019 as part of a Hyundai Motorsport 1-3.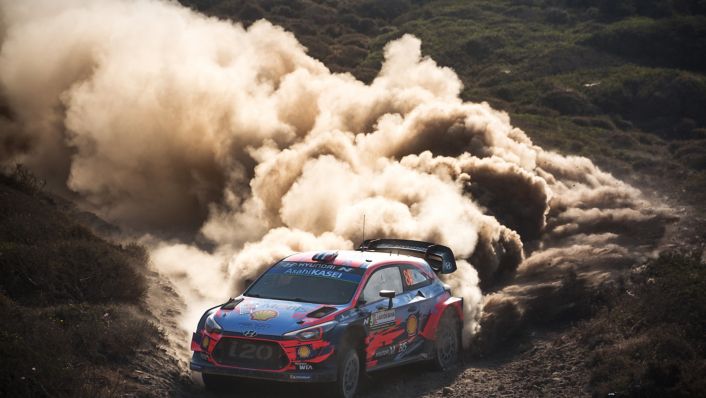 Sunday's itinerary included two runs through the 14.06km Cala Flumini and 6.89km Sassari-Argentiera stages, narrow, dusty and fast routes that put an emphasis on precision and commitment. The final run acted as the rally's Power Stage, offering additional points towards the drivers' championship with Mikkelsen scoring the maximum five points (for the first time since Spain 2015) and Thierry Neuville, who ended the rally in sixth place, picking up three extra points.
 
The surprise result sees Hyundai Motorsport extend its lead in the WRC manufacturers' standings to 46 points over Toyota Gazoo Racing. Neuville retains third place in the drivers' table on 143 points, three behind Sébastien Ogier and seven adrift of Tänak with six events left of the season.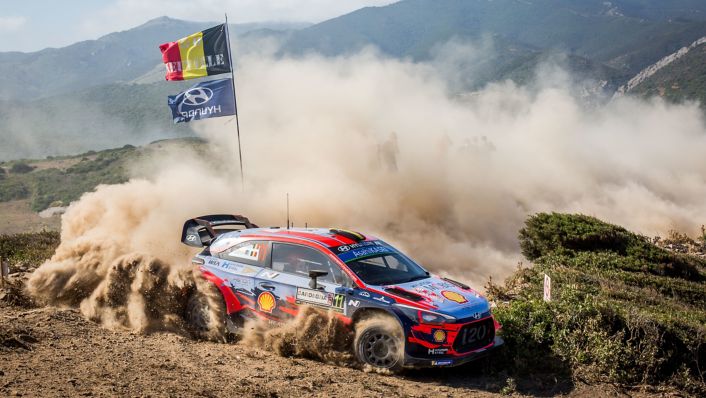 Crew Notes: Dani Sordo/Carlos del Barrio (#6 Hyundai i20 Coupe WRC)
First victory as a Hyundai Motorsport driver, second of Spaniard's career
25 points gives the team a much-needed boost in the manufacturers' standings
This is incredible. I have no words; it's just an amazing feeling to take my first win for Hyundai and the second WRC win of my career. Of course, I am very sorry for Ott and Toyota to have experienced such bad luck on the Power Stage. At the same time, we knew we had to keep the pressure on in case this sort of situation occurred. I just can't believe it happened. We have been quick and consistent all weekend. There was no chance to beat Ott on outright pace so we just did what we could and avoided mistakes. It wasn't easy but we made it through to the end – and we now have this fantastic victory as a reward. Thanks to Carlos and to the team for the support and for sharing this result. I think it will take some time to fully sink in.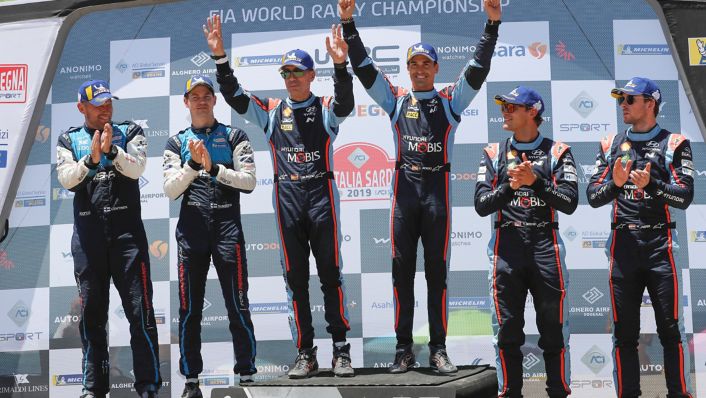 Crew Notes: Andreas Mikkelsen/Anders Jæger-Amland (#89 Hyundai i20 Coupe WRC)
Clean sweep of stage wins including Mikkelsen's first Power Stage win since Spain 2015
Third place result marks crew's second podium of 2019 season
We gave it a massive push on the final morning in an effort to cut the gap to Elfyn Evans. We had to dig deep but we were confident in our chances. The car felt really nice and we were properly in the zone. Taking all four stage wins was a fantastic feeling and we would have been content to take fourth. Unfortunately, Ott had his issues, which then handed us a podium finish, which was an unexpected but very welcome bonus. Although it has been achieved at one of our rival's expense, we are grateful to score a 1-3 result this weekend.
Crew Notes: Thierry Neuville/Nicolas Gilsoul (#11 Hyundai i20 Coupe WRC)
Sixth place and three extra Power Stage points keeps Neuville in drivers' title chase
Difficult weekend prevented Belgians from capturing their usual performance level
Absolutely not the weekend we were looking for. We have not been in the fight, so it's been a case of damage limitation. A combination of incorrect tyre choice and other issues on Friday put us on the back foot from the start, and we've not been able to play a role since. We have to put it down to 'one of those weekends' and look to regroup and fight back in Finland. We pushed as hard as we could in the Power Stage but we could do no more. Congratulations to Dani; we have worked together at Hyundai for six years now and I am really pleased to see him and Carlos secure their first win for the team.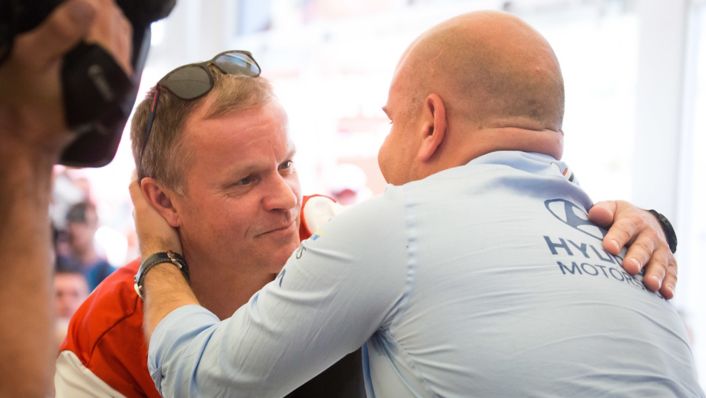 Personally, I find this result quite difficult to accept. Firstly, we extend our empathy to everyone at Toyota Gazoo Racing, to Tommi, Ott and Martin, for the cruel way that they had a deserved victory taken away from them. For the second time this season, we have inherited a victory that we did not earn on the road. We should not have to rely on unreliability to secure these results. I appreciate that I am perhaps looking at things too much through a sympathetic lens but this is the reality of the situation. At the same time, I am pleased for Dani and Carlos who have worked professionally all weekend, as have all our three crews, to put themselves in a position to capitalise on today's situation.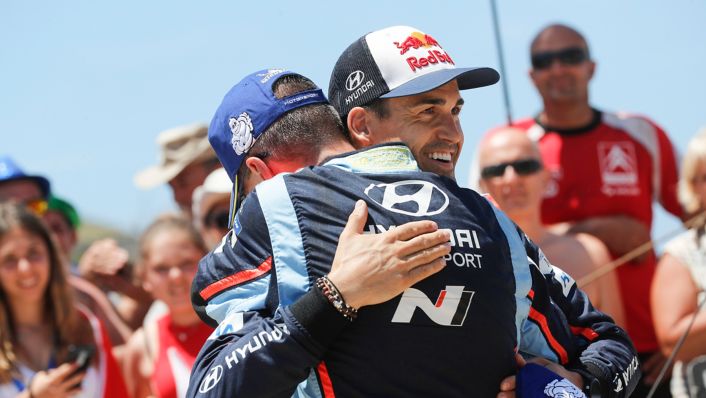 Next Rally
WRC takes its traditional summer break before the championship resumes with Rally Finland August 1-4
The popular event will be the fifth consecutive gravel rally on the 2019 calendar, with six weeks for teams and crews to prepare for the extreme high-speed challenge.
Final Overall Classification – Rally Italia Sardegna
 
D. Sordo    C. del Barrio    Hyundai i20 Coupe WRC    3:32:27.2
T. Suninen    J. Lehtinen    Ford Fiesta WRC    +13.7
A. Mikkelsen    A. Jæger-Amland    Hyundai i20 Coupe WRC    +32.6
E. Evans    S. Martin    Ford Fiesta WRC    +33.5
O. Tänak    M. Järveoja    Toyota Yaris WRC    +1:30.1
T. Neuville    N. Gilsoul    Hyundai i20 Coupe WRC    +2:16.7
E. Lappi    J. Ferm    Citroën C3 WRC    +2:59.6
K. Meeke    S. Marshall    Toyota Yaris WRC    +4:40.1
K. Rovanperä    J. Halttunen    Škoda Fabia R5    +8:24.6
J. Kopecky    P. Dresler    Škoda Fabia R5    +8:49.2
2019 FIA World Rally Championship for Drivers' Standings
After round 8
 
O. Tanak    150
S. Ogier    146
T. Neuville    143
E. Evans    78
T. Suninen    62
K. Meeke    60
A. Mikkelsen    56
D. Sordo    52
E. Lappi    40
J.M. Latvala    40
S. Loeb    39
2019 FIA World Rally Championship for Manufacturers' Standings
After round 8
 
Hyundai Shell Mobis World Rally Team    242
Toyota Gazoo Racing World Rally Team    198
Citroën Total World Rally Team    170
M-Sport Ford World Rally Team    152
All results remain subject to official FIA confirmation.