Hyundai Motor rises to 35th place in Interbrand's annual global brand value rankings (39th in 2015). Lasting European success contributed significantly toward climbing up 40 places in ten years.
Brand value reaches $12.55bn, up 11.1% since 2015 and trebled since 2006. Hyundai Motor is also up to sixth place in global automotive rankings. Unaided brand awareness grew by 50% since 2010.
Hyundai Motor has pioneered the era of online car sales and communication with Rockar Hyundai, Click2Drive and IONOQ Hub.
Hyundai Motor has achieved in 50 years what took other car companies a century and is now the world's 35th biggest brand according to the latest rankings published by brand specialist Interbrand.
Over the last 10 years the company's brand value has grown continuously, moving Hyundai Motor 40 places higher. A cornerstone of this result is Hyundai Motor's continuous success in the European market, in which the Korean company aims to become the leading Asian car manufacturer by 2020 in production volume, market share and customer satisfaction. And the course has been set: since 2003 Hyundai Motor has more than doubled its car sales in Europe. In 2015 the company replaced 80% of its line-up to create the youngest car range in Europe. More than 90% of the Hyundai vehicles sold in the region are designed, engineered, tested and built in Europe. Among them are the All-New Tucson, introduced in late 2015, and the New Generation i30, coming to dealers in 2017.
Surveys like the Interbrand study prove that we are on the right path in Europe. Our new product line-up is a driving factor and shows our competences in innovation and technology. Also in customers' perception and satisfaction we made big steps forward. With the launch of the dealers' space identity we underlined our successful modern premium approach. It is now followed by the digitalisation process in retail and communication. The success of Click2Drive and Rockar shows the potential of this strategy. Through Hyundai's latest communication tool, the IONIQ hub we are able to contact our customer directly on a 1 to 1 basis by using the mass medium internet. Hyundai as gone through a big process in Europe which results in a growing success of the brand proven by the customer's choice and satisfaction.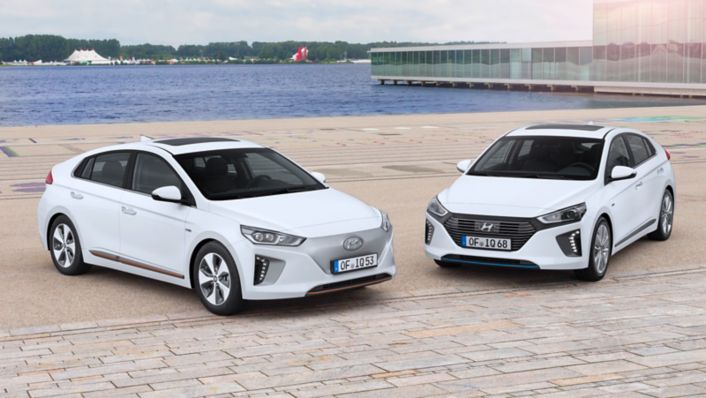 Brand value trebled since 2006 – Targeting new customer segments
Thanks to the combined effort of Hyundai Motor's global, European and national organisations, brand value has increased in 2016 by 11.1% to $12.55bn, securing the brand's place as one of the biggest names worldwide. Since 2006 Hyundai Motor's brand value has more than trebled from $4.1bn ten years ago. The Korean company also moved up to sixth place in the global automotive industry's top 10 brands, ahead of Audi, Volkswagen, Nissan and Porsche.
In just a few years Hyundai Motor has demonstrated strategic global growth and enriched its brand image with a focus on design, innovation, technology and sustainability. An important factor for the company was the new approach to automotive retailing in Europe, introducing ground-breaking digital sales concepts. In the UK there are two digital showrooms operated by Rockar Hyundai in shopping malls where visitors can experience the current line-up. As well as direct engagement in the digital stores, the entire process can also be completed online: configuration, finance, purchase. In its first year the showroom at the Bluewater shopping centre in Kent had 163,000 visitors, 94% of them new to Hyundai. 50% of the visitors completed the purchase online at home.
In Spain the digital dealership Hyundai Click2Drive launched in June 2016. At the physical Click2Drive Gamboa store in Madrid visitors can research Hyundai cars and purchase the company's entire range in an end-to-end online buying process.
With the global dealer space identity, Hyundai Motor also enriched its customer experience approach underlining the company's commitment to delivering greater levels of customer satisfaction. Over 630 Hyundai dealers present the products in an open space atmosphere with modern furnishing and the latest technologies.
Since 2010 Hyundai Motor's unaided brand awareness has grown by 50%, an optimum value in the car industry. With global sales of almost five million units in 2015, Hyundai Motor is currently part of the fifth largest car manufacturer group in the world. 
IONIQ and Hyundai N – Differentiation through unique brand identities

Hyundai Motor is now fully on the way to democratise e-mobility with the All-New IONIQ, the world's first car giving customers the choice between three electrified powertrains: hybrid, plug-in hybrid and electric. The innovative approach was introduced at the Geneva Motor Show in March 2016, democratising e-mobility and making low-to-zero emission driving more accessible to everyone.
Expanding the brand's reach further, Hyundai Motor's high performance sub-brand 'N' was launched in September 2015 with the aim of bringing high-performance fun-to-drive vehicles to a broad range of customers. With its RN30 concept unveiled at 2016 Paris Motor Show, the company already showcases its passion for performance and builds anticipation for the first Hyundai N model coming next year.