No matter if you offer the very best product or service – if you can't get them to where they are required, intact and on time, then your customers will surely look to your competitors instead.
Every small and medium-sized business knows, transportation is a crucial part of the logistics chain. Hyundai's new commercial vehicle the H350 combines space, ergonomic design and strong performance
The commercial van is no longer simply a means of shifting materials from A to B. It has evolved over the years from its more basic early use to a versatile vehicle adaptable to the needs of today's small businesses. Improved ways of optimising space along with the latest connective technologies mean a commercial van can serve as everything from a truck for repairmen, to a minibus, to a laboratory on wheels.

The first Hyundai LCV designed and built in Europe

Hyundai's H350 offers a completely new product design, and it is the first Hyundai LCV designed and built in Europe for the European market. Driver-focused and true to Hyundai's core design principles of safety, ease-of-use and simplicity, it combines optimal cargo space, with smart technologies and car-like comforts.
Reflecting the world we live in, business is faster today and these technologies address the old adage that "time is money." On congested city streets, van drivers need the fastest routes to reach their next appointment or make the next delivery. Touchscreen navigation and GPS is just one of the ways the commercial vehicle uses these modern systems for their business needs.
Likewise, any van driver will tell you that parking can be a costly waste of time if the vehicle they're piloting is not easy to manoeuvre. Narrow streets and awkward spaces can be even more difficult to negotiate with a cumbersome vehicle. The H350 includes as optional the latest features such as Park Assist System and rear safety camera to solve this issue. The rear-view display system provides a clear 135-degree panoramic display on the touchscreen or the rear-view mirror, further reducing the risk of damage when parking.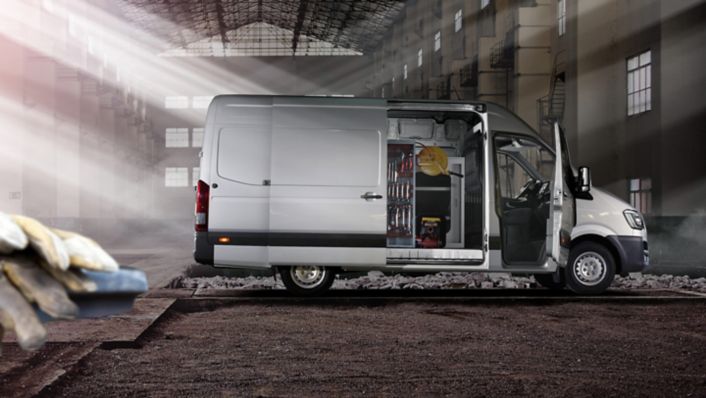 Three body types to meet your business's needs

The H350 offers three different configurations: cargo van, flat-bed truck, or minibus, to cater for the demands of your business. All body types provide the driver with a spacious cabin and cargo capacity of up to 12.9m³ that can accommodate five Euro pallets in the 3,665mm-long room length of the long-wheelbase model. A choice of the short-wheelbase model with up to 10.5 m³ of cargo capacity can carry four Euro pallets.
If your job involves transporting goods, the cargo van version's gross payload of up to 1,320kg will guarantee a lot of space in the back. It can carry up to five Euro pallets, delivering best-in-class cargo space in the six-metre van segment. Its rear doors are designed to swing through to an optional 270 degrees, and fasten safely onto the sidewalls in order to minimise the risk of casual or wind damage when loading or unloading. An optional rear assist step can enable an easy reach and provides even more practical convenience.
Tailored for maximum comfort, Hyundai's completely optimised driver's seat can be adjusted to your ideal driving position in combination with the tilting and telescopic adjustable steering wheel. Its European design also provides ample leg room for a comfort-oriented driving experience.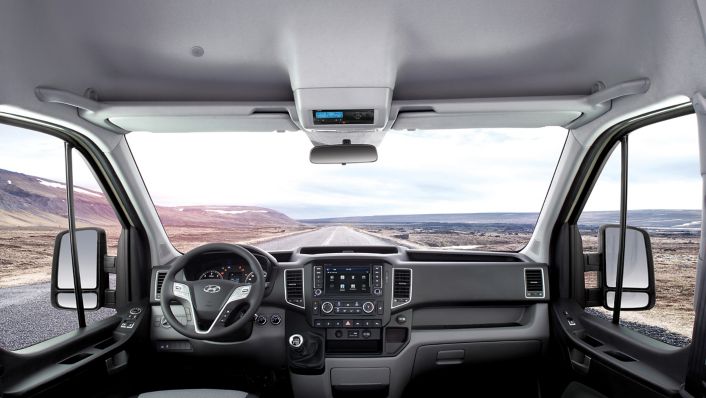 Using advanced thin film transistor technology, the high-definition full-colour display on the H350's dashboard provides an easy, quick read of all the vehicle's key information with remarkable clarity. It even includes a digital tachograph to easily and accurately record driver information such as overspeed, overbrake and idling data.
With the H350 as a work tool, the centre storage compartment design provides a comfortable workplace environment giving you easy access to an additional 12-volt power outlet wherever you are. The front passenger seat cushion folds up to provide ample storage space right inside the seat bench that is perfect for storing away emergency safety items and cleaning supplies.

Packed with active safety features

The modern LCV is on a level with passenger cars when it comes to active safety features and even top qualified and experienced drivers can benefit from these advanced systems. The H350's Vehicle Dynamic Control System consists of up to nine electronic devices that assist and protect the driver, including roll-over mitigation that reduces potential roll-over risk during a sudden turn, and emergency stop signals that are automatically activated by heavy braking to alert drivers behind and to help protect you from rear-end collisions.
To reassure your safety on the road, an optional windshield-mounted camera is employed to continuously monitor your driving lane. If the lane departure is not accompanied by a turn signal, the H350's Lane Departure Warning System triggers an alert for the driver to take corrective action.
Hyundai's standard Hill-start Assist Control system prevents dangerous roll-back on an incline, making sure to maintain a firm brake grip before quickly getting you back on track by pressing the accelerator. Vehicle Dynamic Control keeps the H350 firmly on course by independently activating the relevant brakes, while front driver and passenger airbags give occupants the ultimate peace of mind.
In winter conditions, a heating element embedded in the lower windscreen melts away any ice, giving you one less thing to worry about. Heated upper and lower side mirrors that can be easily adjusted with the H350's window remote control are also available for cold weather conditions.
The 2.5-litre turbo diesel engine is compliant with Euro 6 emission standards and has been improved for higher efficiency, reducing fuel consumption by up to 4.4% thanks to the use of Selective Catalytic Reduction technology in addition to improved features of the base engine such as a variably controlled oil pump.
Combined with a 6-speed manual transmission and rear-wheel drive, it offers best-in-class driving dynamics and efficiency. Active Eco Drive mode comes as standard, enabling further reduction in fuel consumption by adapting engine characteristics to the driver's behaviour.