Hyundai Motor Deutschland and Eintracht Frankfurt have agreed a partnership for the next three seasons
The company will have a strong presence at presence at Eintracht Frankfurt's home matches, by showcasing its fleet of environmentally-friendly models
In the future, Hyundai will create exclusive mobility experiences for the more  than 90,000 members and fans of Eintracht Frankfurt
Hyundai Motor Germany is the new mobility and premium partner of German Bundesliga football club Eintracht Frankfurt.
Both parties have agreed on an intensive cooperation for the next three seasons, starting with 2020/2021. Hyundai will have a strong presence at the club's home matches, with a focus on mobilizing Eintracht Frankfurt and its supporters, including equipping the Eintracht car fleet with Hyundai models.
Hyundai is the only manufacturer in the world to offer all alternative drive systems, from hybrid and plug-in hybrid to electric and fuel cell. From now on, not only Eintracht Frankfurt, but also members and fans of the club, will benefit from these advanced and environmentally friendly vehicles. All of Hyundai's football activities focus firmly on fans, as they are the basis and the heart of every football club and therefore also hugely important to official partners. In the future, Hyundai intends to create exclusive mobility experiences and provide special offers for the more than 90,000 members, fans and friends of Eintracht Frankfurt.
The Eintracht Frankfurt stadium is almost within earshot of our German and European headquarters. In addition to our headquarters in Offenbach, Hyundai's European Design Center, for example, is also located in the Rhine-Main area. We will use this partnership with Eintracht Frankfurt to underline our identification with the region and to show our colours locally as a promoter of football. In Eintracht Frankfurt, we have found a partner who is a perfect match for us as a modern and future-oriented company. We are very much looking forward to sharing many emotional football moments.
Innovation, digitalisation and sustainability play an important role for both Hyundai and Eintracht Frankfurt. Hyundai is continuously expanding its pioneering role in the field of electromobility and intends to lead the global market in this area in the future.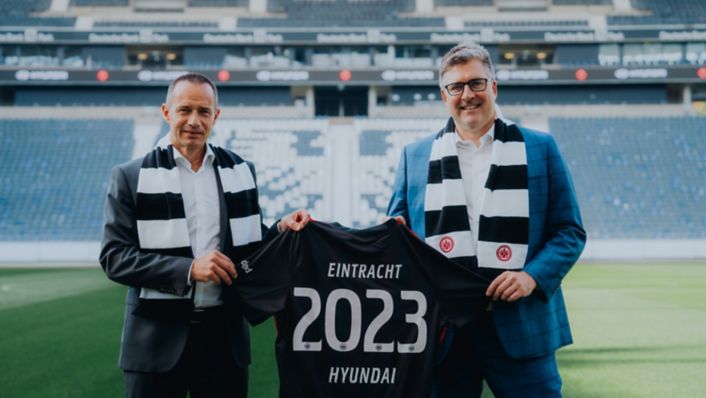 We are very pleased about the partnership with Hyundai. We have succeeded in winning a world market leader in the mobility sector for Eintracht Frankfurt. Hyundai stands for the absolute top technology in alternative drive systems and is the world's number one in the field of electric mobility. Here, our two future topics fit together perfectly. Added to this is the geographical proximity, which will open up many opportunities for joint projects.
With the start of the new season on 18 September, Hyundai will be visible with its environmentally friendly model range in the area around the stadium on home match days. Hyundai will gain additional brand presence through a multi-layered and diversified portfolio of services and measures in the context of the men's professional team, for example with TV-relevant advertising space in the interior of the stadium. In addition, Hyundai will be present in popular sports at Eintracht Frankfurt club, at Eintracht Frankfurt Women and at the football school through numerous advertising measures and a range of activations.
In addition, there will be various joint approaches to addressing the club's business customers. For example, Hyundai and Eintracht will jointly host the Business Cup Frankfurt, one of the largest corporate tournaments in the Rhine-Main region.
For the time being, a limited number of spectators will benefit from special Hyundai promotions at upcoming home games. This depends on the further development of the coronavirus pandemic.
As sleeve sponsor of Hertha BSC, Hyundai has been active in German football for several years. In addition to its commitment to professional sport - Hyundai is also a partner of FIFA and top European teams Chelsea FC, Atletico Madrid and AS Roma – the company has also been active in amateur football in a variety of ways since 2017.