After a successful beginning in 2021, Hyundai Motor has extended its pan-European partnership with marine conservation organisation Healthy Seas for another year.
By extending its partnership with Healthy Seas, Hyundai has solidified its commitment to "Progress for Humanity" with a particular focus on tackling marine pollution
In 2022, the partnership will organise three big clean-ups
In addition to the clean-ups in Europe, 2022 will see the first non-European project of the partnership, which will take place in South Korea 
The partnership will also continue to educate future generations on how to tackle marine pollution by coordinating five educational activities during the year
Hyundai will expand its support for a circular economy together with Healthy Seas and its founding partner Aquafil, regenerating the nylon parts of the recovered fishing nets, along with other nylon waste, into ECONYL® yarn to be used in its vehicles and beyond.
Hyundai Motor and marine conservation organisation Healthy Seas have extended their pan-European partnership for a further year and will continue working together to combat marine pollution, nurture sustainable marine ecosystems and support a circular economy.
The renewal of this partnership follows its successful first year in 2021, which saw Hyundai Motor and Healthy Seas hold eleven activations in seven European countries. These ranged from waste collection activities, such as beach clean-ups and diving events to recover abandoned fishing nets (ghost nets), to educational programmes teaching children and local communities about the importance of keeping the world's oceans clean.
Thanks to the renewal of our partnership with Hyundai Motor in 2022, we will be able to achieve even greater positive environmental impact in the regions where we already operate, as well as turn a dream into reality and begin working in Asia.
The kick-off event, held in Ithaca, Greece, proved to be Healthy Seas' largest project to date in terms of positive environmental impact and community involvement. Thanks to 45 participants, 20 divers, and 15 organisations, the event cleaned four beaches and two bays, recovering five tonnes of ghost nets, 32 tonnes of metal and 39 tonnes of plastic waste, including 150 bags of polystyrene foam beads.
Hyundai went on to support Healthy Seas' ghost net retrieval diving expeditions in Ijmuiden in the Netherlands, the Italian island of Lampedusa, Newcastle in the UK, the German island of Norderney and Tossa del Mar in Spain. 72 volunteer divers were involved across all clean-up activities, helping to retrieve more than 78 tonnes of waste in the form of ghost nets, crab and lobster cages, lead and other marine litter.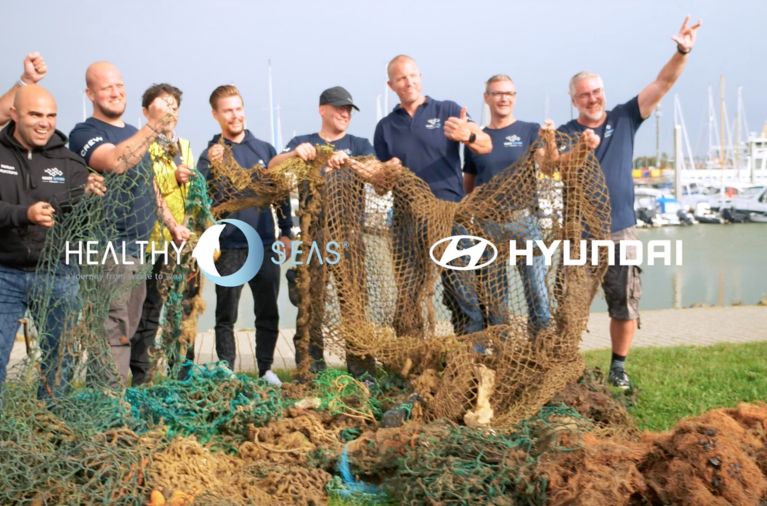 The partnership's activities did not stop at the clean-ups. Collected fishing nets were regenerated into the sustainable nylon ECONYL®, which ultimately was used for producing the floormats in IONIQ 5.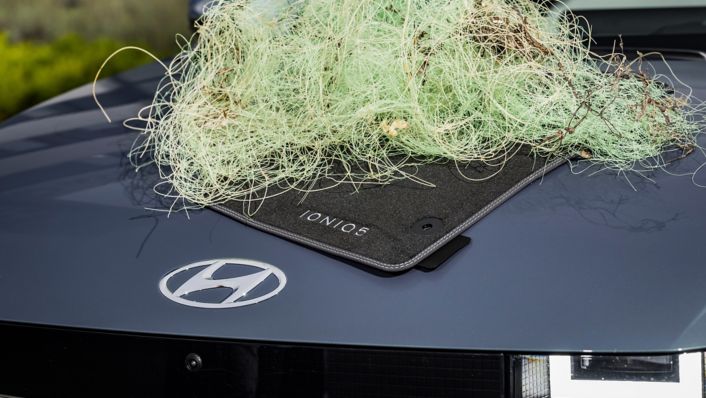 In addition to clean-up activities, the partnership also brought educational events to Valencia, Ijmuiden, Milan, Ithaca, Paris, Costa Brava and on the German island of Sylt. Geared mainly towards children from local schools, 2021 saw 900 children learn about the importance of marine preservation and how to prevent further marine pollution.
What the partnership achieved last year was an extraordinarily positive first step; now in 2022 I am very excited by the ambitious scale that Hyundai and Healthy Seas have with its plans to protect our marine environment for future generations.
The achievements of 2021 have set precedent in a partnership that will continue for another year. In 2022, Hyundai and Healthy Seas will solidify their collaboration and broaden its scope by organising three big clean-ups, which will include the first non-European project of the partnership: a ghost net clean-up in South Korea.
In addition to continued clean-up activities, the partnership will commit to bringing awareness of marine pollution to even more people across the continent in 2022. Five educational activities will take place this year, helping young generations understand their crucial role in fighting ocean pollution, and providing them with strategies to live more sustainably.
For Hyundai, as a purpose-driven company sustainability is not just a trend but a societal need. Through our partnership with Healthy Seas, we can leave a positive effect on the environment as well as local communities.
Hyundai will also use its expertise as a leader in clean and future mobility solutions to help Healthy Seas operate in a sustainable way, through the use of zero-emissions cars, and the ongoing investigation in search of the right technologies and most sustainable solutions.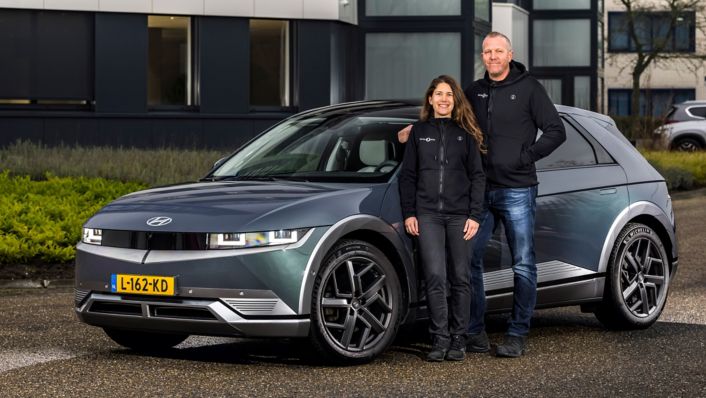 In line with Hyundai's vision of "Progress for Humanity", the extension of the partnership will continue to showcase the benefits of a circular economy. To turn waste retrieved from the oceans into a new resource, Healthy Seas' founding partner Aquafil regenerates the nylon parts of the recovered fishing nets, along with other nylon waste, into ECONYL® yarn.
Since the launch of its first all-electric midsized CUV in 2021, Hyundai has been giving European customers the option of outfitting their IONIQ 5 with sustainable floor mats made from ECONYL® fibre. During 2022, the use of this regenerated material will be expanded in Hyundai vehicles, amongst Hyundai's partners and at the company itself, such as carpets in premises, employee merchandising and branded gifts.