Kevin Mark Rule from the United Kingdom won the fifth Hyundai European Skill Competition
Hyundai technicians from 19 European countries competed against each other in theoretical and practical tests, including new technologies on the Hyundai IONIQ
Hyundai Motor earns high marks in customer satisfaction by delivering products and services exceeding customer expectations
Europe's best Hyundai technician comes from the United Kingdom: Kevin Mark Rule won Hyundai Motor's fifth European Skill Competition.
19 participants from different countries all over Europe, who already won their national Skill Competitions, completed theoretical and practical challenges with regards to technical expertise.
After two challenging competition days in Frankfurt am Main Hyung Cheong Kim, President and CEO at Hyundai Motor Europe, and Thomas A. Schmid, Chief Operating Officer at Hyundai Motor Europe, handed over the award to the winner Kevin Mark Rule, who has automatically qualified for the global competition to find the world's best technician. Two other competitors were also recognized for their achievements: Kevin O'Connor from Ireland reached the second place and Kevin Cliche from Belgium the third rank. The three winners showed a high level of expertise, profound knowledge about Hyundai as a brand and extensive practical experience.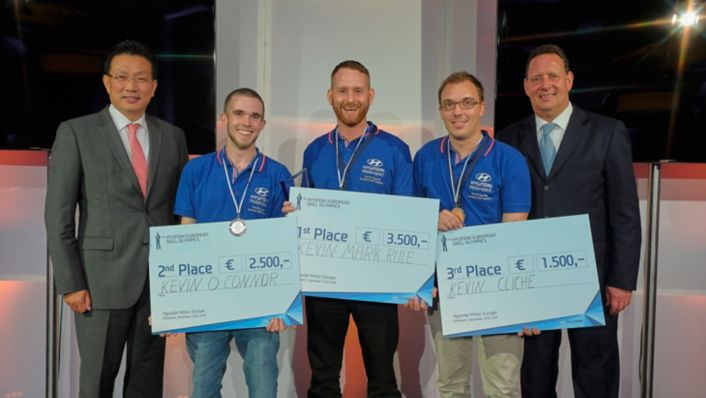 The European Skill Competition for automotive technicians is held on a national, pan-European and global level and accompanied by an equivalent competition for service advisors. Organised every other year since 2006, the 5th European Skill Competition celebrated its 10th anniversary this year at the historical car exhibition Klassikstadt in Frankfurt am Main, close to the company's headquarters. By testing technical skills in a written exam, practical tests on components and vehicle fault diagnoses, the company aims at rewarding outstanding competency as well as improving service through systematic training and information sharing among technicians.

Technicians perfectly prepared for the arrival of the IONIQ

Along with the Hyundai i40, i30 and i10 models, this year's competition was also conducted on components of the All-New Hyundai IONIQ. The IONIQ is the world's first model featuring three electrified powertrains. The IONIQ Hybrid and the IONIQ Electric are arriving at European dealers in autumn 2016, the IONIQ Plug-in during 2017. Not only had participants of the Hyundai European Skill Competition to answer theoretical questions about the vehicle's technology, they also needed to prove their practical understanding of new components like the IONIQ hybrid system to make sure they were perfectly prepared for the market launch.
Leader in customer satisfaction

Hyundai Motor delivers products and services exceeding customer expectations, achieving high scores in customer satisfaction surveys. Along with product variety, design, technology and quality, customer service is one of the most important factors that have enabled the company in recent years to establish and develop its leading presence in Europe. With the introduction of new models like the Tucson, which has become the fastest selling Hyundai model ever, the company also attracts customers from the premium segment with high expectations in terms of service.
The customer-centric approach and professional competence of the dealer network are key factors for ensuring long-term customer satisfaction. With our European Skill Competition, we reward outstanding technical performance, encouraging Hyundai technicians to deliver service excellence to our customers and supporting our aim to become the number one Asian automotive brand.