Hyundai has revealed a deep dive across two new videos explaining IONIQ 5's standout features and production process
IONIQ 5 offers customers numerous electrified benefits due to Hyundai's EV-exclusive E-GMP
Three semi-autonomous Hyundai SmartSense safety features keep IONIQ 5 customers safer than ever
The production process of IONIQ 5 includes battery assembly and safety testing
Hyundai Motor has announced a further deep dive into IONIQ 5's innovative features and production process, which are not immediately apparent to customers. Two new videos were produced for the deep dive. The first video covers six of the all-electric mid-size CUV's key features: two electrified customer benefits, a sustainable element, and three semi-autonomous Hyundai SmartSense safety functions. The second highlights various manufacturing steps of IONIQ 5's production, including battery assembly, inspections, and testing.
Hyundai launched IONIQ 5 in February of this year. The model is the first in Hyundai's new BEV-dedicated IONIQ brand. With numerous sustainable and innovative features, IONIQ 5 redefines the benchmark for the electromobility lifestyle.
Ground-breaking features in an all-electric vehicle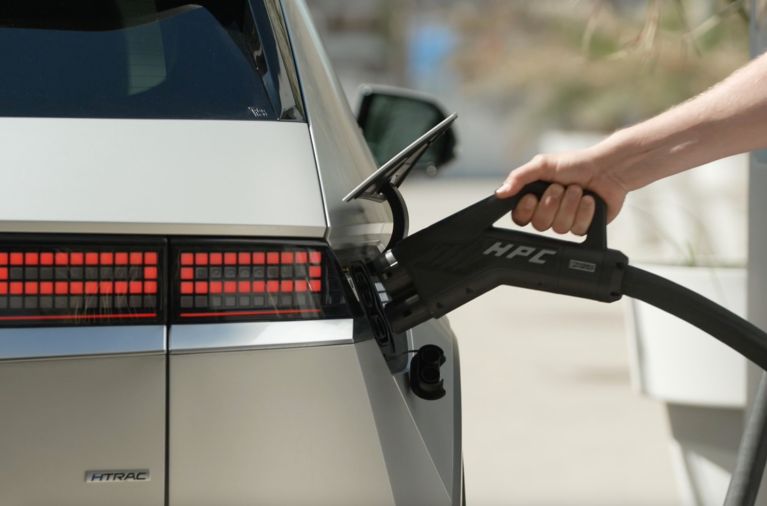 IONIQ 5 offers customers an astounding range of benefits that will make their driving experience more convenient and safer. Some of these standout features are not obvious at first. That is why the first film of the deep dive highlights those benefits, including ultra-fast charging, Vehicle-to-Load (V2L) technology, sustainable materials, and three semi-autonomous Hyundai SmartSense safety features: Highway Driving Assist 2 (HDA 2), Rear Cross-Traffic Collision-avoidance Assist (RCCA), and Remote Smart Parking Assist (RSPA).
Thanks to E-GMP, IONIQ 5 supports ultra-fast charging. The platform offers multi-charging capabilities with 800V ultra-fast charging as standard as well as 400V charging without the need of additional components or external adapters. Using a 350-kW charger, IONIQ 5 can quickly charge from 10 to 80 per cent in just 18 minutes. According to WLTP, IONIQ 5 customers can add on 100 kilometres of range with less than five minutes of charging.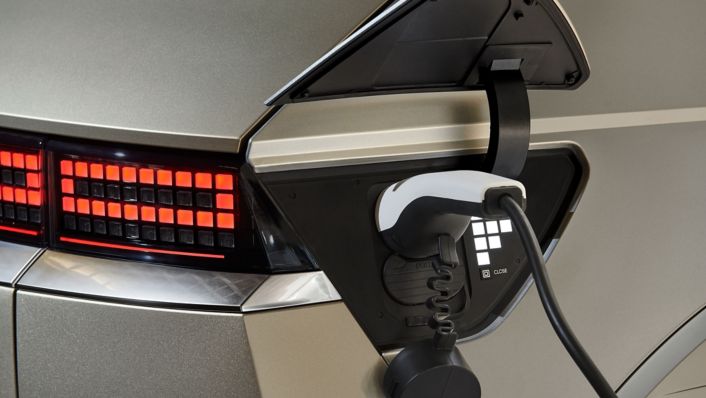 The innovative Vehicle-to-Load (V2L) function of IONIQ 5 transforms the BEV into a charger on wheels. V2L enables customers to use and charge any electric device, such as e-bikes, e-scooters, or battery-operated camping equipment. Supplying up to 3.6 kW of power, IONIQ 5 can operate other electric machinery (110 / 220V) anywhere. With a specific adapter, an external recharging plug can be used as a power source.
IONIQ 5's vision of sustainability is marked by its eco-friendly materials. From its seats and headliner to door trim and armrests, many of its interior touchpoints are made from eco-friendly, sustainably sourced materials. These sustainable materials include plant-based yarns, natural wool yarns, eco-processed leather with plant-based extracts, 100-per-cent-recyclable paperette, and recycled PET bottles. And by cooperating with Healthy Seas' partner Aquafil, Hyundai is committed to contributing to a circular economy and plans to use ECONYL®, a regenerated yarn made from recycled fishing nets and other nylon waste, in its products – for example, in IONIQ 5's floor mats.
Hyundai SmartSense safety features are not apparent to the naked eye. A Hyundai-first, IONIQ 5 offers Highway Driving Assist 2 (HDA 2). This safety feature combines Navigation-based Smart Cruise Control and Lane Following Assist and makes motorway driving more convenient using Level 2 autonomous driving capabilities. Using IONIQ 5's front view camera, radar sensors, and navigation data, HDA 2 controls the speed, direction, and following distance. Additionally, it can assist drivers when changing lanes.
Rear Cross-Traffic Collision-avoidance Assist (RCCA) is another standout safety feature of IONIQ 5. RCCA uses rear sensors to detect crossing traffic. When traffic is approaching from the left or right, RCCA displays and sounds a warning. If drivers do not stop, the feature autonomously applies the brakes to avoid a collision.
Remote Smart Parking Assist (RSPA) makes parking easier than ever. Outside of the vehicle, drivers can activate RSPA via a button on the smart key. RSPA helps IONIQ 5 autonomously enter or exit a parking spot. This feature works for both perpendicular and parallel parking.
Following IONIQ 5 on the production line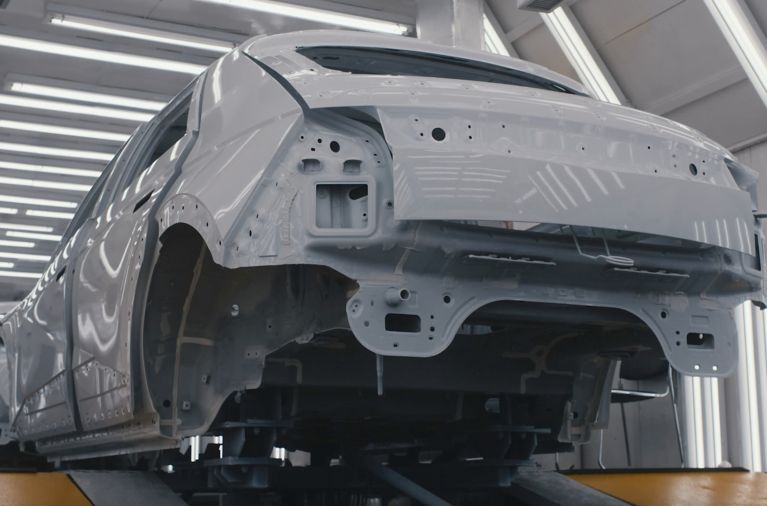 Production is a part of an automobile's life that customers do not typically see. The second film of the deep dive covers various steps during IONIQ 5's production process, revealing further details that Hyundai customers would not have already known. Starting at charging the BEV's batteries to performing quality and safety testing, the video shows IONIQ 5 from individual components to a fully realised, all-electric midsize CUV.
During Hyundai's production process of electric vehicles, IONIQ 5 is outfitted with industry-leading technologies that are bringing about a new era of electrified mobility. The Integrated Charging Control Unit (ICCU), which Hyundai Motor Group recently developed, charges the vehicles' high-voltage batteries and spare batteries.
Further down the line, the PE (Power Electric) System stands in as IONIQ 5's driving system, replacing the powertrain typical of conventional vehicles that run on internal combustion engines. By integrating motors, decelerators, and invertors into a single unit for the EV drivetrain, the PE System reduces weight and improves efficiency.
To produce IONIQ 5's battery module, battery cells with high-level energy density are stacked together and placed in Hyundai's BEV-exclusive E-GMP (Electric-Global Modular Platform). Depending on the number of embedded battery modules, battery packs can be categorised as either standard- or long-range.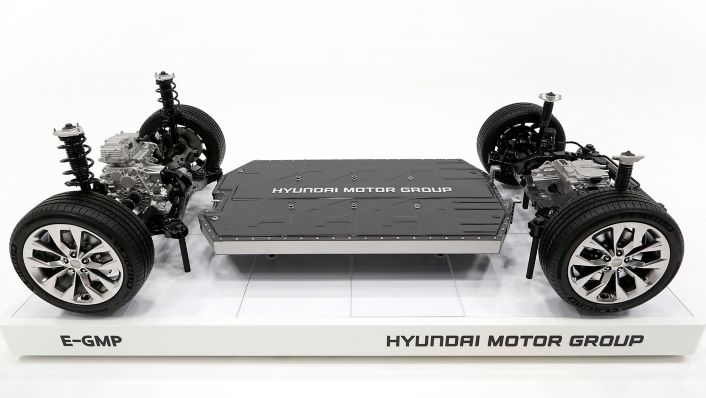 In the manufacturing process, Automated Guided Vehicles (AGV) autonomously transport loads in Hyundai's smart factory system. AGVs are controlled using mobile communication technology while their sensors prevent collisions. The benefits of employing AGVs include improved overall productivity, working environment, and safety; optimised plant processes; and streamlined product quality control.
Following IONIQ 5's sustainable materials in its interior, Hyundai also uses eco-friendly polyurethane paints for the midsize CUV's exterior. These special paints are derived from natural flowers and corn.
To guarantee the reliability of the newly manufactured IONIQ 5 units, the Intensive Inspection System checks if the electric vehicles are functioning properly. The system inspects and corrects the cameras and radar sensors, including the Surround View Monitor (SVM), Augmented Reality Head-up Display (AR HUD), front corner radars, and digital side mirrors.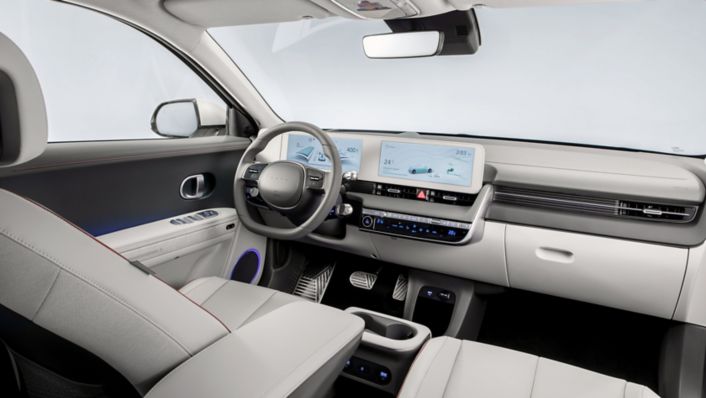 Two important tests conclude production: the wind tunnel test and the crash test. The wind tunnel test is conducted to optimise IONIQ 5's aerodynamic performance. In an effort to protect customers, a crash test is conducted as well. IONIQ 5 was built with a front-end crash structure that absorbs and distributes collision impact. In the event of a head-on crash, the structure will minimise cabin deformation. Its passive safety steel structure, coupled with the latest Hyundai SmartSense suite of advanced driver assistance systems, provides IONIQ 5 customers with peace of mind on the road.
Full product information and technical specifications of IONIQ 5 can be found in the press kit.
Disclaimer: CO2 and emissions data
Electricity consumption combined for the Hyundai IONIQ 5 58 kWh with 2WD in kWh/100 km: 16.7; CO2 emissions combined in g/km: 0 (WLTP)
Electricity consumption combined for the Hyundai IONIQ 5 58 kWh with 4WD in kWh/100 km: 18.1; CO2 emissions combined in g/km: 0 (WLTP)
Electricity consumption combined for the Hyundai IONIQ 5 72.6 kWh (19" alloy rims) with 2WD in kWh/100 km: 16.8; CO2 emissions combined in g/km: 0 (WLTP)
Electricity consumption combined for the Hyundai IONIQ 5 72.6 kWh (20" alloy rims) with 2WD in kWh/100 km: 17.9; CO2 emissions combined in g/km: 0 (WLTP)
Electricity consumption combined for the Hyundai IONIQ 5 72.6 kWh (19" alloy rims) with 4WD in kWh/100 km: 17.7; CO2 emissions combined in g/km: 0 (WLTP)
Electricity consumption combined for the Hyundai IONIQ 5 72.6 kWh (20" alloy rims) with 4WD in kWh/100 km: 19.0; CO2 emissions combined in g/km: 0 (WLTP)