Following the success of Sustainable Tour 2021, this year, Hyundai Motor Europe has provided DAN Europe ambassadors Manuel Bustelo and Alana Alvarez with a KONA Electric to travel through the UK and Ireland
A full programme, featuring conferences, special events, and meetings with stakeholders and the diving community, will inform about ocean acidification
This undertaking showcases the scope of Hyundai's CSV approach to conserve marine ecosystems with Healthy Seas and Ghost Diving
Promoting zero-emission mobility, the KONA Electric will only be recharged with renewable energy from the IONITY charging network
Last month, Divers Alert Network Europe (DAN Europe) kicked off its second Sustainable Tour with the support of Hyundai Motor Europe. DAN Europe is an international medical and research non-profit organisation dedicated to the health and safety of divers, and since 2021, it has embarked on an annual Sustainable Tour throughout Europe to educate the public about how excess CO2 emissions and ocean acidification threaten marine and human life. One of DAN Europe's goals is to promote sustainable lifestyles and corporate responsibility in order to protect the waters around Europe. To support the idea of sustainable lifestyles, the Sustainable Tour will be completed in a KONA Electric, which will only be recharged with renewable energy from the IONITY charging network.
Sustainable Tour 2022: UK and Ireland
From July to September, the DAN Europe ambassadors, Manuel Bustelo and Alana Alvarez – who also led last year's Sustainable Tour – will travel the length and breadth of the UK and Ireland. While in the British Isles, Bustelo and Alvarez will undertake a full programme, including around 50 diving centre visits, conferences such as 'The Link between Climate Change and Ocean Acidification', the 'DAN Europe by the Sea' Instagram contest, and meetings with national and global ocean acidification networks to explore how the water sports community can help in monitoring this marine threat.
The Sustainable Tour holds special importance because it connects Hyundai's various CSV projects and initiatives. Through its partnership with the marine conservation organisation Healthy Seas, Hyundai aims to combat ocean pollution and nurture sustainable marine ecosystems by helping Healthy Seas organise educational activities for children and fishing communities, as well as ocean clean-up events with the Dutch charity foundation Ghost Diving, whose founder and chairman, Pascal van Erp, is also the ambassador for DAN Europe's Sustainable Tour.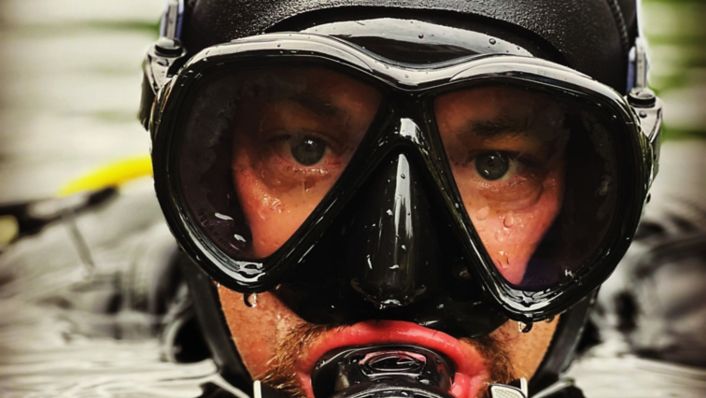 The issue: ocean acidification
Excess carbon dioxide emissions are not only harmful to life on earth – they are detrimental to marine life as well. On top of accelerating climate change and raising global temperatures, the ocean also absorbs carbon dioxide from the atmosphere. When too much carbon dioxide is dissolved in seawater, its acidity increases, known as ocean acidification. In combination with other human factors, this phenomenon negatively affects many marine species, especially oysters and corals.
To maintain healthy oceans and a liveable planet, humankind must drastically reduce carbon emissions. Only by sharing this information is it possible to support marine planning decisions and adapt future policies.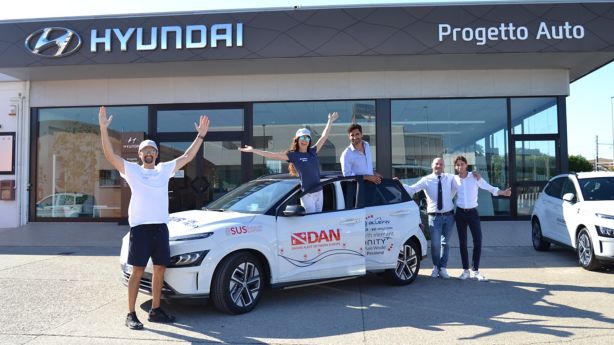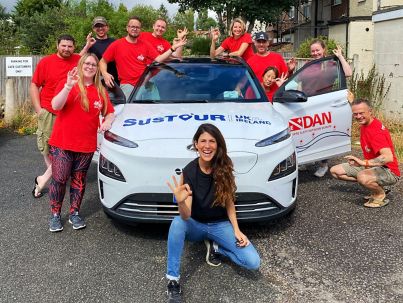 Touring in a KONA Electric
In line with the company's commitment to Progress for Humanity, Hyundai is combining ocean protection with zero-emission mobility by providing the DAN Europe ambassadors with a KONA Electric eSUV. The model is equipped with a 64-kWh battery for an estimated 484-kilometre range, according to WLTP.
Bustelo and Alvarez will only recharge their KONA Electric with renewable energy provided by the IONITY charging network. Committed to sustainability, IONITY chargers deliver 100 per cent renewable energy for both emission-free and carbon-neutral driving. Currently, there are more than 1,800 high-power charge points across 24 European countries within the IONITY network.
Hyundai also lent DAN Europe a KONA Electric for the Sustainable Tour 2021. Last year, Bustelo and Alvarez travelled 25,000 kilometres across 17 countries in Europe, raising awareness among stakeholders and the diving community.
DAN Europe is tracking Bustelo and Alvarez' progress on the Sustainable Tour website.
About DAN Europe
Founded in 1983, DAN Europe is an international non-profit medical and research organisation dedicated to the health and safety of divers. It serves as the diving community's one-stop source for peace of mind services. DAN Europe's efforts seek to prevent injuries and promote the overall well-being of divers around the world, also providing the most accurate, up-to-date and unbiased information available on issues of common concern. It conducts underwater diving research and provides educational programs to create a more alert diving community.
About IONITY
IONITY makes long-distance travel with electric vehicles the new normal. The company builds and operates a high-power charging (HPC) network along Europe's motorways, using state-of-the-art technology with a charging capacity of up to 350 kW. By doing so, drivers of current and future generations of electric vehicles – using the leading European charging standard CCS (Combined Charging System) – benefit from maximum charging speeds while taking a break on their journey. Every IONITY charging station consists of an average of six charging points. As a commitment to sustainability, all IONITY chargers deliver 100 per cent renewable energy for both emission-free and carbon-neutral driving.
IONITY was founded in 2017 as a joint venture of several automobile manufacturers. In 2020, Hyundai Motor Group became a shareholder of IONITY, joining BMW Group, Mercedes Benz AG, Ford Motor Company, and the Volkswagen Group with Audi and Porsche.
More than 100 employees are shaping the future of e-Mobility at IONITY. The company is headquartered in Munich with an additional office in Oslo, Norway. IONITY is an internationally registered trademark.
Disclaimer: CO2 and emissions data
Electricity consumption combined for the Hyundai KONA Electric 39.2 kWh in kWh/100 km: 14.3; CO2 emissions combined in g/km: 0 (WLTP)
Electricity consumption combined for the Hyundai KONA Electric 64 kWh in kWh/100 km: 14.7; CO2 emissions combined in g/km: 0 (WLTP)