Hyundai Motorsport endured a character-building start to the 2022 FIA World Rally Championship (WRC) at Rallye Monte-Carlo
Thierry Neuville was the team's sole finisher, taking sixth place overall and a stage win on the final morning. He also added three points for a committed drive in the Power Stage.
Oliver Solberg was withdrawn from the rally after Sunday's opening stage after feeling unwell following fume issues that had hampered his rally.
Hyundai Motorsport has completed the opening round of the 2022 FIA World Rally Championship, Rallye Monte-Carlo, with Thierry Neuville/Martijn Wydaeghe taking sixth place after a challenging weekend for the team.
Sunday's itinerary headed back into the Alpes Maritimes for two stages, La Penne/Collongues (SS14/SS16 - 19.37km) and Briançonnet/Entrevaux (SS15/SS17 - 14.26km), each run twice. With only two Hyundai Motorsport crews taking the start on the final morning, following the retirement of Ott Tänak/Martin Järveoja on Saturday evening, the objective was to bring home both remaining Hyundai i20 N Rally1 cars.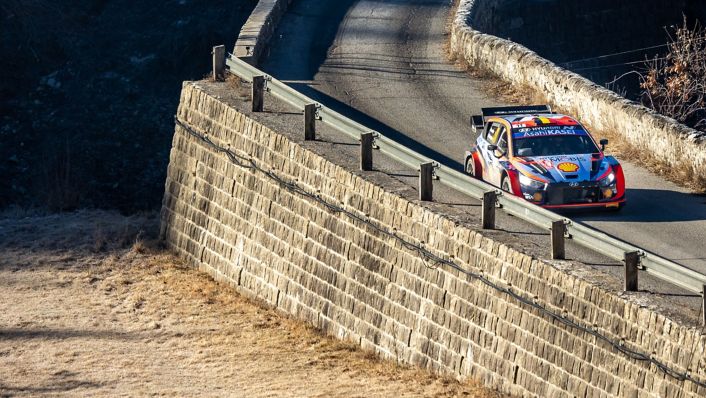 Oliver Solberg/Elliott Edmondson started the day hoping to pick up more valuable experience in their first WRC weekend with the team. Unfortunately, the ill effects of fume issues from the past two days left Solberg feeling unwell and, despite completing Sunday's opening stage, he was withdrawn from the rally on health grounds.
Neuville, meanwhile, set his sights on the Power Stage in a bid to claim some extra points from a demanding weekend. The Belgian, who has shown his sheer determination throughout the rally, claimed a stage win on the first pass through Briançonnet/Entrevaux. He then gave his all in the Power Stage to take three extra points.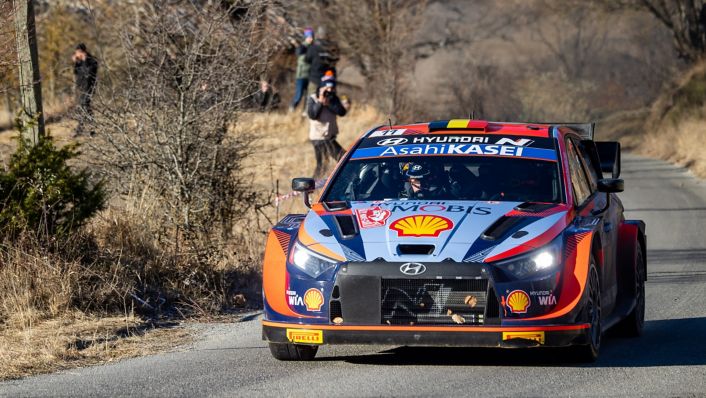 Crew Notes: Thierry Neuville/Martijn Wydaeghe (#11 Hyundai i20 N Rally1)  
Belgian crew put in maximum effort on the final morning
Stage win in SS15 and three points from the Power Stage
At the end of this rally, we are left with feelings of disappointment and frustration. We had a tough weekend. I drove for my life in the Power Stage, I gave it absolutely everything, so I was disappointed with the time. There has been a huge amount of work behind the scenes to prepare for this event, from me and Martijn, as well as the team, so to come away without any reward is hard to accept. We won't give up. We are trying to keep everyone motivated and we will continue pushing. The will is definitely there and that's important. There are different areas we are going to work on but most important is the reliability. We need to be much stronger for the upcoming events.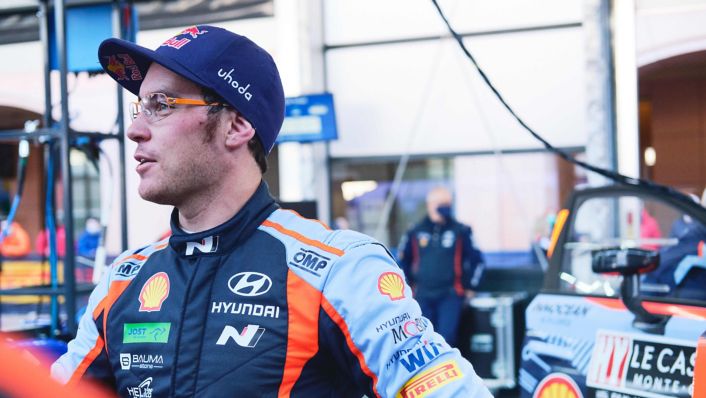 Crew Notes: Oliver Solberg/Elliott Edmondson (#2 Hyundai i20 N Rally1)  
Crew started Sunday optimistic to gain more experience in their new car
After SS14 (La Penne/Collongues), they were feeling unwell and retired from the rally
We started the day with some hope. Our plan was to gain more mileage today – for the car, the team and ourselves – we just wanted to drive and have fun. We were seventh through SS14 but after the stage we agreed with the team to retire the car as we were not feeling well after what we'd experienced over the past couple of days. It's been a long, tough weekend but I am happy with what I've done. Even if it's been tricky, we've set some good splits and stage times. There are always positives to take away. Big thanks to the team too, it's been long days and the dedication is fantastic. Together as a team we'll keep pushing and working to improve for next time!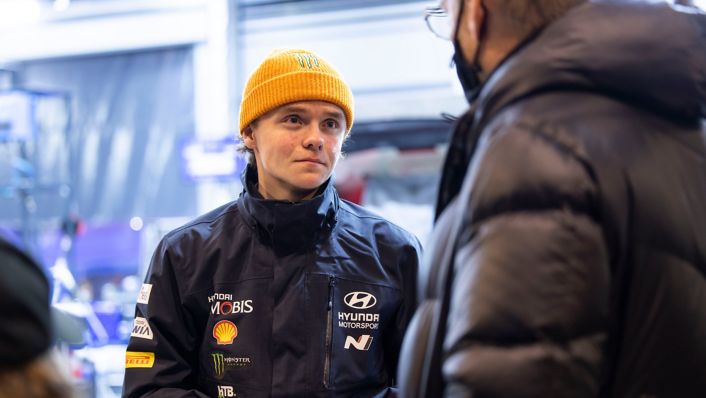 It has definitely been a tough rally for us. I am disappointed for all the team who have pushed so hard, those at the rally and those at the factory. We have to react. From a sporting point of view, I am not happy because we are here to win, and the result is not according to our expectations. Nevertheless, we have been able to check a lot of systems on our new Hyundai i20 N Rally1 car, and there are always good things to take out of even the most difficult moments. When the car ran trouble-free, we could show some competitive times so the pace is there. We just have to sort out our issues as quickly as possible.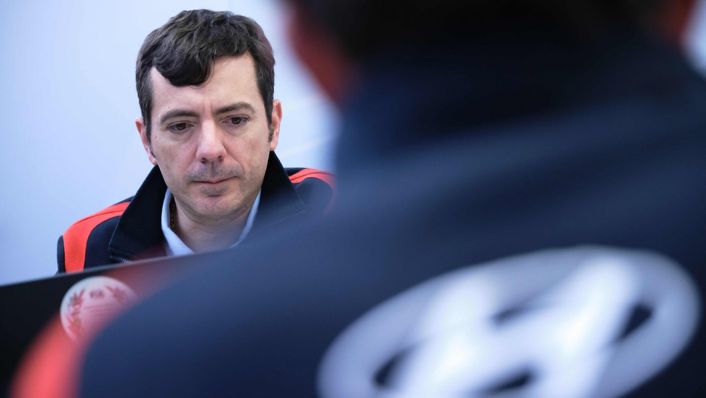 Next Rally 
Round two of the 2022 FIA World Rally Championship sees a return to Rally Sweden, taking place from February 24-27.
Final Overall Classification – Rallye Monte-Carlo
S. Loeb/I. Galmiche | Ford Puma Rally1 | 3:00:32.8
S. Ogier/B. Veillas | Toyota GR Yaris Rally1 | +10.5
C. Breen/P. Nagle | Ford Puma Rally1 | +1:39.8
K. Rovanperä/J. Halttunen | Toyota GR Yaris Rally1 | +2:16.2
G. Greensmith/J. Andersson | Ford Puma Rally1 | +6:33.4
T. Neuville/M. Wydaeghe | Hyundai i20 N Rally1 | +7:42.6
A. Mikkelsen/T. Eriksen | Škoda Fabia Evo | +11:33.8
T. Katsuta/A. Johnston | Toyota GR Yaris Rally1 | +12:24.7
E. Cais/P. Tesínský | Ford Fiesta Mk II | +12:29.2
N. Gryazin/K. Aleksandrov | Škoda Fabia Evo | +13:41.3
2022 FIA World Rally Championship for Manufacturers' Standings
After round 1
Toyota Gazoo Racing World Rally Team | 40
M-Sport Ford World Rally Team | 39
Hyundai Shell Mobis World Rally Team | 13
Toyota Gazoo Racing World Rally Team NG | 8
2022 FIA World Rally Championship for Drivers' Standings 
After round 1
S. Loeb | 27
S. Ogier | 19
K. Rovanperä | 17
C. Breen | 15
T. Neuville | 11
G. Greensmith | 10
A. Mikkelsen | 6
T. Katsuta | 4
E. Evans | 4
E. Cais | 2
M. Gryazin | 1