First media reviews of IONIQ 6 Electrified Streamliner following test drive in Madrid, Spain
Model praised for its driving performance and handling, interior spaciousness and efficiency
Built on Hyundai Motor Group's Electric-Global Modular Platform (E-GMP), IONIQ 6 delivers an all-electric range of 614 km (WLTP-rated)
With its innovative design and state-of-the-art technologies, Hyundai Motor's IONIQ 6 Electrified Streamliner sets a new standard for electric vehicles. At the recent IONIQ 6 Driving Experience in Madrid, Spain, international media representatives had the opportunity to get behind the wheel of the model for the first time.
Built on Hyundai Motor Group's Electric-Global Modular Platform (E-GMP), IONIQ 6 is equipped with an array of advanced technologies and a customer-centric, spacious interior. In addition, it provides a range of 614 kilometres on a single charge (WLTP-rated), redefining the boundaries of electric mobility.
Since its launch, IONIQ 6 has won several accolades. In December 2022, IONIQ 6 was chosen as the best EV of 2023 by AUTOBEST's jury of 31 European automotive writers and experts. The Electrified Streamliner was also awarded 'Saloon of the Year' at the 2023 GQ Car Awards. The model has been named among top three finalists in the upcoming 2023 World Car of the Year Awards. Meanwhile, IONIQ 6 received a maximum five-star safety rating in the Euro NCAP safety test. The independent vehicle assessment organisation also named the model its 'Best in Class' Car of 2022 in the 'Large Family Car' category.
Journalists from all around Europe are particularly impressed with IONIQ 6's efficiency, driving performance and handling, and interior spaciousness.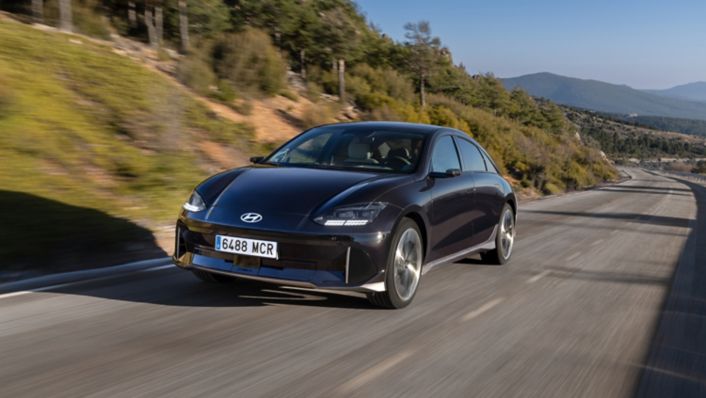 One of the most energy-efficient vehicles on the market
IONIQ 6's all-electric driving range of 614 km was maximised through extensive aerodynamic design and engineering work. The vehicle's ultra-low drag coefficient of 0.21 is the lowest in the company's line-up and one of the lowest in the industry.
The Electrified Streamliner's efficiency was a key focus area for French newspaper Le Monde.
In addition to its excellent aerodynamics, IONIQ 6 benefits from improved efficiency compared to IONIQ 5, which means very low fuel consumption levels (14.3 kilowatt hours per 100 kilometres), despite a power output that, depending on the version, reaches 229 or 325 horsepower.
Meanwhile, Autoreview.nl of the Netherlands praised the model's design for generating increased efficiency.
With IONIQ 6, Hyundai is taking a big step in a new direction for electric cars. Not making the batteries bigger, but rather reducing power consumption. Its streamliner design plays a big role in this.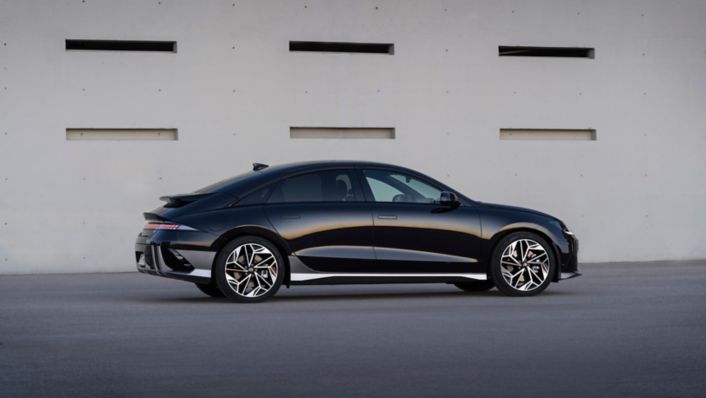 Finally, Norway's elbil24.com praised IONIQ 6 for its segment-leading range:
But then we come to where IONIQ 6 can show its best side - its range… it has a shape that is very much designed for efficiency. The car has very low drag, with a Cd value of just 0.21, which is also reflected in its fuel consumption and range.
Enhanced handling and stability on the road
Unsurprisingly, given the hands-on opportunity to drive IONIQ 6 on Madrid's roads, many publications pointed to the model's driving performance and handling.
"Extremely sporty", is how auto-medienportal.net described IONIQ 6's driving experience. The German automotive website commended the model's ability to accelerate and make smooth lane changes.
Traffic light starts and acceleration lanes are always great fun, as are quick threading and lane changes in the city. The car can also be braked using only the accelerator pedal, with the strength of the recuperation regulated via the paddle shifter on the steering wheel, even to a standstill.
Spain's El Mundo positively praised its power and speed:
The car essentially drives in rear-wheel drive (the most efficient way to do it) and only engages the front axle when necessary (if driving becomes sportier or traction loss is detected). But still, even in Eco mode there is always more than enough power to move this IONIQ 6 quickly. And even when the two engines work together, the superior power from the rear engine makes the car feel more rear-wheel drive and therefore sportier.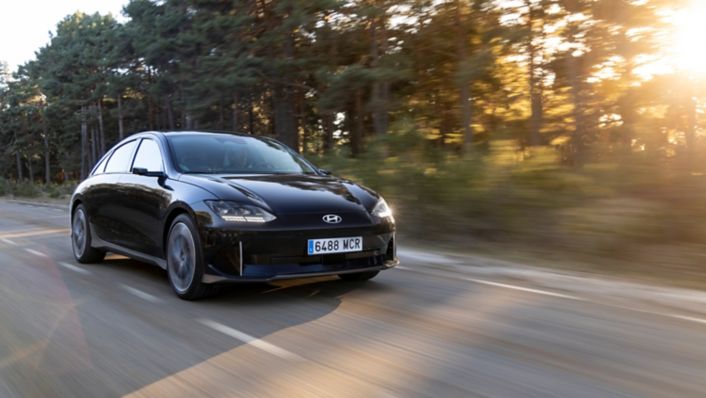 Italian website ilsole24ore.it also had warm words for IONIQ 6's driving capabilities:
All in all, IONIQ 6 offers reassuring driveability and sensations that reflect those typical of the BEV world, the result of the powertrain's ready and linear thrust regardless of the power level.
The UK's Autocar also noted the vehicles sportiness:
Out on the road, IONIQ 6 accelerates as you'd expect – swiftly from a standstill and then tailing off as the speed rises. It's the sort of car that would do very well churning through motorways, quiet and largely comfortable. The primary ride is good, tied down and not floating, while the steering is of the right sort of pace and feel to make long journeys effortless.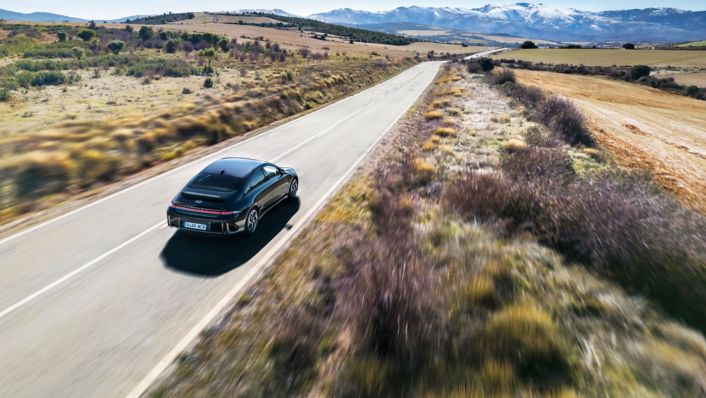 IONIQ 6's driveability was the subject of praise for Norwegian website bilogmotorbloggen.com.
On the road, IONIQ 6 is easy to drive and very much a straight-up 'that's how a car should be driven' kind of car. Visibility is good and the response from the steering wheel and pedals offers no surprises or quirks.
Another publication to compliment the vehicle's ride and handling was AutoBild.es:
Once on the road, what I noted about IONIQ 6 is that the suspension is firmer than I expected, but that doesn't affect comfort. Overall, the car's tuning is very balanced, even though it doesn't have adaptive suspension. And one thing I also liked is that the steering stiffens depending on the driving mode you choose.
Innovative and spacious interior
Some reviewers focused on IONIQ 6's interior. With a long 2,950 mm wheelbase and a flat floor enabled by E-GMP, the Electrified Streamliner's designers were able to maximise room inside the vehicle.
Italian publication La Repubblica was fulsome in its assessment of the model's interior space.
The interior is cosy, with almost unexpected legroom for those sitting in the back. The driver's seat is futuristic, with instrumentation and multimedia system control screen within easy reach.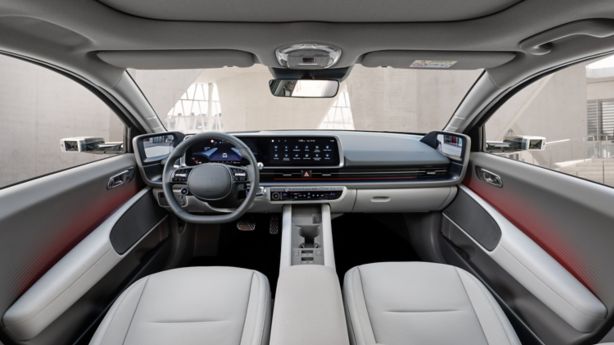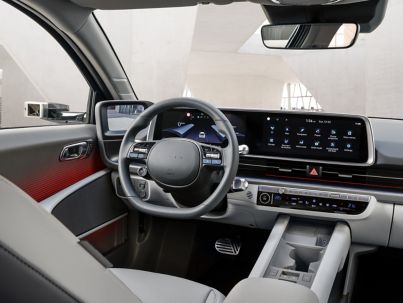 Meanwhile, UK website parkers.co.uk emphasised the roominess of the vehicle.
Step inside IONIQ 6 and you'll find a spacious interior with lashings of space for five passengers. The rear compartment is especially roomy … [while] legroom and space for elbows is exceptional.
Disclaimer: CO2 and emissions data
Electricity consumption combined for the Hyundai IONIQ 6 53 kWh with 2WD in kWh/100 km: 13.9; CO2 emissions combined in g/km: 0 (WLTP)
Electricity consumption combined for the Hyundai IONIQ 6 77.4 kWh (18" alloy rims) with 2WD in kWh/100 km: 14.3; CO2 emissions combined in g/km: 0 (WLTP)
Electricity consumption combined for the Hyundai IONIQ 6 77.4 kWh (20" alloy rims) with 2WD in kWh/100 km: 16.0; CO2 emissions combined in g/km: 0 (WLTP)
Electricity consumption combined for the Hyundai IONIQ 6 77.4 kWh (18" alloy rims) with 4WD in kWh/100 km: 15.1; CO2 emissions combined in g/km: 0 (WLTP)
Electricity consumption combined for the Hyundai IONIQ 6 77.4 kWh (20" alloy rims) with 4WD in kWh/100 km: 16.9; CO2 emissions combined in g/km: 0 (WLTP)
Electricity consumption combined for the Hyundai IONIQ 5 58 kWh with 2WD in kWh/100 km: 16.7; CO2 emissions combined in g/km: 0 (WLTP)
Electricity consumption combined for the Hyundai IONIQ 5 58 kWh with 4WD in kWh/100 km: 18.1; CO2 emissions combined in g/km: 0 (WLTP)
Electricity consumption combined for the Hyundai IONIQ 5 77.4 kWh (19" alloy rims) with 2WD in kWh/100 km: 17.0; CO2 emissions combined in g/km: 0 (WLTP)
Electricity consumption combined for the Hyundai IONIQ 5 77.4 kWh (20" alloy rims) with 2WD in kWh/100 km: 18.0; CO2 emissions combined in g/km: 0 (WLTP)
Electricity consumption combined for the Hyundai IONIQ 5 77.4 kWh (19" alloy rims) with 4WD in kWh/100 km: 17.9; CO2 emissions combined in g/km: 0 (WLTP)
Electricity consumption combined for the Hyundai IONIQ 5 77.4 kWh (20" alloy rims) with 4WD in kWh/100 km: 19.1; CO2 emissions combined in g/km: 0 (WLTP)