Hyundai Motor's SEVEN concept received positive reactions from international automotive and tech media following its world premiere at the 2021 Los Angeles Auto Show
SEVEN was praised for its clean design, lounge-like innovative interior, and contemporary hygiene-conscious features
Designed to represent the future of mobility, SEVEN concept is best suited for autonomous driving, redefining how passengers use their time
With its recent premiere at the Los Angeles Auto Show in mid-November, Hyundai Motor's SEVEN concept has already generated many positive reviews by international media from the fields of automotive and tech.
SEVEN concept is an "SUEV" (Sport Utility Electric Vehicle) that is based on three building blocks. Its SUEV typology leverages Hyundai Motor Group's Electric Global Modular Platform (E-GMP), a technological platform dedicated to BEVs. E-GMP allows for models to have a flat floor, so SEVEN's interior architecture offers a premium lounge-like experience for even more freedom and comfort. On top of this, the concept car is equipped with hygiene-promoting features and materials to keep customers even safer.
Journalists across Europe were able to witness the world unveiling of SEVEN concept in Los Angeles either live or via livestream. The concept car was lauded for its futuristic design, customer-centric interior, and hygienic features.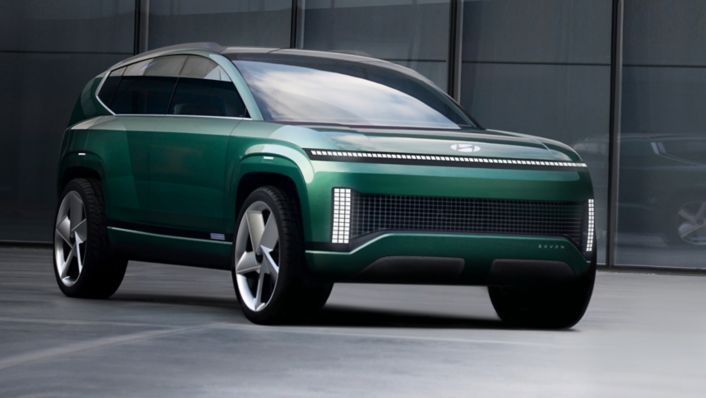 Press reactions to SEVEN
This is what the international press had to say about SEVEN:
Italy's ilsole24ore.com mentioned how SEVEN's "unprecedented style and cutting-edge technology" shows that Hyundai is serious about its commitment to achieving carbon neutrality by 2045.
Hyundai is (…) firmly out in front of the great race to a zero-emissions future and, even more excitingly, is showing that electrification and homogenisation need not go hand in hand.
Talking about design, French newspaper 20minutes.fr applauded SEVEN's "sleek, futuristic look" that is prominent in the IONIQ family.
Starting from a non-conformist design like that of IONIQ 5, the Korean designers have imagined a personal and refined style for the big sister previewed by the SEVEN concept.
Italy's alvolante.it commented that some stylistic elements, such as "the low, flat bonnet; the continuous aerodynamic line of the roof; and the long wheelbase" make for "unusual proportions for an SUV". However, the Italian automotive magazine said that the Parametric Pixel lights give the front end a "very clean and futuristic" look.
Another Italian publication, ansa.it, said SEVEN's lounge-like interior atmosphere is possible because, "without the need for the usual driving equipment", SEVEN can offer seating "different from that of conventional SUVs".
Germany's tech medium heise online describes SEVEN's interior design as "visionary", noting that it "places particular emphasis on comfort". It goes on to highlight aspects of the interior:
Here, too, a concept EV has a big advantage, so the floor can be made flat throughout, the furniture can be attached to practically any point and the doors can be opened in opposite directions.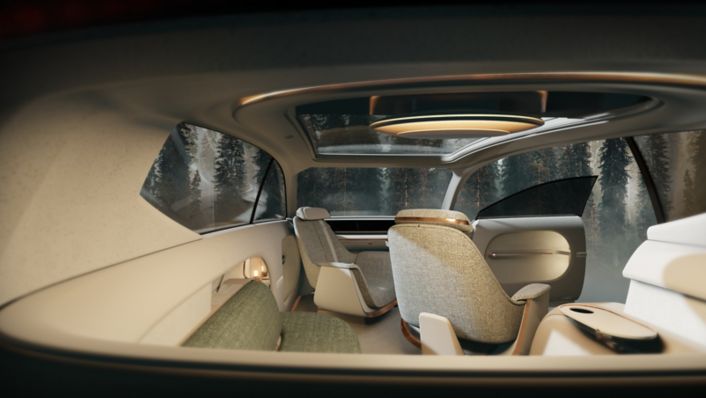 German newspaper Zeit was impressed by SEVEN's panoramic roof, mentioning how it projected images of a "leafy canopy of a forest" instead of showing the skyscrapers.
Spain's marca.com emphasised how SEVEN was designed to support human health. SEVEN's ventilation system produces an airflow "very similar to that used in passenger planes". Activated when the concept car is both moving or stationary, the system "keeps the airflow to the front and rear passengers separate".
Auto Bild from Germany highlighted the interior materials that "inhibit the formation and spread of bacteria and viruses", listing hygienic materials like "marble, copper, bamboo fibres, and treated artificial leather". The magazine also reported that UV-C light "kills bacteria and viruses" in the unoccupied cockpit and "frees your shoes from germs" in the shoe cupboard.
A strong response from tech media
The media also wrote about SEVEN's technological advantages. Tech website The Verge had warm words for the SEVEN concept, noting that its interior offers a hint of what Hyundai's vehicles may look like in the years to come.
With coach-style doors, adjustable seating, and retractable controls, the Hyundai SEVEN is also a vision of what the automaker's autonomous vehicles may look like in the future.
Another tech publication, Techradar, described SEVEN as "a pixel-packed SUV with an interior that looks like a home". It predicts that any future production model that Hyundai's latest concept teases will be "revolutionary", even if just a few of SEVEN's interior features are retained.
Finally, TechCrunch praised SEVEN for its hygienic, lounge-like interior, while observing that – unlike many concept cars – it offers a real sense of the possibilities for Hyundai vehicles of the future.
While concept vehicles are often mostly vapourware, the Hyundai SEVEN concept offers an interesting blend of imagined and real that gives the world a glimpse of what the company thinks the future may hold for transportation.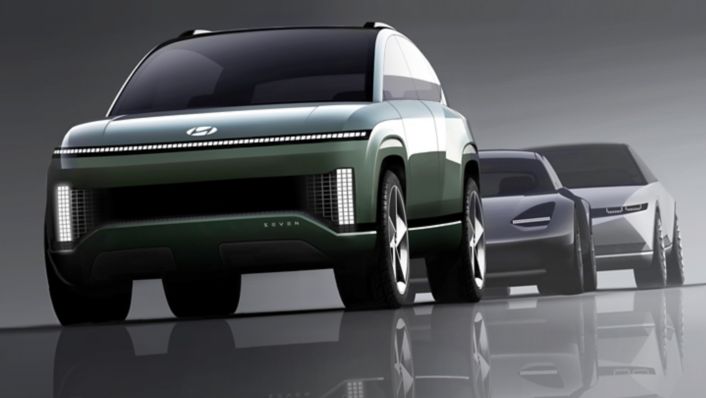 About SEVEN concept
Following the 45 concept in 2019 and the Prophecy concept in 2020, the SEVEN concept is the latest member of the IONIQ family. Every vehicle developed for Hyundai's line-up brand dedicated to BEVs offers a next generation customer experience that seamlessly integrates the most advanced technologies into everyday life settings. The SEVEN concept is the perfect example of IONIQ, with its space innovation and hygienic features transforming the vehicle as an innovative living space on wheels. In addition, it is also a clear representation of Hyundai's commitment to carbon neutrality by 2045.
Disclaimer: CO2 and emissions data
Electricity consumption combined for the Hyundai IONIQ Electric in kWh/100 km: 13.8; CO2 emissions combined in g/km: 0 (WLTP)
Electricity consumption combined for the Hyundai KONA Electric 39.2 kWh in kWh/100 km: 14.3; CO2 emissions combined in g/km: 0 (WLTP)
Electricity consumption combined for the Hyundai KONA Electric 64 kWh in kWh/100 km: 14.7; CO2 emissions combined in g/km: 0 (WLTP)
Electricity consumption combined for the Hyundai IONIQ 5 58 kWh with 2WD in kWh/100 km: 16.7; CO2 emissions combined in g/km: 0 (WLTP)
Electricity consumption combined for the Hyundai IONIQ 5 58 kWh with 4WD in kWh/100 km: 18.1; CO2 emissions combined in g/km: 0 (WLTP)
Electricity consumption combined for the Hyundai IONIQ 5 72.6 kWh (19" alloy rims) with 2WD in kWh/100 km: 16.8; CO2 emissions combined in g/km: 0 (WLTP)
Electricity consumption combined for the Hyundai IONIQ 5 72.6 kWh (20" alloy rims) with 2WD in kWh/100 km: 17.9; CO2 emissions combined in g/km: 0 (WLTP)
Electricity consumption combined for the Hyundai IONIQ 5 72.6 kWh (19" alloy rims) with 4WD in kWh/100 km: 17.7; CO2 emissions combined in g/km: 0 (WLTP)
Electricity consumption combined for the Hyundai IONIQ 5 72.6 kWh (20" alloy rims) with 4WD in kWh/100 km: 19.0; CO2 emissions combined in g/km: 0 (WLTP)