Connectivity upgrades with Bluelink® for new IONIQ provide innovative convenience solutions
New IONIQ Electric with upgraded 38.3-kWh battery: significant added energy storage capacity and now 311-km range in total (WLTP)
With over 60,000 IONIQs sold since its launch in 2016, the new IONIQ makes clean, connected mobility available for even more drivers
While Hyundai Motor is launching comprehensive connectivity and design enhancements for the new IONIQ, the latest edition of its revolutionary pure electric model are of particular note.
As of its launch in 2016, IONIQ was the world's first car planned from the start to offer three electrified powertrains – hybrid, plug-in hybrid and full electric. The IONIQ is now already upgrading its offer, with added technological features and a refreshed look. Hyundai keeps leading the way in future mobility, as many other manufacturers are still planning or just launching their first eco-mobility vehicles.
The new IONIQ Electric, originally tested by media here in Amsterdam in 2016, as with the Plug-in and Hybrid versions, features advanced Bluelink® connectivity services*, SmartSense™ active safety and driving assistance systems and state-of-the-art infotainment features. In addition, both the exterior and interior design receive updates, while drivers of the new IONIQ Electric can also enjoy 36% added energy capacity and real-world 311-km range of thanks to an upgraded 38.3-kWh battery.
* Exact Blue Link features offered as standard or optional may vary depending on the market in which IONIQ is acquired by the customer.
Our new IONIQ Electric builds on the success of the first generation thanks to a range of upgrades in terms of connectivity features, overall driving range and design. When it comes to Hyundai's eco-mobility vehicles, IONIQ is leading the way by offering our customers all they need thanks to life-enhancing, easy-to-use technologies.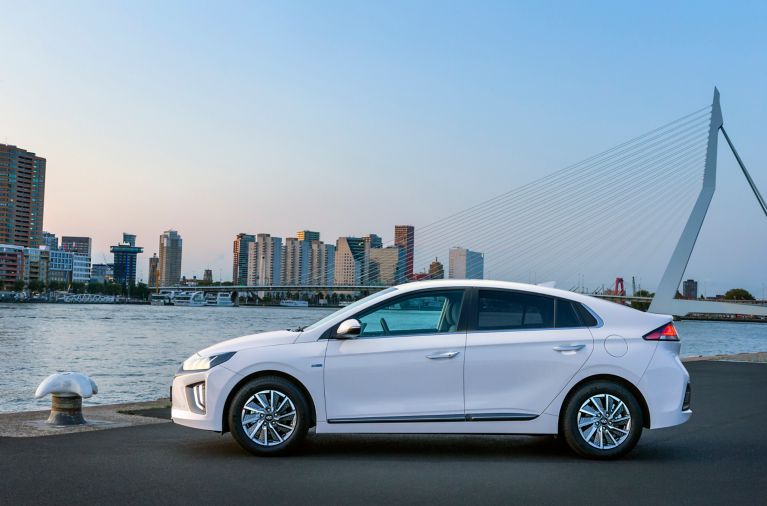 Electricity consumption combined for the Hyundai IONIQ Electric in kWh/100 km: 13.8; CO2 emissions combined in g/km: 0 (WLTP)
The new IONIQ provides innovative mobility solutions with three electrified drivetrains
With over 60,000 cars sold since its launch in 2016, the original IONIQ has established itself as one of the main pillars in Hyundai's progressive future mobility lineup. Together with the trailblazing hydrogen-powered NEXO, which is equipped with a revolutionary fuel cell electric powertrain, and the Kona Electric, Hyundai is the automaker with the widest range of electrified powertrains. The latest edition of the IONIQ is the next logical step to further update this lineup and make clean mobility available for even more drivers.
As the world's first vehicle to be planned with three distinctly different electrified powertrains, the enhanced new edition of the IONIQ continues the mission of offering consumers the option to choose an eco-friendly vehicle that fits their needs.
The new IONIQ Electric's battery has been upgraded from 28 kWh to 38.3 kWh, meaning drivers can go even further between charges. It boasts 36% additional energy storage capacity, offering a total of 311 kms of range. Its e-motor delivers a maximum power of 136 PS and 295 Nm of torque and is fitted standard with a 7.2-kW on-board charger - an upgrade from current 6.6-kW – for Type 2 AC charging. Using a 100-kW fast-charging station, the battery can reach 80% charge in as little as 54 minutes.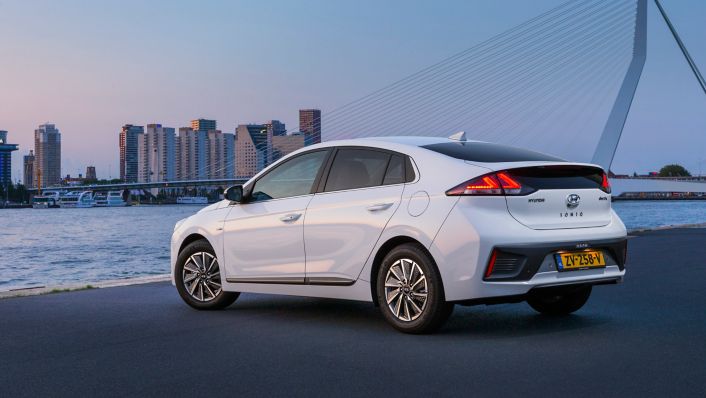 Electricity consumption combined for the Hyundai IONIQ Electric in kWh/100 km: 13.8; CO2 emissions combined in g/km: 0 (WLTP)
New levels of connectivity in the new IONIQ
The new IONIQ features Hyundai Bluelink, a connected car system which uses embedded telematics to allow drivers of IONIQ Electric to remote control the air conditioning, while all versions allow remote lock or unlock via a smartphone app. Thanks to Bluelink, charging can be remotely controlled and scheduled via the app as well.
With the new IONIQ, Hyundai also introduces eCall, automatically dialling emergency assistance if airbags are deployed or the call button located above the rear-view mirror is pressed. Relevant information (car information, time of accident, driving direction, airbag and impact sensor information) is sent to the local emergency service.
In addition to this, the new IONIQ arrives with Hyundai LIVE Services available when customers include the optional 10.25-inch Audio Visual Navigation (AVN) system. Drivers receive a five-year free subscription for this feature, which offers up-to-the-minute information about: weather, traffic, speed camera warning (where legally allowed), on- and off-street parking, live nearby-dealer information as well as identifying nearby charging stations and live POI Search.
The optional Audio Video Navigation system displays a wide variety of useful information across its 10.25-inch split touch-screen, and features available Cloud-based voice recognition in six languages (only with Bluelink). The improved screen can be customised providing two home screen versions and ability to edit displayed widgets and icons. In addition to standard Android Auto and Apple CarPlay – included even with the base onboard system – with new Multi-Bluetooth function (included with 10.25-inch AVN option only) drivers of the new IONIQ can connect two phones at the same time to listen to each phone's music through Bluetooth streaming.
Electricity consumption combined for the Hyundai IONIQ Electric in kWh/100 km: 13.8; CO2 emissions combined in g/km: 0 (WLTP)
An updated interior design
As well as the new convenience features, the new IONIQ's reimagined interior incorporates new design factors to enhance its sophisticated image. In addition to standard Fossil Grey cloth seat trim, customers have the option of four leather seat colours: Fossil Grey, Shale Grey, Red Umber (exclusive for hybrid and plug-in) and Electric Shadow (exclusive to electric version). Meanwhile, the dashboard garnish arrives in Dark Chrome Accent.
Below the new wide screen 10.25-inch AVN screen, the control panel for heating and climate control has been redesigned and sports a sleek, glossy finish. New touch-type control buttons allow for intuitive operation of heating, ventilation and air conditioning. The IONIQ Electric standard high-resolution 7-inch LCD console display (optional for hybrid and plug-in hybrid versions) has been improved with mood lighting to visualise the different drive mode themes. To round off the improved modern interior design, blue ambient lighting has been applied across the passenger-side lower dashboard and the centre console.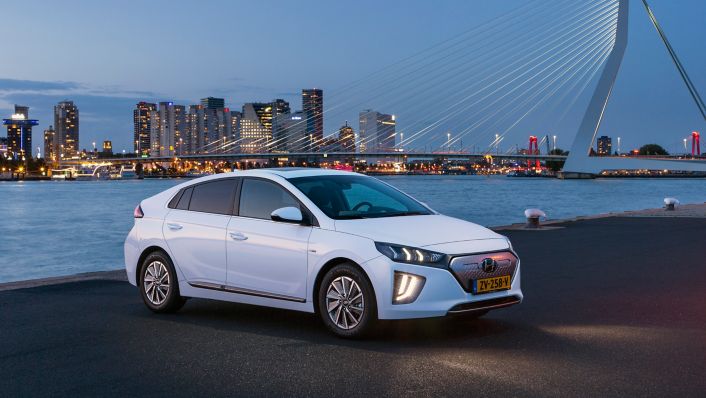 Electricity consumption combined for the Hyundai IONIQ Electric in kWh/100 km: 13.8; CO2 emissions combined in g/km: 0 (WLTP)
The exterior also gets design upgrades
The front of the new IONIQ Electric has been updated also with a new distinctive pattern on the closed grille. Also featured is an updated front bumper design with a silver-coloured moulding at the bottom, and new anthracite seen on the rear bumper moulding and daytime running light bezels up front, creating a more refined and dynamic look. The LED DRLs as well as the newly available LED head- and taillights have been completely redesigned to make the IONIQ stand out at night – offering not only aesthetic enhancements but also additional safety.
The IONIQ Electric and Plug-in models are available with redesigned 16-inch alloy wheels.
The new IONIQ is available in nine exterior paint colours, including four new ones: Fluidic Metal, Electric Shadow, Liquid Sand and Typhoon Silver. Following the outstanding success in its market segment since 2016, IONIQ drivers have been creative in their aesthetic requests, and Hyundai has listened.
The other exterior paint colours available to drivers of the new IONIQ are Phantom Black, Polar White, Iron Gray, Intense Blue and Fiery Red.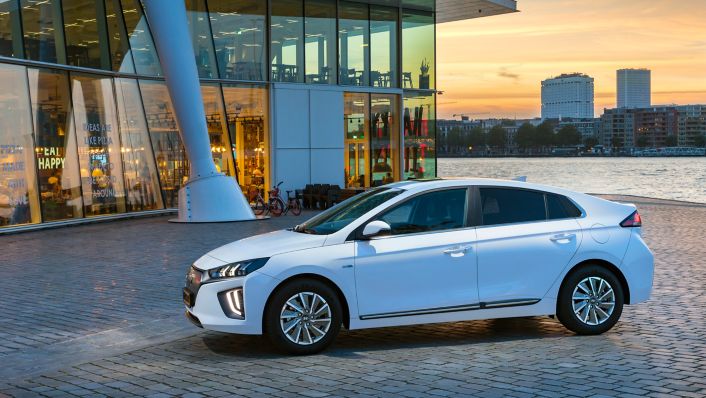 Electricity consumption combined for the Hyundai IONIQ Electric in kWh/100 km: 13.8; CO2 emissions combined in g/km: 0 (WLTP)
A leading safety package in the segment
For a comfortable and safe driving experience, all new IONIQ models are equipped with a comprehensive Hyundai SmartSense technology package. This cutting-edge driver assistance system constantly monitors the environment around the vehicle to protect drivers from potential hazards while on the road.
The new IONIQ's standard safety package includes Front Collision Warning and Avoidance Assist with Pedestrian Detection and new Cyclist Detection ability and Driver Attention Warning. Lane Keeping Assist and High Beam Assist also come standard. Optionally available as well are Lane Following Assist which keeps the car in the middle of a lane so drivers can navigate safely even in heavy traffic during rush hour, and Intelligent Speed Limit Warning that uses the front camera and information from the navigation system to identify road speed signs and displays the speed limit and no-passing signs in real time. 
Using the radar sensor to detect the distance from the car in front, Smart Cruise Control with Stop&Go maintains a pre-set distance to automatically stop and depart again according to traffic conditions. The new option of Leading Vehicle Departure Alert notifies the driver when the vehicle in front has driven away from a stop. Additional options include Blind-Spot Collision Warning and Rear Cross-Traffic Collision Warning.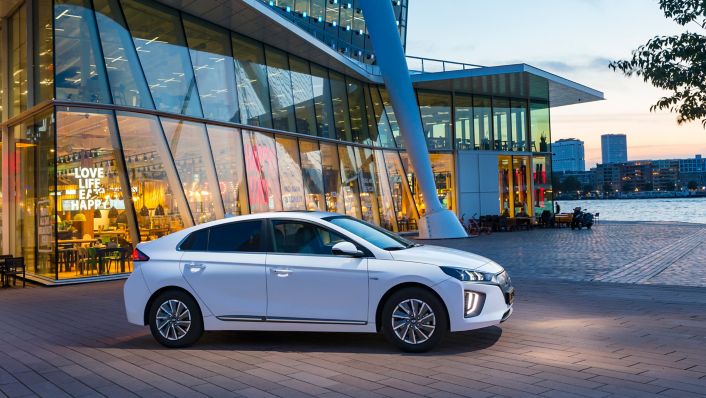 Electricity consumption combined for the Hyundai IONIQ Electric in kWh/100 km: 13.8; CO2 emissions combined in g/km: 0 (WLTP)
Enhanced driving features
Taking a cue from its similarly innovative Kona Electric sibling, as a maximum use of regenerative braking technology, the new IONIQ Electric adopts 1-paddle driving capability, which allows drivers to stop the car by simply holding onto the left paddle shift lever with often no need to engage the braking pedal. Working thus via Smart Regenerative Braking, the level of energy recuperation is automatically adjusted depending on the road incline and traffic situation in front when coasting.
The new IONIQ Electric also features Eco+, which supplements the standard Eco, Comfort and Sport driving modes. By selecting the Eco+ mode, drivers reduce their energy consumption and the car's remaining energy can be extended during unforeseeable emergency situations.
The new IONIQ Hybrid and Plug-in will be available to customers from July 2019. The electric version will follow in September 2019.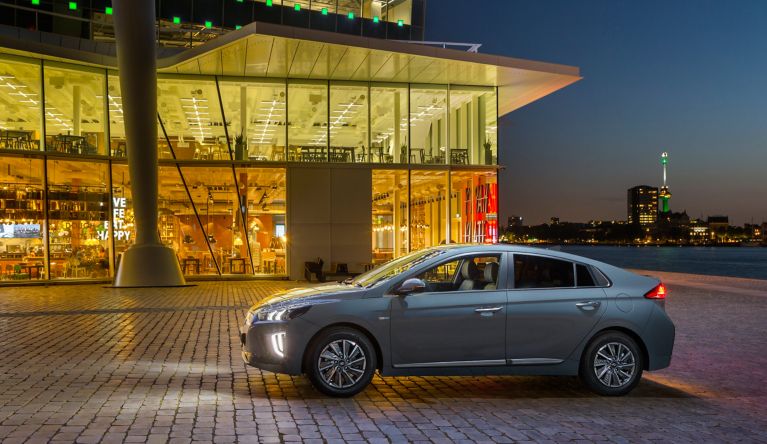 Electricity consumption combined for the Hyundai IONIQ Electric in kWh/100 km: 13.8; CO2 emissions combined in g/km: 0 (WLTP)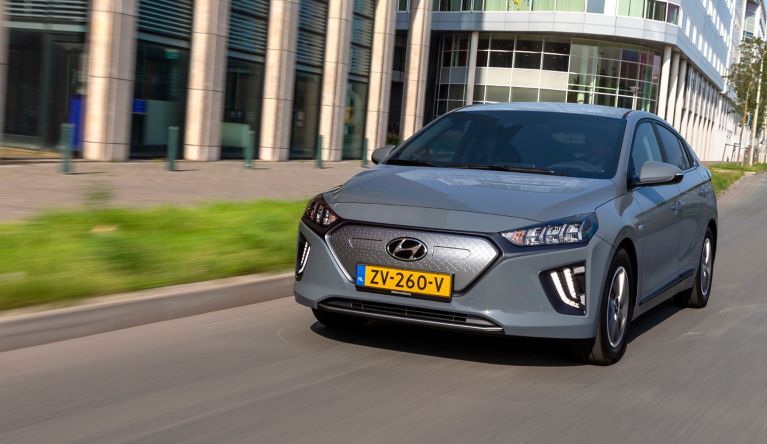 Electricity consumption combined for the Hyundai IONIQ Electric in kWh/100 km: 13.8; CO2 emissions combined in g/km: 0 (WLTP)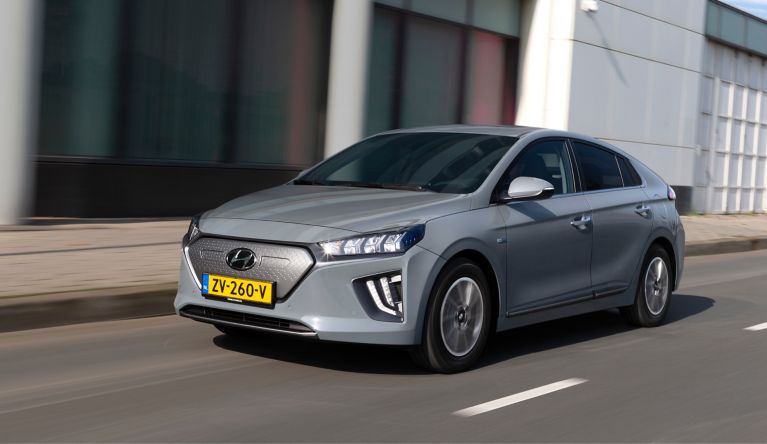 Electricity consumption combined for the Hyundai IONIQ Electric in kWh/100 km: 13.8; CO2 emissions combined in g/km: 0 (WLTP)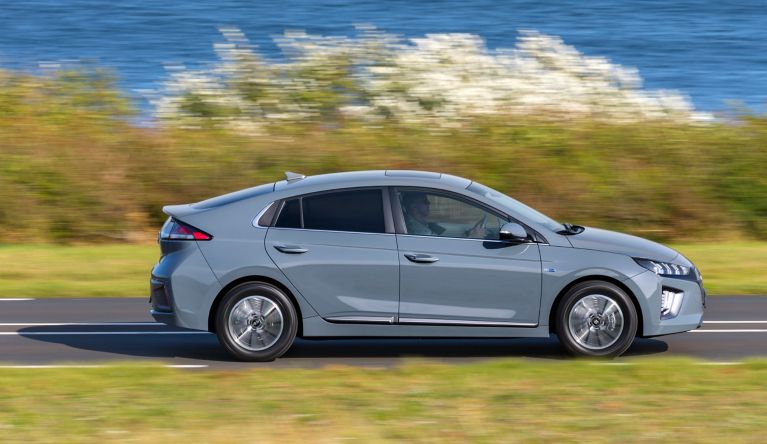 Electricity consumption combined for the Hyundai IONIQ Electric in kWh/100 km: 13.8; CO2 emissions combined in g/km: 0 (WLTP)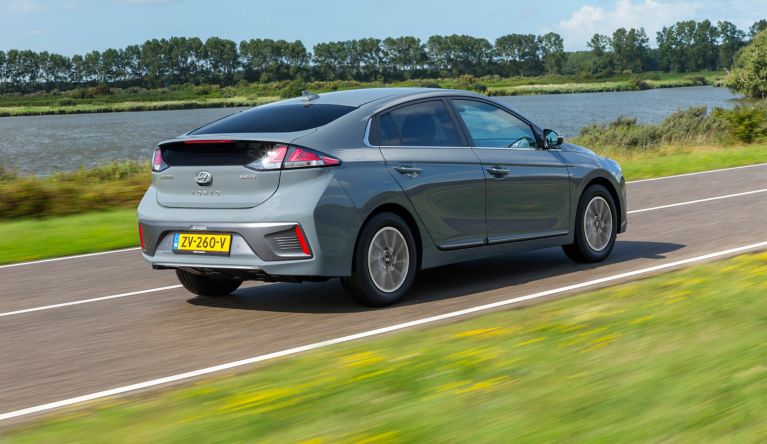 Electricity consumption combined for the Hyundai IONIQ Electric in kWh/100 km: 13.8; CO2 emissions combined in g/km: 0 (WLTP)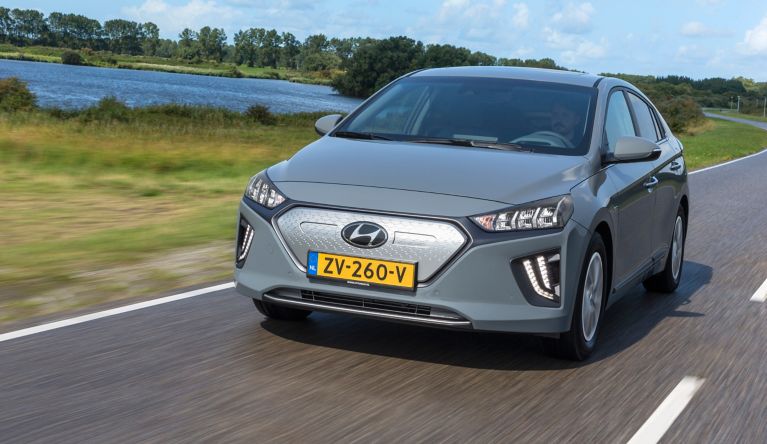 Electricity consumption combined for the Hyundai IONIQ Electric in kWh/100 km: 13.8; CO2 emissions combined in g/km: 0 (WLTP)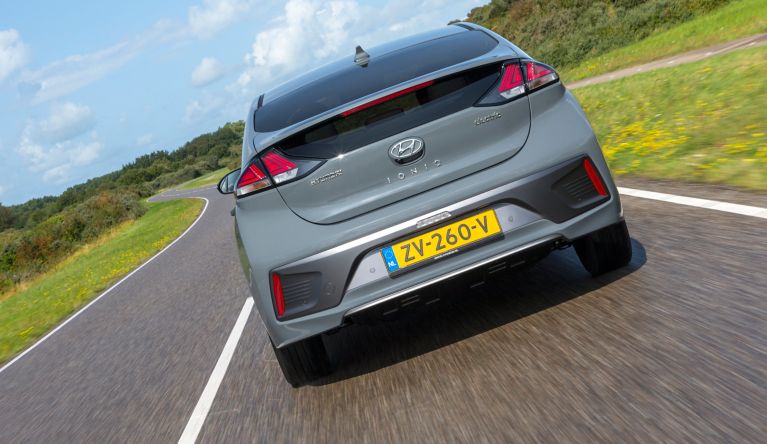 Electricity consumption combined for the Hyundai IONIQ Electric in kWh/100 km: 13.8; CO2 emissions combined in g/km: 0 (WLTP)
Electricity consumption combined for the Hyundai IONIQ Electric in kWh/100 km: 13.8; CO2 emissions combined in g/km: 0 (WLTP)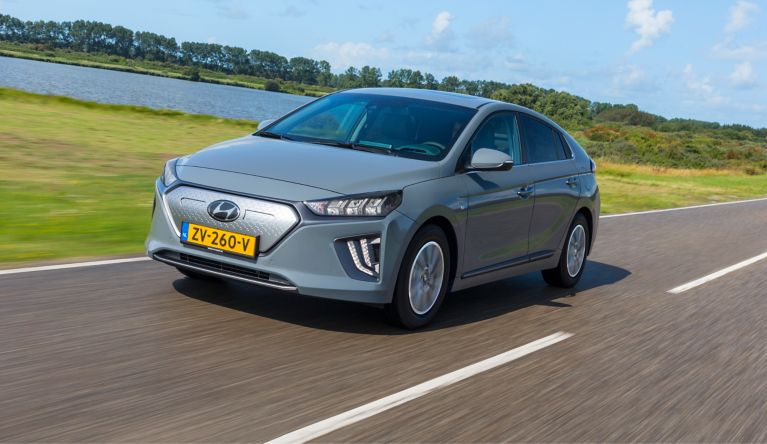 Electricity consumption combined for the Hyundai IONIQ Electric in kWh/100 km: 13.8; CO2 emissions combined in g/km: 0 (WLTP)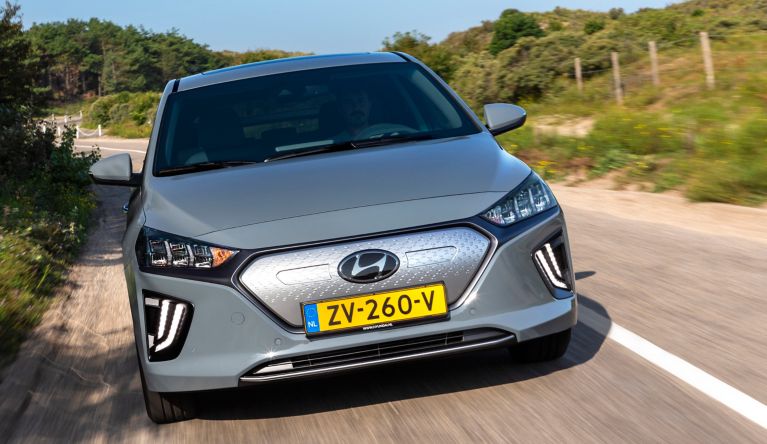 Electricity consumption combined for the Hyundai IONIQ Electric in kWh/100 km: 13.8; CO2 emissions combined in g/km: 0 (WLTP)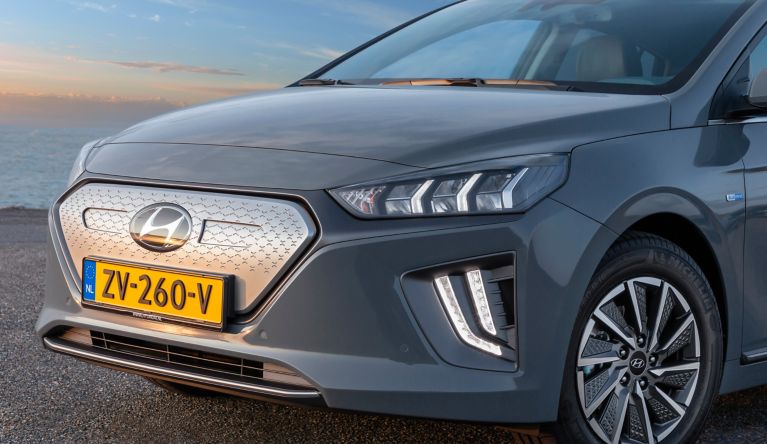 Electricity consumption combined for the Hyundai IONIQ Electric in kWh/100 km: 13.8; CO2 emissions combined in g/km: 0 (WLTP)
Electricity consumption combined for the Hyundai IONIQ Electric in kWh/100 km: 13.8; CO2 emissions combined in g/km: 0 (WLTP)