Production of the original Hyundai IONIQ will end in July 2022 at company's Ulsan plant
IONIQ has formed the basis for a true success story, setting standards in the automotive industry
IONIQ leaves behind a legacy of award-winning and top-notch safety, value, and design
It is the end of an era. In July 2022, production of the original Hyundai IONIQ will end at the company's Ulsan plant in South Korea. The last IONIQ to roll off the production line will mark the end of a significant chapter in Hyundai's recent history. When the model launched in 2016, it became the world's first car with three electrified powertrains: hybrid, plug-in hybrid and battery-electric.
The worldwide discontinuation of IONIQ represents a long-planned decision by Hyundai to meet changing consumer demands in the automotive sector. IONIQ will however remain a true groundbreaker that shook up the industry and set the path for the success story that the IONIQ EV line-up has become today.
IONIQ has led the way for Hyundai's developments in electrified vehicles. Having sold 135,692 models in the European market between late 2016 and December 2021, the model has fully met the company's business expectations. Sales of the first IONIQ series will continue until at least May 2022, depending on dealer stock.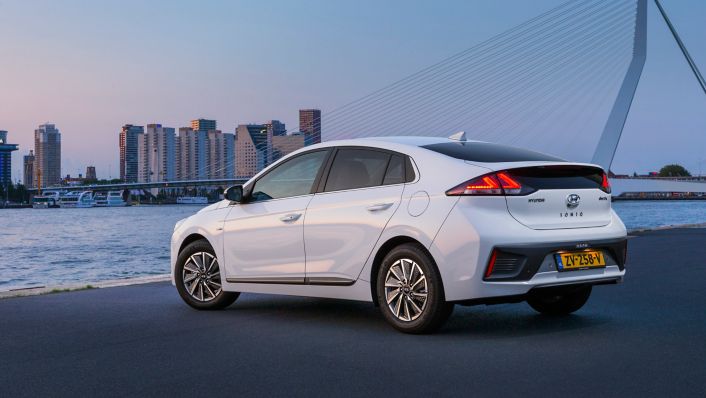 Electricity consumption combined for the Hyundai IONIQ Electric in kWh/100 km: 13.8; CO2 emissions combined in g/km: 0 (WLTP)
IONIQ's innovative and pioneering heritage
Inspired by the i-oniq concept, IONIQ established an innovative and pioneering heritage. i-oniq debuted at the 2012 Geneva Motor Show and served as a forefather to IONIQ. Its fluid and sculptural design was later echoed by the IONIQ production model.
Upon its launch in 2016, IONIQ was lauded for its design, which functioned not only to distinguish it on the road, but also to deliver aerodynamic performance, building on Hyundai's early developments in the field of electro-mobility. Smooth lines and a flowing shape lent the IONIQ a then class-leading Cd value of 0.24, lowering drag and improving fuel efficiency.
IONIQ was not only pioneering in its adaptation of Hyundai's fluidic sculpture design language, but also in relation to its technical aspects. It was the world's first vehicle to be designed from the ground up for three electrified powertrains, with hybrid, plug-in hybrid, and battery-electric versions available. IONIQ's outstanding efficiency paved the way for Hyundai's progress in electrified models and laid the groundwork for the IONIQ EV line-up brand and other electrified models across Hyundai's line-up.
In addition to being recognised for its advancements in efficiency and design, IONIQ was also praised for its driving experience. The model's comprehensive safety package ensured best-in-class protection across all three powertrains, and saw it maintain a 5-star Euro NCAP rating throughout its lifetime.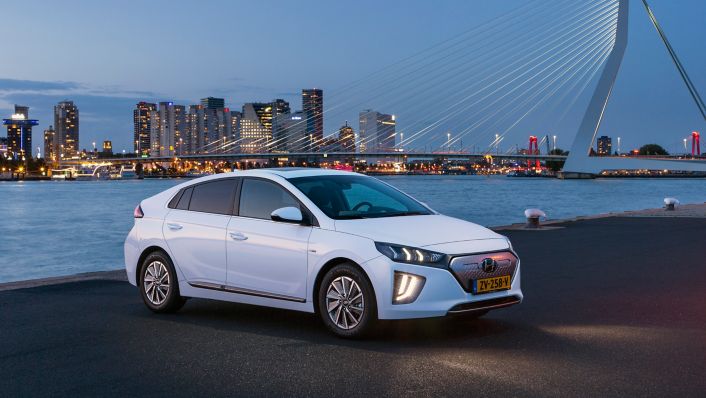 Electricity consumption combined for the Hyundai IONIQ Electric in kWh/100 km: 13.8; CO2 emissions combined in g/km: 0 (WLTP)
Spearheading the charge towards autonomous driving
Following a successful test drive participation in the streets of Las Vegas, Hyundai brought its Autonomous IONIQ model as an exhibit to the 2017 Geneva International Motor Show.
The Autonomous IONIQ was equipped with LiDAR technology behind its front bumper in order to retain the car's sleek design. Advanced self-driving systems were kept as simple as possible due to the integration of existing functions from the production model, including the Smart Cruise Control system's forward-facing radar and Lane Keeping Assist cameras.
The Autonomous IONIQ's advanced technology ensured it was built to safely navigate the most challenging situations safely, including high levels of pedestrian traffic, stop lights and signs, road construction and road blocks.
IONIQ's award-winning pedigree
IONIQ was a first mover, setting segment standards with top safety, value, and efficiency – which did not go unnoticed by awards bodies and other institutions.
Following its launch in 2016 release, IONIQ was praised for its design, winning coveted Red Dot Design Awards and two Good Design Awards back-to-back. Between 2017 and 2019, ADAC Ecotest rankings in 2017 and 2019, Green NCAP Score, and Women's World Car of the Year awards all paid reverence to IONIQ's position as a pioneer in electrified mobility.
In its retirement, IONIQ leaves behind a legacy of acclaim, having won Car of the Year awards in Norway, Sweden, and France, as well as the Women's World Car of the Year Supreme Award in both 2017 and 2018. The marked accomplishments of IONIQ established a pedigree of success and innovation for electrified vehicles at Hyundai.
Electricity consumption combined for the Hyundai IONIQ Electric in kWh/100 km: 13.8; CO2 emissions combined in g/km: 0 (WLTP)
Meaningful partnerships in the Netherlands
Critics were not the only ones to notice the innovative and sophisticated qualities of IONIQ. Key partners in the Netherlands and the UK played a crucial role in putting IONIQ's best qualities on display.
In Amsterdam, IONIQ broke barriers with a free-floating pure-electric car sharing service that at the time provided the longest range for any service of its type. With a fleet of 100 IONIQ BEVs, 2,200 public charging stations, and an on-demand Vehicle-to-Vehicle (V2V) charging service, the initiative was running until 2018, and made zero-emission driving accessible and helped reduce air pollution and CO2 emissions in the Dutch capital.
Hyundai's continuing partnership with the Van Gogh Museum in Amsterdam was represented by two Hyundai IONIQ with special designs inspired by two of Vincent Van Gogh's paintings. An IONIQ model wrapped in the Dutch master's famous "Sunflowers" was later joined by an "Almond Blossom" model at the world-famous museum in 2016.
A legacy worth continuing
With years of accolades and meaningful partnerships, IONIQ has been a pioneering force in the field of electrified mobility. The innovations and progress made by the model have paved the way for the new generation of Hyundai BEVs to build on IONIQ's history of top safety, value, efficiency, and design. Although there will be no direct successor to IONIQ, its spirit will live on through Hyundai's IONIQ EV line-up brand.
Disclaimer: CO2 and emissions data
Electricity consumption combined for the Hyundai IONIQ Electric in kWh/100 km: 13.8; CO2 emissions combined in g/km: 0 (WLTP)
Fuel consumption combined for the Hyundai IONIQ Hybrid in l/100 km: 5.2 - 4.4; CO2 emissions combined in g/km: 119 - 100 (WLTP)
Fuel consumption combined for the Hyundai IONIQ Plug-in in l/100 km: 1.1; electricity consumption combined in kWh/100 km: 11.7; CO2 emissions combined in g/km: 26 (WLTP)
Electricity consumption combined for the Hyundai IONIQ 5 58 kWh with 2WD in kWh/100 km: 16.7; CO2 emissions combined in g/km: 0 (WLTP)
Electricity consumption combined for the Hyundai IONIQ 5 58 kWh with 4WD in kWh/100 km: 18.1; CO2 emissions combined in g/km: 0 (WLTP)
Electricity consumption combined for the Hyundai IONIQ 5 72.6 kWh (19" alloy rims) with 2WD in kWh/100 km: 16.8; CO2 emissions combined in g/km: 0 (WLTP)
Electricity consumption combined for the Hyundai IONIQ 5 72.6 kWh (20" alloy rims) with 2WD in kWh/100 km: 17.9; CO2 emissions combined in g/km: 0 (WLTP)
Electricity consumption combined for the Hyundai IONIQ 5 72.6 kWh (19" alloy rims) with 4WD in kWh/100 km: 17.7; CO2 emissions combined in g/km: 0 (WLTP)
Electricity consumption combined for the Hyundai IONIQ 5 72.6 kWh (20" alloy rims) with 4WD in kWh/100 km: 19.0; CO2 emissions combined in g/km: 0 (WLTP)
Electricity consumption combined for the Hyundai IONIQ 5 77.4 kWh (19" alloy rims) with 2WD in kWh/100 km: 16.8; CO2 emissions combined in g/km: 0 (WLTP target)
Electricity consumption combined for the Hyundai IONIQ 5 77.4 kWh (20" alloy rims) with 2WD in kWh/100 km: 17.9; CO2 emissions combined in g/km: 0 (WLTP target)
Electricity consumption combined for the Hyundai IONIQ 5 77.4 kWh (19" alloy rims) with 4WD in kWh/100 km: 17.7; CO2 emissions combined in g/km: 0 (WLTP target)
Electricity consumption combined for the Hyundai IONIQ 5 77.4 kWh (20" alloy rims) with 4WD in kWh/100 km: 19.0; CO2 emissions combined in g/km: 0 (WLTP target)