They invented the smartphone and redefined how we connect with people online. As cars become more connected to the digital world the tech industry is producing innovations to advance the way we drive.
Our phones influence our daily routines more and more, staying plugged in, even when travelling, is now seen as a necessity. And the big firms are already on board for the ride.

Tech heavyweights Apple and Google have both developed customised systems to sync your phone with your vehicle through CarPlay and Android Auto. With these systems, drivers can receive calls and messages, access functions like maps, receive a wealth of information such as traffic data and speed camera locations*, or interact with a host of entertainment apps through the car's on board console.

Hyundai's new IONIQ, in addition to its innovative choice of three powertrains - electric, plug-in, and hybrid - is one such car model offering both Apple CarPlay and Android Auto for the first time with its all new navigation and interface system. This approach democratises the latest technological advances, and means when you're driving through the city on your way to work, or making a weekend trip to the countryside, you can stay connected to those closest to you.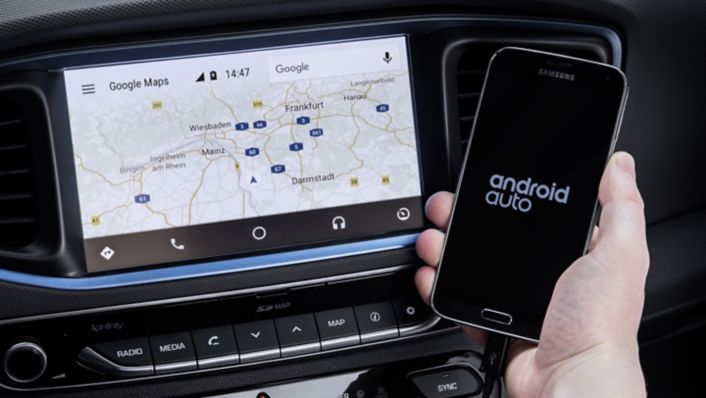 On-demand test drives

While this technology enables access to entertainment features such as podcast apps and music streaming, the car industry is also linking with these companies in other ways.

In the United States, Hyundai has partnered with Amazon to offer on-demand test-drives. Subscribers to entertainment service Amazon Prime around California can have a 2017 Hyundai Elantra sedan delivered to their door for use for up to 60 minutes.

This is another example of the 'hyperconnected society', one of the 12 predicted "megatrends" to shape the future of the car industry by 2030 identified by Hyundai's Project IONIQ Lab. This is an innovative long-term research project aiming to redefine future transport and mobility.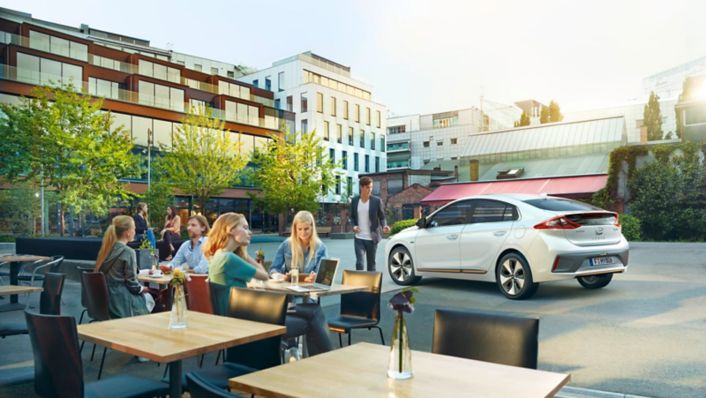 McKinsey also produced a report examining trends influencing the industry recently. This noted that cars will soon be required to become upgradeable to stay compatible with new developments, in the way we upgrade the software on our smartphones. As we strive to achieve more access points to information and entertainment, cars will be seen as another hub to tap into that knowledge-sharing.
Virtual and augmented Reality
Some of the biggest players in the tech industry are also heavily involved in embracing virtual reality, from the Facebook-owned VR pioneer Oculus, to Google Cardboard , and Sony's Playstation VR division.
Hyundai is also embracing in both virtual and augmented reality technology. Hyundai Motorsport launched the
Hyundai VR+ app
, to give users a closer view of the rally experience. And the use of VR is being explored in the motor industry in the areas of safety testing, aerodynamics, and design.
Augmented reality, where graphics and information are superimposed onto actual environments through smart devices, has proved a worldwide entertainment phenomenon in social gaming. The technology is also being used in the auto industry and Hyundai's customised app for the new IONIQ gives users access to this ground-breaking car model in unique new ways. The IONIQ is democratising e-mobility by offering drivers a choice of three powertrains and is complemented by its own AR app.
Road to driverless cars

Another area where we're seeing the fusion of information technology and automotives is with active safety features such as emergency braking, and lane keeping assist systems. With these, we're already seeing semi-autonomous systems taking control of the car to avoid collision and these innovations are pushing us a little further down the road to driverless vehicles.

With autonomous vehicles being trialled on public roads, the whole driver/passenger experience could be revolutionised. And that has further potential for collaboration between information technology firms and car manufacturers. After all, if you no longer need to drive, you have even more time to connect to the outside world as you travel whether that's with data sharing, social media, apps, or entertainment.

Cars are the new frontier in the connected world, and future trends will build on technology that is available today. Advances to modern features such as radar cruise control will keep you safer on the road, and there is also potential for 360-degree parking cameras to ensure you station your car perfectly in parking lanes.

With Google's foray into the self-driving environment and Uber announcing in September it would be launching its first self-driving fleet of taxis in Pittsburgh, it appears that tech companies already have their eyes fixed firmly on the the future of the car industry.