This year the iconic Nürburgring race track turns 90. Nicknamed "the Green Hell" due to its demanding nature, it's also a motorsports complex and home to Hyundai's European Technical Center.
The Nürburgring is located in the German region of Eifel, which was the site of extensive volcanic activity in the past. Thankfully, the area hasn't been active for around 10,000 years, and these days it is surrounded by a series of tree-covered mountains and hills. The Nürburgring features a Grand Prix race track built in 1984 that was an annual fixture on the Formula One calendar for many years, as well as an older "North loop" (Nordschleife) track which was built in the 1920s around the village and medieval castle of Nürburg in the Eifel mountains. 25,000 people were hired to construct the Nordschleife, and it was completed in the spring of 1927, with the first races taking place in June that year.
It is considered to be one of the most challenging race tracks in the world, with 73 corners spread across 20,8 km of tarmac. It features a height difference of 300 m between its highest and lowest points, and features uphill and downhill gradients of 17% and 11% respectively.
These days, the 20.8 km Nordschliefe track is a toll road open to the public, though it is closed during testing events and races.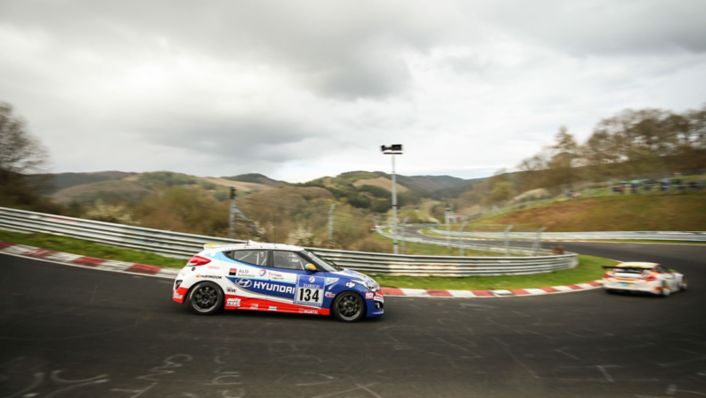 Hyundai Motor undertakes rigorous testing at the track

Since 2011, Hyundai Motor Europe's Technical Center has undertaken durability testing with Hyundai vehicles at the Nürburgring. In September 2013, Hyundai Motor celebrated the inauguration of its own €6,62m European Test Center, which created a permanent presenct at the Nürburgring. This unique glass and steel building features four floors and houses as well as 38,987 square feet of workshops, offices and hospitality areas. It sits high on top of a hill, above the famous Route 258 that runs next to the Nürburgring.
Hyundai Motor Europe engages in regular and rigorous testing at its Nürburgring Test Centre, which is an extension of its European Technical Center. Hyundai Motor's accelerated durability tests are conducted here, for cars such as the i30, which was designed and engineered here. Each car taking part in the tests laps the Nürburgring 480 times in both dry and wet conditions, simulating up to 180,000 km of severe driving - the equivalent to a normal vehicle's lifecycle - in just four to six weeks.
Hyundai Motor works with a team of professional drivers with many years' experience of racing and testing at the Nürburgring. These drivers are tasked with accelerated durability testing, where they drive vehicles around the track at 90 to 95 percent of the maximum possible speed. During each lap of the track, Hyundai continually monitors data parameters, assess steering input and suspension movement, as well as ride and handing characteristics. The data recorded during the test is analysed at the test centre and directly transferred to Hyundai Motor's R&D centre in Namyang, Korea, in order to enhance the product development and quality of the vehicle.
Test results from the Nürburgring are shared with Hyundai's worldwide Research and Development (R&D) network, including the global R&D headquarters in Namyang, Korea and the European Test Center.