When you view a car for the first time, you're probably immediately drawn to the headlights. As well as being an important stylistic feature, headlights also help to define a car's character.
Modern car headlights are a world away from the acetylene or oil lamps of yesteryear. Modern LED headlights provide a wide range of vision and can save drivers money over the lifetime of a car, and are increasingly becoming a standard feature in new car models.
Today's headlights are also more automated and intelligent than ever before. Firstly with the advent of High Beam Assist, that automatically turns high beam lights off and on when the vehicle's front view camera detects other lights sources, and now the Intelligent Front Lighting System, which turns off only the parts of the high beam lights that are disrupting other road users vision to maintain maximum visibility for Hyundai drivers at all times.
We've taken a look at how car headlight technology has evolved from the 19th century to today.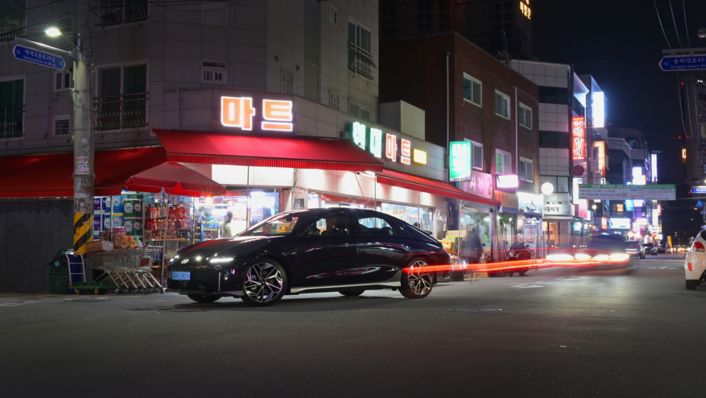 Acetylene lamps

The earliest headlights were introduced in the late 1880s, and fuelled by acetylene or oil. Acetylene lamps proved popular with manufacturers because the flame was resistant to wind and rain. Mirrors were placed behind the flame to focus the light forwards, although the beam itself wasn't particularly focused. This made them less effective at night because the light scattered into the night sky rather than being directed at an object or the road ahead.
Electric headlights
In the early 1900s, carmakers began to develop electric headlights, although they took around a decade to become industry standard, as it was difficult to create a dynamo small enough to fit in the car and still produce enough power to light the bulb.
American automaker Peerless was the first manufacturer to introduce electric headlights across its range in 1904, and four years later, British-based supplier Pockley Automobile Electric Lighting offered a complete set of electric lights including headlights, rear lights and sidelights, which were powered by an eight-volt battery. In 1912, the first modern vehicle electric system that integrated its electrical ignition system with its lighting setup was launched on the US automobile market.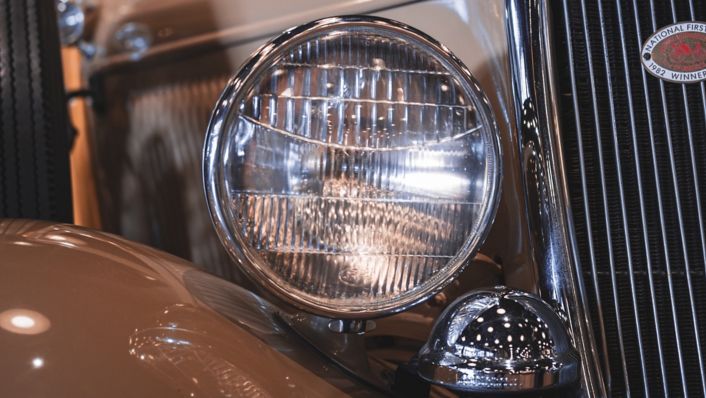 Sealed beam headlights


By 1939, sealed beam lights had been introduced, and became compulsory on all vehicles in the US between 1940 and 1983. They used a parabolic reflector, as well as a lens and a filament sealed together, to offer a brighter, more focused light source by utilising a tungsten filament.
Despite the amount of power they required to operate, early sealed beam lights provided a relatively small amount of light, and the boiling filament would often leave dark residues on the glass, which further limited the amount of light that passed through. A significant benefit was that no water from rain, wet roads or cleaning could enter and obscure the light, but this did mean that if one bulb inside the sealed beam got damaged, the entire light would need to be replaced.
In 1962, a French, German and Italian consortium of bulb- and headlamp-makers produced the first vehicle-mounted halogen lamps. These provided brighter, more durable headlights due to the way the halogen gas reacted with the tungsten. This process gave drivers much higher road visibility, particularly on high beam settings.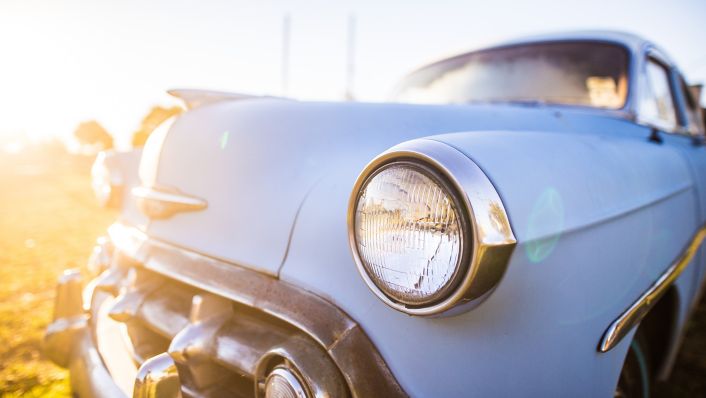 High-intensity discharge headlights

The 1990's saw the first implementation of High-Intensity Discharge (HID) lamps – also known as xenon headlights – which emit light by creating an electrical arc between two metal electrodes through the inert gas xenon, inside a glass bulb. Brighter and more efficient than halogen bulbs, HID headlights create far more light in relation to the amount of energy used.
Xenon headlights became increasingly popular in the early 2000s – although mostly in the more premium car segments due to their high cost – as they offered drivers a clearer image of the road, while lasting three times as long as halogen bulbs and consuming less energy. However, in the 2010s, cars like Hyundai's i40 – which featured Bi-Xenon headlamps with Smart High Beam (SHB) to avoid dazzling other drivers – brought them to a wider customer base.
LED headlights

Light-emitting diodes (LEDs) are very useful light sources as they are bright, need little energy to illuminate and can last for a very long time. Whereas the slender filament of wire in a traditional halogen bulb will degrade over time and lead to eventual failure, LEDs don't have a filament, instead using a semiconductor that releases photons of light when an electric charge is applied.
The quality of light that LEDs project is better too. Blue lights are more illuminating and provide more contrasts, making it easier for drivers to distinguish objects at night. This cuts driver fatigue and is less blinding for other road users, as well as making it easier to see in conditions where there is poor visibility.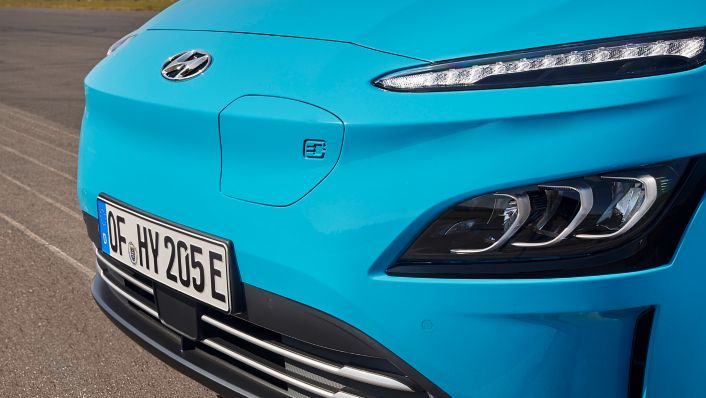 Hyundai IONIQ: where design meets cutting-edge technology

The first use of LEDs in a car's headlights came in the mid-2000's, and all-LED headlights – comprising LED headlights, daytime running lights and turn indicators – were introduced shortly after.Once again due to high costs, the use of LED headlights was initially restricted strictly to the luxury car market. Since then, manufacturers such as Hyundai Motor have pushed to democratise the technology, making it more widely available to a greater number of people at more affordable prices.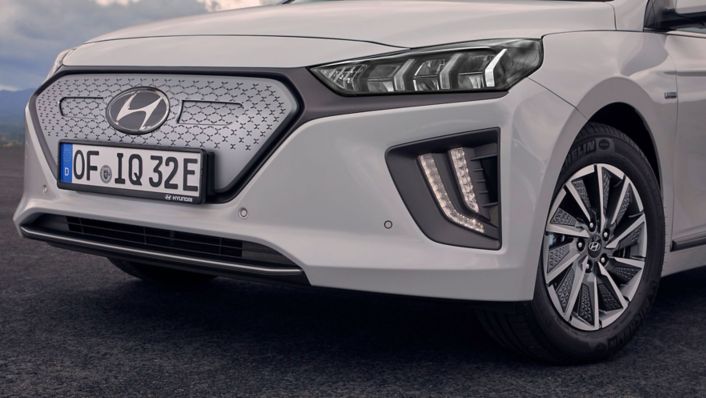 Hyundai Motor's design language has evolved with the application of innovative headlamps that combine functionality with an emotional touch. For example, the enhanced Hyundai IONIQ's full-LED headlamps and vertical C-shaped LED Daytime Running Lights helped it to stand out at night – not only aesthetically, but also providing additional safety.
Tucson: Hidden Lighting technology
The Tucson's advanced exterior styling expresses what Hyundai designers call 'Parametric Dynamics', utilising lines, faces, angles and shapes to create kinetic jewel-like surface details – the most immediate of which are found in the best-selling SUV's Parametric Hidden Lights. These signature Daytime Running Lights (DRLs) are seamlessly integrated into the jewel-like grille, and only revealed when switched on by the driver.
To produce the all-new Tucson's large lamps, Hyundai utilised state-of-the-art half-mirror lighting technology. This process involved applying a thin layer of specialised metal surface coating on the inner part of the outer lens.
The engineers applied nickel-chrome materials to provide heat resistance, while using subtle dark chromium colours in the radiator grille to ensure both durability and shade. As a result, the all-new Tucson's Hidden Lights can withstand complex environmental conditions. In addition, the outer lenses were coated with nickel-chrome on the inside. This means they look exactly like the radiator grille when switched off, and also serve as the DRLs and direction indicator lights while switched on.
IONIQ line-up brand introduces Parametric Pixel lights
IONIQ 5, the first model in Hyundai's IONIQ dedicated battery electric vehicle (BEV) line-up brand, set the benchmark in redefining the electric mobility lifestyle. Its pixelated headlamps incorporate distinctive daytime running lights (DRLs) that provide an unmistakable light signature unique to IONIQ 5.
These cutting-edge Parametric Pixel lights, also found at the car's rear, signify Hyundai's intent to fundamentally reinvent electric mobility with an EV-specific design that will carry over to future IONIQ models. Over 700 of them are integrated within the design of IONIQ 6, the second entry in Hyundai's IONIQ dedicated BEV line-up brand, including its headlights and rear combination lamps.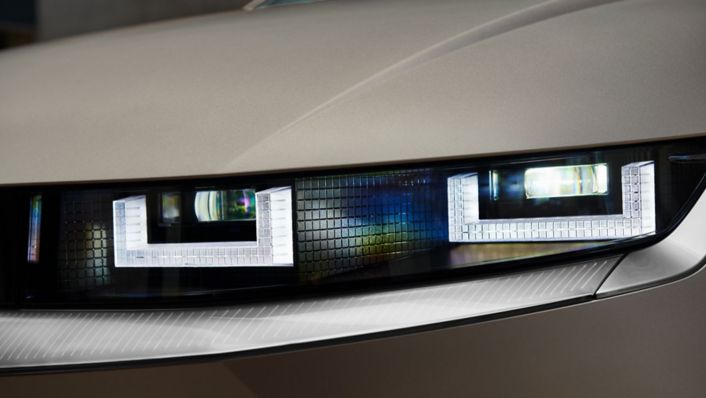 Intelligent Front Lighting System
IONIQ 6 also features a state-of-the-art Intelligent Front-lighting System (IFS) with Matrix Beam LED headlights, which change depending on the road situation. IFS features an automatic function, which partially turns off the high beam lights that disrupt other drivers when a car is detected in front or on the opposite side of the road. This supports safer driving at night, as the high beam lights don't have to be adjusted manually to avoid dazzling other drivers.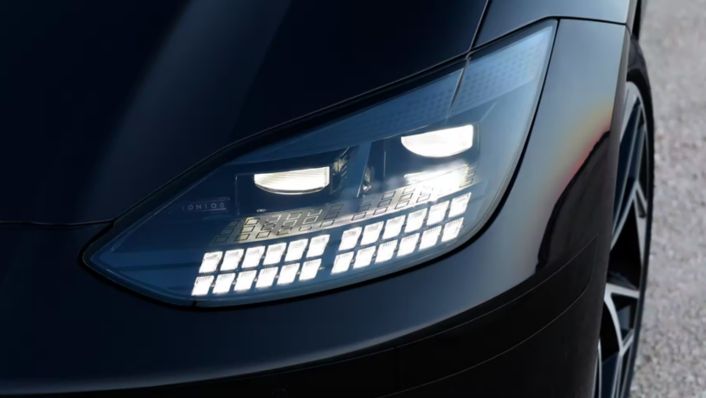 IFS represents the evolution of Hyundai's High Beam Assist (HBA) active safety feature, which also works to avoid diminishing other road users' visibility at night. A standard HBA works by temporarily disabling the high beam once it detects a vehicle in front or approaching from an opposite lane. But because it turns off the high beam entirely, it results in a temporary reduction in the driver's visibility, even if only for a few seconds.
IFS, on the other hand, successfully addresses this issue. Unlike HBA, it keeps the high beam on perpetually. Once it detects vehicles ahead, it turns off only the parts of the high beam lights that would disrupt the other driver(s) vision. Therefore, IFS means that maximum visibility for the IONIQ 6 driver remains constant at all times.
Disclaimer: CO2 and emissions data
Fuel consumption combined for the Hyundai Tucson 1.6 T-GDI 48V (150 PS) with 6iMT 2WD in l/100 km: 6.8 - 6.5; CO2 emissions combined in g/km: 154 - 147 (WLTP)
Fuel consumption combined for the Hyundai Tucson 1.6 T-GDI 48V (150 PS) with 7DCT 2WD in l/100 km: 6.6 - 6.3; CO2 emissions combined in g/km: 150 - 143 (WLTP)
Fuel consumption combined for the Hyundai Tucson 1.6 T-GDI 48V (180 PS) with 6iMT 2WD in l/100 km: 6.7 - 6.4; CO2 emissions combined in g/km: 152 - 145 (WLTP)
Fuel consumption combined for the Hyundai Tucson 1.6 T-GDI 48V (180 PS) with 7DCT 4WD in l/100 km: 7.1 - 6.9; CO2 emissions combined in g/km: 162 - 156 (WLTP)
Fuel consumption combined for the Hyundai Tucson 1.6 CRDi 48V (136 PS) with 6iMT 2WD in l/100 km: 5.3 - 4.9; CO2 emissions combined in g/km: 139 - 127 (WLTP)
Fuel consumption combined for the Hyundai Tucson 1.6 CRDi 48V (136 PS) with 7DCT 2WD in l/100 km: 5.3 - 5.0; CO2 emissions combined in g/km: 139 - 130 (WLTP)
Fuel consumption combined for the Hyundai Tucson 1.6 CRDi 48V (136 PS) with 7DCT 4WD in l/100 km: 5.9 - 5.5; CO2 emissions combined in g/km: 154 - 143 (WLTP)
Fuel consumption combined for the Hyundai Tucson 1.6 T-GDI (150 PS) with 6MT 2WD in l/100 km: 7.0 - 6.6; CO2 emissions combined in g/km: 159 - 150 (WLTP)
Fuel consumption combined for the Hyundai Tucson 1.6 T-GDI (150 PS) with 6MT 4WD in l/100 km: 7.8 - 7.3; CO2 emissions combined in g/km: 178 - 165 (WLTP)
Fuel consumption combined for the Hyundai Tucson 1.6 CRDi (115 PS) with 6MT 2WD in l/100 km: 5.5 - 5.1; CO2 emissions combined in g/km: 144 - 135 (WLTP)
Fuel consumption combined for the Hyundai Tucson 1.6 T-GDI Hybrid with 6AT 2WD in l/100 km: 5.9 - 5.5; CO2 emissions combined in g/km: 135 - 125 (WLTP)
Fuel consumption combined for the Hyundai Tucson 1.6 T-GDI Hybrid with 6AT 4WD in l/100 km: 6.6 - 6.2; CO2 emissions combined in g/km: 149 - 140 (WLTP)
Electricity consumption combined for the Hyundai IONIQ Electric in kWh/100 km: 13.8; CO2 emissions combined in g/km: 0 (WLTP)
Fuel consumption combined for the Hyundai IONIQ Hybrid in l/100 km: 5.2 - 4.4; CO2 emissions combined in g/km: 119 - 100 (WLTP)
Fuel consumption combined for the Hyundai IONIQ Plug-in in l/100 km: 1.1; electricity consumption combined in kWh/100 km: 11.7; CO2 emissions combined in g/km: 26 (WLTP)
Electricity consumption combined for the Hyundai IONIQ 5 58 kWh with 2WD in kWh/100 km: 16.7; CO2 emissions combined in g/km: 0 (WLTP)
Electricity consumption combined for the Hyundai IONIQ 5 58 kWh with 4WD in kWh/100 km: 18.1; CO2 emissions combined in g/km: 0 (WLTP)
Electricity consumption combined for the Hyundai IONIQ 5 77.4 kWh (19" alloy rims) with 2WD in kWh/100 km: 17.0; CO2 emissions combined in g/km: 0 (WLTP)
Electricity consumption combined for the Hyundai IONIQ 5 77.4 kWh (20" alloy rims) with 2WD in kWh/100 km: 18.0; CO2 emissions combined in g/km: 0 (WLTP)
Electricity consumption combined for the Hyundai IONIQ 5 77.4 kWh (19" alloy rims) with 4WD in kWh/100 km: 17.9; CO2 emissions combined in g/km: 0 (WLTP)
Electricity consumption combined for the Hyundai IONIQ 5 77.4 kWh (20" alloy rims) with 4WD in kWh/100 km: 19.1; CO2 emissions combined in g/km: 0 (WLTP)
Electricity consumption combined for the Hyundai IONIQ 6 53 kWh with 2WD in kWh/100 km: 13.9; CO2 emissions combined in g/km: 0 (WLTP)
Electricity consumption combined for the Hyundai IONIQ 6 77.4 kWh (18" alloy rims) with 2WD in kWh/100 km: 14.3; CO2 emissions combined in g/km: 0 (WLTP)
Electricity consumption combined for the Hyundai IONIQ 6 77.4 kWh (20" alloy rims) with 2WD in kWh/100 km: 16.0; CO2 emissions combined in g/km: 0 (WLTP)
Electricity consumption combined for the Hyundai IONIQ 6 77.4 kWh (18" alloy rims) with 4WD in kWh/100 km: 15.1; CO2 emissions combined in g/km: 0 (WLTP)
Electricity consumption combined for the Hyundai IONIQ 6 77.4 kWh (20" alloy rims) with 4WD in kWh/100 km: 16.9; CO2 emissions combined in g/km: 0 (WLTP)