When Hyundai unveiled its Genesis concept at the New York International Motor Show earlier this year, critics hailed its innovative features. ​Here are some of Hyundai's best concept cars since 2001.
Throughout the 21st century Hyundai has been as active as any manufacturer in pushing the boundaries of what the automotive industry can achieve. The new Genesis concept incorporates cutting-edge technology like the 3D gesture-control that allows passengers to 'throw over' content from one area of the floating 21-inch touchscreen display to another. In honour of this effort, here are some of Hyundai's concept highlights over the past 16 years.
2001 – HCD-6 Roadster

Dubbed the "affordable exotic car", the HCD-6 was aimed squarely at the two-seat roadster market. It was a showcase for many unique design features, including a detached, floating front and rear carbon fibre bumpers, a clear, see-through engine cover and high-mount exhaust. The HCD-6's most striking feature was its deeply sculpted side air intake system, which saw entire side of the car serve as ducting to the engine. This design improved aerodynamics by taking normally turbulent wheel well air, smoothing it out and using it for engine cooling.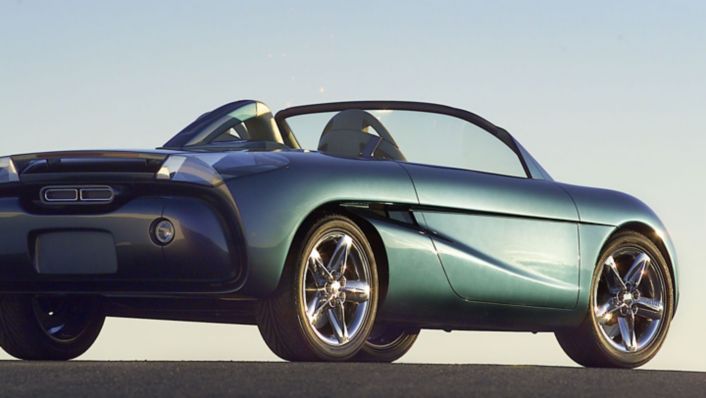 2004 – HCD-8

The first vehicle to come from Hyundai's $30 million Design and Technical Center in California, the HCD-8 was designed to be a high-performance daily driver that offered more usable space and easier access for passengers and cargo. Powered by a supercharged version of Hyundai's 2.7-litre V6, the HCD-8 was meant to appeal to those who were passionate about cars and the driving experience. Its exterior was trimmed in polished nickel and LED lighting, while the interior used wood flooring. The similarities in proportions, interior layout, and trunk room between the HCD-8 and the later Hyundai Genesis Coupe are no coincidence – they are just one example of how the ideas first expressed in Hyundai's concept cars can later make it to the road.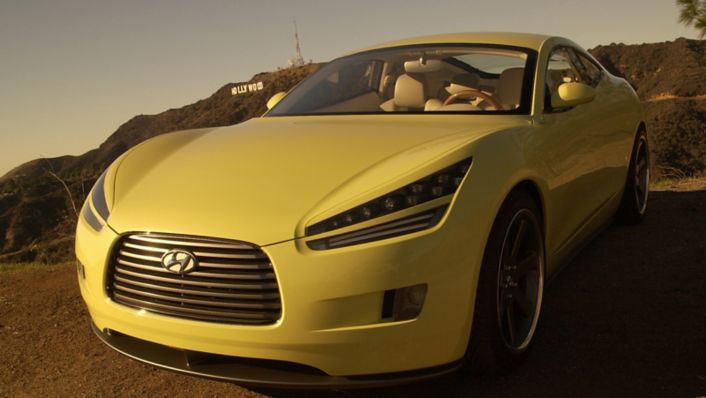 2008 – HED-5

A six-passenger crossover, the HED-5 was created to preview materials, powertrain, and infotainment technologies that Hyundai was exploring for future models. For example, its four-cylinder Theta Turbo GDI 2.0-liter engine produced 286 horsepower, the kind of power once associated with V8 engines, yet improved fuel economy by 15 to 20 per cent over modern six-cylinder engines. The HED-5 also featured materials that are lighter and more adaptable than metal and glass, and self-healing finishes that help minor scratches essentially disappear. Its interior included a swivelling front passenger seat covered in warm and natural brown tones to make it feel more like home furnishings. Furthering the home-on-the-road feel, drop-down touch screens and webcams allowed passengers to access and communicate via the internet, play video games and watch films.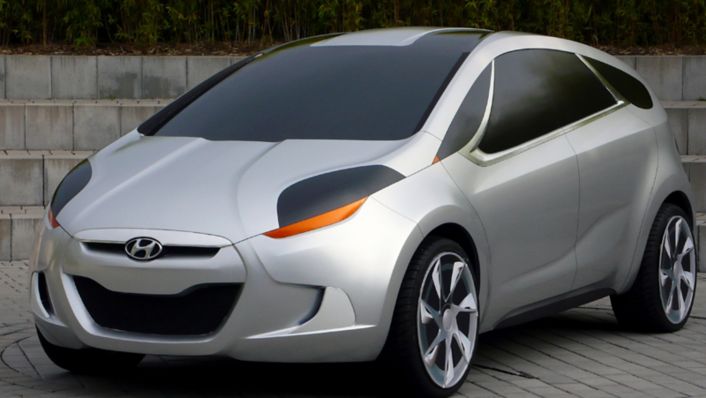 2010 – i-flow

The i-flow concept advanced the idea that sophisticated technology could enable beauty and efficiency to coexist in harmony. Active aerodynamic elements, such as the adaptive front spoiler and side rocker blades, found form through Hyundai's signature Fluidic Sculpture design language. This not only created a dramatically sculpted shape, but also increased fuel efficiency due to an impressive aerodynamic drag coefficient of just 0.25 Cd. On board, Hyundai's first diesel-hybrid powertrain took advantage of two-stage turbocharging and Hyundai's advanced lithium-ion polymer battery. As an eco-technological testbed, the i-flow was also designed to explore new energy harvesting ideas, ranging from flexible solar-panel roofing to a thermoelectric generator that recycles exhaust gases to help power auxiliary electrical systems.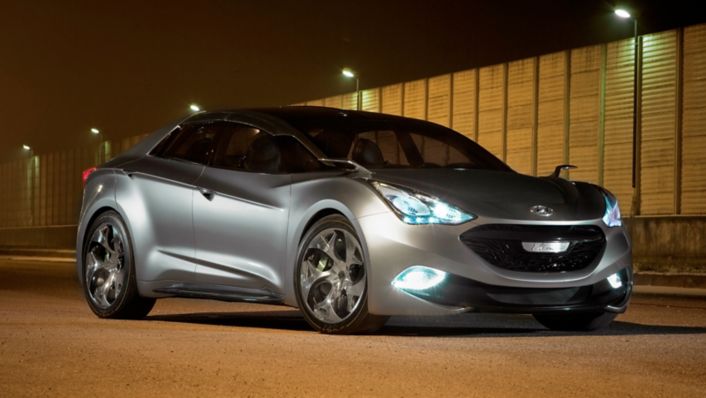 2012 – i-oniq

The precursor to the IONIQ that is now in full production, the i-oniq concept was an electric sport hatchback with a range-extending petrol engine. An evolution of Fluidic Sculpture, the profile lines of the front fender ran from front to back, emphasising the i-oniq's coupé appearance, while offering maximum visibility to occupants. Fittingly for a sporty hatchback, the cabin layout was driver-oriented, with the dashboard and centre-console geometry based around the driver. The user-interface components reflected contemporary and future consumer electronics technology such as movement control mounted on the steering wheel, a floating instrument cluster with multi-layered projection, and a large background display for navigation, entertainment and other information.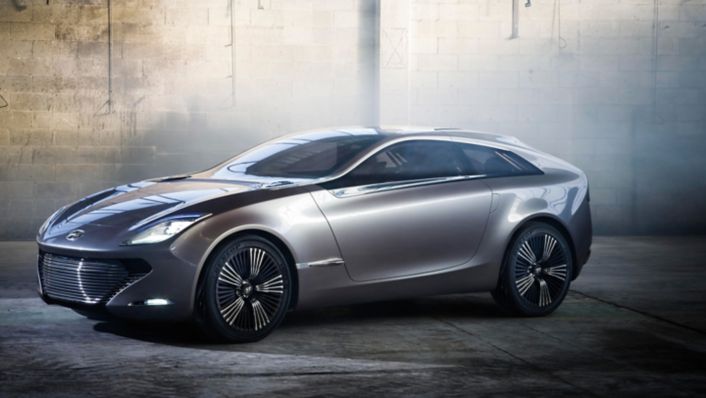 2015 – Vision G Coupe

The first high-end premium coupe by Hyundai, the Vision G laid the foundations for a design language that will inform its family of future premium products. Inspired by the notion of 'chivalry', its aesthetics ensure the car would be noticed and respected, without being excessively exuberant. This approach is evident throughout, such as in the automatic doors that act like a valet, while recognising the self-sufficiency of the driver. At the heart of Vision G is the award-winning 5.0-litre Tau V8 engine, part of the family that has been named three times in Ward's prestigious Ten Best Engines. Its central control panel 'Remote Wheel' offers intuitive touch and gesture interaction and responds to a simple wave of the hand that, in combination with a curved display that delivers information in rich detail, minimises driver distraction.