The downside of smart cars is that basic vehicle-related tasks require checking a vast owner's manual. The upside of the Hyundai Virtual Guide app is that its AR will make life easier for owners.
Before we go any further, let's get the jargon out of the way by explaining the difference between augmented reality (AR) and virtual reality (VR).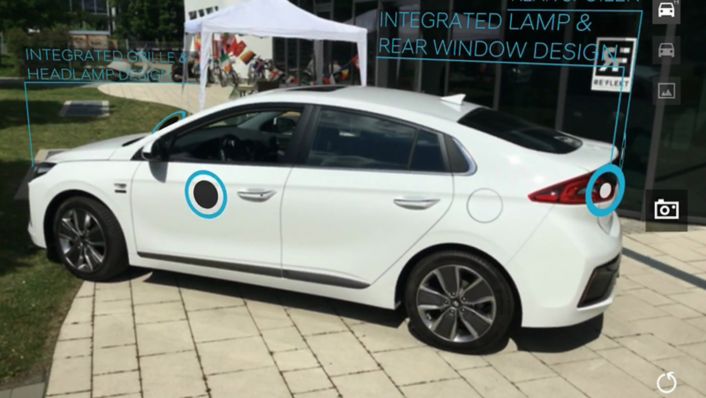 VR replaces the real world with a simulated one. From screens displaying 360 degree video, to immersive headsets, the technology is turning science fiction into science fact. Popularised for decades in TV and movies, like with Star Trek's holodeck for example, nowadays VR headsets can even can be run from your smartphone.
Augmented Reality enhances your perception of reality. Thanks to computer-generated input such as video, audio, graphics and GPS data, AR makes the real world interactive. With the help of AR technology, information can be overlaid onto physical objects, read by hand-held devices and used by people.
Move over paper, virtual is here
The connected car has been called "a smartphone on wheels". Today's drivers can get directions, make and take calls, send and receive messages and listen to music using their vehicle's built-in communications technology. The paradox of all this interactivity, however, is that owners must use a paper-based manual when they need instructions on how to do basic connectivity tasks things such as pairing with Bluetooth, the popular method of wirelessly transferring data between two devices such as your phone and your headphones.
The Hyundai Virtual Guide app is going to change all that.
In a sentence: The Hyundai Virtual Guide app allows Hyundai drivers to use their phones or tablets (Android or iOS) to get to know their cars and learn how to perform basic maintenance, without needing to consult a multi-hundred page paper owner's manual.
Just tap on the app
How does it work? Let's say you've downloaded the app. Now go to the AR section and select either the front or back of the vehicle. Then, point your smartphone at that area of the car. The Hyundai Virtual Guide app uses the phone's built-in camera to recognise the different components in the car, whether they are under the hood, in the trunk or within the interior.
As if by magic, informative labels describing what you're looking at pop up on the screen.
If you need to know more about a particular feature or part, simply tap on the labelled image and either a how-to video or a description will appear. These will consist of an AR overlay or regular 2-D graphics. Some of the app tutorials available include checking the oil, changing the air filter, pairing with Bluetooth and using cruise control.
"I really do think it's a stroke of genius."
Jonathan Gitlin, who writes about all things automotive for Ars Technica, examined the Hyundai AR manual at this year's CES, the global consumer electronics and consumer technology tradeshow that takes place every January in Las Vegas, and he described it as " an extremely practical application of consumer technology that's designed to make life just that little bit easier for the people who use it."
He added: "All too often, we see OEMs and tech companies throwing technology around just for the sake of doing so. But this is a relatively simple and elegant idea that makes a lot of sense... I really do think it's a stroke of genius. Bravo, Hyundai. "
Hyundai's ground-breaking IONIQ, with its choice of three powertrains, hybrid, plug-in, and electric, is already embracing cutting edge technology and will be complemented by its own IONIQ AR app.
Car connectivity is one of the major trends in the automotive industry and with Hyundai's new IONIQ Augmented Reality app, we are taking this technology even further.