Hyundai Tucson becomes best-selling car in Europe's compact SUV segment
In 2022, 150,803 units of Hyundai's midsize SUV were registered in Europe
Hyundai's global bestseller now ranks eighth overall of cars sold in region
Although the SUV segment is now significant in Europe, it was still an emerging one when the Hyundai Tucson arrived two decades ago. Since its launch in 2004, Hyundai's global bestseller has consistently bucked the trend. Now on its fourth generation, Tucson continues to prove itself popular with European customers.
According to figures compiled by JATO Dynamics, a global supplier of automotive business intelligence, Tucson became the best-selling car in the compact SUV segment in Europe in 2022, with 150,803 units registered. Although the European new car market recorded a year-on-year decline, sales of Tucson were up one per cent on 2021. This strong sales performance ensured that Hyundai's popular midsize SUV ranked eighth overall out of all cars sold in the region.
After another year of strong sales in Europe, Tucson has now gone a step further by reaching the top of the competitive compact SUV segment. Combined with its eye-catching design and customer-centric tech features, Tucson's sales success demonstrates our commitment to provide European customers with high-quality products that meet their varied lifestyle requirements and exceed their expectations.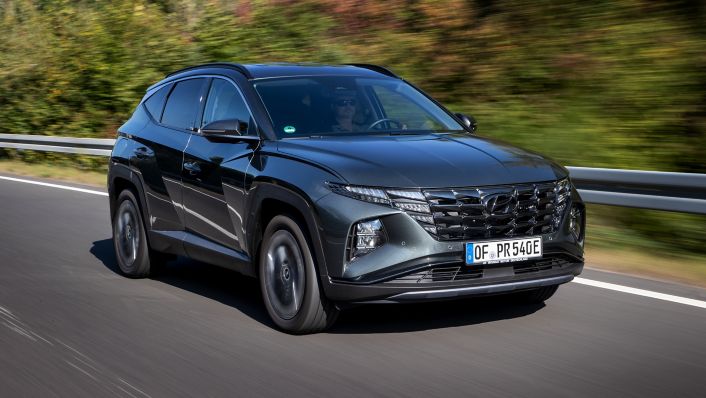 Tucson celebrates a strong 2022 across Europe
Tucson proved to be a popular model throughout Europe in 2022, particularly in Hyundai's biggest markets.
In Spain, Tucson was the best-selling model of any automaker in 2022, with accumulated sales of 21,985 units, thanks to its state-of-the-art features, cutting-edge design, and range of powertrains to suit every driver. Meanwhile, Hyundai Motor Spain ended the year in third position in sales in the Spanish market, reaching a record market share of 7.32 per cent.
In the UK in 2022, Hyundai claimed its largest ever market share of 5.0 per cent, with 80,419 new cars registered during the 12-month period. Of these, Tucson accounted for 27,839 registrations, or 35 per cent of the overall sales. With its array of equipment, stylish design and low-emission powertrains, the midsize SUV claimed a 5.3 per cent market share in its sector. Tucson was the most popular midsize SUV for British consumers, and the country's seventh best-selling car overall.
In France, Tucson was the most popular Hyundai model in 2022 with nearly 18,000 registrations. Meanwhile, it is also the best-selling model of any brand in Ireland with 6,432 units sold.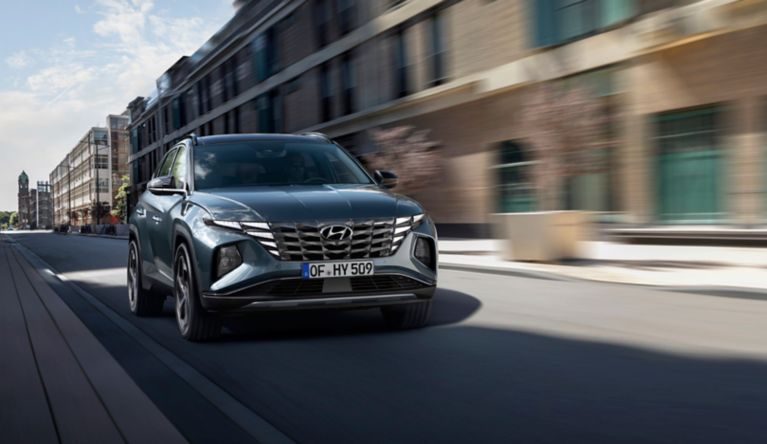 Tucson raises the bar for SUVs
With its innovative design and safety elements that deliver value beyond its segment, the fourth-generation Tucson raises the bar for SUVs. Equipped with a best-in-class, family-oriented safety package, it delivers peace of mind for Hyundai customers. The independent vehicle assessment organisation European New Car Assessment Programme (Euro NCAP) awarded the model with a maximum five-star safety rating. Meanwhile, Tucson's unique signature LED Daytime Running Lights (DRLs) are seamlessly integrated into the front grille. Thanks to state-of-the-art half-mirror lighting technology, the dark chrome appearance of the grille transforms into jewel-like shapes, when the DRLs are switched on, bringing an eye-catching element to its sleek appearance.
With gasoline and diesel 48-volt mild hybrid, full hybrid and plug-in hybrid options available, Tucson offers the widest range of electrified powertrains in the compact SUV segment. Meanwhile, its N Line variant combines the ultimate dynamic design, comfort and advanced connectivity with the motorsport-inspired styling and attitude of N.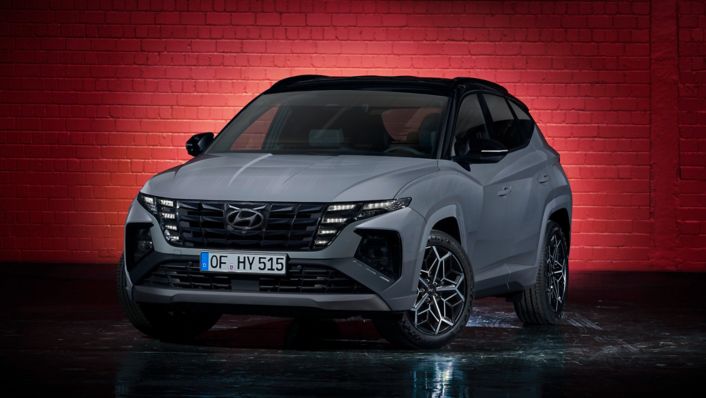 As well as being popular among European customers, Tucson also continues to be recognised in the media and won several awards in 2022. UK publication Carbuyer named Hyundai's midsize SUV "Car of the Year", while Auto Express awarded the model with its "Best Mid-size SUV" title. Spain's Auto Bild awarded Tucson "Best Import Car of the Year – SUV". Previously, it has received Car of the Year awards from publications in European markets including Greece and Turkey.
Further information about Tucson can be found in the press kit.
About JATO Dynamics
Founded in 1984, JATO Dynamics is a global automotive market research company that provides analysis and intelligence regarding market trends, car pricing and comparisons. For this study, JATO collected data from 30 European markets (EU‑26 + the UK, Norway, Switzerland and Iceland).
Disclaimer: CO2 and emissions data
Fuel consumption combined for the Hyundai Tucson 1.6 T-GDI 48V (150 PS) with 6iMT 2WD in l/100 km: 6.8 - 6.5; CO2 emissions combined in g/km: 154 - 147 (WLTP)
Fuel consumption combined for the Hyundai Tucson 1.6 T-GDI 48V (150 PS) with 7DCT 2WD in l/100 km: 6.6 - 6.3; CO2 emissions combined in g/km: 150 - 143 (WLTP)
Fuel consumption combined for the Hyundai Tucson 1.6 T-GDI 48V (180 PS) with 6iMT 2WD in l/100 km: 6.7 - 6.4; CO2 emissions combined in g/km: 152 - 145 (WLTP)
Fuel consumption combined for the Hyundai Tucson 1.6 T-GDI 48V (180 PS) with 7DCT 4WD in l/100 km: 7.1 - 6.9; CO2 emissions combined in g/km: 162 - 156 (WLTP)
Fuel consumption combined for the Hyundai Tucson 1.6 CRDi 48V (136 PS) with 6iMT 2WD in l/100 km: 5.3 - 4.9; CO2 emissions combined in g/km: 139 - 127 (WLTP)
Fuel consumption combined for the Hyundai Tucson 1.6 CRDi 48V (136 PS) with 7DCT 2WD in l/100 km: 5.3 - 5.0; CO2 emissions combined in g/km: 139 - 130 (WLTP)
Fuel consumption combined for the Hyundai Tucson 1.6 CRDi 48V (136 PS) with 7DCT 4WD in l/100 km: 5.9 - 5.5; CO2 emissions combined in g/km: 154 - 143 (WLTP)
Fuel consumption combined for the Hyundai Tucson 1.6 T-GDI (150 PS) with 6MT 2WD in l/100 km: 7.0 - 6.6; CO2 emissions combined in g/km: 159 - 150 (WLTP)
Fuel consumption combined for the Hyundai Tucson 1.6 T-GDI (150 PS) with 6MT 4WD in l/100 km: 7.8 - 7.3; CO2 emissions combined in g/km: 178 - 165 (WLTP)
Fuel consumption combined for the Hyundai Tucson 1.6 CRDi (115 PS) with 6MT 2WD in l/100 km: 5.5 - 5.1; CO2 emissions combined in g/km: 144 - 135 (WLTP)
Fuel consumption combined for the Hyundai Tucson 1.6 T-GDI Hybrid with 6AT 2WD in l/100 km: 5.9 - 5.5; CO2 emissions combined in g/km: 135 - 125 (WLTP)
Fuel consumption combined for the Hyundai Tucson 1.6 T-GDI Hybrid with 6AT 4WD in l/100 km: 6.6 - 6.2; CO2 emissions combined in g/km: 149 - 140 (WLTP)